It's a fact that video content is preferred over static content all over the world. Due to this, it has become very common everywhere. Now, people not only prefer video content; they prefer high-quality video content. A fine-quality video not only satisfies the viewer's eye but also maintains a professional outlook and customer loyalty. In order to compete in this field, you must ensure that you're providing top-notch quality content. For that, you must be familiar with different types of video formats such as MP4 and AVI and their converters. How to convert MP4 to AVI in no time flat? In this article, we shall guide you regarding the top 8 MP4 to AVI converter tools for online and offline use.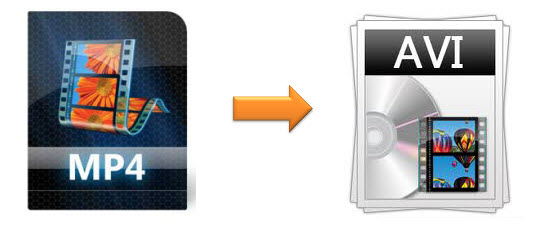 1. Joyoshare VidiKit
Converting videos and audios between one format to another with Joyoshare VidiKit, upgraded from Joyoshare Video Converter is the most effective and flawless software for your video conversions. It is the perfect MP4 to AVI converter. This amazing software allows you to convert your high-quality videos in bulk to AVI format without any limitations. At the same time, it maintains the quality of the visuals and audios of the video.
Joyoshare Vidkit supports 150 different formats, and 100 presets to customize your videos. Through its 60X lightning conversion speed, it has gained a lot of popularity as it promotes no loss of quality and provides perfect output even at such amazing speed. Not only is it easy to use for amateurs and professionals, but also very affordable at the same time.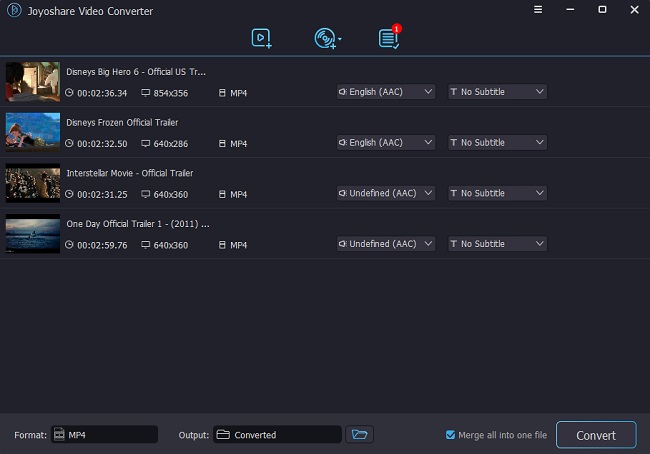 Pros:
Convert multiple videos in one click at 60X blazing speed
Preserve 100% original quality during individual or batch conversion
Convert MP4 to AVI, MOV, MP3, MPEG, AVI, FLV, SWF, and over 150 formats
Have a built-in media player where you can preview your files whenever you want
Edit videos by cutting, cropping, merging, rotating, adding special effects, etc.
Customize codec, bitrate, channel, frame rate, sample rate, etc.
Support DVD files like DVD disc, DVD ISO image file, DVD folder, etc.
Cons:
The free trial version converts limited content
2. HandBrake
HandBrake is free of cost converter that can convert any kind of video format to modern codecs. It is a great MP4 to AVI free online converter. Initially made for Apple, it has made its way to Windows and Linux. This powerful converter comes with a variety of features and requires your time and energy as you have to work with the settings manually. But once you get through the learning curve, the output is worth it.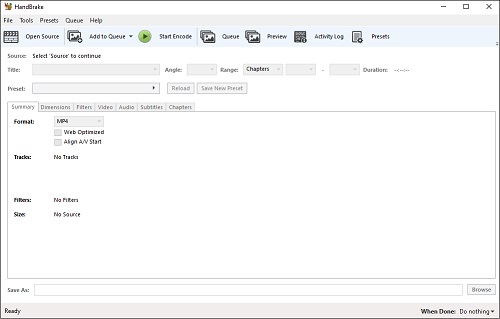 Pros:
It can work with almost all kinds of video formats.
It supports a batch converting tool that can encode a load of videos in no time.
Cons:
It is not beginner-friendly.
It usually crashes during the converting process.
3. Freemake Video Converter
Freemake Video Converter is another popular MP4 to AVI online converter for free that provides 500 video formats. It supports video editing and burning, along with audio and video conversions. Freemake Video Converter can convert heavy videos without compromising on the quality. It maintains the audio, pixels, and even the size and font of the subtitles. This software is available for Windows only.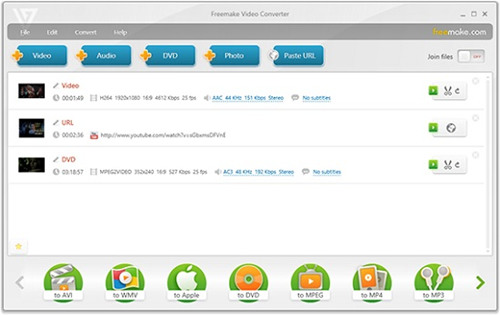 Pros:
It offers a variety of presets and formats.
It maintains the quality of the video.
Cons:
The conversion process is slow and sometimes crashes during the process.
It shows a lot of advertisements.
4. FreeFileConvert
FreeFileConvert is a user-friendly all-in-one file converter. It is also one of the best MP4 to AVI free converters. It supports multiple formats and can convert your file in any kind of format you want. All you have to do is select your video file in MP4 format and upload it. Choose the AVI format from the drop-down menu to convert your file. Click on Convert.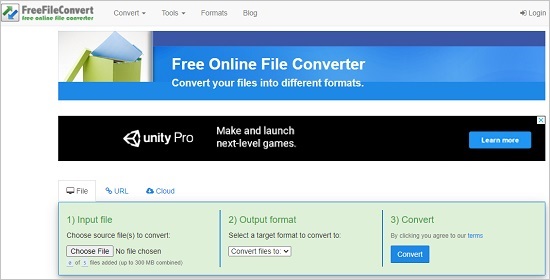 Pros:
It supports nearly all formats.
It offers an intuitive and organized interface.
Cons:
It can support only 5 files at a time.
It can support only 300 MB of file size.
5. AnyMP4 Video Converter
AnyMP4 Video Converter is a multifaceted converter with a slightly difficult-to-use interface. It supports video editing, downloading, converting, and burning and is a great option for a free MP4 to AVI converter. This converter can be used on both Mac and Windows. AnyMP4 Video Converter supports a variety of input formats and around 160 output formats. It can convert all 4K, SD, HD, and formats.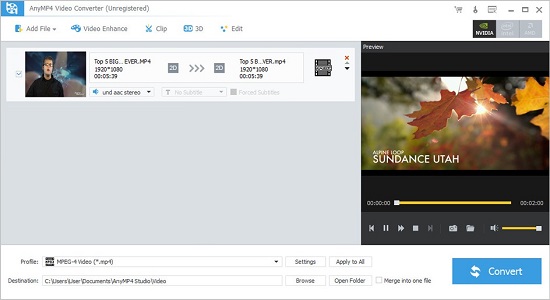 Pros:
It supports a variety of customization options with no loss of quality.
It supports a built-in media player.
Cons:
It shows a lot of advertisements.
The conversion process is slow, and it also consumes time for loading 4K videos.
6. Movavi Video Converter
Movavi Video Converter supports 180 different formats. It is one of the popular online MP4 to AVI converters available for both Mac and PC. It is not completely free of cost but offers a free trial for a limited time. This converter is user-friendly software that provides a variety of features and presets along with smooth functioning. Just drag and drop the file in the program window. Choose AVI format and click on "Convert".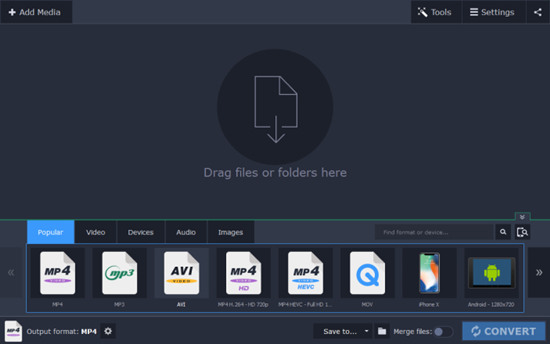 Pros:
It offers an affordable pricing plan.
It features no advertisements.
It has the ability to compress the video without losing its quality.
Cons:
It does not offer much variety of formats.
The video editing is not available in the trial version.
7. Online-Convert
Online-Convert allows you to convert a huge load of video files to any format while maintaining quality side by side. You can either upload your file or provide a URL of your file to convert it to AVI format. It's a very approachable and easy MP4 to AVI online converter and supports more than 50 conversion formats.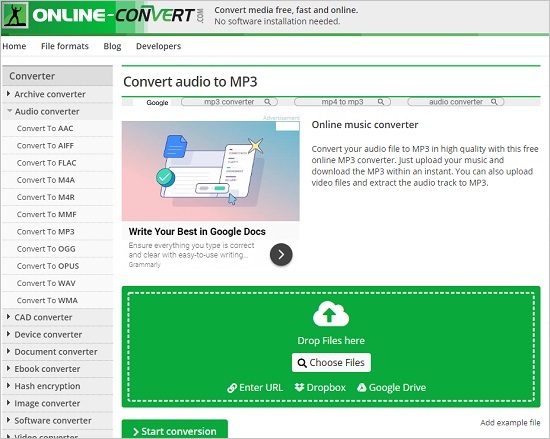 Pros:
It is easy to use for nonprofessionals.
It offers a variety of presets.
Cons:
It cannot save your work without signing in.
The conversion process takes time sometimes.
8. VLC
VLC Media Player is a multifunctional software that is the best MP4 to AVI converter. This royalty-free software is available for all platforms (Mac, Windows, Linux, and Unix) and offers nearly all formats. VLC Media Player was mainly designed for streaming and downloading videos and audios. But with its amazing features, it has excelled in other functions too. It's a swift working software that serves its purpose without any interruption in no time.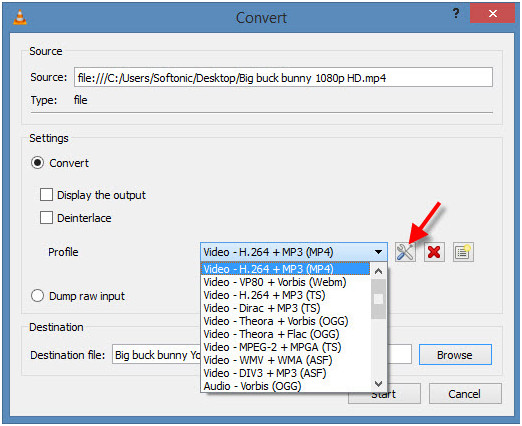 Pros:
It features no advertisements.
It offers a variety of customizing options and amazing file supporting formats.
Cons:
The interface is not so friendly.
Conclusion:
All of these tools are the best MP4 to AVI converters and will help you convert your video content in AVI format easily without any hassle. But to avoid further inconvenience, we recommend you to use Joyoshare Vidkit as it certainly provides all the features you've been looking for in a single platform without any limitations.