A video converter is a lifesaver as it saves a lot of time and makes a video file watchable. It is essential to use an excellent MP4 converter for great-quality conversions. There are multiple tools in the market that have the maximum file size limits or sometimes require you to have a paid version to enjoy the full features. However, on the other hand, plenty of freeware is also in the bucket, which can easily convert the MP4 files into desirable formats, or vice versa. In this article, we are going to mention the 9 best free MP4 converters of all time to save you from the hassle.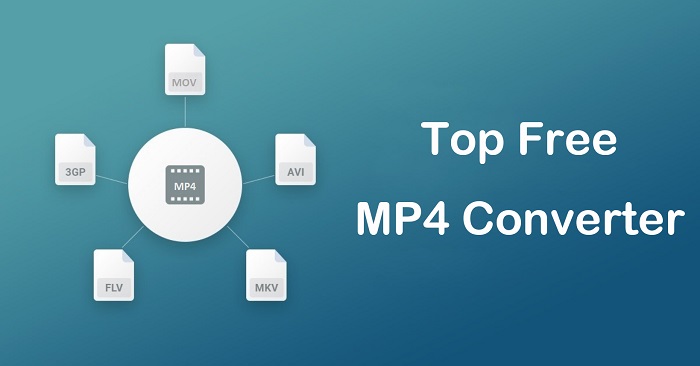 Recommendation. Joyoshare VidiKit (60X Excellent Speed)
Joyoshare VidiKit (originated from Joyoshare Video Converter) is a wise user choice to achieve optimal video quality. It ensures that the converted video quality is 100% lossless. It can convert bulk video 60 times faster than regular converters. One of the best things about this software is that it has 100 presets available, supporting more than 150 formats.
You can also edit the video using the personalization options available to enhance the video further. You can remove video protection and give it your touch. You can rip the ISO image, folder, disk, DVD, etc. This free MP4 Videos Converter also has a free trial available to try before buying.
Pros:
Convert MP4 to MOV, ASF, OGV, FLV, and over 150 formats
Customize the codec, bitrate, resolution, channel, etc.
Present original quality output and 60X fastest speed
Feature various advanced editing tools to customize videos
Burn DVD to different formats and remove protection easily
Crop, merge, cut, trim, split, rotate, subtitles, watermark videos
With the functions of video recorder, compressor, repairer, etc.
Cons: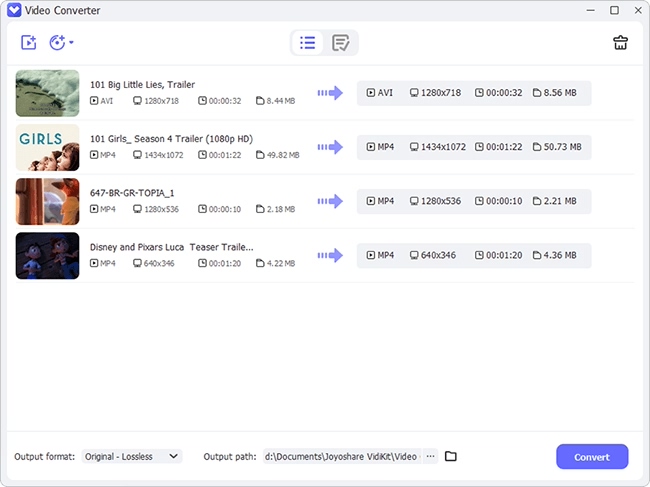 1. DVDVideoSoft Free Video Converter
DVDVideoSoft Video Converter is a fantastic video converting software available for free. It has numerous features to ensure that the video quality remains intact in the converted video. It has a hassle-free and clutter-free interface to convert a batch of videos quickly.
Moreover, this best free MP4 converter converts almost all kinds of formats into MP4, which is the most commonly used format worldwide. It can convert 100% of the video very quickly. It is a highly functional and powerful application for Windows but does not interfere with your PC's functions. The software is exceptionally self-explanatory, and even a beginner can use it easily.
Pros:
100% video quality
Easy to use
Support numerous formats
Clean and clutter-free
Cons: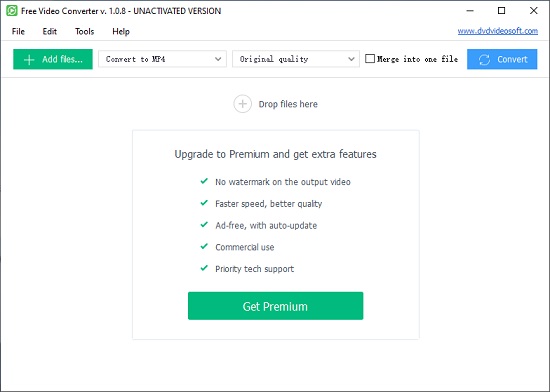 2. Any Video Converter Free
Any Video Converter Free is a free and handy MP4 converter without thousands of happy users due to its simple interface. The app is straightforward to understand and simple to use as it has labeled buttons. It is a video converter and a video editor with a bunch of editing features such as merge, snip and add music.
You can also download music using this converter. You can also burn DVDs with your favorite music or videos. It provides more than 160 outputs and 100 inputs. It is ideal for downloading 4K videos and converting them with 100% lossless quality.
Pros:
160+ outputs
100+ inputs
100% lossless quality
4K video download
Cons: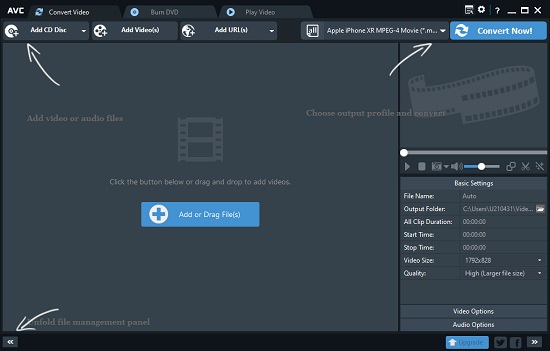 3. Online Video Converter
The Online Video Converter is the best as it allows you to convert and resize videos on your browser. You can upload up to 4GB of files on the software for conversion. It is a potent server that converts your videos more quickly than your anticipation. The video converter supports more than 300 formats, and the app works with the newest codecs.
There is no file limit; you can convert as many videos as you want. It is a free online MP4 video converter that you can use for high-quality conversions. The software deletes files a few hours after conversion for security.
Pros:
Upload GB files faster
Support 300 video formats
Safe and secure
No file limits
Cons: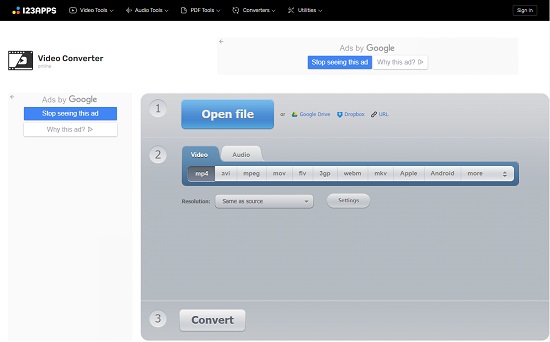 4. Online-Convert
Online-Convert is a MP4 converter free, where you can upload files and convert them faster than you expect. The software is ad-free to avoid any kind of disturbance that one may experience with ads. The process to use the app is relatively simple; you have to upload the video first.
You can change the screen size, bitrate the video, add audio or music also. You can mirror, rotate or crop the video as well to improve the converted video. Lastly, click on start conversion, and within a few seconds, the video will be ready. You can also add subtitles to the video. Try this online MP4 converter free!
Pros:
Edit video
4k video streaming
Add music
Easy to use
Cons:
Hard to convert heavier files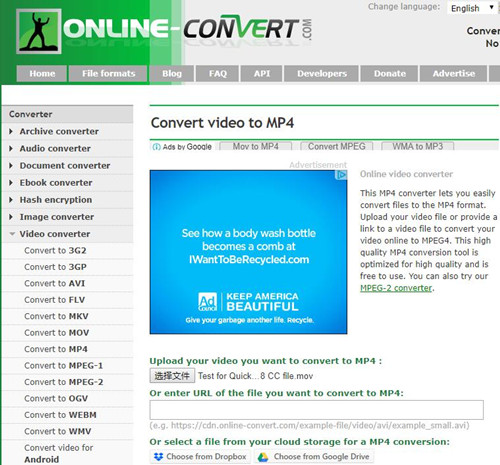 5. Freemake Video Converter
Freemake Video Converter is an excellent MP4 converter free mac. You can convert any type of video for free. It supports 500 different kinds of video formats, making things easier for people as it is highly versatile. You can change the format of the video and also resize it according to your will. You can convert videos to MP4, DVD, iPhone, etc.
It is an all-in-one video converter with various editable options. You can rotate, join and cut videos to enhance the outcomes. This free MP4 converter online also allows you to rip and burn videos for CDs and DVDs without compromising the quality.
Pros:
Burn and rip to CDs
Support 500 different formats
Video editing tools
4k video conversion
Cons: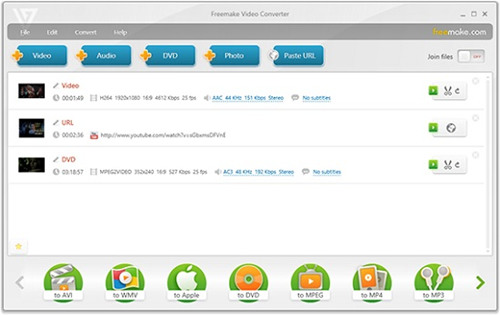 6. FreeConvert
FreeConvert is a Free MP4 videos converter that is very easy to use. It is as simple as dropping the file and starting the conversion. You can also download the converted file on your PC and share it on various social media platforms. It supports more than 500 different video formats and provides different outputs.
You can use the fine-tune advanced options of free MP4 videos converter to make sure that the video quality remains intact after conversion. The software is highly safe and secure with security encryptions. Your video will get deleted from the software after a few hours.
Pros:
500+ video formats
Safe to use
High-quality conversion
Cons: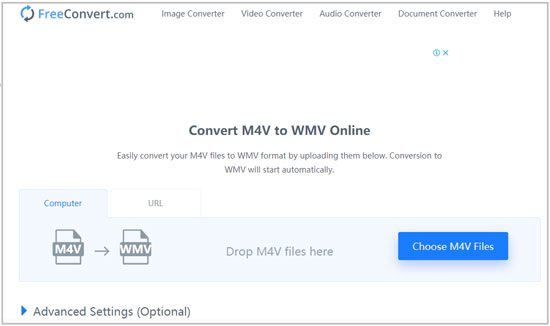 7. CloudConvert
CloudConvert a free MP4 converter online with a great interface and functionality. It supports more than 200 video formats and allows you to use the software without downloading. The software uses different APIs to ensure data security; it also deletes video files eventually.
It has the best settings and options to ensure that the conversion quality is high. It is effortless to use; you just have to select a file from your PC, upload it and start conversion. You can save files for later use also. It has a few editable options which help you enhance the video quality.
Pros:
Data security
200+ video formats
Easy to use
Use without downloading
Cons: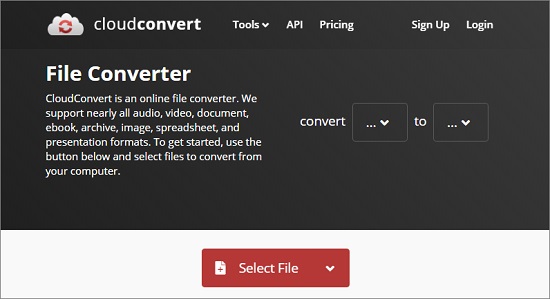 8. Format Factory
Format Factory is an MP3 to WAV converter, but you can also convert videos to MP4. This software is versatile, and you can easily use it to merge, split and use other edit options on the video.
It is also a perfect app for screen recording and editing the recording before conversion and download. You can rip DVDs or CDs and convert them into an audio file. You can use the same audio to add to the video. It is also a perfect free MP4 converter for watching 4K videos.
Pros:
Screen recording
Watch 4K video
Convert audio files
Offer many editing options
Cons: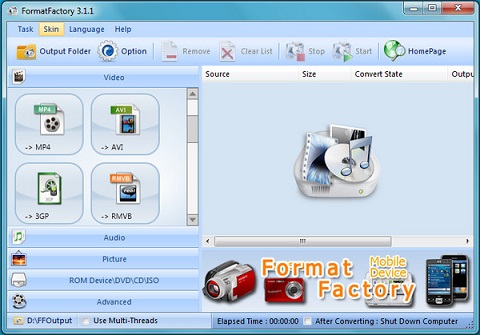 9. HandBrake
HandBrake is an open and free MP4 converter, and it is also an excellent MP4 to WAV converter. It offers various features and is pleasing to use for multiple platforms such as Linux, Windows, and Mac. It can convert nearly every kind of video format very quickly.
We love how it is simple to use and has a simple inference. A user has to upload the desired file and download it after conversion. The conversion quality is 100% lossless, and it has a few editable features also. You can also add music to videos before conversion.
Pros:
100% lossless quality
Use on Linux, Windows, and Mac
Easy to use
Secure
Cons: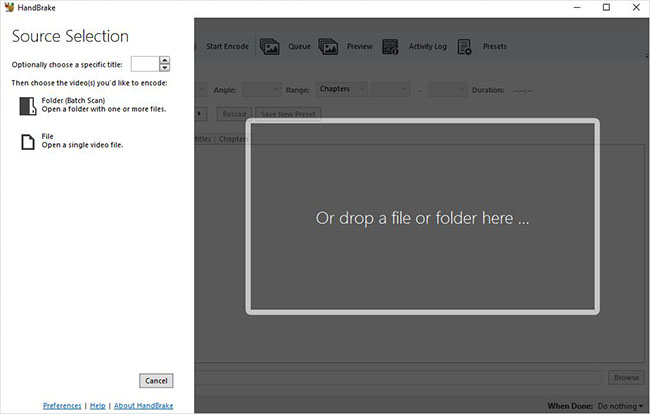 Conclusion
If you are looking for a free MP4 converter or a video converter to MP4, there are many online and offline options, which will let you achieve different formats for your MP4 files in no time. The top choices we mentioned above are able to work effortlessly without any lag issues. Most of them support more than 500 formats and can transform multiple formats at one time. If you want a professional yet still very easy-to-navigate tool to convert all videos and audio, you can also try Joyoshare VidiKit (upgraded from Joyoshare Video Converter). It can not only convert MP4 with no qaulity loss at 60X blazing-fast speed, but also edit and enhance MP4 in various ways.