Are you a music lover and do you enjoy your spare time listening to them? Downloading songs can be a little bit of a hassle. Sometimes, your player may do not support the MP3 format, and you have to convert it to a WAV file. An MP3 file is a compressed version, and it eliminates most of the sound data that our ears are unable to hear. It may make the audio quality a little bit lousy. Here MP3 to WAV converter comes into action. Most people prefer hearing audio in WAV format as the audio can be manipulated and edited. People who like making mashups and different song versions can benefit from the WAV file. In this article, we will let you know about the top 12 free MP3 to WAV converters.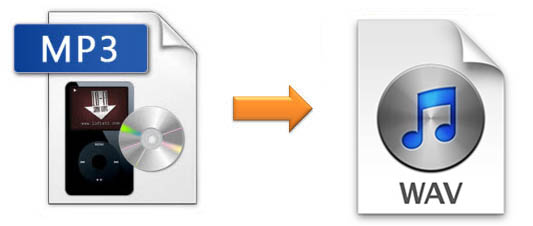 1. Joyoshare VidiKit (60X Fastest Speed)
Looking for an all-in-one tool to convert the audio formats? Here is the Joyoshare VidiKit (originated from Joyoshare Video Converter), which is an excellent MP3 to WAV converter due to more than 150 audio formats for conversion. The conversion rate is 60X faster, and there is no loss of quality during the process.
Joyoshare VidiKit allows you to edit, personalize, and convert various kinds of audio. You can easily cut and merge different files without affecting their subtitle, sound quality and more. You are also able to change audio codec, channel, bitrate, and sample rate. If you plan to convert videos, many features like cropping, rotating, trimming, etc. are available as well.
Pros:
Convert MP3 to WAV, MP4, FLAC, WMA, M4A, and more
More than 150 video and audio formats are supported
Support 60X fastest conversion speed and lossless quality
Use built-in media player to play converted videos and audio
Customize the codec, bitrate, channel, etc. of the output audio
More tools to cut, crop, rotate, subtitle, merge videos, etc.
Cons: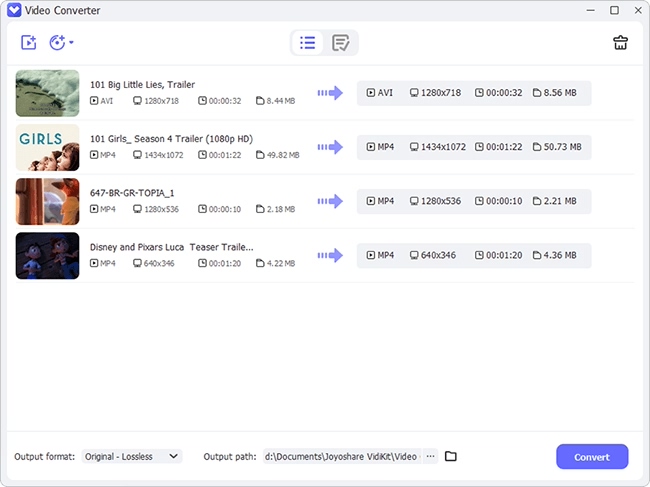 2. Xilisoft Audio Converter Pro
Xilisoft Audio Converter Pro is the famous MP3 to WAV converter to convert popular audio formats such as MP3, WMA, OGG, FLAC, and APE. This professional audio tool can extract audio from HD video files such as MMP4, MKV, AVI, etc. You can rip an audio CD from different audio formats and videos. You can split the track and customize the timings before downloading it.
The software also comes with a few parameters to edit the tag info of the audio. You can directly transfer the audio to PSP, iPhone, or iPod. It is also a multilingual software supporting English, Chinese, German, French, Japanese, etc.
Pros:
Support famous audio files
Multi-lingual
Directly transfers audio to PSP, iPhone, and iPod
Allow editing audio
Cons: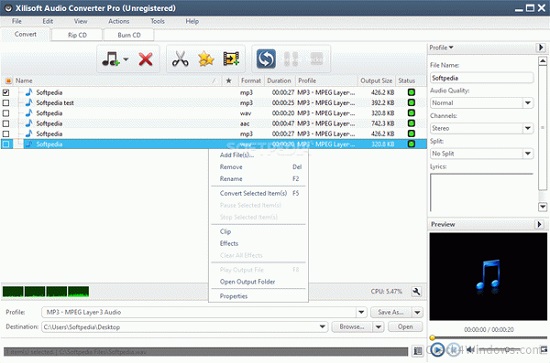 3. Faasoft Audio Converter
Are you looking for something beyond professional? Faasoft Audio Converter is known for its powerful editing features as well! It is the best MP3 to WAV converter online as it supports multiple audio and video formats. It can extract audio from videos without curtailing the sound quality. It works well with up to 160 types of video formats.
The app also works well to enhance the sound and make the audio louder. You can increase sound up to 300% without disrupting Audio clarity. It has a built-in audio editor through which you can snip, merge, fade in, fade out the audio.
Pros:
Boost volume up to 300%
Support 160 types of video format
In-built video editor
Clean and safe to use
Cons: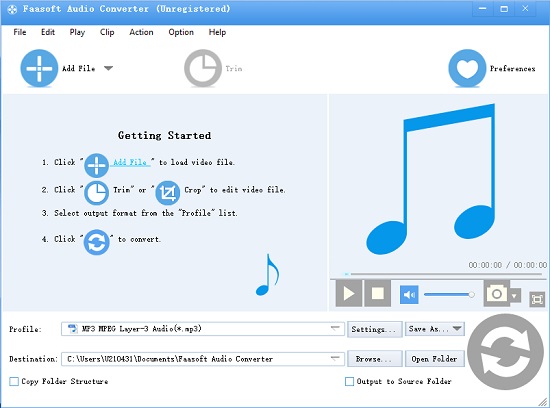 4. Boilsoft Audio Converter
Boilsoft Audio Converter is a fantastic MP3 to WAV converter program which supports a majority of audio formats. It can extract out major audio formats from the video files or convert traditional-style audio formats to newer ones. One of the converters provides users with complete control to customize the audio before conversion and download.
It is a suitable converter for Windows and iOS as it allows for direct transfer. A user has full control to boost the volume and change audio to different formats such as WAV, WMA, M4A, etc. What's noteworthy is that the audio output files will be perfect to be played on your iPod, iPad 3, iPhone devices, and more.
Pros:
Boost volume
Compatible with different audio files
Faster conversion rate
Few editable options
Cons: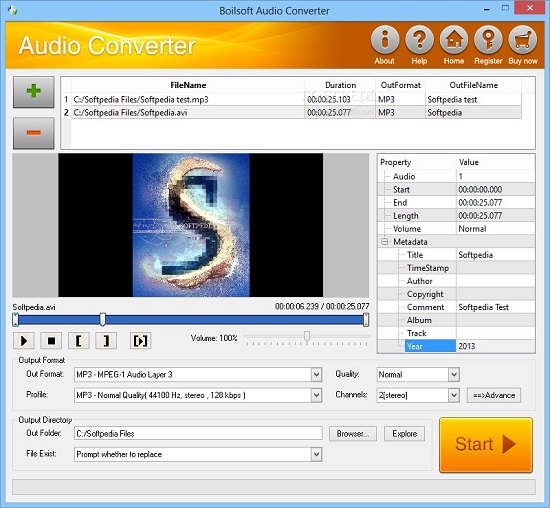 5. Audacity
Are you in search of an easy yet multi-track editor for your audio file? Look no further! Developed by professional engineers, Audacity is a free MP3 to WAV converter which also acts as a recorder. You can record, mix, and digitize recordings. It supports 32-bit, 12-bit, and 24-bit audio files and further boosts their sound.
Audacity also allows you to write your plug-ins and edit audio files. You can cut, copy, paste, and undo while editing. It is perfect for real-time previews as you can manipulate tracks and selections through keyboards. It also has a spectrogram to analyze and visualize frequencies.
Pros:
Support 12-bit, 24-bit, and 32-bit file
Fully functional through keyboard
Great editing tool
Spectrogram
Cons:
Complicated for beginners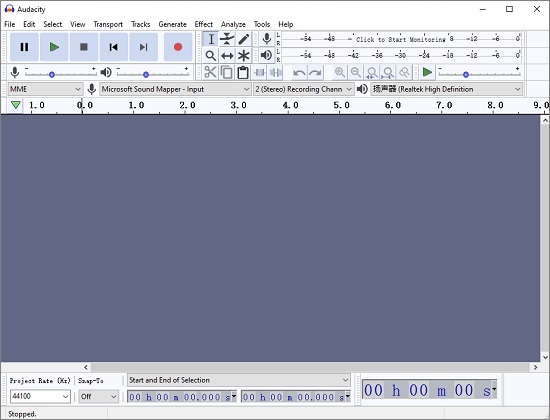 6. CloudConvert
Not every offline tool is a perfect fit for your needs! Thus, the CloudConvert platform is probably the safest of all to use online. It supports more than 200 audio formats, which makes it widely applicable and easy for us. It is a beginner-friendly app with all the details mentioned clearly.
The app provides high-quality conversions, and API technology is used to provide data security. Simply visit the official website and press the red button to select the file and convert between hundreds of formats in no time. With the powerful API and CloudConvert data security, CloudConvert has got you covered!
Pros:
Amazon S3 integration
Support more than 200 audio files
High-quality conversion
Boost volume
Cons: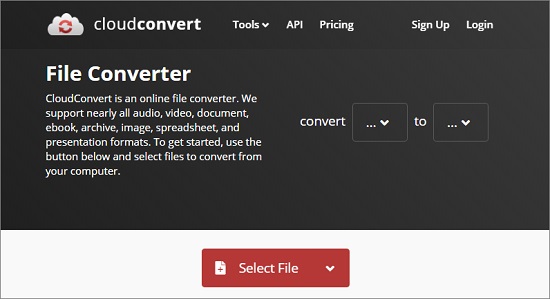 7. Zamzar
Zamzar is MP3 to WAV file converter and supports more than 1200 audio formats. It is incredibly hassle-free to use, and there are no software restrictions to download the converted files. It can compress the file, and you have full authority to edit the audio before download.
Zamzar provides a faster conversion rate and does not interfere with the audio quality. Your audio data is highly secure as it is a clean app. On top of all, there will be no extra setup file for you to download. Simply visit the website, select the file and format and you're good to go!
Pros:
High-quality conversion
Support more than 1200 formats
Conversions under 10-minutes
Editing options
Cons:
Do not convert CAD or step file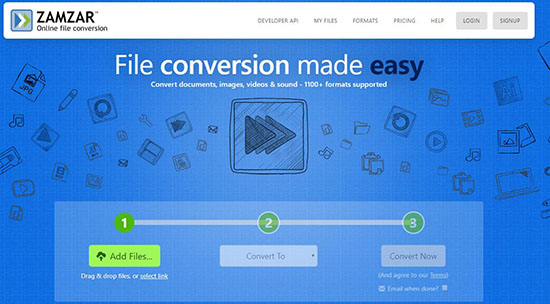 8. FileZigZag
FileZigZag has to be the best MP3 to WAV converter as it supports more than 6000 audio formats. It helps in extracting audio files from high-quality videos and allows you to edit them before conversion. It provides bulk and top-quality file conversions.
What we like about the FileZigZag is the free file conversions and no programs to install. There will be hundreds of formats to choose from but a restriction of file size and one file at once. You can easily create a free account and convert one format to various others for your audio file.
Pros:
Support more than 6000 audio formats
Convert high-quality audio files
Perfect for editing audio
Extract best-quality sound from videos
Cons:
The file cannot be more than 50 MB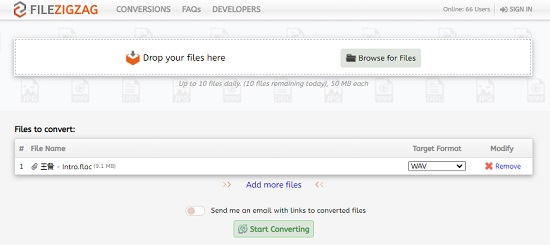 9. DVDVideoSoft Free Audio Converter
The DVDVideoSoft Free Audio Converter is the best one in the market and has a few features that convert high-quality audio files. It is beginner-friendly, and you can convert the file in just one click. You can get the best-quality audio by using adjustable features such as sample rate and audio enhancer.
The 256 SSL encryption ensures that all your audio files are protected. It can convert all types of formats including MP4, 3GP, AVI, FLV, MKV, and even MOV formats. The output files are easily playable via your phone and laptop devices in the standard player.
Pros:
Best audio quality conversion
256 SSL encryption
Auto-quality enhancer
Fast conversion
Cons: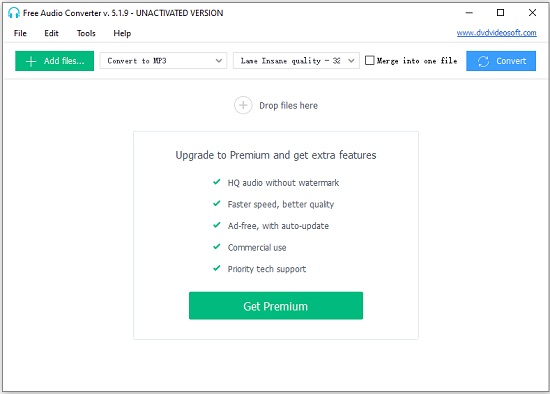 10. Wondershare UniConverter
The Wondershare MP3 to WAV converter is the ideal source available out there as it has multiple options. What's noteworthy for this converter is the Full GPU acceleration which saves much of time and converts the files at a faster pace. You can convert audios into not only WAV files but also more audio outputs.
It has various editing features to merge, fade, and snip audio. It is also wonderful to keep the audio quality intact and compress its size for multiple devices. It can convert more than 1000 formats at a 30x faster speed than the traditional software.
Pros:
Editing options
Maintain audio quality
Beginner-friendly
Burn audio for DVD
Cons:
Heavy audio takes ages to convert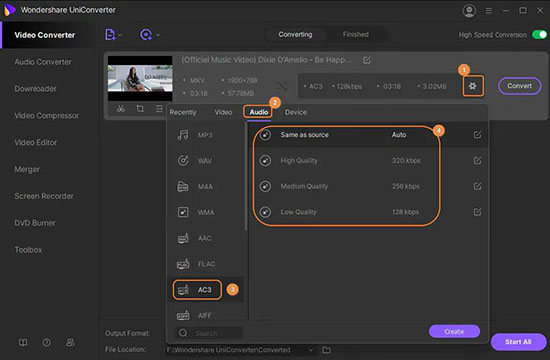 11. Fre:ac Audio Converter
The Fre:ac Audio Converter is an all-in-one converter to convert high-quality audio. It has an integrated CD ripper with CDDB support for burning audio on CDs. It has various editing tools with a variety of features that you can quickly learn and implement.
You can get this converter on a USB and run it anywhere efficiently. It is completely free and safe to use without any malware. With Fre:ac you can even rip your audio CDs without any need for a professional tool or hardware player. Even all your music libraries can be converted at once with Fre:ac.
Pros:
Highly protected against malware
Burn audio to CD
Install in your PC
Easy to learn tools
Cons: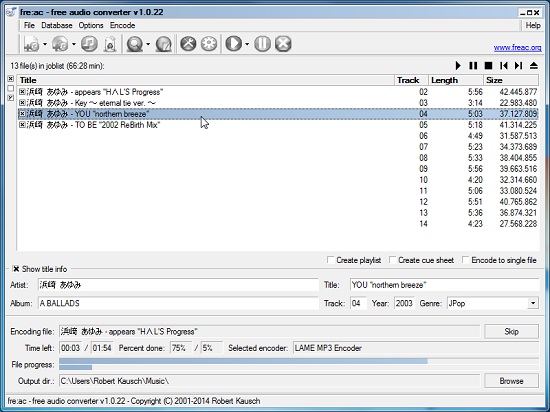 12. Freemake Audio Converter
The Freemake Audio Converter is perfect for converting lossless audio without compromising on sound quality. This tool can convert the audio files among 50 different formats including MP3, AAC, M4A, WMA, OGG, FLAC and more. It is a free app that works perfectly to transfer converted audio to your iPhone directly.
It supports more than 50 audio formats, which makes it versatile. You can join different audio files and save them on Google drive. It is easy to bitrate, sample rate, and channel audio through this converter. You can also extract audio from any video file using the Freemake Audio Converter.
Pros:
50+ audio formats
Free app converter
Save on Google drive
Directly transfer to iPhone
Cons: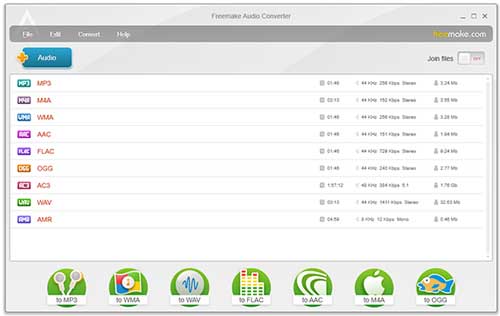 Conclusion
If you are an avid music lover, you will appreciate all our suggestions for MP3 to WAV converter. Among many converters, we only choose those that do not disrupt the audio quality during the conversion process. All the converters mentioned above support various audio formats, which is always a bonus when downloading and editing bulk audio. Security and protection are some of the main things one should focus on when selecting a converter, especially free. And we highly recommend Joyoshare VidiKit (upgraded from Joyoshare Video Converter) to every beginner and professional. This app can convert all videos and audio without losing any quality at 60X lightning-fast speed. Anyway, we hope you will find our suggestions valuable and easy to use. So, take your pick and start converting.