We've all accidentally deleted our data while using our phones, or thought specific files are useless and deleted it only to find out how important it was a few weeks later. In such situations, one can always use third-party data recovery software to help retrieve deleted or lost files.
The Internet is filled with a variety of mobile data recovery software, and finding a suitable one might be a daunting (and boring) task. Thus, we're here to pick up top 10 best mobile data recovery tools to help both iOS and Android users to recover any missing data easily and efficiently. Next let's have a look at what they are one by one.
1. Joyoshare iPhone Data Recovery
As the name implies, we can see Joyoshare iPhone Data Recovery is absolutely one mobile data recovery application for iOS devices, including iPhone, iPad and iPod touch. It is capable of recovering up to 20 types of lost data like contacts, messages, photos, videos, notes, voicemail, WhatsApp messages and attachments, etc. With three smart recovery modes, you can easily get your missing mobile data back from iDevice straightly, iTunes and iCloud backups. Besides, the program matches perfectly to almost every iOS gadgets as well as the latest iOS 12. It can be considered as one of the best mobile data recovery software for PC and Mac.
Pros:
Recover more than 20 different deleted or lost data
Recover even encrypted data instantly
Support three smart recovery methods
Preview and select to restore data
Cons:
Free trial version offers limited features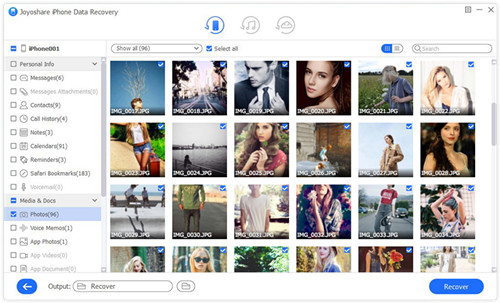 2. Wondershare Recoverit
Recoverit is comprehensive top mobile data recovery software to recover all kinds of data no matter where they're stored. By selecting "External Devices Recovery" mode, you can also restore your lost data from mobile phone, SD cards, iPod touch, etc. The software has the ability to recover various different files like photos, videos, music, notes or even data marked on your calendar. The interface is very user-friendly which makes it easy for everyone to use even if they've had no prior experience.
Pros:
Good smooth functioning
Simple and easy user interface
Virus free and safe to use
Cons:
With the constant change in technology and the number of software updates coming up for phones, the software is not able to keep up.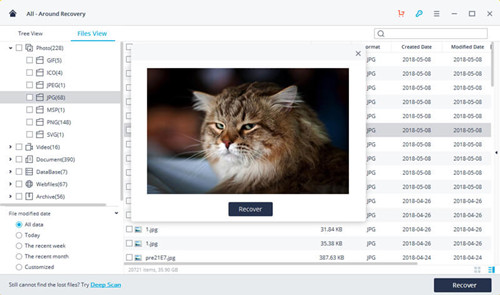 3. Jihosoft Android Data Recovery
This is definitely one of the best mobile data recovery tools to recover deleted data from Android devices. It is highly acclaimed data recovery software, especially for Android phones. It can be used to recover or retrieve lost or accidentally deleted data. You can recover data like photos, videos, contacts, text messages, call logs, audio files, and even your WhatsApp media. The software is compatible with the latest Android versions and is considered very compatible. You can use this software on phones like Samsung, Sony, HTC and many more.
Pros:
Preview the file before recovery
Selective scan option is available
Internal and external recovery options
Cons:
The scanning speed for higher Android OS is slow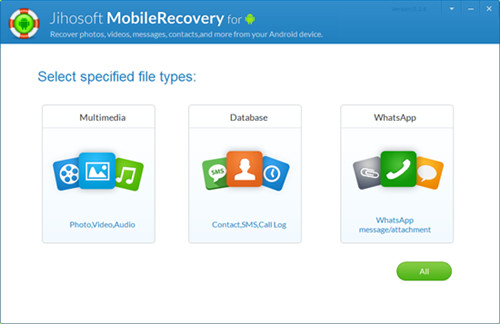 4. MyJad Android Data Recovery
Just like every other software on the list, MyJad Android Data Recovery also helps in recovery of lost or accidentally deleted data on your Android phones. It can recover files like images, videos, documents, songs, call history, messages and any data that was stored on your SD card. This software mainly caters to the needs of Android users. The pro version is expensive, but they have some of the best features.
Pros:
Very friendly user interface
Fully compatible with every Android handset
SD card retrieval is very effective
Cons:
It might ask you to root your phone before the recovery
Some internal data cannot be recovered
The software has some technical difficulties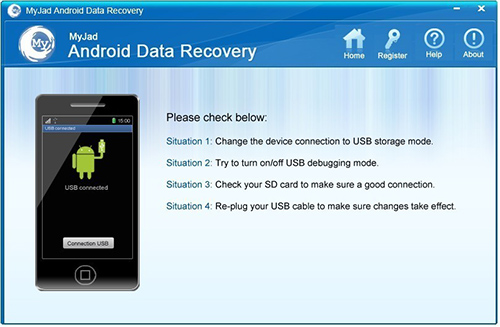 5. Dr.fone Android Data Recovery
Dr.fone Android Data Recovery software is a widely used program for Android users. The simple user interface attracts a large number of users who belong to various generations. Dr.fone has the ability to recover data from internal memory, an external SD card, and even when your phone is broken. This software can restore various numbers of files, ranging from your photos, emails, contacts, WhatsApp, documents, videos to call history, etc. It supports phones that belong to Samsung, Sony, LG, Motorola and the list goes on.
Pros:
The interface is simple and easy to use
Fast scanning speed
Works even when the phone is broken
Preview files before restoration
Cons:
The pro version is expensive but has the best features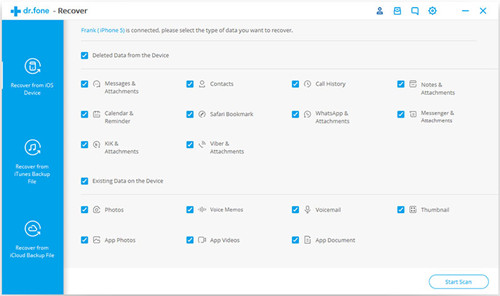 6. Recuva
Recuva is really one of the best mobile data recovery software in the market right now. This data recovery software is known for the different files it can recover. It can recover data from hard drives, CDs, and even external drives. And this software is as useful for phones as well. It has superior technology that performs deep scans. Recuva can recover all your lost or accidentally deleted data. It works brilliantly even when your phone is damaged or is not functioning well.
Pros:
Advanced scanning technology
Simple user interface
Option to preview before recovery
Cons:
The free version lacks a lot of features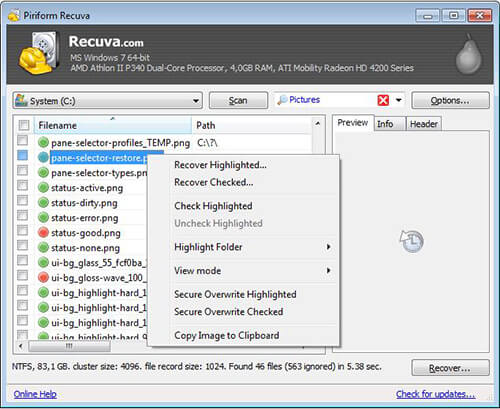 7. Remo Recover
Remo Recover is the software that can recover up to 300 different files including music, video and other forms of files from Android phones and other external devices like SD cards, etc. Usually during a software system update or one virus attack, one may lose data this is when you can use Remo Recover to get back all your missing files. This particular software supports different phone manufactures as well. It is also compatible with Mac OS and Windows.
Pros:
They offer excellent customer support
Ability to recover various forms of files
The free download version is available
Cons:
Paid version has the best features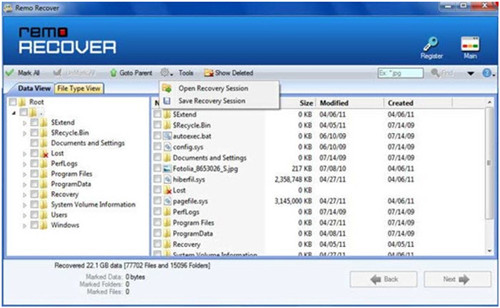 8. Syston Data Recovery
This is also a mobile data recovery software tool to restore lost data from external hard drive, laptop and mobile phones as well, etc. Syston Data Recovery software restores data that you thought have been permanently deleted, and all those hidden, deleted or improperly formatted files. Recovering missing data with Syston is very simple, that is, launch the program, scan the device and you will get a detailed list, and then choose the files you want to recover. It offers you the option of using the free version and then buying the full version only if you like it. When you upgrade to the full version you can access more tools.
Pros:
Easy download and installation
Completely virus-free and safe
Preview before recovery
Cons:
A lot of features are not available in the free version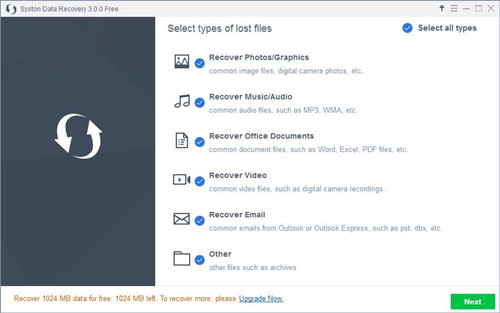 9. Undeleted 360
Undeleted 360 works on smartphones, PC, external hard drives, memory cards and so on. While we're using our phone, we accidentally delete files, or we consider them as not important only later do we realize how important they were. This software can help you recover such data or files effectively. Undeleted 360 is the best mobile data recovery software free of charge in such situations. It helps you recover around 250 different files.
Pros:
Simple to use
Fast scanning speed
Search filters work wonders
Cons:
Might have difficulty reading the phone
Not all files can be recovered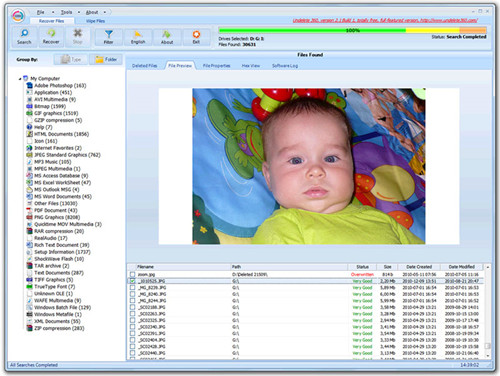 10. Undeleter
This app is mainly for Android users through which you can recover lost or data that you accidentally deleted. It can recover files like photos, videos, WhatsApp media, call history and even events saved on your calendar. It has a few simple steps to recover your data. All you have to do is open the application and select either internal memory or SD card. You'll be redirected to a page that will show you a list of all the deleted files. You can look for the files you want to restore and then select the restore option.
Pros:
All the files might be retrieved especially contacts and messages
Can restore data from internal or external memory
Offers the option to export it to Dropbox or Google drive
Easy to use and step by step instructions
Cons:
Looking for a particular file is hard due to no search option
Contains many annoying ads when recovering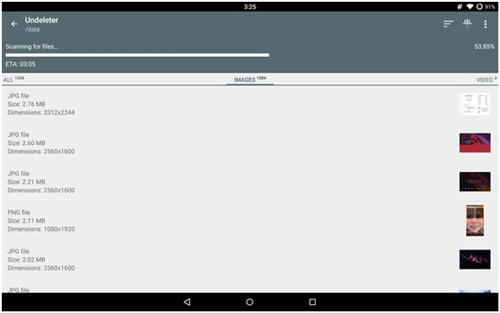 Conclusion
So, here is the best mobile data recovery software for iOS, Android phones or any other mobile devices, etc. You can read through them, take notice of their features, pros and cons for each program. In the end, it is up to you to pick the right software that will fulfill your needs. If you're an iOS user, Joyoshare iPhone Data Recovery is highly recommended here. Good luck to you in recovering your data.