You may find it challenging to play M4A files on your preferred players or devices because M4A is not a prevalent audio format in everyday life. So, what's the best method to handle this situation? Changing the M4A file format is a simple and quick solution. You may convert M4A to MP3, a standard and popular audio format, to listen to music on any media player or device. This article will show you how to convert M4A to MP3 on Windows and Mac using M4A to MP3 converter. Continue reading to discover the best software for you.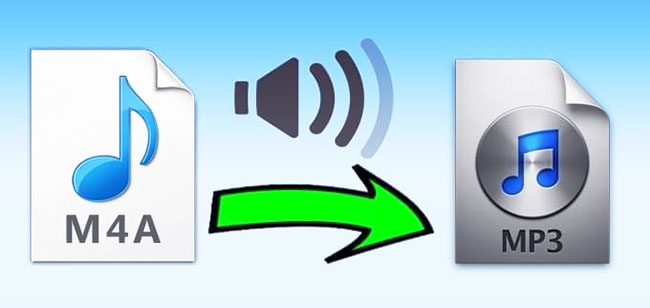 1. Joyoshare VidiKit
Joyoshare VidiKit - Video Converter is a multi-functional video toolkit that lets users do various processing tasks from a single platform. The interface is basic and user-friendly, with muted dark colors that are far more pleasing to the eyes than flamboyant UI designs.
It has a variety of good capabilities, including the ability to import video/audio files in multiple formats and output them in various formats. It is the best M4A to MP3 converter. Thanks to its specialized acceleration technology, you can convert 150+ formats at up to 60X conversion speed. Regardless of the format, several files can be converted at the same time.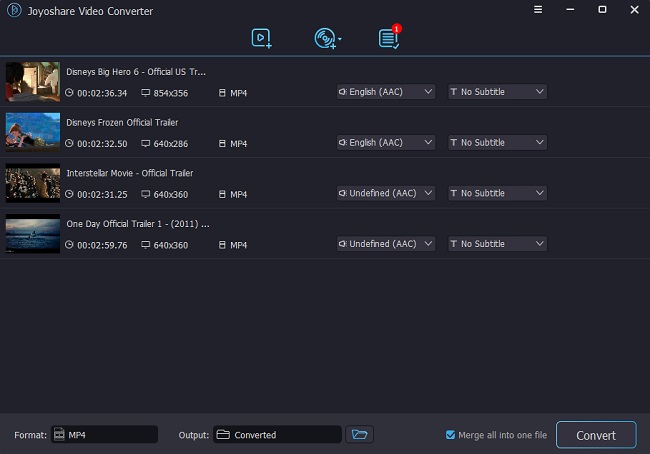 Pros:
Multi-track and multi-subtitle multimedia files are supported
Use the lossless 60X high-speed mode to convert
Have audio player and editor built-in
More video, DVD, and Live Photo conversion choices
Convert M4A to MP3 easily and quickly
Cons:
Limited conversion times in free trial version
2. CloudConvert
CloudConvert is a full-featured online M4A to MP3 converter that converts nearly any music and video. Due to its high-quality conversions, superior data security, and efficient API connection to accomplish the necessary encoding, CloudConvert is the appropriate program recommended for conversion. Unlike other file converter programs, this one lets you go right to the conversion process without having to register or go through annoying advertisements.
It supports over 200 different types, including music, video, and presentations. In addition, it works with all operating systems. You can trip your sound clips before converting them, and convert up to 25 tracks for free per day. It allows you to have more control over your files and convert both local and online files.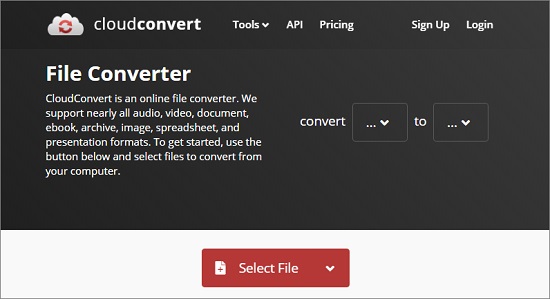 Pros:
A plethora of high-quality file converting solutions available
Cloud services are supported
User-friendly interface
Batch conversion is supported
Provide a robust API
Cons:
Free usage is limited to 25 conversions per day
3. FreeConvert
FreeConvert is a website providing a variety of converters. It also features a video converter, picture converter, document converter, ebook converter, in addition to audio converter. It contains a built-in free M4A to MP3 converter in the 'Audio Converter' option.
It can convert over 350 different types of videos, and the procedure is straightforward. Target format, video resolution, codec support, and orientation parameters are all adjustable in the sophisticated video converter. Regardless of the features, the file size is limited. You can also compress the movie and convert up to 20 videos in batch. Only 1GB of video conversion is permitted.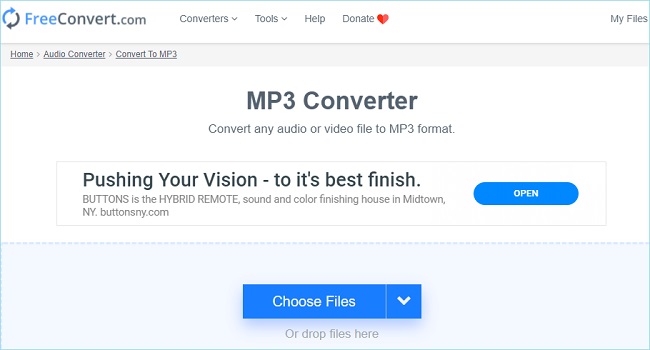 Pros:
Settings for advanced conversion
Batch conversion is accessible
Cons:
No option to export to Google Drive or Dropbox
4. Freemake Audio Converter
Freemake Audio Converter is a simple-to-use M4A to MP3 online converter. It does, however, only allow audio files that are less than three minutes long. You can merge multiple files into one larger file and convert single audio recordings into different formats in bulk. Before converting, you can optionally customize the output quality. It also allows you to convert videos from your computer and the internet into other formats.
On the other hand, Freemake Audio Converter does support MP3, but their video product does not until you buy it. This software is compatible with Windows 7 and later versions, and it is likely to function with older versions as well.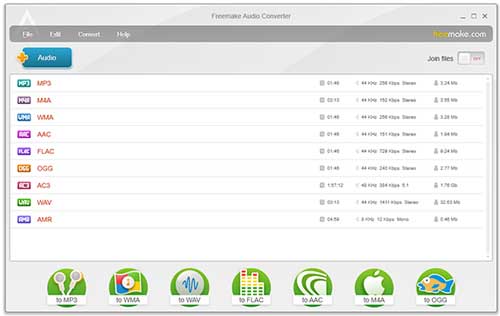 Pros:
Common audio file formats are supported
Convert a large number of audio files at once
Adjust the converted file's quality
Cons:
Files that are longer than three minutes will not be converted
Install another program during setup
5. Online Audio Converter
Online Audio Converter offers free online M4A to MP3 converter software. Its benefit is that it supports URL and Cloud upload, such as Google Drive and Dropbox while preserving a simple interface. Online Audio Converter converts over 300 different file formats, including video formats, to MP3, WAV, M4A, and M4R audio formats.
You may extract an audio track from a video with this tool. It comes in handy when you need to save a specific song from a film or music video. You can adjust the audio track's quality, bitrate, frequency, and several channels, as well as apply reverse playback and even eliminate a voice.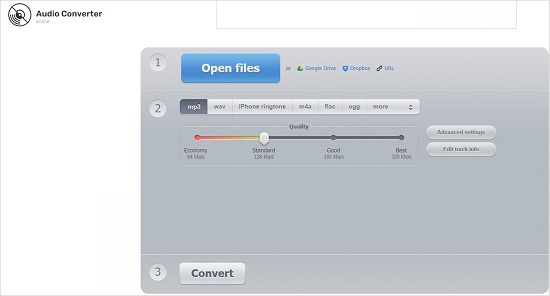 Pros:
Allow users to convert files from Google Drive, Dropbox, or a URL
Have a primary and user-friendly UI
Edit audio file metadata, such as Artiste and Genre
Cons:
Advertisements appear on the screen
Lack of support for a variety of media formats
6. Zamzar
Another M4A to MP3 online converter service, Zamzar, supports the majority of popular music and audio formats. You can either upload a file from your computer or input a URL to a file that needs to be converted online. Unless you opt to receive an email, you can wait for the button to appear on the download page, allowing you to download the converted file immediately.
It works with almost any modern web browser on any operating system, including Windows, Mac OS X, and Linux. Alternatively, you can send it to a specific Zamzar email address by attaching the file to a message.

Pros:
Work on any operating system
Convert both local and online audio files
A wide range of audio file types are supported
You can either download it now or wait for an email
Cons:
Slower than other internet converters
Limited to two per session and once every 24 hours
Large files (over 50 MB) are not supported for free users
7. Wondershare UniConverter
We usually find files incompatible with our preferred media players, such as M4A, when we share media files over the internet. We need to convert M4A to a more portable file format with Wondershare UniConverter to play it on media player. It's a media converter that can handle over 1000 different file types.
It can simply convert and edit films and audio files. You can download videos and audio from YouTube and convert them to MP3 on your PC. Other features of this software include burning DVDs and transferring media files to an Android or iOS smartphone.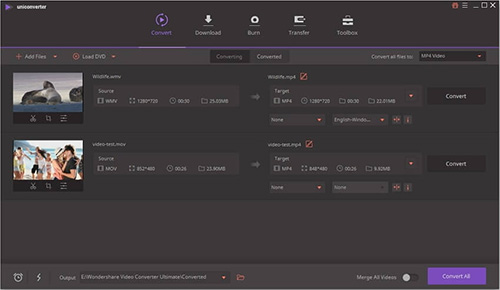 Pros:
Use GPU and several cores to speed up tasks
Function to compress, trim, crop, burn DVDs and download videos
Every component of the interface is clearly labeled and organized
Cons:
Have to pay to enjoy its most beneficial features
8. Moo0 Audio Converter
Moo0 Audio Converter is another free M4A to MP3 converter software for Windows. It's a straightforward program that accepts various audio formats as input and output, including AC3, AIFF, MP3, M4A, FLAC, MP2, and others. You can't entirely modify your conversions with Moo0 Audio Converter.
The audio bit rates will be the sole parameter you can change. You can acquire a flawless output file with this helpful video file conversion software. This means that the audio quality will not be altered throughout the conversion process. The program is simple to set up and runs on practically all versions of Windows.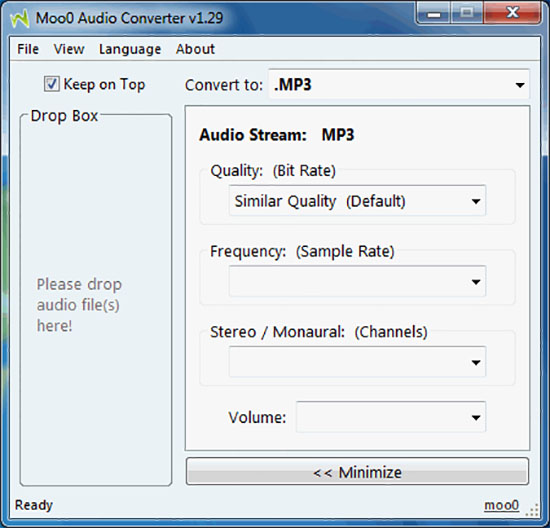 Pros:
Simple to use
Costless and effective
Cons:
Only two output formats are supported
9. MediaHuman Audio Converter
You'll love MediaHuman Audio Converter if you want a basic program that works without the complicated settings and complex UI that some audio converter apps provide. It has M4A to MP3 file converter and other formats like MP3, MP2, AAC, FLAC, AIFF to convert.
You may also set a restriction on how many processors you wish to use during the conversion so that the software only uses a limited number of resources. Using Discogs and Google Image sources, this software can automatically obtain music cover art. This software has an Add iTunes Playlist feature that allows you to import converted tracks directly into iTunes.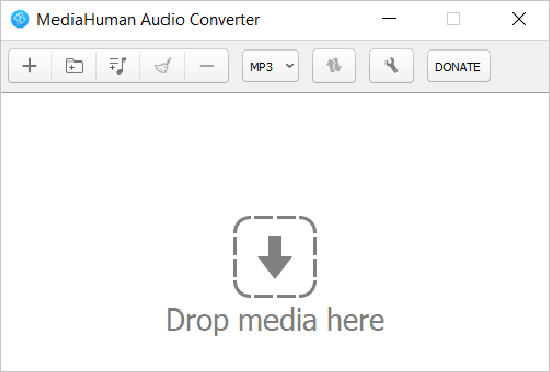 Pros:
The interface is simple to use
Convert between an extensive range of formats
Songs from iTunes playlists can be converted
Can choose auto-import the music into iTunes after the conversion
Cons:
No many advanced choices as you'd find in other audio file converters
10. Switch Audio Converter
Switch Audio Converter is one of the best M4A to MP3 converters on the market. It allows you to select the required bitrate for M4A to MP3 conversion. You can also convert audio files to other audio formats that are supported. WAV, VOX, RSS, FLAC, AIF, APE, OPP, and more output file formats are supported by Switch. It contains a built-in CRC that detects audio file problems.
You can either drag and drop or use the Add File(s) option to add files to this software for conversion. It supports two types of bitrates when converting M4A to MP3: constant bitrate (CBR) and variable bitrate (VBR). The constant bitrate can be set anywhere between 8 and 320 kilobits per second. You can choose the lowest and maximum bitrates for variable bitrates from the range mentioned above. Mono, Stereo (default), Joint, and Forced are the channel encoding modes offered by Switch.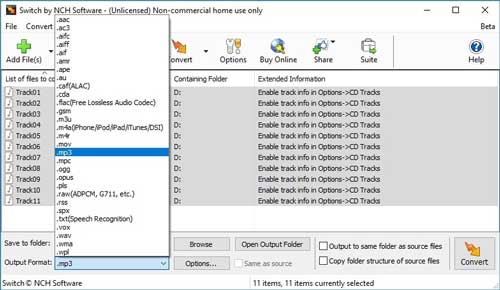 Pros:
Convert audio files in batches
Can automatically balance audio
Extract audio from video files
Cons:
Fewer output audio formats are accessible in the trial session
Convert only 5 files during the trial period
It is not free to use for a long time
11. VSDC Free Audio Converter
VSDC Free Audio Converter is a free online M4A to MP3 converter software for Windows. It offers a tabbed layout that is simple to comprehend and use, and it allows you to convert both local and online audio files. What's more, all of the most popular audio formats are supported. M3U files can also be opened and converted. You may convert single or many M4A files to MP3 audio format with this freeware.
You may change audio characteristics from the Edit Profiles menu like quality, audio codec, frequency, channels, and more before converting. You can listen to music both before and after the conversion using the built-in audio player. It allows you to change information about audio files such as the title, author, genre, album name, copyright information, and so on.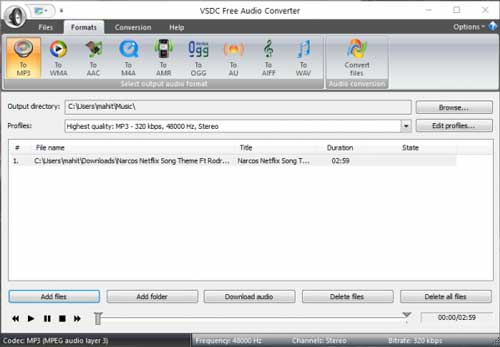 Pros:
Convert audio files from your computer and those from the internet
Editing metadata such as the album and artist of a song is possible
Convert audio files between a variety of formats
There are advanced options that you can change
Cons:
Setup tries to install other apps along with the audio converter
12. iTunes
Apple Music files, audiobooks, iTunes music, and other downloadable music can be converted to MP3, AAC, FLAC, or WAV format with iTunes. Using the M4A to MP3 converter built into iTunes, you can select your conversion parameters, such as the type of files you want to make and the audio quality you want them to have.
You may use iTunes to manage and play your music and videos. Apple Music allows you to listen to or download an infinite number of songs (with a paid subscription). The iTunes Store has music, movies, TV series, audiobooks, free podcasts, and more. Set up your iOS device and start filling it with music and other media.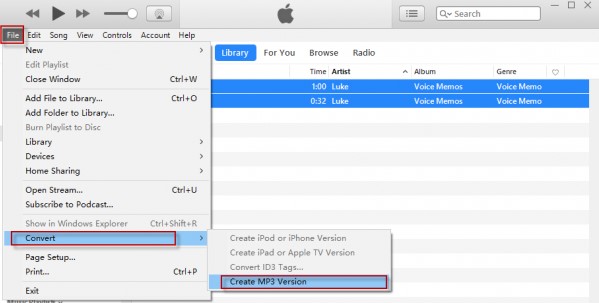 Pros:
A valuable media player allows you to download, update your gadgets, generate backups
Allow you to synchronize your music across numerous devices
Download and delete several files with only a few taps
Cons:
Every update appears to take up more space
Notorious for running slowly, consuming excessive RAM, and exhibiting numerous latencies
13. Any Audio Converter
Any Audio Converter is a free M4A to MP3 file converter. With this software, you can change the bitrate, sample rate, number of channels, and other parameters for the converted MP3 file. Any Audio Converter can convert videos, play videos, and burn DVDs.
The encoder setup options allow you to change a variety of settings. Bitrates range from 32 to 320 kbps. The output audio file quality can be set to Low, Normal, or High. You can also choose from a variety of output sample speeds. If necessary, the desired segment of an M4A file can be trimmed before conversion. This software also supports MP2, MP3, OGG, AAC, FLAC, WAV, WMA, AIFF, and other audio formats.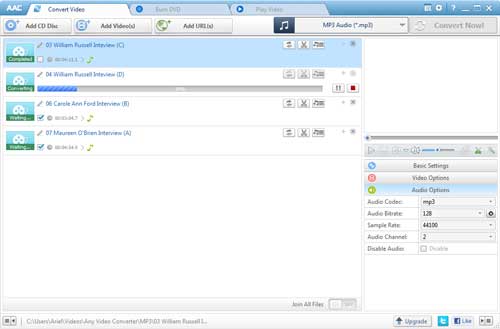 Pros:
Accept a variety of different input formats
Add effects before conversion
Compatible with both Windows and MacOS
Cons:
Request that you purchase AVC Pro after conversion
Attempt to install additional software during the installation process
14. NoteBurner Spotify Music Converter
NoteBurner Music Converter will allow you to download MP3 files from your Spotify playlist. The playlist URL should be entered into the Noteburner search bar, and the software will analyze it, import the playlist, and download the songs.
If you like listening to music on Spotify and discovering new songs but don't want to pay for a premium subscription, you can download these tracks to your computer. NoteBurner Spotify Music Converter for Windows is a terrific tool for eliminating DRM protections from your favorite tracks so you may listen to them anywhere you want. You can import all your tracks and playlists, removing the DRM protection and downloading them. Before using M4A to MP3 converter online, you must choose file formats, as well as the audio quality of 128 KBPS to 320 KBPS.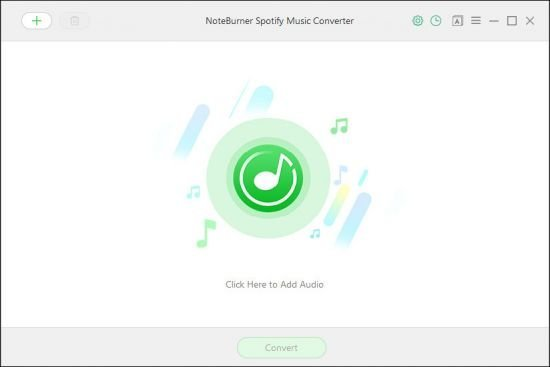 Pros:
The most trustworthy converter available
Cons:
MP3, WMA, and WAV are the only formats it generates
15. Convertio
Covertio is a web-based converter that simplifies the process of transcoding. It also includes "Office Utility Tools" such as OCR and file converter tools, as well as support for over 3400 file formats. Convertio is a powerful online audio converter that consistently produces higher-quality output.
This online M4A to MP3 converter allows you to download converted files right away. You may use this program to convert files directly from cloud server apps like Google Drive and Dropbox. Not only that, but it also deletes all input files immediately after conversion, ensuring the protection of your data.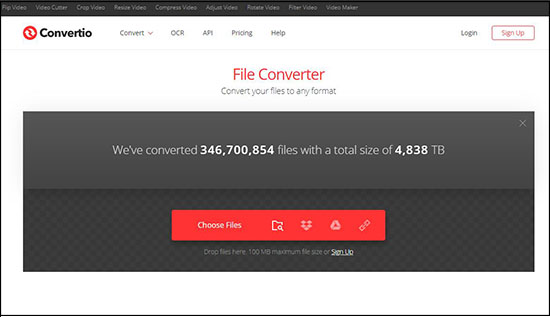 Pros:
OCR tool built-in
Privacy and security are assured
Popular cloud services are integrated
Batch processing is quick and simple to utilize
Over 300 formats are supported
Cons:
The free edition has a file size limit of 100 MB per file
Conclusion:
When it comes to M4A to MP3 converter, there is a lot to consider. The names in this list are those that can provide you with more than just a single conversion. Convert many files to multiple formats of your choice, and obtain one audio quality that can't be beaten. There are a variety of programs available, each with its own set of features. When you need to convert one or two files quickly, these applications are your best bet. Joyoshare VidiKit, on the other hand, offers speed and efficiency, which is crucial when working with several files, as long as you have access to your computer.