An iCloud backup extractor is an application or software specially designed for iDevices to assist users in retrieving lost or deleted files from iTunes or iCloud. It makes a copy of the file on your Windows or Mac book. With growing concerns about privacy and data loss coupled with our ignorance sometimes, we tend to lose important data. Data recovery salvages inaccessible, lost, or corrupted data from storage devices including electronic devices such as your phone or tablet. The following are 7 top-rated iCloud backup extractors available in the digital market. The list gives out the pros and cons of each system so that you can choose the one that fits your requirements perfectly!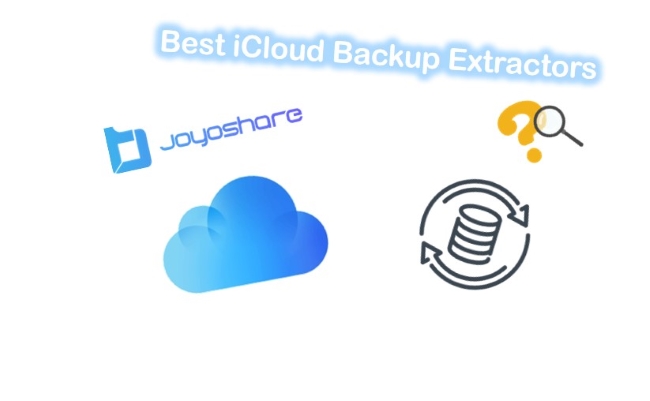 Part 1. List of the Best iCloud Backup Extractors
No 1. Joyoshare iPhone Data Recovery [Recommended]
Joyoshare iPhone Data Recovery is one of the best iCloud backup extractors that have been developed to date. It is unsurpassable in its efficiency and smooth sailing features. You can use Joyoshare to easily recover lost and deleted data on different iOS devices from iCloud backup securely. And also save files from various data loss phases including upgrade failure, device damage, forgotten password, jailbreak failure, etc. Joyoshare iCloud Backup Extractor supports more than 20 different file types including the basic and advanced file types.
Pros:
Not only it can extract up to 20+ types of data from iCloud backup safely, but recovers from iDevices, iTunes
Real-time preview of the data and the speed of recovery are commendable
Categorizing the scanned results according to the path, time, and type
The unique built-in algorithm provides smart and powerful recovery
Data possible export in various formats, like CSV, PDF, and XML
Advanced technology to simplify the data recovery process
Able to access iTunes and recover data from there as well
The UI of this tool is very simple and intuitive
Cons:
Data recovery is limited with the free version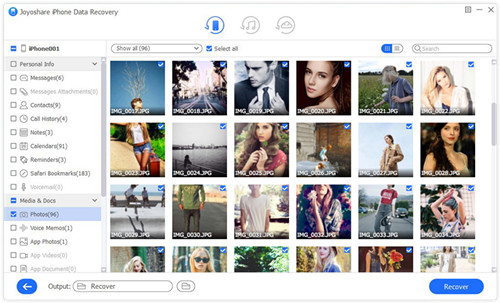 Video Tutorial: Recover Data with Joyoshare iPhone Data Recovery
No 2. iCloud Control Panel
The iCloud Control Panel is the most basic, and traditional way of retrieving and or extracting data from an iDevice. It has a simple step-by-step method that anyone can follow and you can extract data from a web browser. Since it works on the web browser and not through a particular software it might not have a lot of extraction features. Nevertheless, it is one of the best free iCloud backup extractors available out there.
Pros:
Totally free iCloud backup retrieval
Allow sync between iCloud and computer and or other iDevices
Cons:
Only extract a limited amount of data. Corrupted or deleted files are not accessible
It does give a preview as to what you want to get a copy of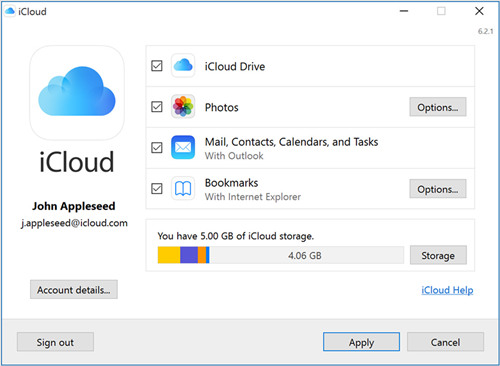 No 3. Leawo iOS Data Recovery
Leawo iOS Data Recovery is another best iCloud backup extractor that has entered the digital market for users to extract their lost data from an iOS device. The software helps access 12 file types from an iPhone, iPad, and iPod Touch. You can access and restore data from iCloud and iTunes backup to your computer.
Pros:
Easy to use interface, quick and reliable
Gives the user a file preview to restore selective data
You can access file search and filter options on the software
Cons:
Some features are not available in the free version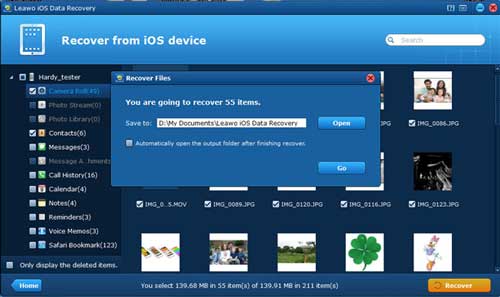 No 4. iMyFone D-Back
iMyFone D-Back iPhone Data Recovery is a desktop software that helps in extracting data from both iTunes and iCloud backup on your iDevices and thus recover lost data. This software though not entirely free, is one of the best iCloud backup extractors on the market. The custom download of file types throughout iCloud and preview based downloading features add to this system's quality characteristics. Its quick and organized way of helping the user makes it stand out in the crowd.
Pros:
Extract and recover lost iOS data from iCloud backup
A preview of the files feature is available
Cons:
Takes a little time to download iCloud backup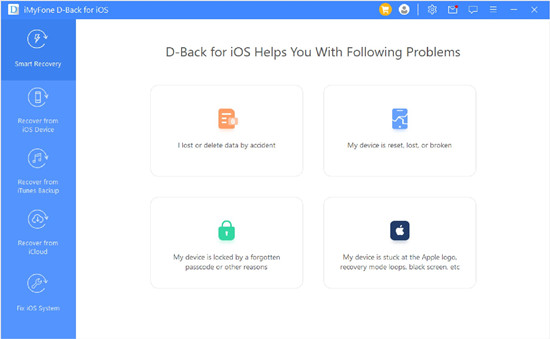 No 5. iMobie PhoneRescue
iMobie PhoneRescue is another good iCloud backup extractor available on the internet. This iCloud backup extractor is special because it is created by an Apple-certified developer. Its user-emphasized interface and smoothing usage with a guided tour of how it works helps the user make the best use of the software. The software is available for free download both on Windows and Mac computers.
Pros:
Friendly interface and easy to use
100% safe and secure
Direct restore to iOS device
Cons: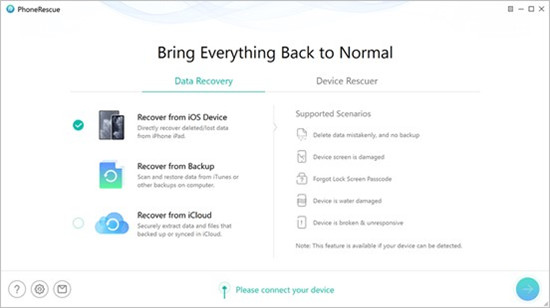 No 6. EaseUS MobiSaver
EaseUS MobiSaver is also available in the application version for both Windows and Mac systems. EaseUS iCloud Backup Extractor helps Apple users get back lost data and old deleted files from iCloud backup, iTunes backup, and iDevice itself. With this program, you can recover lost or deleted contacts, text messages, call history, and many more in an easy way.
Pros:
Preview to lost and old files is available
Supports the latest iOS versions
Available for Mac and Windows
Cons:
Can't retrieve all the lost data, might miss out on something
Difficult to connect to the iPhone at times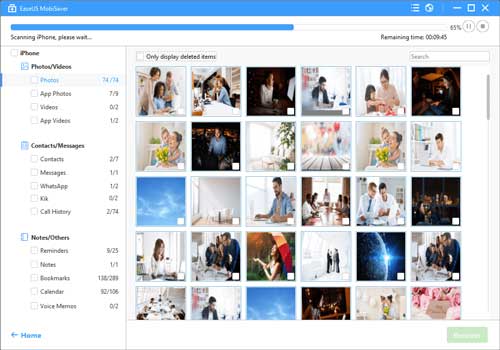 No 7. Wondershare Dr. Fone
Wondershare Dr.Fone has to be another best iCloud backup extractor that is there in the digital market space. With all three methods of recovering data, Dr. Fone is available both for Windows and Mac desktops to help recover lost data from iOS devices, iTunes backup, and iCloud backup. The tool can retrieve many kinds of missing files such as photos, videos, call history, messages, etc.
Pros:
3 methods of recovery supported
Supports more than 12 different file formats
Compatible with iOS 15
Cons:
Does not identify iPhone initially
Might take a little bit of time with the deep scan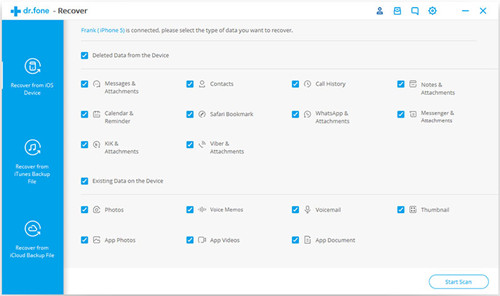 Part 2. FAQs about iCloud Backup
Q 1. Which is the Best iCloud Backup Extractor?
It is important to understand that each tool has advantages and disadvantages. It is biased to judge software solely based on a single factor. Some free programs may not be safe. Some of the software offers free trial versions of limited functionality but also takes a lot of care to protect the user's information. The data recovery rate and cost performance are greatly enhanced as a result. Your choice will therefore depend on your individual needs. Joyoshare iPhone Data Recovery, for instance, gives users the best chances of recovering data. Other software also has its benefits. Therefore, the software that will be right for your needs to suit your needs.
Q 2. How to Back up iPhone to iCloud?
With iCloud and a Wi-Fi network connection, you can back up your device. Backing up your device without connecting it to a computer is possible with iCloud.
Step 1: Connect your device to a Wi-Fi network.
Step 2: Head to Settings → [your name] → and tap iCloud → iCloud Backup.
Step 3: Tap on Back Up Now. Stay connected to your Wi-Fi network until the process ends. Your last backup time and date can be found under your Back Up Now option.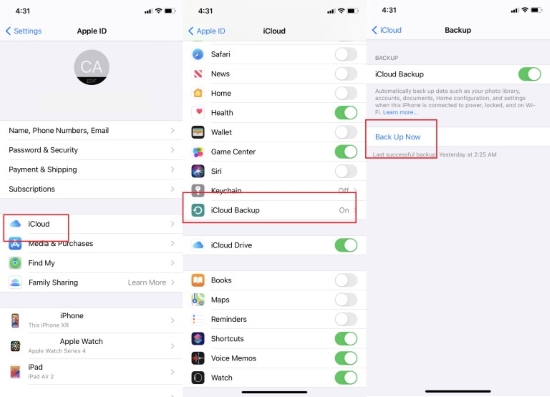 Q 3. How to Recover Lost Data on iPhone Without Backup
The only way to recover data from your iPhone is if you have backed up the data. However, using the third-party data recovery software we listed above, it is possible to restore the data without backup.
Whenever you lose data and unfortunately do not backup your phone, better stop using it until you get it back. This will prevent your data from being permanently lost due to operation errors. You should at the moment consider using iPhone Data Recovery Software such as Joyoshare iPhone Data Recovery. Just remember, the sooner you use it, the higher the success rate you get.
Part 3. Summary
With this, we've listed the top 7 iCloud backup extractors that are available for your reference including the best free iCloud backup extractors as well. The article aims at providing genuine and unbiased reviews of the systems available for data recovery. With the coming of age and advancement in technology, it's not necessary to have a Macbook to be able to recover lost data from an iDevice. You can now do that by installing iCloud on your Windows PC as well! Moreover, having a recovery application or software is always a good idea to prevent issues from happening. Best to have a cure for issues.