Waveform Audio File, abbreviated as WAV, is a common audio format extension that's developed by Microsoft. WAV files are preferred as they provide quality and compressed sound even without prior compression. And like other popular formats, WAV files may suddenly become corrupt, leaving you pondering many questions. But worry less. You can repair corrupt WAV files with many reliable tools. Moreover, it is also good to learn the possible reasons why your file may get corrupted or damaged before we embark on how to repair it.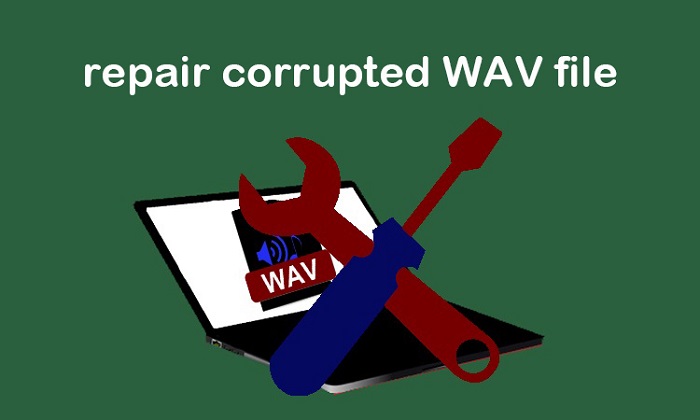 Why WAV Gets Corrupted?
Interruption during the read-write process may cause damage to your files.
The file may get corrupted while moving it from one source to another.
Virus attack is prone to damaging and infecting files hence causing loss.
A broken file system is another notable cause for corrupt files.
You may also accidentally delete or format your WAV file.
Solution 1. Fix Corrupted WAV File - Joyoshare VidiKit
If you have been searching for ways on how to fix corrupted WAV files, then the best tool is here. Joyoshare VidiKit provides you with the option to repair your WAV files with a high success rate. It comprises the latest state-of-the-art technology to repair corrupted audio in a few minutes and even handle multiple parallel tasks. Furthermore, it supports a wide range of Digital Media Players and devices. Besides WAV format, it also supports other formats like AVI, MP3, MPEG, MP4, and many others. Use it to repair broken videos and audio in different scenarios.
Key Features of Joyoshare VidiKit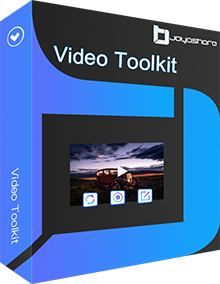 Fix videos and audio that are damaged, unplayable, corrupted, etc.
Repair corrupt FLV, MP4, WAV, MOV, and over 25 popular formats
Fix multiple video and audio files with a pretty high success rate
Preview fixed videos and audio and export and save to computer
Support various digital media players and fashionable cameras
Step 1

Run Joyoshare VidiKit and Open Video Repair

After a successful download and installation, start to fix corrupt WAV file by opening Joyoshare VidiKit on your computer. Then click the "Add" tab in the lower-left corner of the screen. You may also opt to drag and drop the corrupted WAV file to the program interface.

Step 2

Start the WAV Fixing Process

Next, go to the lower right corner of the interface and hit the "Repair" button. This will initiate the repair process. The tool will inform you when it has completed fixing all the files, showing you both the completed and the failed files. You also have the option to set a parallel task to repair at this stage. Even though Joyoshare is set to repair one file at a time, you can go to the "Advanced" option and enable the "Number of parallel tasks" to 2 or 3 and handle several files.

Step 3

Preview and Save Repaired WAV

Finally, you are free to preview your repaired WAV files. If you are satisfied with the fixed files, you can save them to the computer by clicking the "Save" button.
Solution 2. How to Fix Corrupted WAV Files - Audacity
Audacity is another great tool to repair corrupt WAV file. It is a free audio editing tool with a strong set of features for advanced editing, recording, file conversion, and file repair. Likewise, it supports several audio formats such as MP3, WAV, among others.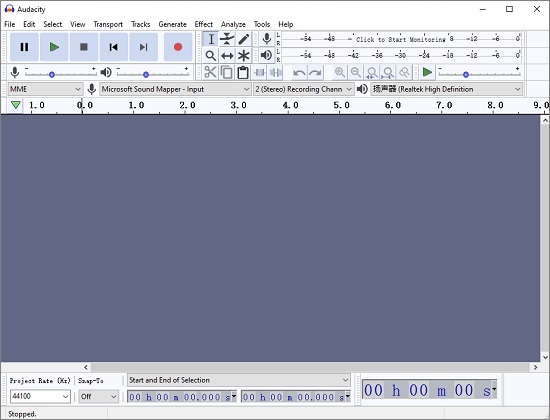 Step 1: After downloading and installing Audacity on your computer, open it and start to add files to the app. Click "File" > "Open" then choose your corrupted WAV files;
Step 2: Then select the appropriate portion of audio to replace. You can zoom in to view the individual dots in the waveform;
Step 3: Click the "Effect" > "Repair" options to replace the selected audio with the repaired piece;
Step 3: Replay the piece to ascertain that it has been repaired, then click the "OK" button to finish the process.
Solution 3. Repair Corrupt WAV File Online - OfficeRecovery Online
When it comes to repairing corrupt WAV files online, OfficeRecovery Online works best for you. It offers both free and paid options. Even though the free option doesn't have advanced features, it will repair your damaged file instantly. More so, you don't need to download or install any application.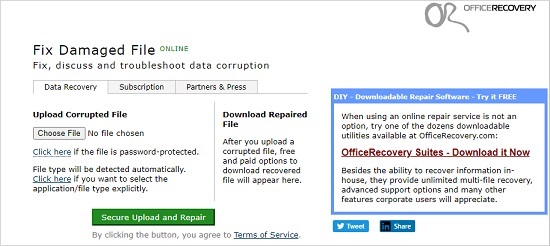 Step 1: Visit the OfficeRecovery website and press the "Choose File" button to upload your corrupted files via your browser;
Step 2: Next, tap the green "Secure Upload and Repair" button to start to repair corrupt WAV online.
Solution 4. Fix Corrupted WAV Files - VLC
Our final option to repair corrupted WAV files is VLC. This tool is free to use and has an intuitive user interface. VLC is also lightweight and will not take up much of your disk space. Also, VLC has a built-in WAV file repair feature to automatically repair your files whenever it gets a corrupted or damaged one. You just need to set it up.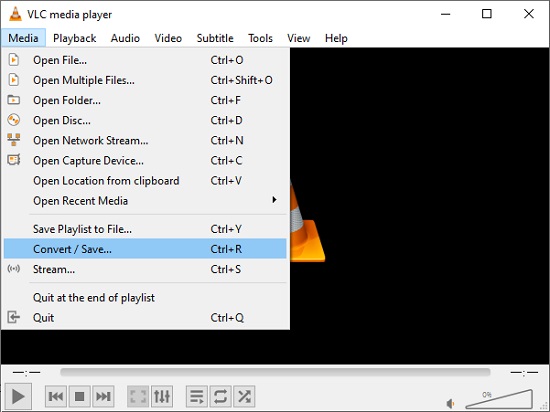 Step 1: Download, install and then launch the VLC Player on your computer. Then click the "Media" > "Convert/Save..." options;
Step 2: Then on the "Open Media" window, you need to tap the "File" tab and then click the "+Add" button to import your corrupted WAV file;
Step 3: Next, click the "Convert/Save" button at the bottom of the "Open Media" window, and after that, hit on the "Browse" button at the bottom of the resulting window to designate your save path; please remember to type in the file extension as .wav;
Step 4: Finally, click on the "Start" button to let VLC repair your WAV file and try playing your repaired WAV file when the process is finished.
Conclusion
Your WAV file may accidentally become corrupted or inaccessible when you try playing it. But no worries. In this article, we have presented 4 ways for you to repair corrupt WAV files. You can use Audacity and VLC for free and use OfficeRecovery Online without downloading any extra software. Moreover, Joyoshare VidiKit is the most efficient and professional video repair software. You can use it to repair various videos and audio with a high success rate. Anyway, please feel free to engage these tools and get back on your feet, accessing your repaired files without further hitches.