Canva is an easy-to-use tool used to create designs, whether logos, collages, thumbnails, posters, etc. Most people use Canva with the free version, which comes with a watermark embedded in their designs. As a result, this leads to unprofessional or aesthetically displeasing works making free Canva users look for ways to remove watermark on Canva. This article will explain how to remove Canva watermark for all users using the methods below.
1. Remove Watermark by Upgrading to the Pro Version
Upgrading to Canva Pro is the easiest way to remove the watermark embedded in your Canva designs. Aside from being a good Canva watermark remover, Canva Pro has over 100 brand kits allow you access to brand visuals, logos, etc., with various colors, logos, etc. Also, there are over 610000 templates for an efficient design process and it offers cloud storage of up to 1TB to save your graphic designs. You can simply use magic resize to endlessly alter the design sizes of your design.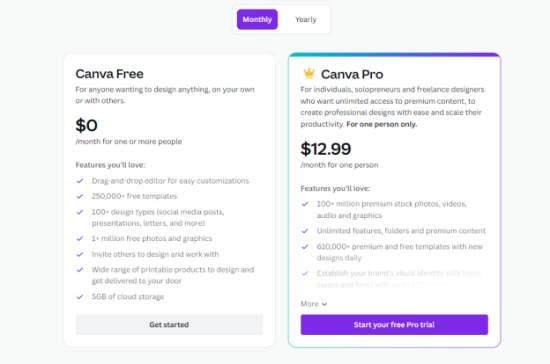 Step 1: Go to Canva Website
Once on the website, choose the premium picture or design you like, and you will get a "Remove watermark" option below the image.
Step 2: Buy the Premium Picture
To buy the premium design, click "Remove watermark" and select "Purchase". By doing this, your downloaded image won't have any watermarks on it.
Step 3: Upgrade to Canva Pro
You can also upgrade to Canva Pro to get rid of watermarks. On the homeside panel, click on Try Canva Pro for Solo or Teams. Follow the onscreen instruction, include your payment plan, and enter your details to complete the upgrade.
2. Remove Canva Watermark with Professional Watermark Remover
Joyoshare VidiKit (Watermark Wizard) can serve as a Canva watermark remover and an image editor. The tool is available on Windows PC and Mac. Besides, it enables you to remove Canva watermark after completing the design. With clear file classification, it makes intuitive distinction between processed and unprocessed files. You can add any common images with different formats. Apart from watermark editing, you can furtherly crop your pictures to keep desired sections and resize it as you want.
Key Features of Joyoshare VidiKit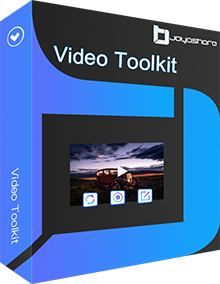 Compatibility with image and video formats, like PNG, JPG, GIF, WEBP, etc.
Remove watermark from numerous pictures at the same time
It has a previewing feature to check result before expirting files
Get rid of multiple watermark from one image
Double view modes allow you to look at designs in a list view or large icons
Step 1

Add Canva Files to Joyoshare VidiKit

Download and install Joyoshare VidiKit. Afterward, launch the software and navigate the Repair section to access the Watermark Wizard. Click on "Remove watermark from image" and select "Add Files" to import the picture containing the watermark from Canva.

Step 2

Mark Out the Canva Watermark

Use the rectangle, freehand, or polygon selection tool to specify the location of the Canva watermark in your design. After choosing the tool you want, just hit the "Apply" option in the upper right corner to remove the Canva watermark.

Step 3

Get Your Image without Canva Watermark

After removing the watermark, click the "Format" option to choose the image's format. Then you can save your work by clicking on Output.
3. FAQs about Canva Watermark Removing
Q1: How do I remove watermarks for free?
You can use some online free watermark remover to do that at no cost. However, the one who has budget and only need a small number of images can purchase the corresponding images directly from Cana or upgrade to a specific package to enjoy the Pro version. But if you're a photo and video editor and often have a lot of resources that need to be dealt without watermark, Joyoshare VidiKit is a good solution.
Q2: How do I change my watermark in Canva?
Step 1. Open Canva's website and get the premium version to change the watermark.
Step 2. Press the "Create a design" option.
Step 3. Choose the Custom size to edit the size of the new watermark.
Step 4. Edit its level of transparency with the "Transparent background" button and click "Download".
Q3: Can I use Canva for free forever?
Yes, you can have unlimited access to Canva for free. However, media files edited with the app will have watermarks.
Q4: Where do I find my Canva watermark?
You will find it directly on your design or image if you are a free user.
Q5: Does Canva's free trial have a watermark?
Yes, the Canva free trial will always have a watermark.
Q6: Is watermark removal from Canva illegal?
Removing watermarks without the permission of the owner is illegal. You'd better get permission from the creator/contributor. Or pay for the license. Keep in mind to use the images for personal use.
Conclusion:
Canva is a free online design and editing tool that provides good design abilities for its users and does not require many technicalities. However, a common disadvantage of the app for free users is that it adds distracting watermarks to your final design or graphic. This article has shown you how to remove Canva watermark and you can pick up your desired way to make it quickly.