Filmora is a sought-after video editor that enables you to create quality videos. It comes with high-end editing features and ready-made templates. You can either subscribe to the premium version or use its free version. The process is easy and you can hit the Export tab to share your video on social media sites like YouTube and Vimeo. However, it hits you when you suddenly realize your video has a watermark and you start finding ways on how to remove Filmora watermark. Well, check out here to know how to share your video without any watermark by removing it completely.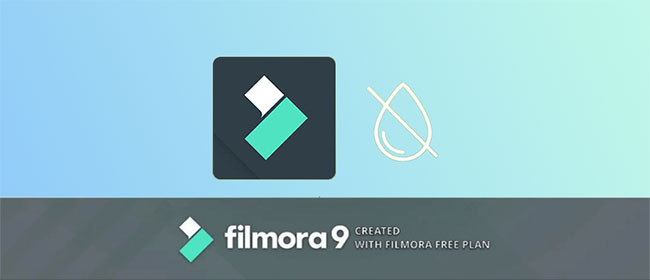 Does Filmora Have a Watermark?
Yes, Filmora offers two versions, including the free version and the premium version. The free subscription has a watermark on the final created video. However, you can upgrade to the premium version to eliminate the watermark. Check the next section on how to remove this watermark easily and quickly within few steps.
Part 1. How to Remove Filmora Watermark
1

Purchase a License

You can break such limitation by purchasing a license since the free version has limited features. Visit Filmora website and click on the "Buy Now" tab. Choose your subscription. This can be monthly, quarterly, or yearly. Pay for the subscription to break any limitation and remove Filmora watermark. By doing this, you will know how to export Filmora without watermark.
2

Crack Filmora

This will bypass the activation system and you don't need to make any payment. Launch your browser then visit https://drive.google.com/file/d/1g3nlXtPqTJbF_bd_L3xs4KRAAu0Y6-WP/. This lets you download "X crack" on your computer. Next, you need to extract the "Filmora crack file" that you just downloaded.
Step 1: Open it and locate the "Wondershare Filmora 10.0.0.91". Double click on it and enter the installation guide. Continue to install the program.
Step 2: Choose the "Standard" installation option and press the "Next" button. Remember to leave the setup install folder as default.
Step 3: Then press the "Next" button on the pop-up panel to move to a new panel. Finally, uncheck the "Trail" effects then visit the "irepacks.ru" website.
Step 4: Select "Create Desktop" and "Create TaskBar" options. Hit the "Next" tab to let the installation of the cracked Filmora without a watermark start.
Note:
Actually, cracking Filmora or any other program and application is illegal in most countries. Also, according to a report by security company Cybereason, over 500,000 machines have been infected by malware from just one cracked program. So, it is highly recommended that you remove Filmora watermark by purchasing license or using watermark removers rather than cracking Filmora.
Part 2. Remove Filmora Watermark - Mac/Windows
1

Joyoshare VidiKit

Joyoshare VidiKit also lets you remove Filmora watermark from your video or photo without any traces. It works efficiently, getting rid of your watermarks in batches while allowing you to customize special watermarks like text and image as well. Also, you are allowed to process your file with its customized functions and preview video and photo before saving your file without watermark. Compatible with a multitude of video and image formats like MKV, WMV, SWF, MOV, AVI, TIFF, WEBP, GIF, PNG, JPG, and more, Joyoshare VidiKit gives you the power to save file in any format.

Key Features of Joyoshare VidiKit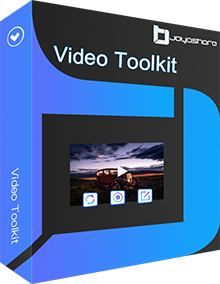 Add customized image and text watermarks
Batch edit watermark for your videos and photos
Easily preview your video before exporting
Work with various files like ASF, DV, MKV, TS, MOV, AVI, etc.
Remove watermark from graduation image, Shutterstock, Getty, and more
Step 1: Install and Run Joyoshare VidiKit
First, launch Joyoshare VidiKit on your PC/Mac then run "Watermark Wizard". Next, in the main interface, choose the "Remove watermark from video" option. Drag and drop the video file with Filmora watermark to the program or click the "+ Add Files" button to add file.

Step 2: Select Filmora Watermark Area
Highlight your video then select the region where the watermark is located. You can add more video clips by clicking the "Add" button. Then confirm the watermark location for every segment to remove them.

Step 3: Start to Remove Filmora Wateramrk
Preview your video then continue to customize format. Just click the "Format" tab to choose your desired format and preset quality. Finally, click the "Output" tab to export your videos without a watermark.
2

iMyFone MarkGo

This credible tool will immediately erase Filmora watermark from your Windows devices among other systems. iMyFone MarkGo is user-friendly and is suitable for non-technical users as well. It supports Windows and Mac devices. As you can see in its interface, it can remove watermark from video/image and add watermark to image/video as you want.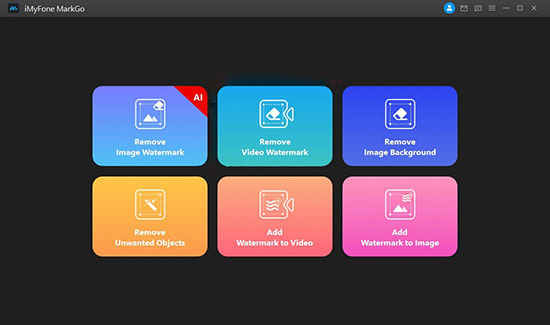 Step 1: Download, install and launch iMyFone MarkGo on your computer.
Step 2: The next step is to add Filmora video file.
Step 3: Your Filmora video will be imported. A box will then appear from where you can remove the watermark. Just push the box into the watermark you wish to remove.
Step 4: Finally, press the "Remove Now" button to remove Filmora watermark.
3

Adobe After Effects

Adobe After Effects is compassed of in-built features and templates to help you edit your video in a few steps. This tool contains advanced features to let you do any type of editing such as crop, add effects, add watermark, use templates, add subtitle and so on. It will work on your Mac or Windows.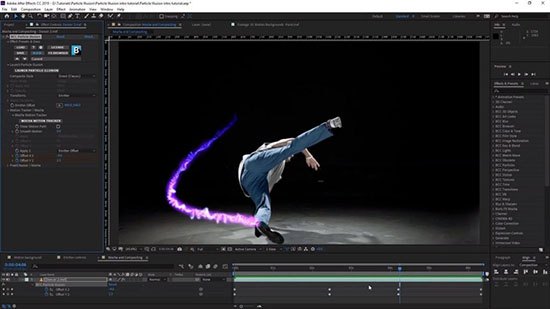 Step 1: Install the program on your computer. You can enjoy its free service for 7 days.
Step 2: Launch the program then hit the "Import" - "Files" option. Drag the video to the timeline then move the playhead at your timeline where Filmora end credits start.
Step 3: Finally, move to the top menu bar to reach for the pen tool. Use it to create masks for the Filmora watermark. From the mask, select the "Subtract" option for each mask you created. Then move to the right panel of Adobe After Effect to find the "Effects & Presets" tab.
Step 4: Go to the "Generate Fill Layer" and let Adobe After Effect starts to analyze your videos frame by frame and render the Filmora watermarked video free.
Part 3. How to Get Rid of Filmora Watermark - iOS/Android
1

Remove & Add Watermark

Remove & Add Watermark is an Android app that will remove watermark from your Filmora video. Simply use the lasso and rectangle tool to select the Filmora watermark areas. It works in easy steps to remove or add watermark to both your videos and images. Follow these steps to do that easily.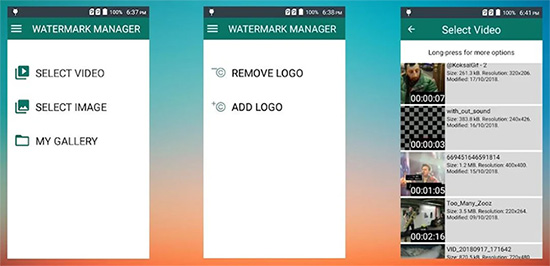 Step 1: Launch the app and choose the "SELECT VIDEO" - "REMOVE WATERMARK" option to import your video.
Step 2: Choose from the selection tools for the Filmora watermark to remove from your video.
Step 3: Then click on the "Save" button to save your video to your phone.
2

Video Eraser - Remove Logo

Use Video Eraser - Remove Logo to remove Filmora watermark on your video. This app has a rectangle tool that's easily used to remove any watermarks from your video. If you operate iOS device, then this tool is for you. It is easy to use and will allow you to preview content before you can share it on media sites.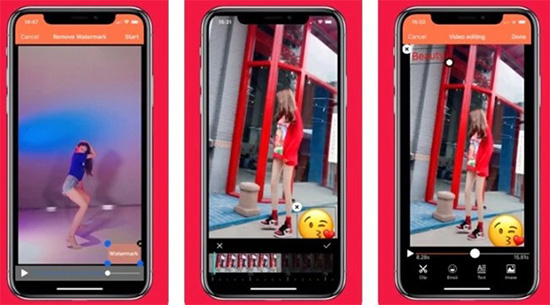 Step 1: Open the app then tap on the "More" option. Next, import your video for editing.
Step 2: Then place the rectangle tool into the watermark in your video.
Step 3: Your video processing will begin soon. Then click on the "Save" button to save your video into your library.
Part 4. How to Remove Watermark from Filmora Online
You don't have to install a tool to remove the watermark from Filmora. This tool enables you to set output parameters for your content. You can also share your video directly on social media sites like YouTube and Instagram. Apowersoft Online Watermark Remover will get you off the hook with these simple and easy steps.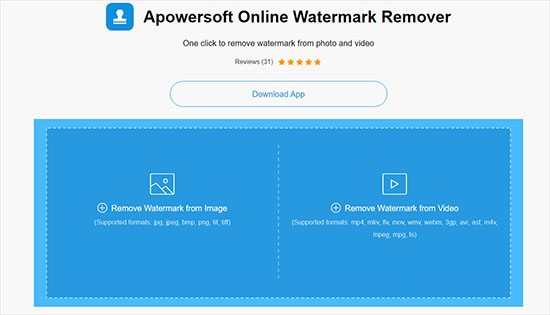 Step 1: Visit Apowersoft Online Watermark Remover official website then choose the "Remove Watermark from Video" tab and get the video that you need.
Step 2: Once you upload your video, place the "Selection" box on the Filmora watermark.
Step 3: Next, click on the "Erase" button to remove the watermark.
Step 4: You can then download your video and share it on social media sites.
Conclusion:
That's how to remove Filmora watermark on Windows, Mac, Android and iOS devices. Explore the options and get quality videos without watermark. You can either install software or use an online tool to eradicate the Filmora watermark. These tools serve various purposes according to their features. You can choose which one suits your needs to help you to do that quickly.