There can be times when you will face such scenarios that will require you to remove a logo from videos. Feel lucky as it is not as complex task as it may seem to you. There are plenty of tools that will allow you to remove logo from video in 2022. In this topic, we will introduce you to our selection of top 11 best logo removers that will help you with your needs so you can reduce such distractions from your videos. Check each tool and walk through all of the mentioned steps flawlessly and effortlessly.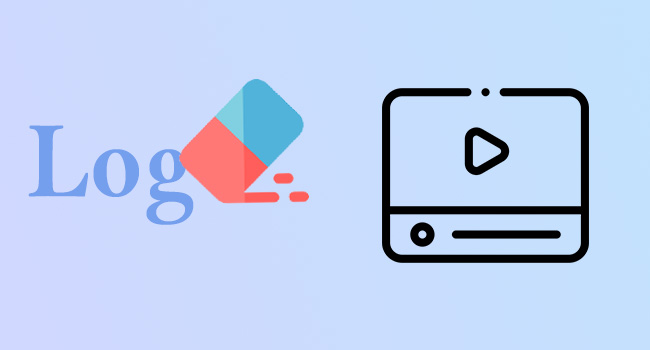 Part 1. Joyoshare VidiKit
Joyoshare VidiKit is an amazing video logo remover for removing logo from videos and images. You can use mouse to specify a spot where a logo will appear and remove mutiple logos in different segents at the same time. Additionally, this fantastic logo remover can eliminate undesirable text and output video in 1:1 original or adjusted size. It is the best watermark removal solution available if you want to save video files in various formats. In addition, changing resolution, codec, sample rate, bitrate and more is easy when you customize format.
Key Features of Joyoshare VidiKit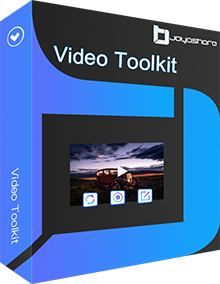 Export video to widely used formats, including MOV, MP4, M4V, MKV and so forth
Set and tweak parameters like resolution, format, sample rate, etc.
Various viewing options are available in this program
Remove multiple logos in separate parts simultaneously
Best video watermark remover to remove logo, text, people, mosaic and more from video
Step 1

Install and Launch Logo Remover

Simply open Joyoshare VidiKit's "Repair" - "Watermark Wizard" and select "Remove watermark from video" from the main interface. To add files, drag & drop those videos into this tool or click the "+ Add Files" button.

Step 2

Select Logo

Select one video from the left list and drag the mouse to a place where the watermark will appear. You can choose the "Advanced" option, click the "Add" button to make multiple video clips, and confirm the location of the watermark for each section to swiftly remove it. Notably, you can preview all videos by playing them.

Step 3

Export Video without Logo

Joyoshare VidiKit divides all videos into two categories: Finished and Unfinished. As a result, you can see exactly which files have been handled. After deleting the watermarks, click the "Format" option in the bottom left corner to select the appropriate format and quality. Finally, change the output location to suit your needs and click the "Output" button to export videos without watermarks.
Part 2. Online Watermark Remover
When creating content, you may need to cut logo from video that you have downloaded or shot. It is quite simple to do it yourself. Simply submit your movie to this online tool and erase watermarks, blur brands, dates, and anything else that is excessive or unwanted in a few clicks.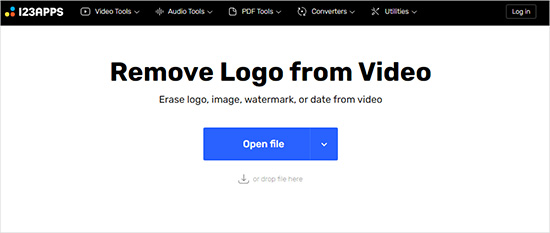 Step 1: Open your video file or drag it into the platform. Additionally, you can upload video by clicking Open file.
Step 2: Select an area where you don't want the watermark to appear using mouse.
Step 3: Then click Save button to download the video.
Part 3. Video Eraser - Remove Logo
Video Eraser - Remove Logo is a highly effective watermark removal tool. It allows you to remove logos and clean up the backdrop of photographs. Currently supported video formats include MP4, MOV, M4V, and 3GP; more formats may be added later. Also, this tool is compatible with multiple languages, including English, Arabic, Danish, Dutch, etc.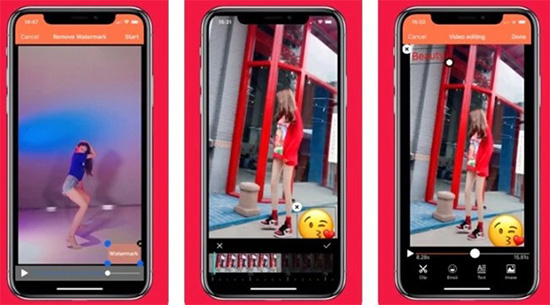 Step 1: Activate Video Eraser - Remove Logo on your device and import video files by selecting "More" - "Crop video to remove watermark".
Step 2: Customize aspect ratio as you want.
Step 3: Press Export to save video without logo.
Part 4. Media.io
Use this free tool to remove video logos, texts, stamps, and other distracting elements as quickly as possible! This tool also functions as a strong online video editor that is free of watermarks. Cropping, flipping, trimming, adding background music, compressing, and other options are all available. Everything for no fee! All standard video formats, including MP4, MKV, MOV, WMV, 3GP, FLV, AVI, MPG, M4V, MPEG, and others, are supported by the video watermark remover.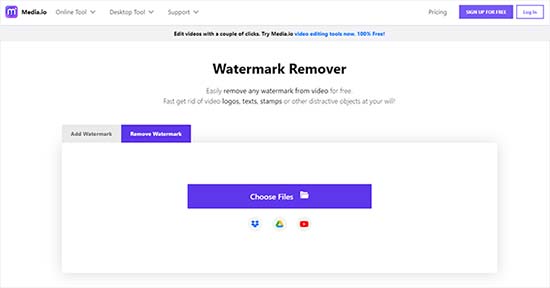 Step 1: Tap Choose Files to add any video from your computer, or paste a link to a YouTube video.
Step 2: Choose and highlight one or many undesirable locations. To speed up your workflow, you can also define a certain watermark time.
Step 3: If you're happy with the results, click the Download button to save the unwatermarked video. That's it!
Part 5. Remove Logo from Video
You can use Remove Logo from Video to remove undesired logos from your video. It is simple to use and produces a fresh movie in seconds. It supports a series of video file formats and allows you to customize the area. All you have to do is follow these instructions to use this watermark remover: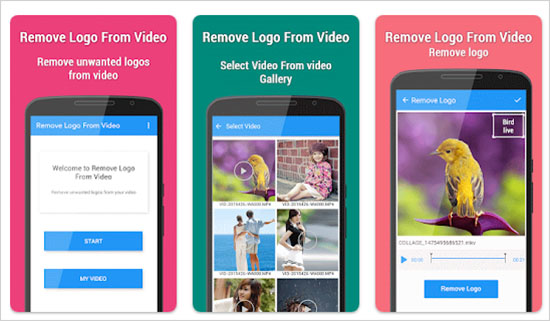 Step 1: Choose a video from your gallery.
Step 2: Drag and scale the Rectangle to the logo you want to delete.
Step 3: To remove the logo, click Remove Logo within the app.
Part 6. Remove Logo Now
With Remove Logo Now, you can delete logo from videos as well as bothersome logotypes, text overlays, and non-removable subtitles in full auto mode! It uses artificial intelligence to discover things that remain static in video streams, meticulously removing the watermark and replacing it with visual data derived from the present and adjacent frames. Static watermarks of reasonable size may usually be eliminated without leaving any apparent remnant in the majority of cases.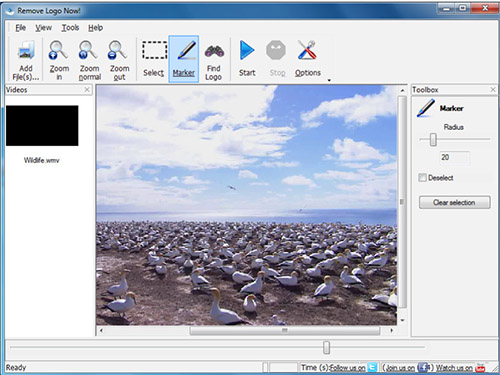 Step 1: The Add Files button is located in the upper left corner of the software. Click it and upload videos. On the left, you'll see all of the videos queued up.
Step 2: By pressing the Find Logo button, this software can detect and erase the watermark from video. Alternatively, use rectangle option to select logo.
Step 3: Click Start option to start the removal process.
Part 7. Adobe Premiere
With its vast multimedia solutions, Adobe has always been a creative powerhouse. Its well-known product, Adobe Premiere, is no exception. It has the capability to perform the goal flawlessly whether you are removing simple or complex designs or logos from your videos. You can use your imagination and its great capabilities to make magic when deleting the logos from your recordings.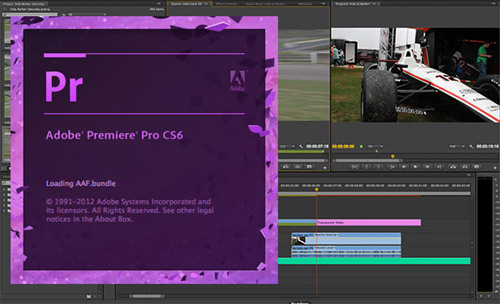 Step 1: Download and activate Adobe Premiere.
Step 2: From the intro splash screen, select a new project template file. Open an explorer window by double-clicking the "Project Media" button. Double-click the watermarked video file on your hard drive to import it into Adobe Premiere.
Step 3: Drag and drop the newly imported video file into the "Timeline". In the "Timeline", click the video file. "Effects Control" window will appear on screen.
Step 4: In the "Effects Control" panel, select the "Zoom" effect. By dragging the slider right, you can increase the "Zoom". Zoom in until the watermark in the video is visible beyond the video's outline.
Step 5: Select "File," "Export," and "Media" from the menu. This brings up the media export box. Choose the "File Type" and Location. Click "Render" and enter a "File Name." The video will now be saved to your hard drive without the logo.
Part 8. Wondershare Filmora9
Wondershare Filmora9 video watermark removal is a basic and straightforward tool to erase logo from video. To execute these simple editing tasks of removing logos from videos, you don't need to be an experienced editor. All you have to do is pick a method that best meets your needs and follow a basic, easy-to-learn step. Let's have a look at several editing techniques that you may use with Filmora to remove watermarks from videos.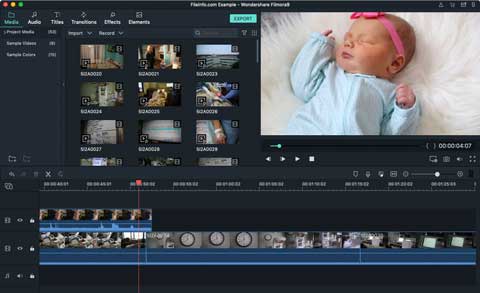 Option 1: With just a few clicks, Wondershare Filmora's mosaic tool will blur logos and other on-screen visuals. To see a preview of the effect, go to the top menu, select Effects, then Utility, then Mosaic. On Mosaic, either click the plus icon on the thumbnail or drag it into the track above the video.
Option 2: The crop window will open on the screen after clicking the Crop option, allowing you to crop video manually or utilizing automatic aspect ratios. To remove the watermark from the frame, simply drag the corners of the cropping rectangle as far as necessary. You can either retain the aspect ratio or adjust it to suit your needs. You've now successfully removed a watermark from your video by clicking OK to apply the cropping effect.
Option 3: Because cropping the watermark without sacrificing a portion of the frame is impossible, replacing it with one that better meets your purposes is an alternative worth exploring. To do so, first use the Import Media function to import the new logo and place it in the timeline. The next step is to make the new logo file's duration equal to that of the original so that the prior watermark is hidden throughout the film.
Part 9. Camtasia
Camtasia free trial users can export videos without the watermark. Yes, it is feasible to do so without spending any money. You only need to follow a few easy steps to accomplish this. This solution works great, but bear in mind that it is a software bug, thus it may not continue to operate in the future.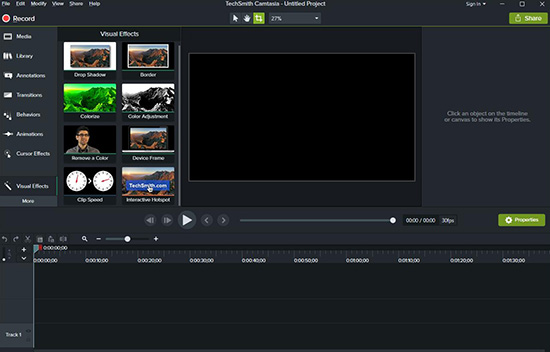 Step 1: Download Camtasia and register for a free trial.
Step 2: Select a video to import. On the left, you may select Import Media. Drag the video to the timeline. Now, disconnect from the Internet.
Step 3: In the upper right corner, click the Export option. Select Local File. You have the option of exporting the file with or without the watermark. Click on create without watermark and enter the Camtasia watermark removal code "GWAM4FUU5ZCMXCCHC44AC9R3E".
Step 4: You will now see a message box, select OK. The video is now ready to be exported. Select the desired options by clicking Next. Finally, press the Finish button.
Part 10. KineMaster
Watermarks are gaining popularity as a way to preserve the individuality of your videos. You should also consider different options available to you in order to keep the content above par. KineMaster and all of its modifying contraptions are allowed to be used to remove logos from video. However, by running the program with KineMaster Premium, you can usually get more highlights.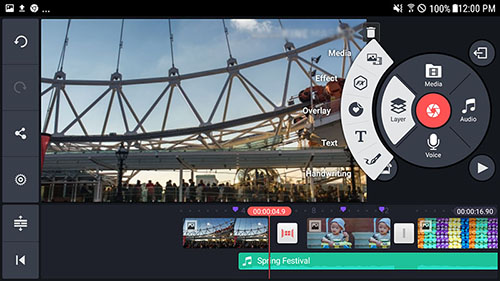 Step 1: To begin using the application, launch it on your device.
Step 2: Click the layers and select Basic Effects from the Effect section.
Step 3: Then, choose and apply Gaussian blur effect to blur the specified area on your video.
Step 4: Finally, export the video and save it to your gallery.
Part 11. VLC
VLC is a video and music player. However, if you do some studies into it, you can use it as a free video logo remover since it has the capability to hide and blur logos while playing the video. However, keep in mind that the logo is impossible to completely remove. The logo is only being hidden temporarily. If you don't need a permanent change to your video, VLC is worth a shot.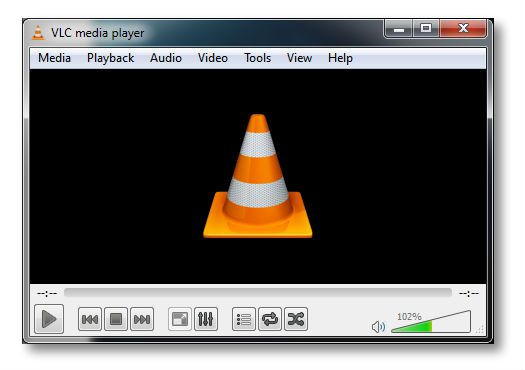 Step 1: Open the video in VLC, import video and select "Effects and Filters" from the "Tools" menu. A window will appear.
Step 2: Check the "Logo Erase" option under "Video Effects" - "Overlays".
Step 3: To choose a picture from your computer, go to "Mask" and click the three dots button.
Step 4: Put the value in the top and left boxes to move the image over the logo. After that, when you're finished, click "Close".
Conclusion:
Watermarked videos not only annoy viewers, but they can also lead to a lawsuit if used without authorization. As a result, having high-quality tools to remove logo from video is essential. One of the most widely recommended software and products on the market is Joyoshare VidiKit. With its basic yet effective editing tools, it gives an easy-to-use experience. No prior experience or expertise is required to appreciate the software's functionality. This tool is very lightweight and does not overwhelm your computer's memory storage, which is an incredible quality that professionals and users love.