KakaoTalk is a fast and multifaceted messaging App. It has more than 220 million registered worldwide with 1 billion messages sent daily. Its rich functionalities enchant a proliferation of users. Like, sharing images with friends, sharing documents with agents, and allowing consumers to choose a predefined answer to reply quickly. After using the software for a long time, files will pile up and users delete them to make space, but what should we do when we encounter accidental deletion, unintentional loss of files or when files become unusable due to expiration? Well, there are various ways to recover KakaoTalk expired files on iPhone. In this post, you'll read about these methods in greater detail.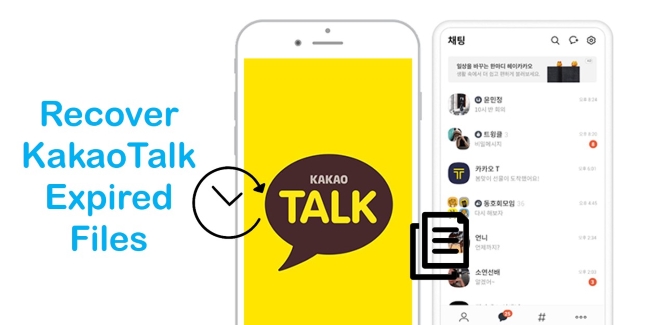 Part 1. Traditional Method to Recover KakaoTalk Expired Files on iPhone
In case you have enabled the backup feature in KakaoTalk, there is a high chance that your expired files can be retrieved from the backup. Simply follow the instructions below to retrieve the expired files:
Step 1: Log in with your KakaoTalk account and verify your phone number.
Step 2: Using your profile details, you can restore your chat history on KakaoTalk if you've already backed it up. Tap the "Restore" button after you have checked the backup date and the OS details of your data.
Step 3: Type in the password you've set to back up your KakaoTalk history.
Note: If you forget your password, you will be unable to restore your chat history. Please make sure that you remember your password.
Step 4: It takes some time to complete the restoration. So, please wait patiently. While restoring, don't run another app.
Step 5: Tap Get Started once the restoration is complete and begin using KakaoTalk.
However, there are some limitations to using this method. Its files can be restored within 14 days of a backup. If the backup is not restored within 14 days, the backup will be permanently deleted.
Part 2. Use Advanced Tool to Recover KakaoTalk Expired Files on iPhone [Effective & Efficient]
KakaoTalk expired files can only be recovered through third-party software if you haven't backed them up on the app itself. A recovery tool like Joyoshare iPhone Data Recovery for iOS program is indispensable to you. Developed by Joyoshare exclusively for iDevice users. Providing a more customizable approach to assist users, it is a safe and effective desktop application to retrieve over 20 types of data from iPhone, like notes, photos, voice memos, and so on, more helpful than traditional methods do. By deep scanning your device, it will find all your "already expired" files or other data from the disk of your device, then rearrange the files to your original data and save them to your computer.
The recovery process is quite simple. Just follow these points:
Mode 1. Recover Files from iPhone Without Backup
Step 1

Install and Launch the App on Your Computer, Connect iPhone to PC

You should download this program and install it on a computer. Plug your iPhone into it via an original USB cable, then launch Joyoshare iPhone Data Recovery, it will automatically detect your iPhone and display your device's iOS version. Choose "Recover from iOS" recovery mode:

Step 2

Start to Scan Your Expired Files from iPhone

As soon as your iPhone device has been detected, then click the "Scan" button. The program will deeply scan your expired files from your iPhone. It may take a few minutes depending on the size of your data, don't disconnect your iPhone to PC, or else the scanning may break.

Step 3

Preview and Recover KakaoTalk Expired Files Selectively

After some time, assume that you've finished the scanning process, then you can see all the files will be classified by call categories like Message, Notes, Photos, etc. You have the option of choosing the type of file you want to preview. Click on "Recover" after you have confirmed the data you want.
Mode 2. Recover KakaoTalk Expired Files from iTunes Backup
Step 1

Choose iTunes Backup

Run it after installation. By selecting the option for "Recover from iTunes" in the main window, the program will detect and list all the backups created by your iTunes.

Step 2

Choose iTunes Backup and Scan It

Click "Scan" to select a backup and create an exact backup file from iTunes. Choose the file type from the backup column by tapping the cog-shaped icon. If you are certain where your KakaoTalk files are, tap the gear icon and choose the file type you want.

Step 3

Recover Expired Files from iTunes Backup

By checking the files listed, you can determine which files you are looking for, then select the "Recover" button to save those expired files.
Mode 3. Recover KakaoTalk Expired Files from iCloud
When your iPhone has synced all data to iCloud, including KakaoTalk files, the program can also download all the files from your iCloud backup.
Step 1

Log in to Your iCloud Account

Download and install the program, and set the recovery mode as "Recover from iCloud Backup". Sign in to your iCloud account with Apple ID and passwords.

Step 2

Scan iCloud Backup

Your iCloud backups will now be shown on your computer. Pick the one with expired files. Once you've selected the KakaoTalk file data, click the "Next" button to start downloading them.

Step 3

Recover Expired Files from iCloud Backup

As soon as the program has finished scanning, choose the files you want to recover from the categorized data, and click the "Recover" button.
Part 3. How to Back up with iTunes/iCloud
Tip 1. How to Back up KakaoTalk?
Step 1: Go to More → Settings → Chats → Chat Backup orderly.
Step 2: Tap the "Chat Backup" option again to confirm.
Step 3: Encrypt your data with a password. Wait for the backup to complete.
Step 4: Please read the instructions after the backup has been completed and be sure to remember the expiration date for your data.
Tip 2. How to Delete the Backed-up Chat History?
Open your KakaoTalk, go to More → Settings → Chats → Chat Backup. Then tap on Delete Backup. It is important to note that once you delete a backup, you cannot store it again.
Tip 3. After Backing up My Chat History in App, Where Is It Saved?
The backup data is stored in the cloud server. According to the official, all data stored on the cloud server is encrypted and secure and only you have access to it.
Part 4. Summary
Now you must be thoroughly familiar with how to recover KakaoTalk expired files on iPhone. Use the top-leading recovery tool – Joyoshare iPhone Data Recovery, you can be as quick as you want while doing so. It will make your recovery process more effective. Just read and implement the steps we've outlined in the post. If you face any issues using this program, feel free to connect with our tech specialists.