The technological era has brought the world into one marketplace. You can share your videos on social media sites like Instagram, Facebook, Vimeo, etc. Instagram lets people meet and bond online. You also get various opportunities to foreshow your creativity by getting brand deals and hooking new customers. But did you know that you can watermark Instagram photos? Yes! You can put a watermark and own your photo. Check out the following sections on how to watermark your Instagram photos on various operating system devices.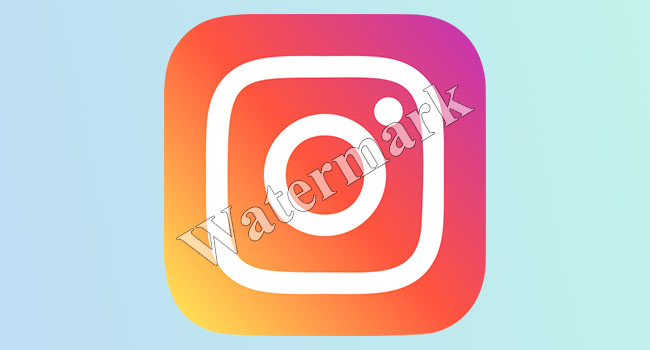 Should I Watermark My Photos on Instagram?
It is important to watermark Instagram pictures, especially if you are in business. And it's pretty easy with the availability of apps. Let no one steal your pictures or photos to pose them as their own. Remember that you put a lot of effort which should not go unrecognized.
Part 1. Watermark Instagram Photos on PC/Mac
Let's first learn how to add your logo to Instagram photos with Joyoshare VidiKit. This is a decent tool that can quickly add or remove watermark from your photo and video. It supports popular formats like TIFF, PNG, BMP, GIF, etc. More so, you can change position, scale, transparency, font color, outline color, etc. of your watermarks like image and text to make your photos sharable on Instagram and other sites, including Facebook, Twitter, Pinterest and many more.
Key Features of Joyoshare VidiKit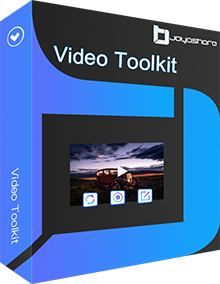 Add watermark like ready logos to your images
Easily type in text manually to create custom text watermarks
Add/remove Instagram watermark in batch or one by one
Preview the final result of your videos and photos immediately
Output your files to popular and compatible formats
Step 1

Add Instagram photos to Joyoshare VidiKit

The first step to add a watermark to an image is to add your photos. Open the Joyoshare VidiKit program on your PC/Mac and select "Repair" > "Watermark Wizard" > "Add watermark to image". Then find and press the "+ Add Files" button to import your Instagram photos.

Step 2

Customize your watermark

You can set custom images or text watermarks. Just click to choose the image from your list. You'll browse and choose an image from your local folder. You can also customize a text watermark by setting the font and transparency.

Step 3

Output watermarked images

Finally, preview your photos and confirm that they are well set. Next, choose an output format then hit on the "Output" button to export your watermarked images to Instagram.
Part 2. How to Watermark Instagram Photos on Android/iOS
1

iWatermark - Watermark Photos

The first option to watermark Instagram pictures is iWatermark - Watermark Photos. This app is compatible with both Android and iPhone devices. With this, you can insert date, time, name, graphic mark, among others. Likewise, you can use it to create a QR code. This helps when it is scanned and it reveals the information that you had entered like your website, name, etc. Its notable features are that you can batch watermark the entire folder, use many watermarks simultaneously, use special effects like shadow and aqua, as well as preserve the metadata captured with the images.

Step 1: Select Instagram photo. Choose the button to do a text watermark or graphic watermark.
Step 2: Go to the bottom of the screen and choose the Watermark navigation tab.
Step 3: Select the watermark you want to add from the roller which pops up. Click on the red button to add watermark.
2

eZy Watermark Photos Lite

This is another app for watermark Instagram photos that carries rich features. Use it to add watermark to your photos while protecting them with signature, QR code, copyright, trademark, etc. Likewise, you can batch watermark unlimited photos just with single tap. And if you wish to do some editing controls, this app offers up to 150 fonts as well as enables you to adjust your pen thickness on signatures.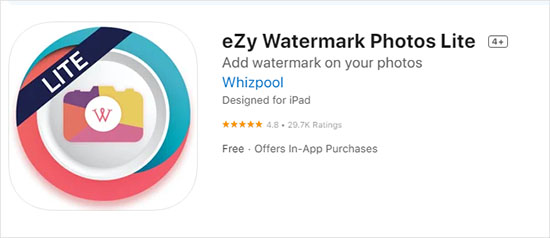 Step 1: Launch eZy Watermark Photos Lite. Tap Single image or multiple images.
Step 2: Select the image files that you want to watermark. Tap the option you like to add to the image. Tap your watermark text.
Step 3: Tap along the left side of the screen and select "Editing tools" then change your watermark's opacity. Tap the checkmark in the circle to choose output location where you want to save your watermarked image.
3

Photo Watermark

Android users find solace in Photo Watermark to protect their images. It is pretty easy to use and will provide various watermarking options. Easily add various kinds of text, time stamps, dates, logos, and other built-in PNG stickers. More so, you can make any type of changes to your marks to personalize them. These include adjusting the location, transparency, applying other special effects, etc.

Step 1: Navigate to the Design tab and then select Watermark after adding your Instagram photo. Select Custom Watermark, and choose Picture Watermark.
Step 2: Click the Select Picture. Find a picture to use.
Step 3: Choose the picture you want and select "Insert" option.
4

PhotoMarks - Watermark Photos

PhotoMarks - Watermark Photos support iPhone devices. You can easily add logo, text, as well as customize the photo to your specifications. Easily perform actions like rotate, scale, position, and add colors to your photo. This app is quite intelligent, preventing any overwriting of your original images. More so, quickly share your photos on social media sites like Facebook, Twitter, and Instagram directly. We provide detailed steps to teach you how to add your logo to Instagram photos easily.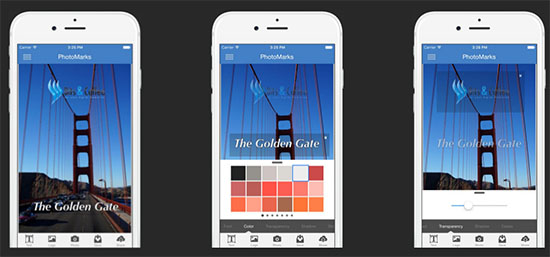 Step 1: Select the text type in the "Insert Watermark dialog" after uploading Instagram image.
Step 2: Customize the watermark by setting the font, color, and orientation.
Step 3: Select OK and your watermark will be added.
5

MarkApp

Android users can watermark photos on Instagram with MarkApp. This app will protect and brand your images with its multiple watermarking possibilities. Easily import your own logo mark or text. Likewise, you can use the ready templates to give your photos a unique approach. Nonetheless, it harbors an array of stock icons and other graphics for a unique finish.

Step 1: Download Instagram photo and open it on your phone.
Step 2: Go to "Watermark Multiple Photos" in MarkApp.
Step 3: Your photo library will open. Then select the photos you want to watermark. Tap "Done".
Step 4: Then, customize the text and image watermark as you want and add it to your photo.
6

Watermark PRO

Watermark PRO is simple to use yet very effective when it comes to watermarking Instagram photos for iPhone. Use it to add your own signature or create a new graphic mark. The built-in library of fonts and clips will leave you spoilt for choices. And when it comes to customizing your marks, you can easily change the position and scale, among other options. Once set, directly upload your pictures on Instagram and other media sites.

Step 1: On the main interface, simply choose Picture - Select picture after activating this program. Browse the picture to use.
Step 2: Add your custom watermark and go next to Scale and ensure the "Auto" is selected.
Step 3: Lastly, choose the "OK" button.
Useful Tips to Help You Watermark Instagram Photos
There are some useful tips provided for you to get Instagram photo with watermark that suits you best.
Have your logo and trademark readily available for addition.
Put your watermark on the edge of the photo to avoid distraction.
Keep your watermark simple.
Conclusion:
It is paramount to know how to protect your Instagram photos. We have shown how to watermark Instagram photos to deter other online users from copyright invasion. Make use of these apps to keep your photos safe online and help sell your brand. It is nowadays easier to compose an excellent video without watermark. The easy steps can help you promote your content online with your custom watermark.