Q:"I am new to video editing. I can insert background music to my YouTube video in YouTube studio but have no idea how to add sound effects to YouTube videos. Any suggestion?" - from VideoHelp forum
Adding sound effects to enrich and personalize YouTube videos is a common practice. But many of people might face the question: how to achieve adding sound effects to YouTube video. If you are a regular user to YouTube, you are bound to know that YouTube studio offers an audio library including all kinds of free music and sound effects. Its basic built-in editor allows embedding background music to any YouTube video. However, there is no option to add sound effects. You must have the aid of a YouTube video editor to make it happen. By lucky coincidence, the following goes onto detail the best YouTube video editing software - Joyoshare Media Cutter and the steps of adding sound effects to YouTube video with it.
Part 1. How to Add Sound Effects to YouTube Videos in Joyoshare Media Cutter
How to add sound effects to your YouTube videos? Let Joyoshare Media Cutter tell you. This is a smart and practical audio/video cutter and editor with high compatibility. Except for YouTube videos, it works fine with Facebook video, Vimeo video, HD videos, FLV, TS, MPG, AVI, MP4, VOB, M4V, 3GP, WMV, QuickTime movie, H.264, etc. and even media files from many protable devices.
Anyone who has heard of Joyoshare Media Cutter should know that there are two processing modes outfitting in it. The high-speed mode, so to speak, is tailor-made for lossless and ultrafast cutting and merging files. The other one, encoding mode is specially prepared for video customization and personalization. Whether for the task of basic editing like trim, rotate, crop, or the advanced editing like watermarks, subtitles, special video and sound effects, background music, adjust aspect ratio, brightness, contrast, etc, Joyoshare video editor can make it easy to implement.
Key Features of Joyoshare Media Cutter:
Add video effects and sound effects to any video
Support real-time preview and file format customization
Convert YouTube video to new formats and portable devices
Built-in video editor to enhance YouTube video without restriction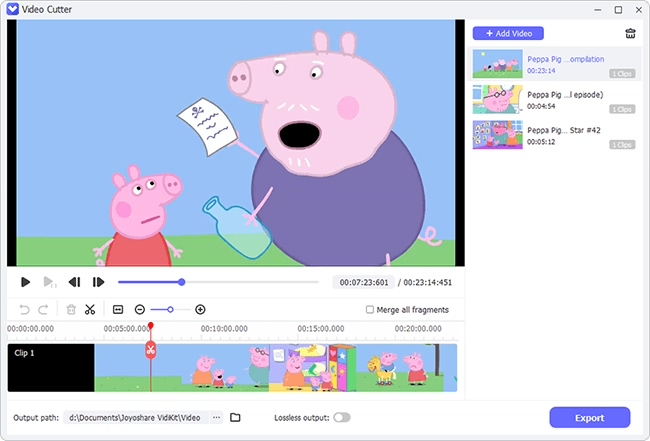 Step 1

Start Joyoshare Media Cutter and add YouTube video

When Joyoshare Media Cutter has been downloaded and installed on your computer, please launch it and get down to import the YouTube video to be added sound effects. You can click the "Open" button to select the YouTube video from the system or directly drag it to the main interface.

Step 2

Mark encoding mode and output format

Head over to the "Format" option, now. In the format panel, you have first to start the encoding mode to enable the editing function for adding sound effects to a YouTube video. Then, select a wanted output format. To keep the original format, go to "Web Video" and highlight "YouTube". As shown below, a gear icon will appear at the top right of your chosen format after the format selection, which is designed to custom the output quality by adjusting codec, bit rate, resolution, sample rate, etc.

Step 3

Add sound effects to YouTube video

Return to the main window. If necessary, cut YouTube videos by moving the time controller or entering start and end time to set temporal intervals. Next, find the "Edit" icon to bring yourself into the edit window. From the top toolbar, choose "Audio". At the bottom of the screen, you are presented with various sound effects, like Full Bass, Full TreBle, Large Hall, Pop, Rock, Sharp, Woman, etc. Out of them, select and touch the preferred one.

Step 4

Output new YouTube video

Whereafter, tap on "OK" to save the edit settings and get back to the first window. The only thing left to do is pressing on the "Start" button to export the YouTube videos with sound effects added. If you don't specify the destination file, the new video will be stored in a "converted" file of your local folder by default.
2. Where to Get Royalty Free Sound Effects for YouTube Videos
What are royalty free sound effects? They must be contented for three requirements. One is that these sound effects are supposed to be totally free to download and use. Two is that they can be bought requiring no license. Three is that they could be used for commercial purpose.
From the above, your confusion on how to add sound effects to YouTube videos should have come to a perfect resolution. Next share 3 websites where you can get royalty-free sound effects for your YouTube videos as a bonus tip. A word of caution: all of the listed sound effects sites only allow downloading sound effects for repeated use in your videos, not actually delivering any option to add effects to video.
As already noted, YouTube is equipped with its own audio library that covers all kinds of free music and sound effects, although no adding effects option is served with it. From it, you can search or download any desired sound effect for your YouTube video and use it as many times as you like. How to locate the audio library on YouTube? Log in to your YouTube account > click the profile photo > followed by YouTube studio. The audio library is located at the left menu bar of the Studio panel. Notice that its sound effects are in the traditional audio library, to which you need to navigate as instructed.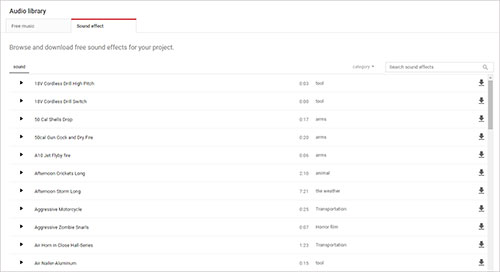 To get royalty free sound effects for YouTube videos, Epidemic Sound online service is another wonderful resource. It is provided for a 30-day free trial for all creators to download sound effects and soundtrack for YouTube videos, Facebook, Instagram, Twitch, and Podcasts. Up to 64,000 sound effects are included by Epidemic Sound and importantly it covers all rights of these sound effects as well as gives permission to unlimited downloads and use. There are 3 types of subscriptions coming with it. After 30-day free use, you might subscribe to it if remain to be required.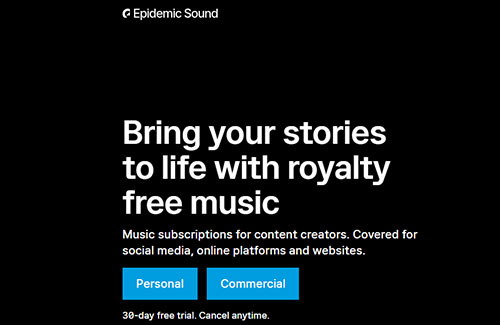 Free Sound Effect.com is a completely free website to download high-quality sound effects for your YouTube videos. It comes with two items, namely, Free Sound Effects and Pro Sound Effects. The former gives over 10,000 free sound effects for personal non-commercial projects. The latter includes more than 100,000 professional sound effects that have a license of commercial use. Actually, with such a rich sound effects library, it suits your needs very well even without the VIP account.