Q:"I've got some .ts videos, I wanna cut them without losing quality or converting. So the software must just cut and export the contents of original .ts file without any conversion to preserve the original quality. Which software is recommended for this task?" - From VideoHelp Forum
Just want to simply trim out a few unwanted minutes from your TS file? Or need to cut out multiple small clips and re-merge the rest? This really sounds simple. But what is the actual situation? Yes. The most worrying thing is the output quality after cut TS. As long as you pay a little attention, you will find that almost most users are unwilling to re-encode the video to reduce the original quality. If you too, you might as well look at the content shared in this article.
1. How Much Do You Know about TS?
TS (Transport Steam), also known as MPEG2-TS, is a H.264 AVCHD MPEG2 video file. It is mainly used in real-time broadcasting systems and is very popular on the Internet as a record in HDTV broadcasting. In this format, any part of the video stream can be decoded independently. And it seems that HD content can be played everywhere.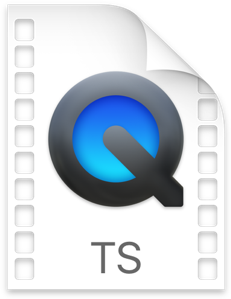 In detail, it is a video file used with various HD video formats, the most famous of which are HD PVR and AVCHD Camcorders from Hauppauge, including SONY, PANASONIC and CANON. Typically, a list of .ts files will be shown if you transfer from a digital video camera to a computer, but this type of file may be hard to edit and is not compatible with many mainstream video editors. In such situation, you have to convert TS video to a more compatible video format.
2. How to Cut TS Files Losslessly - Joyoshare Media Cutter
Joyoshare Media Cutter is a tool that is fully compatible with TS files and outputs videos in original quality. It provides a dual solution for different users. You can trim any video with zero quality degradation or decode the file for post-editing, like cropping, watermarking, subtitling, rotating, enhancing effects and more. It's worth noting that in addition to TS, it also serves other mainstream multimedia files, such as MPEG, MP4, VOB, FLV, MKV, etc.
Key Features of Joyoshare Media Cutter:
Quickly cut MTS/M2TS/TS at 60X speed without lowering the quality
Decode files to customize parameters or further edit
Support video conversion or output in matching device format
Perfect for various versions of Windows or Mac systems
Step 1

Import TS file to Joyoshare TS Cutter

Based on your computer system, select the correct Joyoshare Media Cutter program version to download. Quickly install this TS cutter and run it on your desktop. You are free to decide whether drag and drop to add a TS file or click the Open button to import.

Step 2

Designate lossless mode

This program will complete the file loading and start playing by default. Now click on the Format button to go to the settings window. Based on the principle of quality lossless priority, you are advised to choose the high-speed mode. It allows you to efficiently complete TS video cutting. However, if you require more editing operations, you should choose the encoding mode. Remember to choose the original or the new format you want to convert.

Step 3

Cut and save TS video

Start cutting TS files in the main interface. You can play the video and cut the position where the playhead stays using 'Set Segment Start Time'/'Set Segment End Time'. It is best to combine key frames. Or directly select the clip manually, by setting the yellow slider. To be accurate to milliseconds, you can use the time adjuster to specify both start and end time points. Then simply press the Start button to export the file to the target folder and have a check later.
Video Guide: TS Cutter to Cut TS Files with Zero Loss