iPhones are highly regarded for their performance and their security, with screen lock passcode being the most fundamental security feature for iPhone users. The screen lock bars anyone from accessing services on your iPhone without your permission. Unfortunately, sometimes iPhones are locked because we forgot our passcode or our faces got a little bit wobbly, and somehow, iPhone Face ID cannot recognize us anymore, or someone entered the passcode too many times that iPhone got disabled. So, you probably wonderstruck; what to do when locked out of iPhone, or how to reset iPhone?
It does not matter why you are locked of iPhone because we have got you on that! This article will furnish you with all the possible solutions that will help unlock your iPhone. Sure, let's get at it now!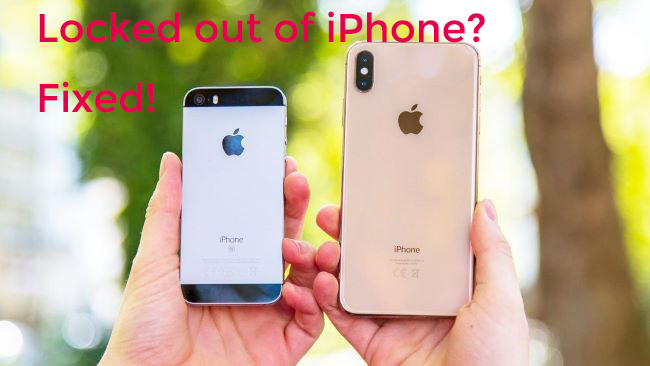 Solution 1: Unlock iPhone Using Joyoshare iPasscode Unlocker
If you are locked out of iPhone, your first fix to your problem should always be an iPasscode Unlocker application. It grants an opportunity to bypass/ erase or crack your passcode and therefore unlocking. So, what software should I use? Well, we highly suggest you try out the Joyoshare iPasscode Unlocker application.
It is the finest iPasscode unlocker application you will find in the market. It is fitted with immense abilities and guarantees you security and safety of your personal. You can crack all 4 types of iDevice passcode with the app, including the 4 digits and 6-digits passcode, Touch ID, and Face ID.
Key Features of Joyoshare iPasscode Unlocker:
Unlock iPhone when locked out of iPhone
Function well for the latest iOS 14 and iPhone XS/XR
Remove iOS screen locks under any possible scenario
Bypass 4 kinds of passcodes in an efficient way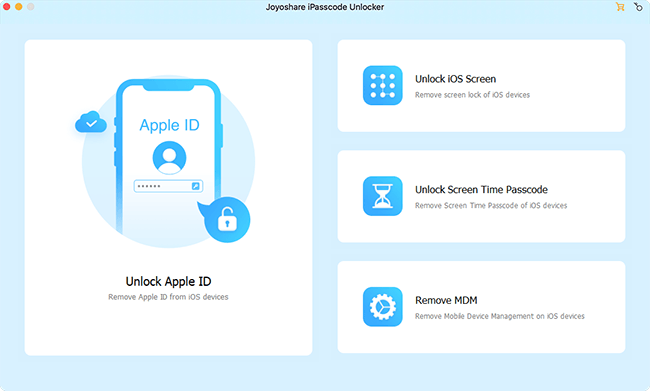 Joyoshare iPasscode Unlocker is genuinely easy to use and gets the job done in just 3 steps. Here is how to reset when locked out of iPhone using the app.
Step 1

Launch app, connect, and put iPhone into DFU mode

Click on the icon app on your PC to launch. Connect iPhone to the PC and click Start. After the program detects your device, refer to the instructions to put your iPhone in DFU mode.

Step 2

Download firmware package

Before hitting the Download option, check to confirm whether the details on the iPasscode window match those of your iPhone. Click Download to confirm the download process.

Step 3

Unlock iPhone

After the download is complete, click on the Unlock option to crack/ erase your screen lock passcode. This should provide you access to your iPhone without the need for a password.
Solution 2: Restore iPhone via iTunes
iTunes also helps when locked out of iPhone. For starters, this method may be a bit complex if you have never done it before. It will require you to put your device in recovery mode manually. Also, before proceeding to the steps below, make sure you are running on up-to-date iTunes software and a stable internet connection.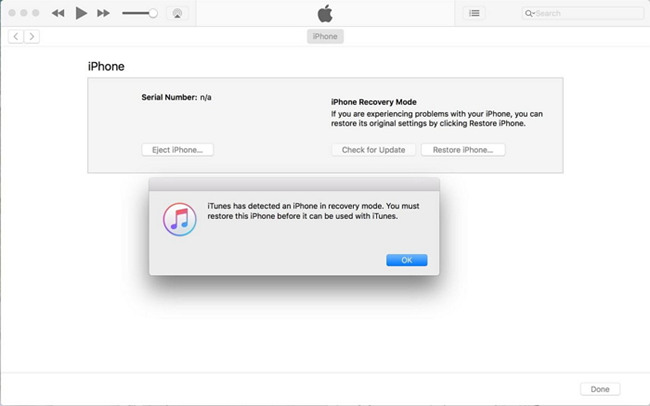 Step 1: Launch iTunes on your PC and then connect your iPhone to the PC using a USB cable.
Step 2: Put your iPhone into recovery mode. Here is how you put your iPhone into recovery mode.
Step 3: iTunes will automatically detect your iPhone. A window will pop up prompting you to either update or restore your iPhone. Select Restore and then hit Ok on notification to reset your iPhone to default factory settings.
Note: This process will erase your iPhone data and all customized settings, including passcode, thereby granting you access to your iPhone.
Solution 3: Erase iPhone Using iCloud
Another way to get of the Locked out of iPhone situation is to erase your iPhone using the iCloud platform. Typically, iCloud is used to back up iPhone data, but you can also use it to unlock your screen lock. However, to use this method, you need to have an enabled Find My iPhone feature on your iPhone; otherwise, the tip will not work. So, if you have an active feature, pay attention to the steps below to fix your problem.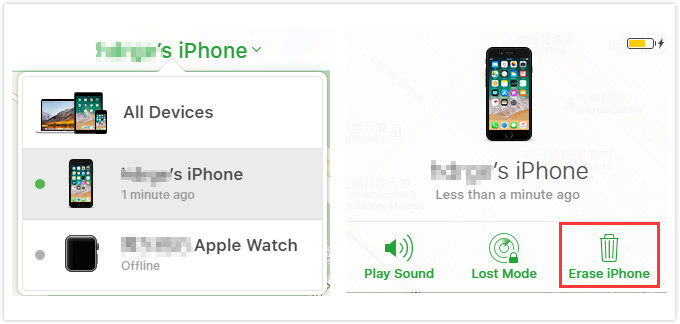 Step 1: On your PC, browse iCloud.com.
Step 2: Enter your Apple ID details and password to access your iCloud account.
Step 3: When you are set, select All devices, and from the device list, select the iPhone you want to unlock.
Step 4: On the popping notification, select Erase iPhone. Confirm the action by hitting Erase to wipe all data and passcode settings from your iPhone remotely.
Solution 4: Use Siri to Unlock Your iPhone
iPhone users have discovered a new way to unlock their iPhone with Siri- a virtual assistant. It is a complex solution, but it works great. Off- course, you can always opt for the aforementioned solutions but trust me tricking Siri is pretty interesting.
Below is a step-by-step guide that can help you unlock your iPhone using Siri. Check it out!

Step 1: Press and hold the home button to activate Siri if you use iPhone 8 and recent models; press and hold the wake button for a split second.
Step 2: Say, Hey Siri, what is the time, and the clock icon will show on your screen. Click on it to begin the process.
Step 3: Go to the world clock screen and tap on (+) at the top to add another clock. The new screen will prompt you to search for a city. Enter whatever you want and select the Select All option.
Step 4: A pop-up menu will appear on your screen with cut, copy, define, and more options. Select the Select All option.
Step 5: A new window with sharing channels will show. Select Message as the sharing channel. Write anything on the TO bar at the top and then hit Return on the keyboard.
Step 6: The provided text will be highlighted. Select it and hit the + sign.
Step 7: A new window will appear prompting you to Create new contact. Tap on the Add photo and choose the Choose Photo option.
Step 8: You can now access your photo library. Then, press the home screen, and it will take you right to the phone's home screen.
Conclusion
With the above-discussed solution, you do not have to be locked out of iPhone anymore! All the solutions have proven effective in fixing the passcode issue. All you have to do is find works and suit your needs best. However, if you are looking for an easy, safe, reliable, and 100% fix for your screen lock problem, you can try out the Joyoshare iPasscode Unlocker application. It is the real deal- no data loss! Download, install and follow the guide to remedy your screen lock issue now!