Q: "My iPod is disabled but it won't connect to iTunes. I tried connecting it to iTunes but it won't recognize it, it won't say anything. Somebody, please help! Thanks." – from Apple Community
That iPod is disabled connect to iTunes is nothing unusual for every iPod user. When the notification appears on your iPod screen, that means your iPod is completely locked and you can't access it in a normal fashion. Undoubtedly, reasons for the problem are various. But in general, they come down to the many attempts to enter wrong screen passcode. If you are struggling with this problem, you might as well read this piece, which gives 5 solutions to put you out of trouble quickly.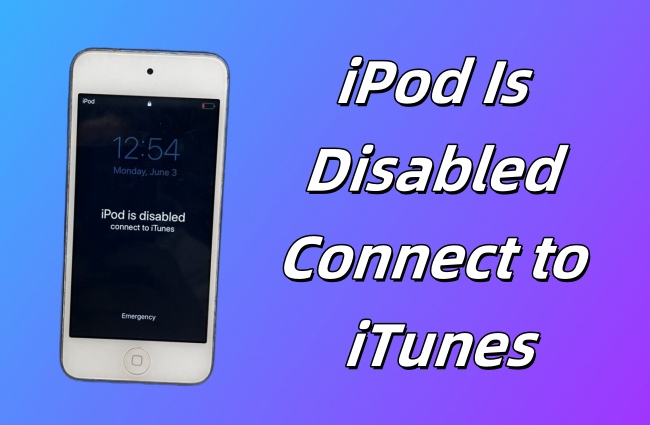 What Does It Mean iPod Is Disabled Connect to iTunes
The error message "iPod is disabled, connect to iTunes" means you have made too many times wrong attempts to enter the screen passcode and your iPod cannot confirm your identity. Therefore, iPod is locked and disabled. It recommends you connecting to iTunes to restore your iPod so as to remove the screen lock. Otherwise, you cannot use your iPod to listen to music, watch movies and play games anymore.
Solution 1. Connect to iTunes to Fix Disabled iPod
In normal circumstances, connecting with iTunes to restore iPod is the easiest method to get rid of "iPod is disabled connect to iTunes" trouble. However, it is only for the situation where the iPod has been synced with iTunes. Meanwhile, it allows you to restore iPod by using a trusted computer only. Otherwise, you will be required to enter passcode to "Trust" the computer when connecting to iTunes.
Step 1. Make sure that you have installed the latest version of iTunes on the trusted computer. Then open it and connect your iPod to it with a right USB cable;
Step 2. When your iPod is recognized, simply click the iPod icon to proceed;
Step 3. Under "Settings" option, you need to tap on "Summary" and next click on "Restore iPod..." to fix the disabled iPod.
Note: After the process,all data on the iPod will be wiped out. If you have backed up iPod with iTunes before restoring, now you can choose "Restore Backup..." to get all erased data back.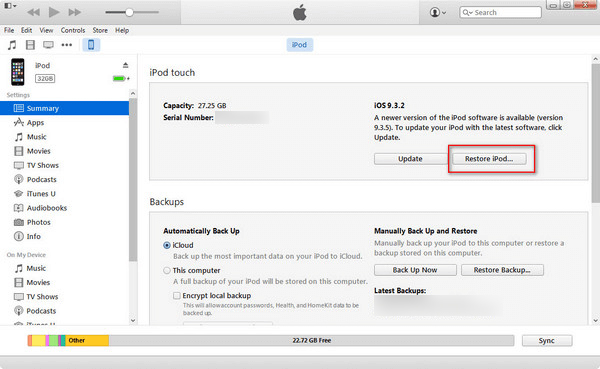 Solution 2. Restore iPod in Recovery Mode
How to settle the "iPod is disabled connect to iTunes" problem in case iPod has not been synced with iTunes? Confronted with this case, just need to manually set the iPod into recovery mode and then connect with iTunes to restore. The following is about how to do.
Step 1. To begin with, please set the iPod into recovery mode. To do it, hold down the "Power" and "Home" buttons until the iPod is powered off. At this point, release the "Power" button and keep pressing the "Home" button;
Step 2. Then launch iTunes and connect the iPod with it. When iTunes detects your iPod in recovery mode, it will pop up a window to ask whether you need to update or restore the iPod;
Step 3. In order to get the disabled iPod back to normal, click on "Restore".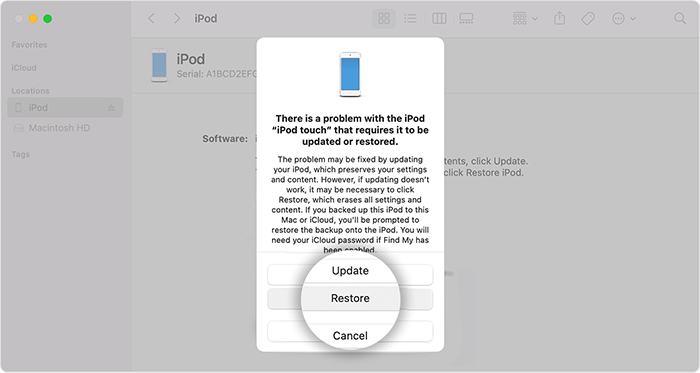 Solution 3. How to Fix Disabled iPod with Joyoshare iPasscode Unlocker
In terms of troubleshooting "iPod is disabled connect to iTunes", taking advantage of Joyoshare iPasscode Unlocker is not only as simple as using iTunes but also safer. It is widely accepted by mass people, because it presents a concise interface and flexible adaptability. This is embodied in that any user can apply the program to handle all sorts of passcode-related problems on each iOS device without any help. Further, Joyoshare iPasscode Unlocker has such strong capability that it can fast erase Screen Time passcode, bypass remote management, and remove Apple ID without losing data.
Key Features of Joyoshare iPasscode Unlocker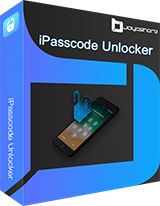 Support unlocking all types of screen locks
Undisable an iPod without requiring passcode
Can remove Screen Time, Apple ID and MDM effortlessly
Work well on almost all iDevice models and iOS 17
Provide the user-friendly interface and a high success rate
Step 1

Connect iPod to Joyoshare iPasscode Unlocker

Have Joyoshare iPasscode Unlocker installed on your computer first. Later, run it and use an original USB to connect your iPod to computer. After the software successfully detects your device, choose Unlock iOS Screen and go to the next step by clicking "Start".

Step 2

Put iPod into DFU/Recovery Mode

Put your iPod into DFU mode or recovery mode as the screen instructs. If iPod fails to be set into one mode, clicking the link to change to another mode is your solution.

Step 3

Download and Verify the Firmware Package

After confirming your iPod information on the screen, please hit on "Download" to download the proper firmware package. Once downloaded, it will be automatically verified.

Step 4

Fix iPod Is Disabled Connect to iTunes

Clicking "Unlock" is the last thing to do. Doing this is to make the firmware package unzipped, thereby letting the program start repairing a disabled iPod.
Solution 4. How to Fix Disabled iPod with iCloud
Supposing that the Find My iPhone feature is enabled on iPod, your Apple ID is not forgotten, and there is a stable network around you, employing iCloud is also a workable solution to "iPod is disabled connect to iTunes". The benefit of this measure lies in its strong operability. You can do it on both computer and any iOS device.
Step 1. Visit iCloud official website on computer or another iDevice. Afterward, you have to log in to your iCloud account with Apple ID and password;
Step 2. Secondly, choose "Find My iPhone" option and then to click on "All Devices" from this option;
Step 3. Out of these devices related to this Apple ID, find your disabled iPod. Lastly, just lightly touch "Erase iPod". When the process is finished, your disabled iPod will return to normal.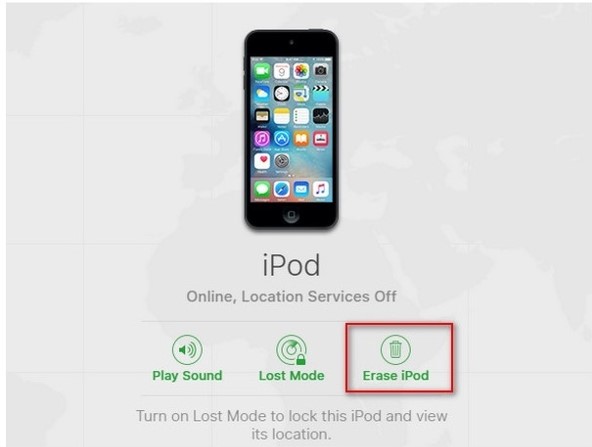 Solution 5. Delete Disabled iPod with Find My
With the enabled Find My feature, you are able to adopt the Find My app on your iPhone or iPad to erase the disabled iPod. This is much easier and more convenient than turning on the computer. If you can meet the conditions, follow the instructions to fix "iPod is disabled connect to iTunes".
Step 1: Open the Find My app on another Apple device, and make sure that you have signed in with the same Apple ID.
Step 2: Enter the Devices section and choose your iPod.
Step 3: Tap the "Erase This Device" button on the menu.
Step 4: If asked, enter your Apple ID password to confirm your action.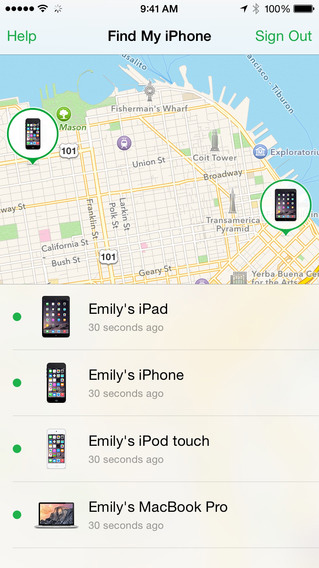 Summary
There is no need to worry too much when you see the screen showing "iPod is disabled connect to iTunes". Since you run out of opportunities to enter the screen passcode, your device is locked. Just do as it says – connect your iPod to iTunes. It will help you to restore your iPod, which will remove the screen lock as well. Besides iTunes, this article offers other ways for you to unlock the disabled iPod. If you can't apply iTunes for some reason, Joyoshare iPasscode Unlocker is a wonderful choice to remove screen passcode without restrictions. Meanwhile, the Find My app and iCloud are also available in solving this problem.