Q:"My iPad keeps asking for passcode, but I never set one and never update iOS. Passcodes like 0000 or 1234 is not working. Please help. There is very important data on my tablet." - User from Apple Community
Why does iPad ask for passcode even if you have not set up? The exact cause is unknown, but an increasing number of iPad users have encountered this problem since then. If you are one of them, please don't be alarmed. Not knowing why it occurs does not mean that it can not be solved. Here, to settle the matter of iPad asking for passcode I never set, this guide proposes 3 universal methods.
Part 1: Three Solutions to iPad Asking for Passcode
The following expatiates on how to deal with the situation where the iPad keeps asking for passcode that has never been set up. From this part, you can at least know 3 solutions to it. But before that, you are suggested to hard reset the iPad or try the default passcodes like 0000/1234 to unlock iPad. If that does not get anywhere, please take the approaches below.
Method 1:

Adopt Joyoshare iPasscode Unlocker (100% Safe)

Is iPad asking passcode that you never set up? The simple and quick solution to it is to draw support from a specialized unlocking tool - Joyoshare iPasscode Unlocker. As a fairly reliable and well-received program, it is designed with convenient interface and enhanced features that allow you to bypass 4 sorts of screen locks on any iOS devices with the slightest effort. Not just simple digital passcodes but also complicated Touch ID and Face ID could be unlocked by it.

Besides the above characteristics, Joyoshare iPasscode Unlocker also owns other functions. For instance, it can be applied to various occasions including bypass iPad passcode when you forget it, iPad is disabled connect to iTunes, and more. What else is that it is even compatible with the latest iOS 13 and each iOS device. All of these are enough to prove the practicality and suitability of Joyoshare iPasscode Unlocker in removing passcode from an iDevice.

Key Features of Joyoshare iPasscode Unlocker

Bypass iPad passcode without difficulty

Be used to unlock 4 kinds of screen locks

Simple to use and ensure safety in the process

Totally support almost all iOS devices and iOS 13



Step 1: Download and install Joyoshare iPasscode Unlocker

Directly download Joyoshare iPasscode Unlocker from its official website and install it on the computer. Then open the program and connect the iPad to it. You can not tap on "Start" to start up until your iPad is detected successfully.

Step 2: Put iPad into DFU/recovery mode

Select your iPad model and manually put the iPad into DFU mode or recovery mode in the basics of indications on the screen. Switching mode just needs you to click the link at the bottom.

Step 3: Download and verify the firmware package

Now, all info of your iPad will be recognized and shown on the screen. You need to confirm it. If there is nothing wrong, please touch "Download" to get and verify a matching firmware for the iPad.

Step 4: Bypass lock screen on iPad

After verifying, you should hit on "Unlock". Joyoshare iPasscode Unlocker will unzip the firmware and later start removing passcode from the iPad.

Method 2:

Use iCloud to Remotely Erase iPad

Is there any other solution to iPad asking for passcode I never set in addition to trying a third-party unlocking program? Of course. Making use of iCloud to erase the iPad is also effective in bypassing the iPad screen lock. But only when "Find My iPhone" is enabled and your iPad is connected to a stable network can iCloud take effect. If the conditions are met, do the following.

Step 1: Please log in to your iCloud account with Apple ID by visiting www.icloud.com on a computer or other iOS devices;

Step 2: After that, choose the "Find My iPhone" option and then click on "All Devices" under this option. Like that, all devices linked to the Apple ID will be displayed on the screen;

Step 3: Now, there is a need for you to find and touch the iPad that keeps asking for passcode;

Step 4: Then, a window with three options is presented in your sight. Just touch "Erase iPad" to solve the iPad asking for passcode problem.

Method 3:

Apply iTunes to Restore iPad

When you could not have the aid of iCloud, sensibly consider iTunes to solve "iPad asking for passcode I never set" problem. With iTunes, you stand a chance to back up iPad data. But this requires that the iPad has been synced with iTunes. Suppose not, backing up data is unallowed and you need to put iPad into recovery mode to restore it with iTunes. The steps in both cases are detailed below.

iPad has synced with iTunes:

Step 1: Run the latest version of iTunes on the computer and then use a USB cable to plug the iPad to it;

Step 2: When iTunes detects the iPad, click the iPad icon to get into the next interface;

Step 3: In this interface, choose "Summary" and then touch "Restore iPad" in the right panel to restore the iPad.

Note: If you need to back up data, then you ought to "Back Up Now" in the "Backups" section prior to tapping "Restore iPad". And remember to click "Restore Backup..." to recover iPad data after the process.

iPad has not synced with iTunes:

Step 1: First, still, run iTunes on the computer, but later please set your iPad into recovery mode;

Step 2: Hold the "Home" and "Power" buttons till your iPad is powered off. Next, continue pressing the "Home" button and release the other button until iTunes logo appears;

Step 3: When iTunes recognizes the iPad in recovery mode, it will pop up a window. Then you just tap on "Restore" to settle the iPad asking passcode problem.

Note: There are times when iTunes can not detect your iPad. Faced with a case like this, please patiently take a few attempts or apply Joyoshare iPasscode Unlocker without any limitations.
Part 2: How to Set up a New Passcode After Removing
After removing screen lock from iPad, it is necessary to set a new passcode for your iPad. Otherwise, anyone can access your iPad at random. Although it is rather simple to do, the following gives a quick guide as before to set a passcode on iPad.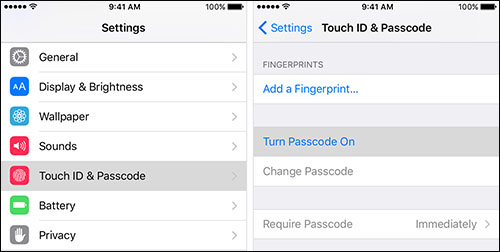 Step 1: First of all, please open "Settings" on your iPad and followed by "Touch ID & Passcode";
Step 2: You can click on "Add a Fingerprint..." to set the fingerprint lock or tap on "Turn Passcode On" to set a 4-digit/6-digit passcode for the iPad;
Step 3: Just in case, you can set both of them. Like that, even though passscode is not working someday, you can simply get into the iPad with your finger.