Since there are numerous accounts and passcodes we have to remember today, you may often forget some of them. What if you forgot your iPhone 13 screen passcode? When this happens, it is essential to have a solution that will help you unlock iPhone 13 without a hard reset that will erase the entire data. Ignore resetting the device, as we will present five different solutions on how to unlock iPhone 13 without passcode. After reading this post, your iPhone 13 will be rescued.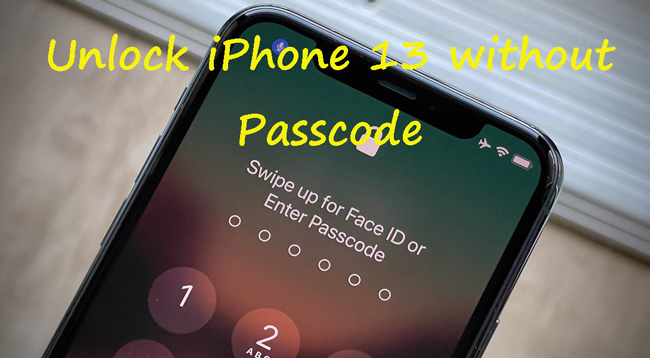 Part 1. 4 Solutions to Unlock iPhone 13 without Passcode
Way 1

Unlock iPhone 13 via iTunes

If your iPhone 13 have synced with iTunes, you can unlock it without passcode by restoring it to a previous backup. When all current data is deleted, your iPhone 13 passcode will also be removed.
Step 1. Connect your iPhone 13 with your trusted computer.
Step 2. Launch iTunes and locate your iPhone 13 icon.
Step 3. On the Summary secction, choose Back Up Now if you have no backup.
Step 4. Use the "Restore iPhone" button on the right side. From the prompt window, click the Restore button to unlock your iPhone 13.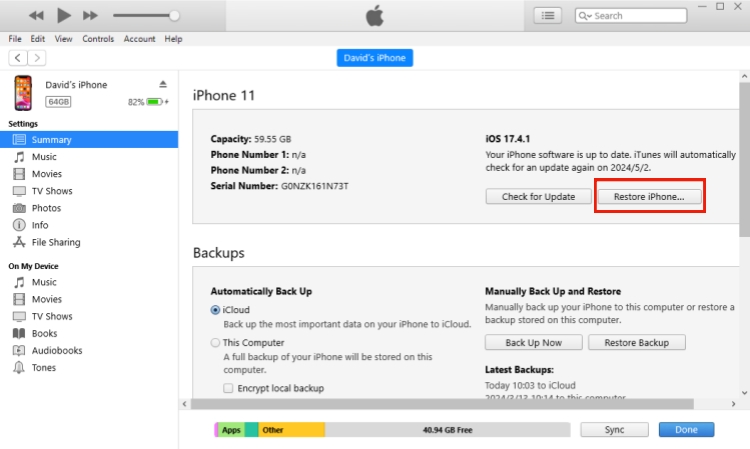 Way 2

Unlock iPhone 13 via iCloud

If you have forgotten the passcode, it will be challenging to unlock your iPhone 13. Fortunately, you can restore it using the latest iCloud backup file. Remember that the backup process is ongoing and will take a few hours to days, depending on the information. Therefore, ensure a Wi-Fi connection and a full battery for iPhone. Thus, you have unlocked iPhone 13 without using the passcode.
Step 1. In the web browser on your device, visit www.icloud.com, and then sign in with your Apple ID account and password.
Step 2. After successful login, you can click on your Apple ID, choose Find Devices, and then click the All Devices option on the next page of the website.
Step 3. From the list of devices connected to this Apple ID, locate your iPhone and click it, then select the Erase iPhone option. It will clear all the content on your iPhone, and you can reset it.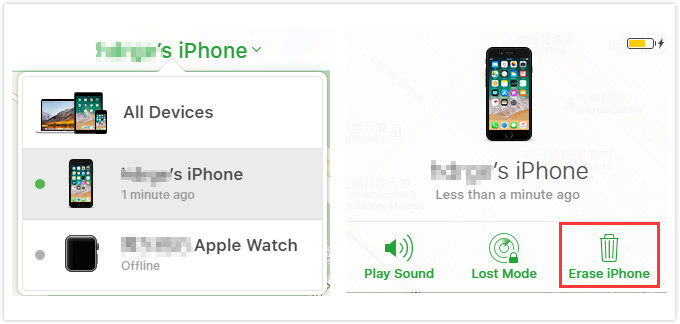 Way 3

Unlock iPhone 13 via Find My App

If you have lost the phone, it is possible to locate the device and erase the content remotely. Meanwhile, the process is helpful when you find it difficult to unlock the device when you forgot your iPhone 13 passcode. This solution functions positively only when you have the "Find My" feature enabled on the device. The method described here erases all the contents. Keep in mind to make a backup in advance.
Step 1. Turn on your iPad or iPod touch, and then open the Find My app.
Step 2. Press Devices at the bottom of the screen and find your iPhone.
Step 3. Select your iPhone and tap "Erase This Device".
Step 4. Click "Continue" and then "Erase This Device" to start resetting your iPhone.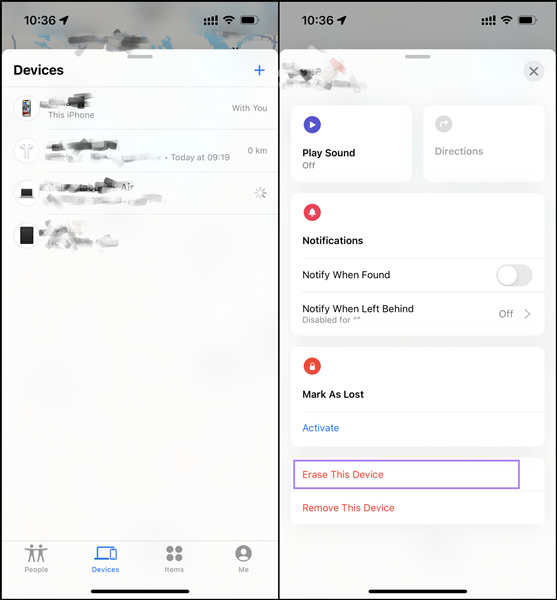 Way 4

Unlock iPhone 13 via Security Lockout

iPhone 13 is capable of installing iOS 15.2 and later software, which permits you to erase all your contents and settings on the Security Lockout screen. In this case, you could unlock iPhone 13 without passcode with merely your iPhone 13 itself instead of using other equipment.
Step 1: Enter the Security Lockout interface by typing in 10 inaccurate passcodes.
Step 2: Hit the Erase iPhone option at the bottom.
Step 3: Enter your Apple ID password and confirm your action.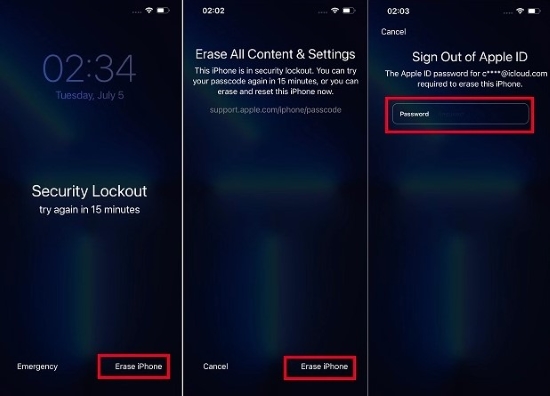 Part 2. Best Way to Unlock iPhone 13 without Passcode
How to unlock iPhone 13 without passcode? The question is valuable for many who find it difficult to access their phone when they forget the passcode. Furthermore, when there is no recent backup of the content, it further becomes more challenging because using certain methods causes data loss. Fortunately, you have the right solution – Joyoshare iPasscode Unlocker.
With Joyoshare iPasscode Unlocker, one can crack different screen lock types in a few simple steps, including digit passcode, Face ID and Touch ID. The program supports all iOS devices, and its compatibility with the latest iOS makes it functions efficiently. The interesting part is that it can turn off Screen Time with no need for the passcode and bypass MDM from any iOS device in easy steps. Moreover, your Apple ID could be removed without losing any data.
Key Features of Joyoshare iPasscode Unlocker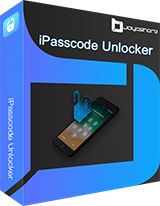 Support to unlock all iOS devices like iPhone/iPad/iPod touch
Remove Apple ID, Screen Time passcode, and MDM lock
Compatible with the latest versions of iPadOS and iOS
Step 1

Launch Joyoshare Unlocker and Connect your iPhone

After successfully downloading the Unlocker, run it on your computer. Use a USB cable and connect your iPhone to the computer. On the main interface, choose the "Unlock iOS Screen" option and click the Start button.

Step 2

Put iPhone into Recovery or DFU Mode

Unlocker will guide you to follow some steps according to your iPhone model. Follow the guide to put your iPhone into DFU or recovery Mode.

Step 3

Download the Firmware Package

While running your iPhone in DFU or recovery Mode, the Unlocker will show you details about your iPhone. Read them carefully and if something is wrong, correct it. After that, click the "Download" button to download the firmware package. After downloading, verify it to unlock your iPhone.

Step 4

Unlock the Passcode on iPhone 13

Once the downloading process is finished, you will see the option of the "Unlock" button on the screen. Click on it to start unlocking your iPhone. Ensure to connect your iPhone to the computer during the process. Wait for the process to complete. Joyoshare iPasscode Unlocker has successfully removed the passcode on your device.
Part 3. FAQs about Unlocking iPhone 13
Q1: What are the risks of unlocking iPhone 13 without a passcode?
A: Your data will be erased if there is no backup. And it's hard to downgrade to the previous software version as all the solutions will put your iOS to the latest version.
Q2: Must I enter the passcode even if the Face ID is enabled on my iPhone 13?
A: It depends on the situation. A passcode is required when you haven't entered it over 48 hours, Face ID cannot be recognized more than 3 times, etc.
Q3: Can I unlock iPhone 13 using Siri, Calculator or Camera?
A: There are bugs for some older device models, which might support unlocking with these methods. However, the success rate is not sure. Hence, iPhone 13 is hard to be unlocked by them.
Part 4. Conclusion
This article tells you how to unlock iPhone 13 without passcode – use iTunes, iCloud, Find My, Security Lockout and Joyoshare iPasscode Unlocker. If you want to unlock iPhone 13, we hope the solutions provided today are helpful. Although unlocking the device is not a challenging process, following the steps appropriately is vital to prevent data loss or putting it in a state of damage (risk of malware). Fortunately, the answers discussed here give you a safe way to unlock iPhone 13 with simplicity.