Q: "I discovered my iPhone 12 can be easily and instantly unlocked by just using a close-up photo of me. I also attempted the same test with my husband holding the phones and me out of the room just in case the camera was able to catch a glimpse of my face while testing." – from Apple Community
On iPhone X and later models, Apple applied Face ID instead of Touch ID, which seems more secure than before as no one can unlock your iPhone with your fingerprint while you sleep. However, many users reported and complained that their devices can be unlocked with their photos. Can you unlock an iPhone with a picture of yours? Is it true that Face ID is as secure as Apple claimed? What if it is true, how should you prevent your iPhone from unlocking by someone else using any of your photos? This article will discuss these questions you care about, and give you some corresponding tips for this problem.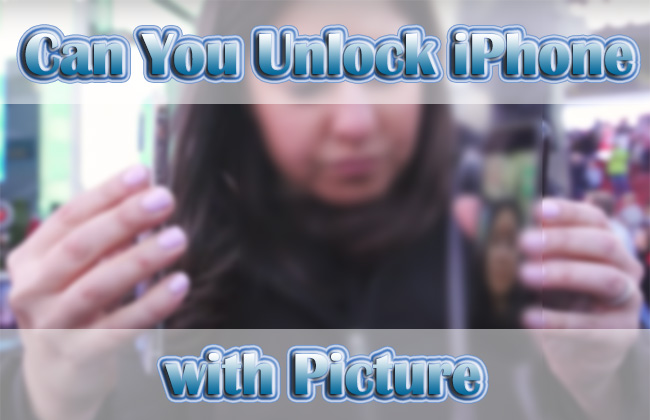 Part 1. Can You Unlock Face ID with Picture
The short answer is No. As Apple claimed, the Face ID uses 3D technology to map your face while the pictures are 2D which cannot be detected by the TrueDepth camera. Thus, your iPhone should not be unlocked with a photo. In Apple's explanations, when you hold the photo trying to unlock your iPhone, the camera scans you not the photo because you are close to it. Therefore, face recognition is safe so that others can't break into your iPhone using a picture. But in fact, the reality is that some users do use photos to get Face ID unlocked, which alerts Apple that this technology needs to be perfected.
Part 2. How to Unlock iPhone Face ID Effortlessly
Since iPhone cannot be unlocked with a photo, you can't use this method to enter your iPhone if the Face ID is not working or you forgot your iPhone passcode. In this case, Joyoshare iPasscode Unlocker could assist you. No matter what kind of passcode you have set, no matter what model of iPhone you are using, you could get your device unlocked with the help of this program with no other requirements. In addition, Joyoshare iPasscode Unlocker is capable of removing any Apple ID and keeping your data well at the same time, turning off Screen Time without passcode, and bypassing the MDM restrictions from iPhone or iPad.
Key Features of Joyoshare iPasscode Unlocker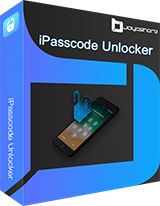 Support all models of iPhone/iPad/iPod touch and all versions of iOS
Remove Apple ID but keep data reserved
Bypass Screen Time and device management easily
Safe, easy-to-use, and high success rate
Step 1

Choose Unlock iOS Screen

Connect your iPhone to computer, and run Joyoshare iPasscode Unlocker after installation. Choose the Unlock iOS Screen section on the homepage and click the Start button.

Step 2

Put iPhone into DFU/Recovery Mode

There are instructions on how to put different iOS devices into DFU or recovery mode on the screen. Choose the one that matched your model and enter either mode.

Step 3

Download Firmware Package and Verify It

After getting into DFU/recovery mode, your iPhone will be detected and the device information will be displayed for you to check. Then, click the Download button to download the firmware package.

Step 4

Unlock Face ID on iPhone

When the firmware package is verified, click the Unlock button to remove your Face ID. Once you see the Done button, your iPhone will get restarted instantly.
Part 3. How to Prevent Face ID from Unlocking with Photo
In light of the fact that a close-up photo has the potential to unlock an iPhone, you may worry about others hacking your device with only the selfie you post on social media. Here comes a question: is there a way to strengthen face recognition security? Yes, there are some precautions you could apply to avoid unlocking iPhone Face ID with a picture.
Disable Face ID with Mask. For iOS 15.4 and later versions, it is possible to unlock iPhone wearing a mask. This feature could increase the success rate of unlocking using a photo. Therefore, open Settings, tap Face ID & Passcode and turn off the Face ID with Mask feature.
Enable Require Attention for Face ID. If this feature is enabled, a simple picture of yours cannot fool iPhone easily as it requires your attention, which means eye contact with the camera is essential when unlocking.
Turn on Find My. In case you accidentally lost your iPhone, this feature will help you to locate where it is. And if someone tries to hack your iPhone, you could take advantage of this function to put it into Lost Mode, so that your personal information will not be stolen.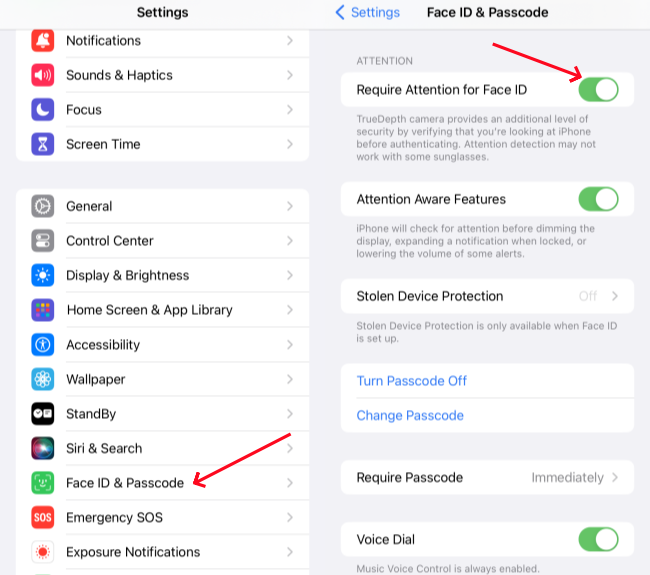 Part 4. Other FAQs about Unlock iPhone Face ID
Q1: How many failed Face ID attempts?
A: If you use a photo to unlock Face ID, but it fails to be recognized, you will be asked for a passcode after 5 times. And if you restart your iPhone, you also need to enter the passcode to enable Face ID.
Q2: Can I use Face ID with eyes closed?
A: Normally, yes. But if you have turned on the Require Attention for Face ID feature, you can't use Face ID when your eyes are closed. So, to prevent someone else from getting into your device when you are sleeping, it is recommended enabling this feature.
Q3: What to do if Face ID doesn't accept my face?
A: If your Face ID not working, you could clean your camera sensor, take off all ornaments, add an alternative appearance and try again.
Q4: Does Face ID work with a mask on?
A: Yes, if the Face ID with Mask function is enabled, you can unlock your iPhone when wearing a mask. Alternatively, you could add a masked face, which may succeed in unlocking Face ID.
Summary
Can you unlock an iPhone with a picture? The answer is No. Especially when you turned on the Require Attention for Face ID function and turned off the Face ID with Mask feature, the likelihood you use a photo to get into iPhone is minimized. Nevertheless, nothing is perfect. The success reported from users' tests warns Apple to improve Face ID further. If you found that you can't hold your selfie to unlock iPhone Face ID when the passcode is forgotten, Joyoshare iPasscode Unlocker is a good choice for helping you remove screen locks. If there are any other questions you have about Face ID, please leave a comment below.