In a casual moment, you might discover that an important call log is lost in your iPhone. The first reaction pop into your head is perhaps to retrieve it with the help of a data recovery tool, like Joyoshare iPhone Data Recovery or something similar. But fact is that it's also likely to be blocked owing to your previous settings. To handle this common issue, we'd like to teach you how to block number on iPhone as well as how to unblock iPhone number at every step.
Part 1. How to Block a Phone Number on iPhone
You are usually interrupted by nuisance junk callers, like promotion, ad, fraud, etc. As is often the case, in order to prevent such a situation, you have to take measure to block any unwanted and unexpected caller's phone number on your iPhone. Here's how.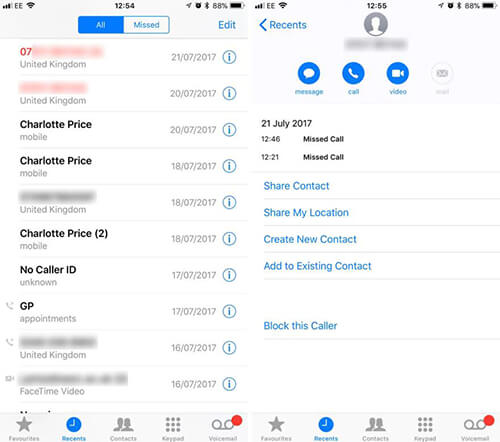 Step 1: Simply open "Phone" app and tap on the "Recents" tab at the bottom.
Step 2: Hit the "i" symbol next to your unwanted phone number or contact.
Step 3: Scroll down to the bottom of your screen interface and press "Block this Caller" to block number on iPhone.
Note: Once you block a phone number or contact on your iPhone, that person can still leave a voicemail for you. However, your iPhone will not inform you. Besides, corresponding messages sent come from this phone number will not be delivered as well. Thoughtfully, the contact also gets no notification that all of these call and messages were prevented and blocked.
Part 2. How to Find Blocked Number on iPhone
It happens to you that the phone number you choose is accidentally blocked. Or you realize who he is at a later time. It doesn't matter when you feel like to remove this required phone number from blacklist. You can refer to following guide to find blocked iPhone number with ease.
Step 1: Directly navigate to your "Settings" app on Home interface and go for "Phone" > "Call Blocking & Identification".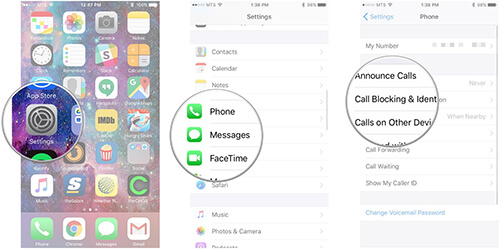 Step 2: A list of blocked phone numbers will be displayed orderly. Click the "Edit" option in the upper right corner.

Step 3: Hit the red "-" button next to specific phone number that you wanna remove. Then you can straightly click "Unblock" to get iPhone number out of the list.