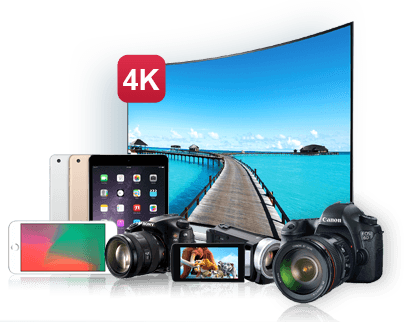 4K Ultra High-Definition video is a big step in TV technology. With a much higher resolution than the commonly known and used 1080p HD, 4K UHD resolution has already become the trend of Ultra HD TV and digital cinema and will definitely define the future of television. Thanks to the development of 4K, we can now experience better picture quality of the videos in UHD TVs. However, although 4K is finally a mature and accessible technology, we can't deny the fact that 4K movies and TV shows still remains relatively limited to get. So is it possible for us to convert some SD or HD videos we already own to 4K format so that we can play those videos on 4K-capable equipements as well? To help you know better about 4K video and how to convert common videos to 4K UHD, this article will introduce the concept of 4K and 4K video converter for you so that you can easily enjoy any video on 4K UHD TV freely.
Part 1. What is 4K (Ultra HD)
4K, as the name suggests, refers to a display device or content having horizontal resolution on the order of 4,000 pixels and vertical resolution on the order of 2000 pixels. At its most basic, 4K describes the resolution of your TV set (or the amount of pixels used to make up an image). To put that in perspective, a full HD 1080p image is only a 1920x1080 resolution. 4K screens have about 8 million pixels, which is around four times what 1080p set can display and over 23 times the resolution of SD television. Nowadays, several 4K resolutions exist in the fields of digital television and digital cinematography. For televisions, 4K has standardized to 3840x2160 while digital cinema 4K (the resolution in 4K movie theaters) is slightly higher at 4096x2160.
For most people, these two terms are interchangeable. The simplest way of defining the difference between 4K and Ultra HD is this: 4K is a professional production and cinema standard, while UHD is a consumer display and broadcast standard.
4K TVs have hit the market for a few years and you can purchase some well-performing 4K televisions, such as Vizio's Du series, Insignia's NS-DR710NA17 series, LG's OLED65G6P, Sony XBR-65X950B, Samsung UN65HU8550, etc.
The access to 4K content is limited thought. Currently you are stuck with 4K streams from Netflix, Amazon and YouTube only. Or you can buy 4K movies on physical Ultra HD Blu-ray discs.
If you want to experience the UHD 4K while have no access to a 4K movie or TV show, you can convert your available videos to 4K UHD with Joyoshare 4K Video Converter as we introduced in the following article.
Part 2. Joyoshare 4K UHD Video Converter
Joyoshare Video Converter is a top-leading video converter software that will help you easily convert any video file from any format to 4K Ultra HD. With the help of this amazing 4K video converter, you can easily create 4K content videos for playing on any 4K UHD TV or devices, such as Samsung, Sony, LG, Toshiba, Hisense, Seiki 4K UHD TVs, etc.
Besides, it also converts any 4K ultra HD video to other popular video formats and media devices. Combined with powerful performance and user-friendly design, the 4K video conversion can be done within few simple clicks by using Joyoshare 4K Video Converter.
Key Features of Joyoshare Video Converter
Convert videos, including SD, Full HD content to 4K Ultra HD resolution
Convert 4K UHD videos to other video formats
Enable you play any video on 4K Ultra HD TVs
Convert any video to 4K UHD with a few clicks only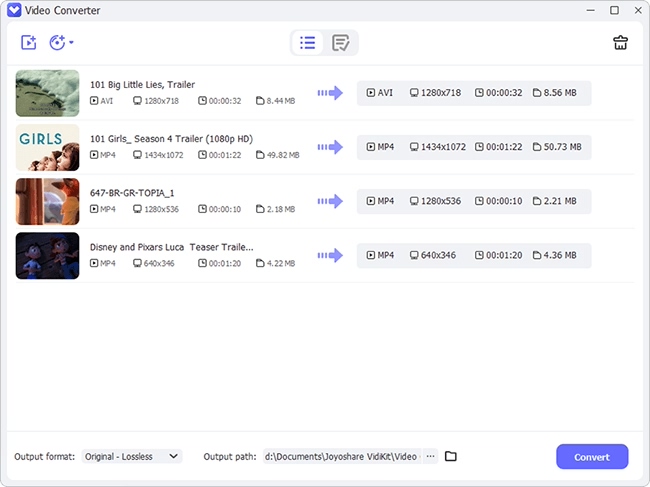 Part 3. Easy Steps to Convert Common Videos to 4K UHD with Joyoshare
Now you can follow the instructions as below to learn how to convert your SD or HD videos to 4K videos with Joyoshare 4K Video Converter. We are taking the Windows version to show you the tutorial. Please make sure you downloaded and installed the free trial of this 4K conversion tool on your computer running Windows XP, Vista, Win 7, Win 8 or Windows 10. Please kindly note that the Joyoshare Video Converter for Mac works in the exactly same way as the PC version.
Step 1

Add video files to Joyoshare 4K Video Converter

Click "Add Files" button to select the video sources from your computer or external drive. It supports batch conversion mode so you can import multiple videos all at once. Also, you can use its drag-and-drop function to add video files to the converter.

Step 2

Choose 4K Video as output format

After the video files load successfully into Joyoshare Video Converter, you should open the output format drop-down list by clicking "Format". Then please select "4K Video" as the output format in "General Video".

Here you can also adjust the video parameters for the output 4K video in advance, like video bit rate, frame rate, resolution, codec, etc., you can click the "gear" icon at the top-right corner of the format name to make modifications.

Before the conversion, you are also allowed to edit the video effects as you like, such as trim the video length, adjust the contrast, add watermarks and subtitles, etc.

Step 3

Start to convert videos to 4K UHD

Now click the "Convert" button to get the 4K conversion process started.

Note: If you want to play the converted 4K video on mobile devices and computers instead of UHD TV, we highly suggest you compress the 4K video to smaller size. Otherwise it won't play smoothly since the size is too large.
Video Tutorial: Steps to Convert Videos to 4K UHD