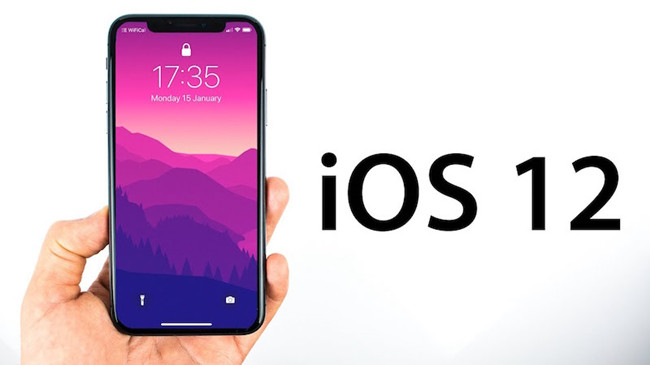 If you're an Apple user, we're pretty sure you're as excited as us to see what new features the iOS 12 has in stock. The iOS 12 beta version was launched this month, and we're looking for the new iOS release date. Now Let's figure out everything you should know about iOS 12, including iOS 12 concept, release date, new features, etc.
What Is iOS 12?
iOS is the operating system for iPhone, iPad and iPod touch. Every year Apple tries to release an updated iOS system. It is through these updates that Apple brings about major changes and features to their devices. iOS 12 is Apple's next-generation operating system, which will come this autumn, with extraoridinary new features.
Is the iOS 12 Available?
The iOS 12 beta release date was on 4th June. This version was mainly for the Apple developers, and they had access to it only after paying. The next release date was on 25th June. This version was also a beta version and was available to the public for free. When Apple says Beta version it is considered at the pre-release software. It could have a few roadblocks and create havoc. We recommend you wait for the final update or download the beta version at your own risk!
iOS 12 Features & Improvements
Now comes the exciting part, the new iOS release date is most likely to be in September. This will be the final iOS 12 software update.
● Augmented Reality and the ARKit 2.0

One feature that stands out the most is the Augmented Reality (AR) and the ARKit 2.0. Apple will be introducing a completely new file format which will be used for sharing augmented reality objects or the USDZ. Apple has been working with other big industries to make this happen like LEGO, Fender, Adobe, and Pixar.

Apple is also going to introduce the ARkit, which works like a measuring app through which you'll be able to measure objects in the real world. The ARkit 2.0 will support multiplayer experiences, which will let users use the same augmented reality play space with others. Apple, with the partnership of LEGO, will let players build virtual Lego sets, interact between sets and of course, have fun with your friends. ARKit 2.0 will open up AR to millions of users making iOS 12 the broadest platform of AR throughout the world.

● Messages

With the new iOS update, you'll be able to add filters, sticker or even your animoji to the videos and photos you send using the Messages app.

● Apple Books

Apple books will come completely redesigned with a whole new look in the iOS 12 software update. You can expect the redesign to look a lot like the App Store after it was redesigned after the iOS 11 update.

● Do Not Disturb

Apple is taking the Do not Disturb feature a notch higher with this feature. For example, turning on the DND at bedtime will offer you the minimal notification and will not disturb you at all. In the morning you'll only receive a gentle nudge. You can also customize Do Not Disturb based on your events and location.

● Notification

Apple is making the notifications simple by grouping the notifications. This will bring all similar notifications together, for example, grouped from App and Topic. They also give you the option of swiping multiple notifications at once. The smart feature of the notification will stop showing you Notifications from apps that you haven't been using.

● FaceTime

Apple is going to introduce Group FaceTime. This lets you participate in group chats with up to 32 different people. In the iOS 12, FaceTime will be integrated into Messages, which will let you switch from a group chat to a group Facetime call. Just like how you can add fun effects in your messages app, you can do that on FaceTime as well.

● Animoji and Memoji

iPhone X users will receive an expanded pack of Animoji characters they can play around with and customize. These would include, Koala, Ghost, Tiger and even the T-rex. The Animoji will be able to recognize your tongue motion, for example when you stick your tongue out so will you Animoji.

Memoji is going to be a new feature where you can build your own personalized Animoji. You'll have the option of customizing the head shape, facial features, Accessories, skin color and many more.

● Siri

iOS 12 will have something called Siri Shortcuts, where you can add a shortcut to all the apps. You can customize a phrase which will be connected to a particular app where you can perform tasks. You will also find a shortcuts app where you can customize your multistep Siri actions. Apps will also have the option of "add to Siri" for example if you say "I love the sky" you could open a particular app depending on your customization. The app is based on Workflow and also has the controls for HomeKit.

● Camera

In the Camera app in iOS 12, there are some filter, animoji, and Memoji integrations coming.

● Apple News

On the iPad, Apple News is getting a sidebar on, which would make sections easier to access. The Stocks app will also be integrated to the Apple News, offering relevant stories in the Stocks app.

● Pinpoint location in Emergency

One important feature that iOS 12 will include is that it will be able to exactly pinpoint your location when you dial 911 in the US. When you're in trouble and call 911, you won't have to waste time by trying to give the right location. The new feature of iOS 12 will do that work for you by giving them your exact location.

Apple said that it would send your location automatically and securely with the first responders, but this will be the case only in emergency. It is a step Apple is talking towards reducing response and waiting time and yet manages to protect your privacy.
Summary
From the AR and ARKit 2.0 to the Animoji and Memoji, there is a lot to look forward to in the iOS 12. This could make using an iPhone easier and handier than ever before giving every other company a lot of competition. So, let's wait for the year-end and see if the iOS 12 concepts live up to our expectations.