Looking for a video cutting tool to trim and split videos? You want to keep the most interesting parts but you do not know which software to choose? Well, we have collected a list of the top 10 best free video cutter software 2019 to help you cut videos in an easy way. Choose the one that meets your needs and start cutting your videos to have a better effect. Here we go.
#1 Gihosoft Free Video Cutter
The first freeware introduced here is Gihosoft Free Video Cutter for cut movies in three easy steps: import a video file, select a time range for trimming, and save as a new video. This program allows you to add videos in various formats such as MP4, AVI, MPEG, MOV, RM, ASF, WMV, 3GP, FLV, MKV, etc.
Besides, this video cutter gives you full control of every second of the cutting range in a precise way. You can also export the trimmed video without no quality loss.
Pros:
Free simple video cut software
Cut movies with high original quality
Cons:
Can only cut videos, no other editing features
Support limited video formats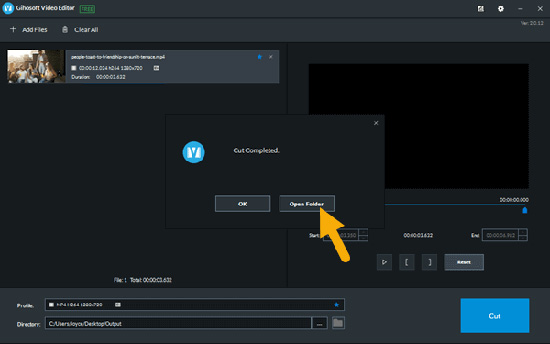 #2 Moo0 Video Cutter
Moo0 Video Cutter is one of the fastest and lossless video splitters. This is one of the best free video cutter software that allows you to cut and save the video clips speedily without altering any original video quality. It supports multiple video formats, including AVI, FLV, M4V, MKV, MOV, MP4, MPG, OGG, OGV, TP, TS, WEBM, WMV and many more.
This video trimmer is available for free as cutting tool and users can easily cut or save their choice of scenes from video files. Irrespective of your expertise levels, you can use Moo0 Video cutter. In fact, cutting songs from the movies is also possible, while you can delete the movie if you lack space.
Pros:
Trim videos fast and losslessly
Support many video file formats
Cons:
Sometimes fail to save audio data
Only available for Windows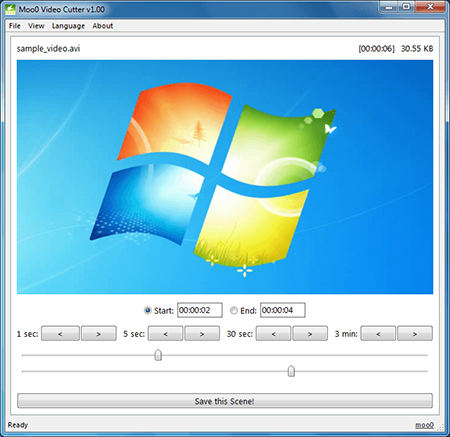 #3 Media Cope
This is a media player and all-in-one video/audio cutter and converter as well. Using Media Cope, you can trim freely any video and audio clips. This program supports many audio and video file formats such as MP3, MP4, 3GP, AVI, WMA, VOB, DAT, WMV, Divx, MPG, etc. The interface is simple and easy to use. The only disadvantage of this video cutter is that the file's quality is relatively lower.
Pros:
Friendly interface and simple to operate
Trim videos and audios freely
Cons:
The quality of trimmed video is not as good as the original
Lack of other editing features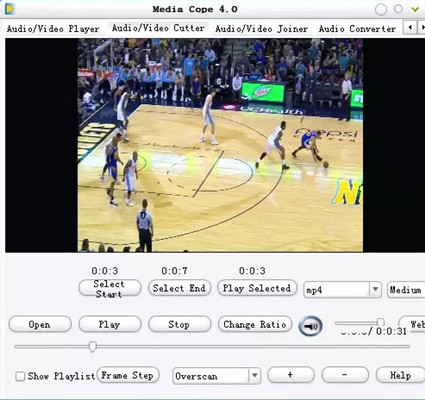 #4 Free Video Cutter
Free Video Cutter is another prominent video trimmer freeware, offering the ability to split and cut large video files into smaller segments with good video quality. You can also use it to trim blank content in the beginning and end of the videos. The video splitter supports a wide range of formats of videos such as FLV, AVI, MPEG ½, MPED4, Xcid, MKV, VOB, MOV, etc., so that you can get any video format you desire.
Pros:
Easy-to-use free video cutter
Cut videos while preserving original quality
Cons:
Can export new video in a few video formats
Not provide real-time preview function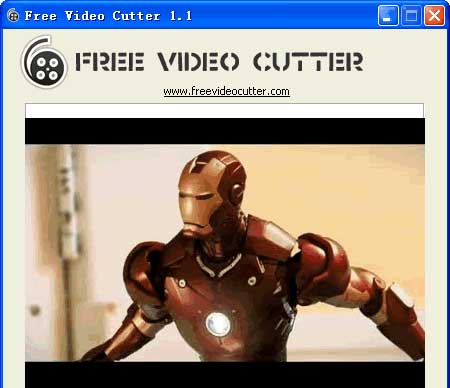 #5 Cute Video Cutter Free
This software is freely available and offers easy to use features. Cute Video Cutter Free stands true to its name. it cutely cuts the big videos into smaller sizes and remove the unnecessary parts of the videos. Various video formats are supported by this video cutting tool such as DVD, MPEG-1/2, DAT, VOB, MKV, XVID, WMV, and more.
Pros:
Support various video formats
Cut video files for free
Cons:
Difficult to use for beginners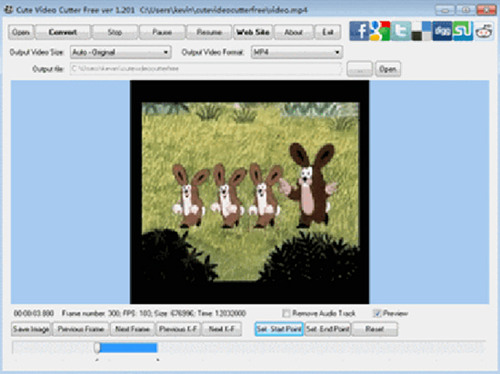 #6 Free Video Cutter Joiner
This is used in cutting as well as joining videos. As its name suggest, it is easy-to-use free video cutter software. Free Video Cutter Joiner allows users to cut long video files and remove the unwanted parts such as commercials and trailers easily and losslessly. However, it supports file formats such as MP4, AVI, FLV, 3GP, WMV, and few others. It can also be used to join video files in various parts.
Pros:
Cut and join videos easily
Cut videos losslessly or with re-encoding at you will
Cons:
No preview function offered
Limited video formats supported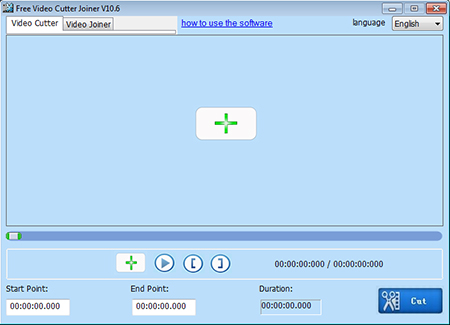 #7 Weeny Free Video Cutter
It is a video cutting freeware used to cut large video files. This tool supports RM, ASF, MPG, WMV, 3GP, FLV and many more file formats. Weeny Free Video Cutter allows users to adjust video codec, bit rates, sizes and frame rates, the output settings. As the sizes and rates can be set, you get to see videos of your choice in the size you like.
Pros:
Support multiple video file formats
Customize video parameters as you like
Cons:
The interface is not so user-friendly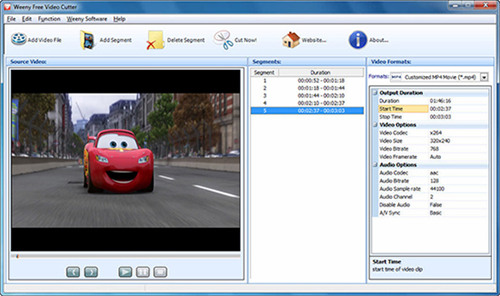 #8 DVD Cutter Plus
DVD Cutter Plus is a free DVD cutting utility. It allows users to cut videos to DVD. It is easy to use and users can create clips from DVD videos by selecting the start and end positions. In addition, the resulting clips can be saved without compromising the video quality. In reality, the quality will be the same as that of the original video.
Pros:
Cut DVD (VOB) videos freely and easily
Cut DVD video files wihtout changing the original quality
Cons: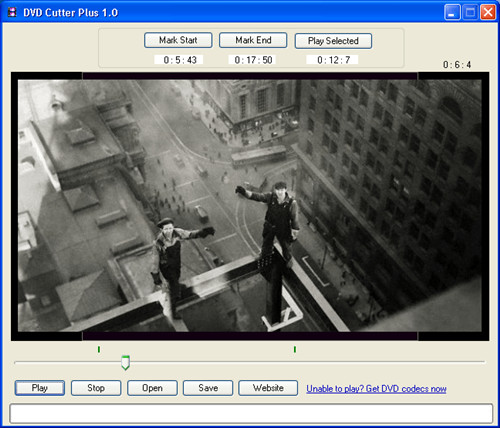 #9 AIV DVD Cutter
AIV DVD Cutter is also DVD cutting software available for free, just like DVD Cutter Plus. It allows users to extract clips regardless of the length of the movie. Users can easily cut out their favorite scenes, as well as soundtracks from a DVD movie. Users can record videos as well. In addition, the utility features a volume controller, a play/pause button, a stop button, new selection options, and a full-screen option to play DVDs.
Pros:
Extract video clips from a DVD movie easily
Simple-to-operate freeware
Cons:
Can only cut DVD movies
Can only work on Windows computer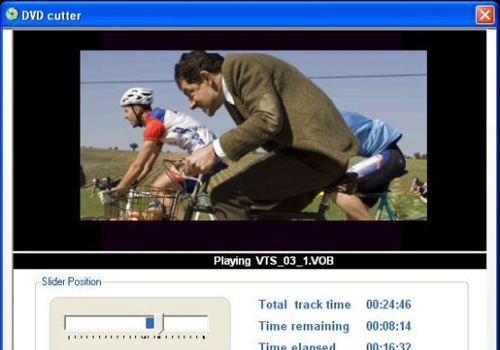 #10 iTech Video Cutter
iTech Video Cutter permits users to cut their preferred audio and video clips from a single file. The software allows user to set the starting and ending points, extract clips regardless of the length of the video. It supports most of popular formats such as WMA, ASF, MPEG, VOB, MOV, MP3, and lots more. There is stop button, play or pause button, full screen option and new options for selection. It is also one of the bestvideo cutter software listed here.
Pros:
Support almost all popular video and audio formats
Support previewing the original file
Cons:
Only available on Windows Vista/XP/2008/2003/2000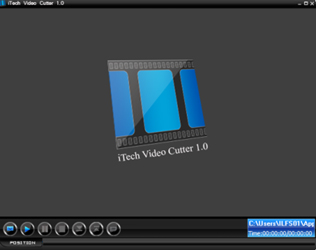 Best Video Cutter Shareware for Beginners - Joyoshare Media Cutter
This is one of the best video cutter software in the current market. The all-in-one media cutter is not only a video trimmer, but also a video joiner. You can use it to split any video or audio file, but also merge these video or audio clips you've cut from the same source into a new one.
Joyoshare Media Cutter is specialized in cutting and converting popular audio and video files, including AVI, MP4, WMV, M4V, MP3, WMA, MPEG4, WAV, 3GP, etc without any quality loss. It also enables you to export the converted audios and videos onto different popular portable devices like Android gadgets, Apple iDevices, smart TVs, games controls and so on.
This software has a user-friendly interface and the video cutting is done speedily. There is no need of IT skills or professional knowledge relating to audio/video formats, you can cut any audio or video in seconds using Joyoshare Media cutter.
Pros:
Cut and trim videos/audios without quality loss
Support plenty of media file formats
Provide powerful video and audio editing tools
Clear interface and easy to use
Cons:
The trial version only offers 5 opportunities to cut videos for free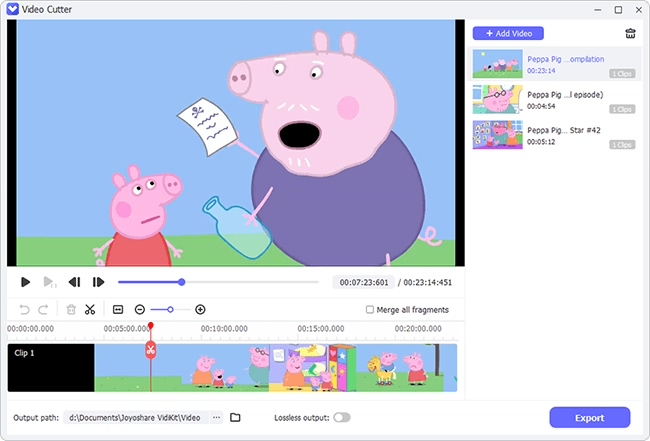 Conclusion
Wrapping up, when choosing
video cutter software for PC
and Mac, you need to consider these main factors. For instance, crop videos at faster speed causing no harm to original quality, all the popular video formats and devices are affable, directly extract audio track from your video is possible, etc. No matter which one you choose, these best video cutter software above can be a good reference for you. If you're not happy with the free ones, you can take this cost-effective
Joyoshare Media Cutter
into consideration to cut videos as a professional.