Q:"I have a big 5GB video that I want to cut into smaller parts while preserving the quality as much as possible. Can you recommend a free video cutter for me to trim the large video files?" - From VideoHelp Forum
This is actually very common, to be honest, if you have a large video file to cut. In our daily life, you may have seen a wonderful 4GB movie and want to share it with your friends, or you would like to upload it to Facebook or other popular social websites. However, considering the large space it occupies, you will meet some problems on the way to save, share or upload. Most of the time, what you need is probably just the highlight rather than the whole file. No worry! It's easy to be done after using one free video cutter from my list here.

1. Joyoshare VidiKit
General speaking, Joyoshare VidiKit (originally Joyoshare Media Cutter) is an easy-to-use yet professional video cutter free tool. It aims to cut large video and audio files to smaller segments with lossless quality at a super faster speed, up to 60X.
It's ideally compatible with multimedia formats, such as M4V, MP4, AVI, MPG, MPEG, 3GP, MP3, M4A, AAC, AC3, etc. With only some simple clicks, you can even merge multiple sections from the same source. Best of all, it's handy to use the sliders and temporal adjuster to enhance the accuracy of the video and audio segments that are being cut.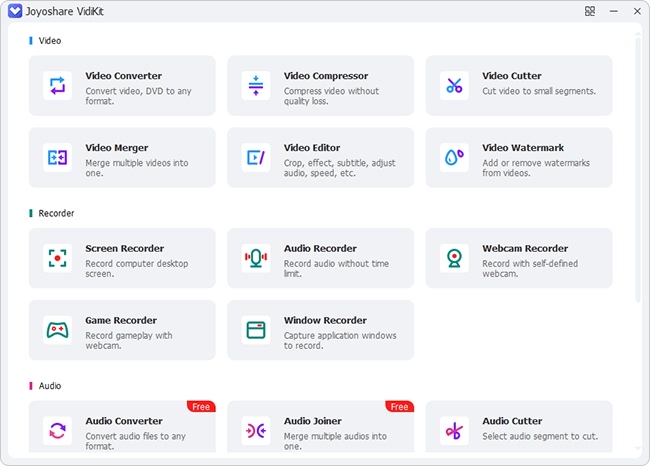 40% Off Coupon Code: MECC40ASP
[Valid until Dec 31]
Pros:
Support multiple mainstream video and audio formats
Adjust the time span sec by sec or min by min
Losslessly trim videos on Windows 10 and Mac at 60X speed
Match the best parameters, such as resolution, codec, etc.
Provide users a built-in media player, preview window and video editor
Cons:
Free version only provides 5 opportunities to cut video/audio files
2. Avidemux
With an easy interface, Avidemux is popular free video cutting software, which makes it possible to cut and trim your big video files into smaller sizes with a good video quality. Besides, it is also designed with filters and encoding tasks. It supports most file types like AVI, DVD, compatible MPEG, MP4, and ASF. You can transcode videos into various formats. It is available for Linux, BSD, Mac and Windows under the GNU GPL license. Also, you can insert audio streams into a video file or extract audios from video files.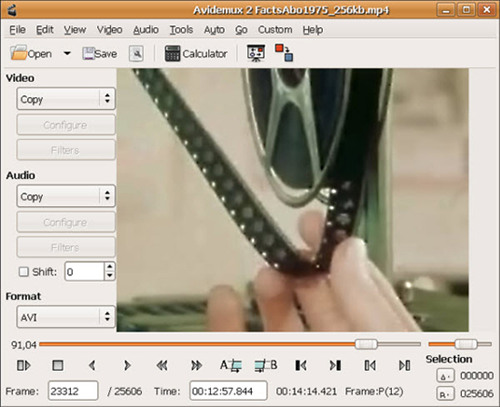 Pros:
Extract audio streams from video files
Support multiple file types and convert them to other formats
Cons:
Don't have the real-time preview before you start to cut the videos
3. Gihosoft Free Video Cutter
When you open Gihosoft Free Video Cutter, you'll see a quick tutorial on how to use this simple free video trimming software. It supports various formats: AVI, MPEG, VOB, RM, ASF, WMV, 3GP, MKV, FLV, MOV or MP4. You can improve the accuracy by controlling every second of the range for cutting. What's more, you should note that it has a single function to cut large video files. If you just want to trim your unwanted videos, it might be a good choice.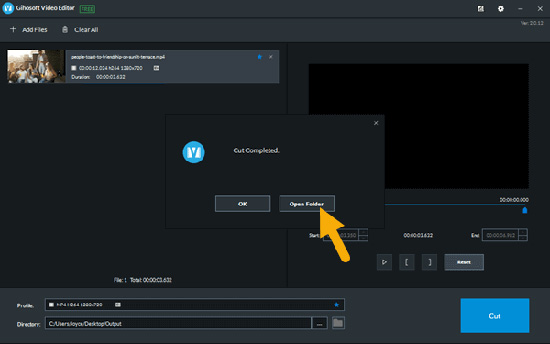 Pros:
Easy import and Quick output with lossless quality
Enhance the efficiency and accuracy of cutting videos
Cons:
With limited functions for users
4. Cute Video Cutter Free
Cute Video Cutter Free, functional free video cutter software, allows you to cut and split video segments of your favorite files into smaller sizes and remove unwanted footages according to your needs. This tool works well with many file formats like AVI, MPEG-1/2, DVD/SVCD/VCD, VOB, DAT, ASF, WMV, DivX, Xvid, MOV, MP4, iPod, etc. Indeed, it also supports lossless compression and retains the best video quality.
With built-in all encoder and decoder, you needn't install any other codec. In addition, it also supports batch conversion, which is convenient for you to convert all your files at once.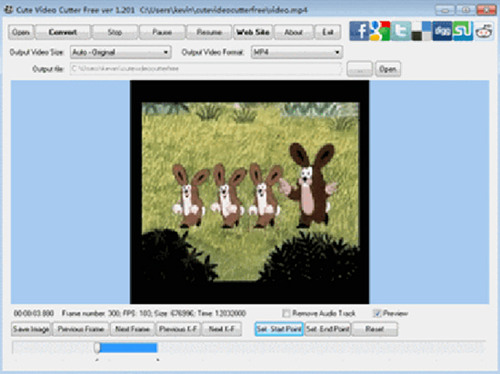 Pros:
Support various files formats
Have a real-time preview before you begin your cutting process
Cons:
It's a little complex for the newcomer to use the app well
5. Weeny Free Video Cutter
Weeny Free Video Cutter is one of the best free video cutter tools to trim big video files. With the help of this program, you can export the needed video files without trailer and commercial advertisement. Weeny Free Video Cutter also provides the customization functions, that is to say, you can customize the output setting, such as video codec, sizes, bit rates and frame rates.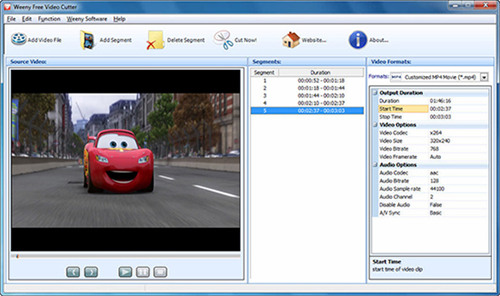 Pros:
Cut videos to smaller sizes by doing a few clicks only
Convert videos to multiple output formats
Cons:
The timeline is difficult to slide, so we can't control the accuracy of cutting videos
6. Free Video Cutter
As the name suggest, Free Video Cutter is such a typical tool to help cut videos totally for free. It shrinks your big files, trims both begin and end, and converts to formats like Xvid, DivX, WMV, MOV, AVI, MPEG4, Flash video. Better yet, with a user-oriented interface, it's simple to operate without requiring any professional skills and multimedia knowledge. You can even get a chance to set the cutting position by changing its precision value from 10 to 200.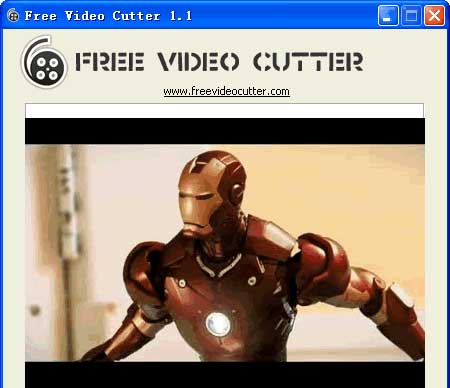 Pros:
Pretty easy to use
Output video in high quality after the cutting
Cons:
Very basic
Only support some limited formats
7. Free Video Cutter Joiner
Free Video Cutter Joiner is another program used frequently. It functions to get rid of specific video clips and removes outtakes from your home-made videos. Meanwhile, it has an option to merge two video files together easily. With a strong compatibility, it supports a huge array of formats, such as MP4, RM, F4V, MPG, MOV, WMV, AVI, 3GP, ASF, VOB, MKV, RMVB, etc. More than that, it enables you to choose related parameters based on your actual needs, like quality, size, sample rate, frame rate and more.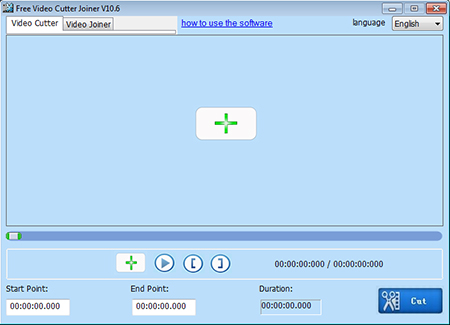 Pros:
Cut and merge videos without effort
Offer two modes to process your files
Allow selecting parameters to output your videos
Cons:
Lack of some editing features
Support ads and install bundled apps together
8. Online Video Cutter
Online Video Cutter is a remarkable video cutter online free. It's developed with a preview interface to let you better confirm where to cut. Also, its time setting can be accurate to second and with different quality options to output files as you wish. In addition, this video cutting freeware makes it available to edit videos furtherly. You are able to crop a clip to 1:1, 4:3, 16:9, 18:9, 21:9 and more. If your video is upside down, rotate it to any 90 degrees with great ease.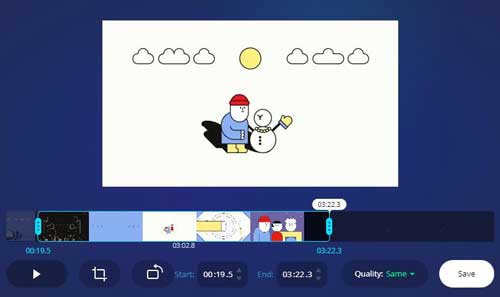 Pros:
Quickly trim videos without installation
Customize quality to make it best
Crop and rotate videos at the same time
Cons:
Rely much on Internet status
There are some ads to pop up
9. Clideo
Clideo is also a free online video cutter with high popularity. It trims out segments that're unnecessary from your video with just a few clicks. It comes with an intuitive interface for you. With many supported video formats, you can cut AVI, MOV, VOB, MPG, MP4, etc. easily by deleting or extracting the selected. To export a video naturally, it's viable to apply "Fade in" and "Fade out" effects.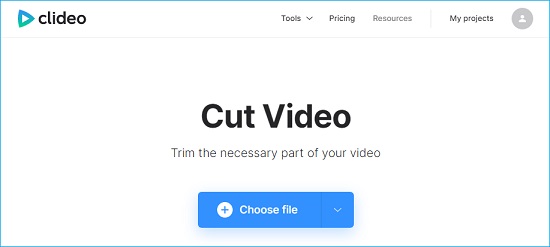 Pros:
Upload videos from local folder, cloud drive or using URL
Two ways to cut - Extract Selected and Delete Selected
Play video to preview to enhance accuracy
Cons:
File uploading process may be slow sometimes
10. Moo0 Video Cutter
Want to get a video cutter free download tool? You can give Moo0 Video Cutter a shot. It is sufficient enough to cut out needless portions and only leave desired scenes. By creating a new file, it won't do any changes for your original video. Like others, it also includes support for a wide range of video formats, such as TS, WMV, AVI, MOV, MP4, FLV, WEBM, TP, OGG, OGV, etc. To improve the cutting efficiency, this smart tool even offers per-frame cut and "Process Priority" options.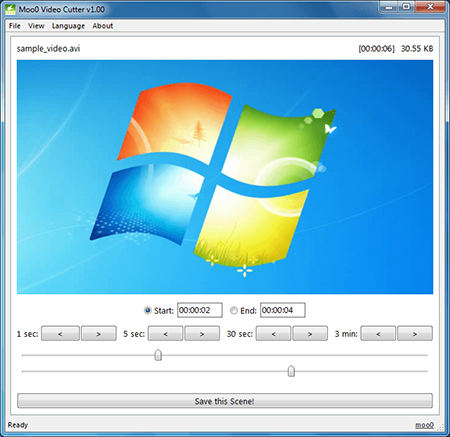 Pros:
With "Lossless Cut" functionality
Cut videos frame by frame
Support most popular video file formats
Cons:
It may be laggy sometimes
11. Shotcut
Shotcut is a classic cross-platform video editor. Performing as free video cutting software, it removes clips, adds fade in/out, and applies video filters in the timeline. With unlimited redo and undo for playlist edits, it makes less trouble out there. More importantly, it detaches audio from your selected video to help better manage your sound tracks.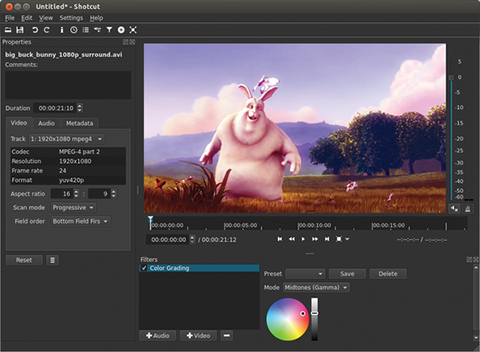 Pros:
Cut and merge kinds of video files
With powerful video editing tools
Blackmagic Design SDI and HDMI for file input and preview
Cons:
Difficult for novices to use
12. Freemake Video Converter
Most of you are looking for Freemake Video Cutter. Actually, this is the cutting feature in Freemake Video Converter, a freemum tool that offers stunning editor. It lets you effortlessly cut whatever unnecessary from your video, such as annoying ads or noisy parts. With high compatibility, it supports 500+ mainstream formats and even makes it possible to trim large HD videos into multiple clips. More than that, you can use it to easily rotate, merge, convert videos and add subtitles.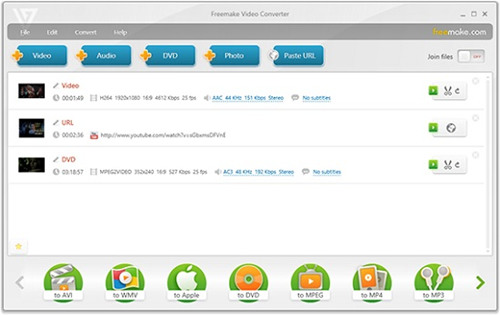 Pros:
Support WMV, MPEG, MP4 and more popular formats
Customize output parameters and quality
With built-in clip editor to process videos
Cons:
File conversion and output isn't speedy enough
Comparison
What factors do you care most when select a free video cutter from the aforementioned list? To help you have a general clear overview, we are here to make a comparison between all of them, showing key points for you to check below.
| | | | | |
| --- | --- | --- | --- | --- |
| | Supported OS | Supported Formats | Cut Video and Audio | Output Quality |
| Joyoshare VidiKit | Windows, Mac | Nearly all | Yes | Lossless |
| Avidemux | Windows, Mac, Linux | AVI, MPEG, MP4, ASF, MP3 and more | Yes | N/A |
| Gihosoft Free Video Cutter | Windows, Mac | AVI, MPEG, MPG, VOB, RM, ASF, WMV, 3GP, MKV, FLV, MOV or MP4 | Yes | Lossless |
| Cute Video Cutter Free | Windows | AVI, MPEG-1/2, DVD/SVCD/VCD, VOB, DAT, ASF, WMV, Divx, xVid, MOV, MP4, etc. | Only video | Lossless |
| Weeny Free Video Cutter | Windows | 3GP, ASF, AVI, FLV, MP4, MPG, RM, RMVB, VOB, WMV and more | Only video | Lossy |
| Free Video Cutter | Windows | MPEG 1/2, MPEG4, DivX, Xvid, AVI, WMV, MOV, Flash video and more | Only Video | Lossy |
| Free Video Cutter Joiner | Windows, Mac | 3GP, MP4, MPG, RMVB, AVI, F4V, MPEG, RM, MOV, WMV, VOB, MKV, ASF, and more | Yes | Lossless |
| Online Video Cutter | Web Browser | Almost all | Only video | Lossless |
| Clideo | Web Browser | AVI, MP4, VOB, MPG, MOV and others | Only video | Lossy |
| Moo0 Video Cutter | Windows | AVI, FLV, M4V, MKV, MOV, MP4, MPG, OGG, OGV, TP, TS, WEBM, WMV | Only video | Lossless |
| Shotcut | Windows, Mac, Linux | The latest audio and video formats | Yes | Lossy |
| Freemake Video Converter | Windows | MP4, AVI, MKV, WMV, MP3, DVD, 3GP, SWF, FLV, HD, MOV, RM, QT, Divx, Xvid, TS, MTS, etc. | Yes | Lossless |
People Also Ask:
Q1. Is Bandicut video cutter free?
A: No. Actually, Bandicut is not a free video cutter as it claims. Though you can download it free, you are marked as an "unregistered" user. That means a watermark will be added to your output video. You still need to click "Bug Now" to get it a full license.
Q2. Is iMovie for free?
A: iMovie is a free tool. You can cut videos in iMovie with the basic version. However, if you pursue more advanced editing functions, you can also update it to a Pro version by paying a small fee. It helps unlock more options aside from cutting videos.
Q3. Which is the best video cutter?
A: Frankly speaking, different people have different standards for this issue. It ultimately depends on what your actual requirements are. Only in this way can you find the so-called "best". Generally, the cutting speed should be fast to improve the efficiency, the output quality can be 100% original lossless, the supported formats need to various and common, the editing features should be simple-to-use and diverse, etc.
Conclusion:
All 12 tools shown in this article have been carefully selected. It's time to use your favorite free video cutter to shorten any large videos. However, as you can see, each one has its own features, pros and cons. If you have enough energy, you're able to test every tool you like in the list here. Welcome to share more programs, especially those you use for a long time, with me. You can tell me which one is the best in your opinion.