Q:"I just need a quick and easy-to-use free MP4 cutter to cut some excess footage off before I put some MP4 videos on my computer. Are there any suggestions? - From VideoHelp Forum
It needs to be admitted that almost all users should have MP4 videos and tend to choose MP4 format as the first choice when saving files. Like what said in this post, you may have a similar situation to sort out your MP4 videos. If you still have difficulty in throwing surplus clips away and extracting certain sections, you should grasp this good chance to pick up one suitable free MP4 cutter from the newest list in 2022 here.

Top Recommendation: Joyoshare VidiKit (Windows & Mac)
Joyoshare MP4 Cutter is here a low-budget choice for you to consider. It provides the whole video toolkit with 11 different practical tools, helping cut MP4 files with large size or long video length to a smaller one. The output quality is entirely 1:1 and the speed to trim can up to 60X. You can enjoy millisecond accuracy and play any video in real-time to better cut. More freely, this professional software gives you possibility to change configuration, like resolution, codec and more, easily.
Key Features of Joyoshare MP4 Cutter: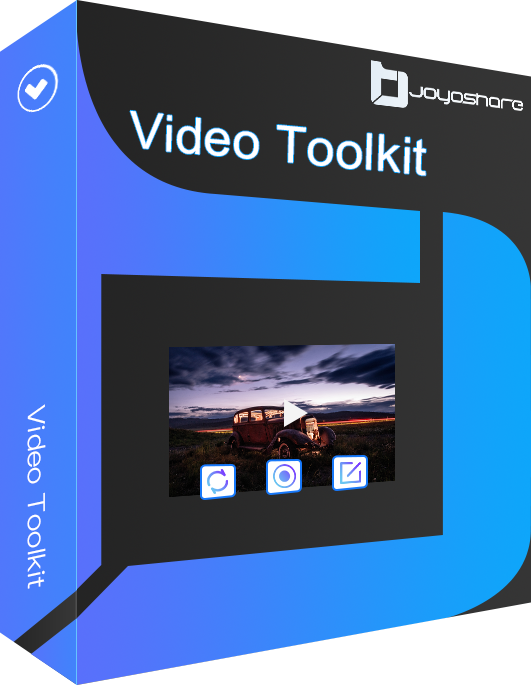 Cut MP4 losslessly without re-encoding
With lightning speed to trim any video, up to 60X
Get audio from video without hassle
Offer three manners to cut files with high accuracy
Advanced options to subtitle, rotate, crop, effect and preset parameters
40% Off Coupon Code: MECC40ASP
[Valid until May 31]
#1. Free Video Cutter Expert
As its name suggests, Free Video Cutter Expert is an excellent video splitting program to deal with video files effortlessly. It easily manages your MP4 videos and leaves out unwanted segments. Nearly all popular video formats are available, for example, MP4, WMV, FLV, AVI, MPEG, MOV, MKV, 3GP, VOB and SWF. As you please, you can split your MP4 videos into equal length or equal time. To preview the original video and destination file, this full-featured MP4 cutter free download shows you a clean storyboard to play each file. Also, it adds fade in or fade out effect to make the video natural.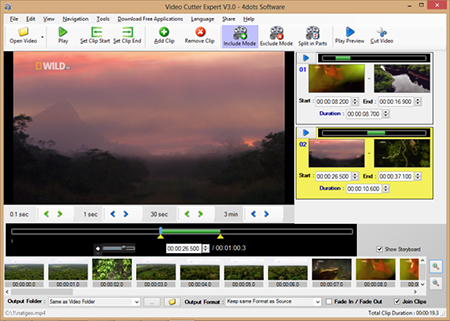 Pros:
Provide storyboard display and video player
Support cutting videos by length or by time
Auto-set computer status once completes cutting process
Cons:
Have to reset editing criteria each time
Require installation of Net Framework 2.0
#2. Avidemux
With a lightweight and tidy interface, Avidemux is truly easy to use. It cuts your MP4 videos into small fragments. With the exception of this format, you can also utilize it to trim other video files, like DivX, MPG, FLV, MOV, etc. Any video you import can be encoded flexibly. Moreover, not only video but also audio is well developed with filters, which can enrich your destination videos. Though Avidemux can play the added MP4 video file, it comes without an essential timeline. Hence, you will feel it is a bit hard to select a precise cutting portion. Frankly speaking, this is also the reason why some users give it up. However, if you need, no matter which operating system you use, it can work for you.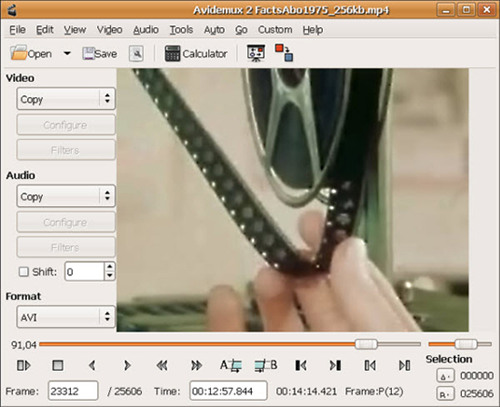 Pros:
Filter video clips conveniently
The clear toolbar makes a clear layout
Cons:
#3. Cute Video Cutter
As a fairly simple video trimming tool, Cute Video Cutter can be extremely used to shorten your large MP4 videos. With lossless compression, it's ideal to remove unnecessary portions and output it in high quality. Aside from MP4, it also has powerful capability to process more videos in different formats, such as AVI, MPEG-1/2, SVCD, VOB, DAT, ASF, WMV, DivX, MOV, M4V, 3GP, SWF, FLV, MKV, etc. Besides, any popular device can also be chosen, including iPhone, Zune, BlackBerry, Apple TV, etc.
It locates a cutting area exactly. You can slide the controller to a rough point and then set exact time manually. For more features, you can preview video, setoutput size, change storage location and save images.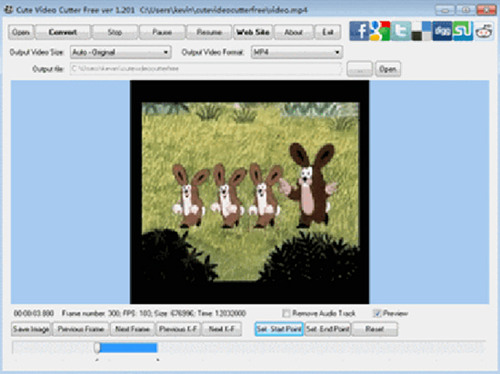 Pros:
Save destination video to diverse media format
Take snapshots and set resolution freely
Support lossless compression and work in high efficiency
Cons:
No audio cues
A bit complicated for newbies
#4. Video Toolbox
Video Toolbox carries out an assignment for you in no time. It's capable of cutting MP4 videos into several pieces and stripping needless parts quickly. There are a large number of video formats supported, for instance, AMV, ASF, FLV, AVI, MKV, MOV, MP4, MPG, VOB, 3GP, WMV, MPEG, etc. Besides, it has options to customize video codec, bit rate, frame rate, resolution, etc, at your own will.
By making use of this free MP4 video cutter, you can extract audio, video or even subtitle text from the original file. Furthermore, it authorizes you to take snapshots, add text watermark and create thumbnails. With this outstanding tool, your MP4 video files will be eye-catching and organized.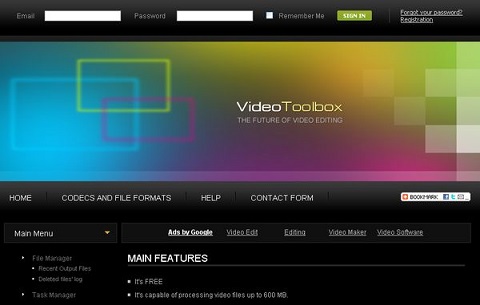 Pros:
Add watermark to video file
Create thumbnails for your video clip
Detect imported video information in smart way
Cons:
Limit your video size to 600MB
#5. Movica
When adopt Movica to split your MP4 video files, it will show all necessary options in your sight. As a totally open source, it's able to manage your MP4 videos in fast way. Aside from this format, it also supports editing videos in the form of AVI, WMV, FLV, MPG, RM, etc. Well arranged with multiple shortcuts, it makes video-editing and file-managing easier.
It also gives you an access to join several clips together. Keep in mind that sometimes, it will show wrong instruction to you. Briefly to say, when you accomplish a cutting process, there will be a "Trace" window to display you a result, "Success" or "Failure" message. However, the strange point is that a successful task will result a "Failure" message. Thus, you have to go to check your destination files firstly.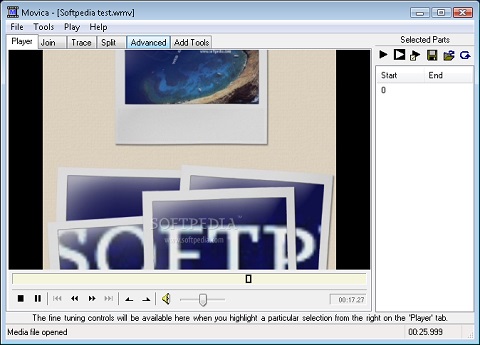 Pros:
Offer different keyboard shortcuts
Cut you MP4 videos in fast speed
Cons:
Show confusing status message for you
#6. Lightworks
Lightworks is a free MP4 cutter and editor. Similar to others, it offers splendid ability to cut off dissatisfying sections from a large video and leave desired portions only. Besides, it provides an intuitive operating interface, allowing you to access numerous royalty-free video and audio files.
Its easy forthright timeline leads you to grasp every second of your MP4 video files firmly. Thus, there is no problem for you to cut an exact region. Alternatively, you can get an wonderful chance to use both video and audio FX in real-time manner. After the splitting progress ends, you can share it to YouTube or Vimeo as well.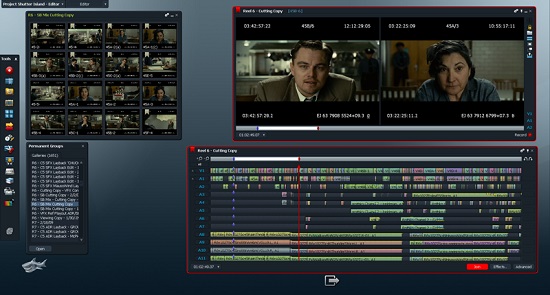 Pros:
Output video files in high quality
Show a wide range of editing features
Cons:
Have to finish a long learning curve
#7. iMovie
iMovie is a praise-worthy video editing tool that aims at making fantastic videos for group of users. It brings you a good experience on cutting your MP4 videos instantly. Better yet, you can add background music, make animated titles, split unpleasing segments, etc. Surely, a high-fidelity filter can make your video more special to bring users unique feeling.
Much comprehensively, you can change the speed in your way or create a Hollywood-style movie trailer. It sounds a great idea so that majority of users are fond of this marvelous feature. To a large extent, people also deem iMovie as a dedicated tool to make movie by themselves.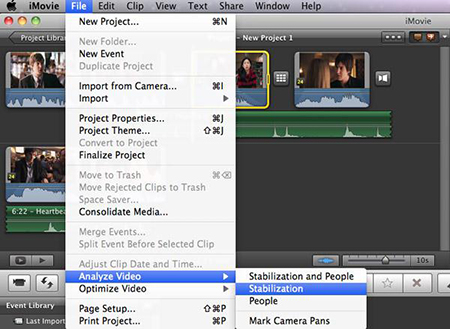 Pros:
Support high-fidelity filters and extra-special effects
Create trailers to make output video more attractive
Cons:
With limited supported video format
Don't support Windows version
#8. VirtualDub
VirtualDub enjoys high reputation from majority of users. It delivers a platform for you to eliminate the specific sections from your MP4 video file and can get rid of the needless pieces effortlessly. This lightweight free MP4 cutter software enables you to have a batch-processing to sort out a large number of videos, without costing too much time.
Nevertheless, it is noteworthy that this compact tool can only output videos as AVI format. Regardless of this point, it can perform well in showing clean video spot for you and let you edit it in your way.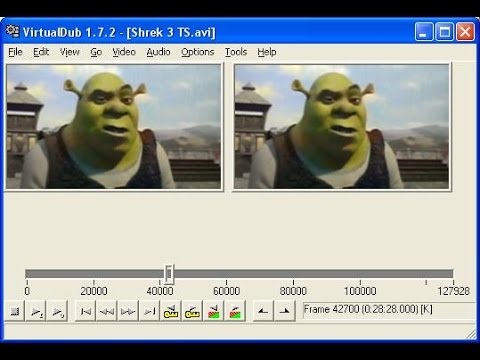 Pros:
Have capability to process videos in batch
Provide lots of editing and cutting options
Cons:
#9. Bandicut Video Cutter
Bandicut Video Cutter is a qualified yet highly-recommended tool in the market that supports nearly all popular video format, such as MP4, M4V, DAT, AVI, MOV, MPEG, ASF, TS, VOB, MKV, WMV, etc. Functioning as an MP4 cutter free software, it cuts and removes any parts, like commercials, intros, outtakes, etc. Unlike other MP4 freewares, it adopts hardware accelerated H.264 video encoder to fast cut, split and join files with optimmal output quality. More than that, after your editing, you're able to directly upload whatever you import from Bandicut Video Cutter to YouTube or Vimeo.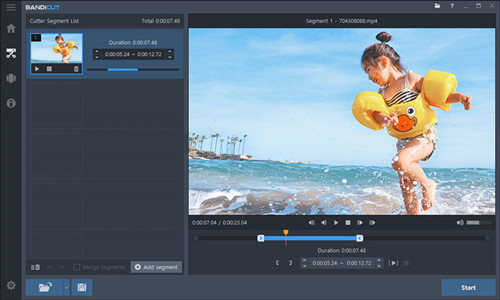 Pros:
Extract audio, like MP3, from MP4
Cut MP4 and other videos without degrading quality
Apply hardware accelerated encoder to improve cutting speed
Cons:
Windows only
Not really free but free trial with video watermark
#10. Online Video Cutter
Prefer to online tool rather than desktop one? Here Online Video Cutter can be a good option. With this MP4 cutter online free, you don't need to spend time downloading and installing software. There are only 3 quick steps: upload MP4, cut, and save. Notably, it has some necessary features. You can preview MP4 video to better enhance cutting accuracy, adjust quality, crop to narrow area and rotate to any degrees.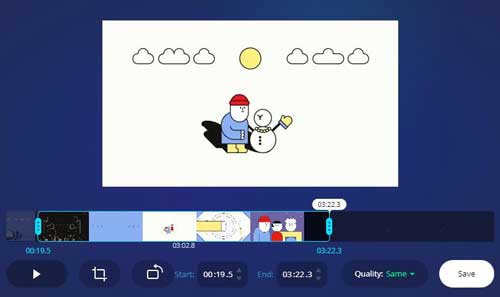 Pros:
Get rid of unwanted parts from MP4 online
Support all platforms
Basic editing tools to crop and rotate
Cons:
Maximum file size is 500MB
Slow to load video due to poor network
#11. Free Video Cutter Joiner
Free Video Cutter Joiner is an MP4 cutter and joiner free here. It is compatible with Windows 11, Windows 10, Windows 8 and Windows 7. Aside from MP4, it can carry out cutting tasks for other popular formats, like AVI, FLV, MOV, 3GP, VOB, MOV, WMV, etc. The whole video processing process is lossless so you can dismiss concerns about quality degradation. Also, the speed it has to cut files can be fairly fast. If you are in need of combining multiple video together, don't hesitate and directly use its video joiner.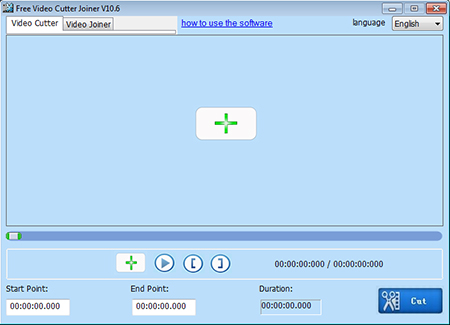 Pros:
Cut MP4 free with no quality loss
Videos with different formats can be joined easily
Offer start point and end point for you to pre-set
Cons:
Only offer basic cutting features
Conclusion
The above-mentioned tools are specialized in cutting large MP4 video files to a manageable size. However, there is no definite answer to which one is the best free MP4 cutter. Bandicut Video Cutter is for Windows users only while iMovie is for Mac users only. If you seek a straightforward solution to conduct cutting task online directly, you can try Video Toolbox or Online Video Cutter. If you don't mind costing low budget for a complete video toolkit with lossless MP4 cutter, Joyoshare VidiKit can be chosen.