For the past few years, iOS has had some major upgrades on the iMessages app. As a result, iPhones have great amazing features for messaging. To many Apple users sending messages in the old plain text format is history. Now Apple users have personalized stickers and GIFs among many other features to make messages more meaningful and interesting to the reader. To help you make the most out of your iPhone when sending text messages to your friends, colleagues, and families, here are some of the best iPhone message tricks that you can use.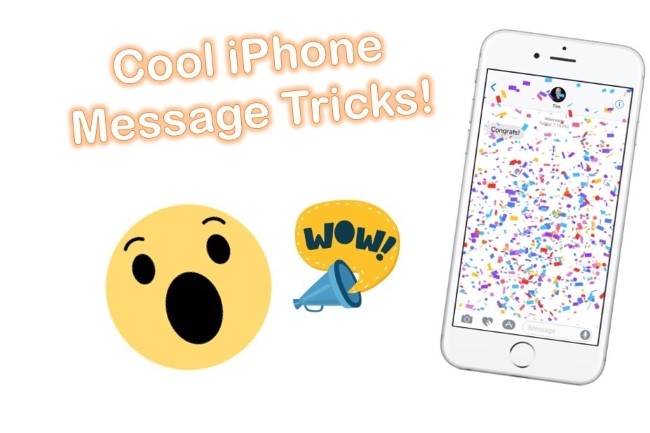 Part 1. Tricks Make Your Message Come Alive
Trick 1. Send Handwritten Messages
People are used to sending messages using predetermined fonts that are usually available on their smartphones. But, iPhones allow you to break loose from this bondage and add your own personal appeal to the messages that you send out to friends and acquaintances. Use a special feature to write and send handwritten messages that are unique and quite different from the common fonts available on all the other phones. This iPhone messaging trick makes sending texts a lot of fun as you send beautiful texts that are handwritten just like would be when sending a handwritten letter.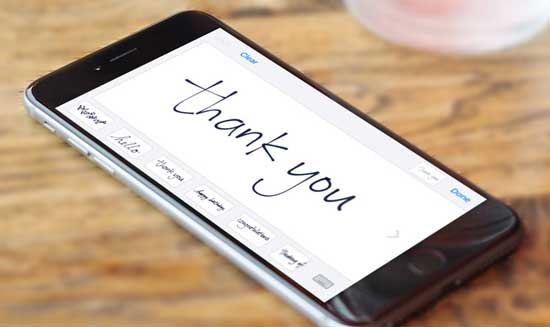 Trick 2. Add Screen Effects
If you are texting friends you will like to go big in demonstrating your point. In this case, use one of the cool iPhone message tricks – cool screen effects. With your iPhone, you can take advantage of the iMessage app features that allow you to customize the screen effects when sending messages. This adds some great dramatic effects to your messages helping make fun and add some important effects to your messages.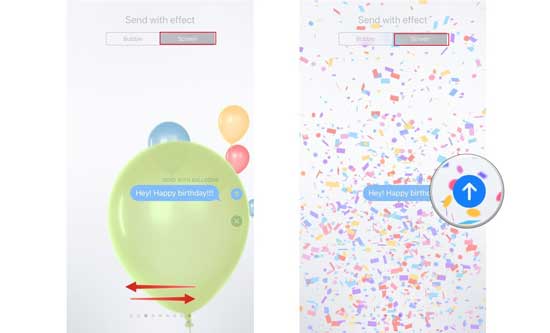 Here are the iMessage screen effect codewords:
"Happy Chinese New Year" – red explosion
"Happy New Year" – fireworks
"Happy birthday" – balloons
"Pew pew" – laser light show
"Congratulations" – confetti
"Selamat" – confetti
Trick 3. Use Stickers
A lot of people use emojis to convey their feelings when sending text messages. The problem is that there are very same emojis that using them has become monotonous. With your iPhone, you don't have to do what everyone else is doing. One of the funny iPhone message tricks gives you access to an inbuilt store where you can purchase stickers for use in place of the traditional emoji. This adds freshness to your messaging as you have more options to express your feelings.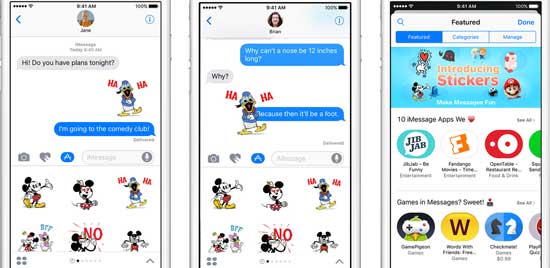 Trick 4. Send Interesting GIFs
We all love funny GIFs. They add dramatic effects to the messages being sent. iPhone comes with many funny GIFs. Using this hidden iPhone message trick, you can add to your messages to stress a point, show your excitement, dramatically express your disbelief or just add to the fun in the message. Whatever messages you are trying to pass across, you will find a GIF that is quite appropriate for the message and may help the recipient of the message in making sense of what you are trying to say. If you want to make your messages interactive and funnier, you will love this feature.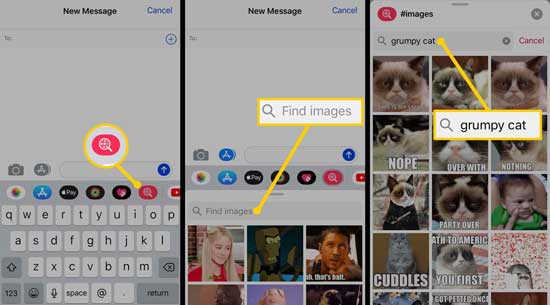 Trick 5. Replace Words with Emojis
iPhones help you to replace the words in your message with emojis. To emoji lovers, this is an interesting feature that makes sure that you send a strong message pregnant with emotions and with a tinge of fun. If you are sharing something joyful with friends then this is the way to go. All you have to do is type your message on the screen then turn on the emoji feature. Turning on the emoji keyboard will highlight the words in your message that can be replaced by an emoji. Now you can go ahead and tap on the words you want to replace with an emoji and select the most appropriate emoji to replace the words.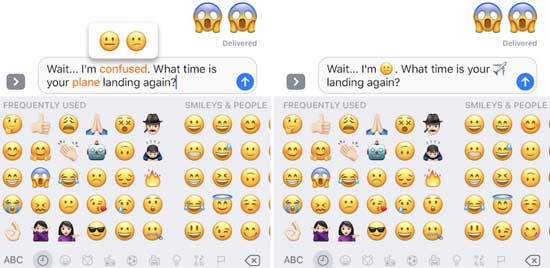 Trick 6. Add Bubble Effects
This is one of the best iPhone text message tricks to help you send the coolest messages ever on your iPhone. You can now add different bubble effects to your messages right from your Apple phone without the use of a third-party app. The iPhone has inbuilt bubble effects such as gentle, loud, and slams among others. All you have to do is scroll through them and select one that fits your mood and adds it to your text message.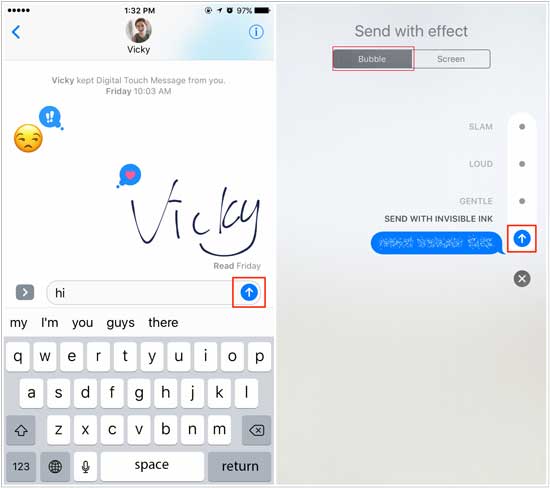 Part 2. Tricks Make Your Message Smarter
Trick 1. Create Custom Text Tones
If you have the same iPhone that you use for both business and non-business communication, you will love this iPhone messages trick. Instead of having to rush to respond to a message, thinking that it is from a client only to find out that it is a dry joke from your old uncle, you can use text message magic tricks to create unique text tones for individual family and friends and set a specific one for the rest. By using this way, you can differentiate between clients and your family very easily when they text you.

Trick 2. Turn on Reading Receipts
If you are traveling, very busy, or not in a position to read messages you will want to turn on the read notification. This will allow your friends who are not aware that you are not available to know that you are yet to read their messages. This will save you a great deal from others, thinking that you are ignoring their texts, because they will be notified that you are yet to read their messages.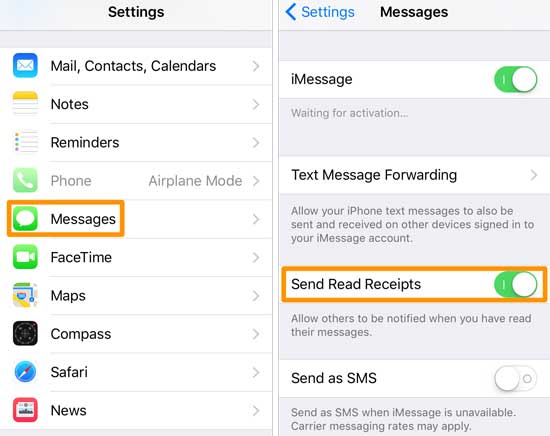 Trick 3. Automatically Delete Messages
If you are running out of space on your iPhone you will love this tip. By setting your iPhones to automatically delete older messages you will keep enough space on your phone to receive more messages and thus be able to communicate better with your acquaintances.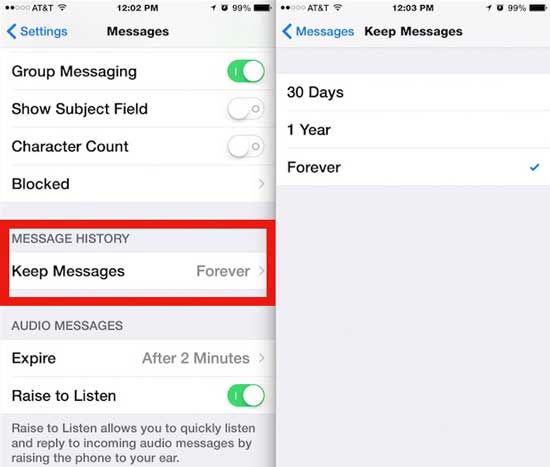 Trick 4. Mention a Friend in Group Chat
Now, you can easily send a message directly to a specific person in group chats. Mention the person to ensure he sees and reads your message. It's pretty simple to do. Type the contact's name followed by the message. A popup will appear with their name and contact photo when iMessage detects the person. You can mention the person by tapping the popup.
Trick 5. Back up iPhone Messages
To make sure that you don't lose any important information contained in your text messages, it is always advised that you back up your messages on your iPhone from time to time. iMessage provides you with iCloud for these purposes. This makes sure you can retrieve all your important messages should anything happen to your phone.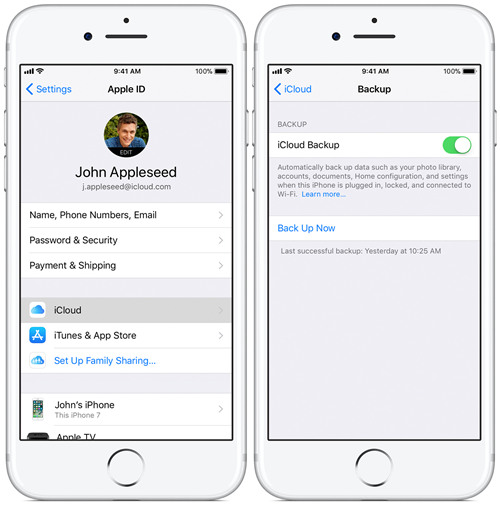 Trick 6. Recover Deleted Messages
To make sure that you don't lose any important information contained in your text messages, it is always advised that you back up your messages on your iPhone from time to time. iMessage provides you with iCloud for these purposes. This makes sure you can retrieve all your important messages should anything happen to your phone.
If something happens to your iPhone and you lost all your important messages when you had not to back up your data then don't panic because you can easily retrieve your deleted messages using the Joyoshare iPhone Data Recovery. This is a powerful and efficient tool for recovering lost data from different iOS devices such as the iPhone, the iPod, and the iPad. The tool can recover a wide range of data including SMS, pictures, and videos among others. It's also compatible with the latest iOS 15 and supports all models of iOS devices. To use this tool to recover deleted messages from your iPhone, follow these steps: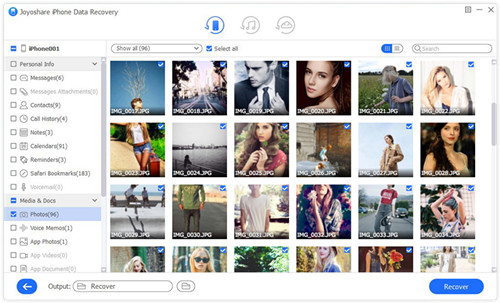 Step 1. Open the program to connect the device: Download and install the Joyoshare iPhone Data Recovery on a computer. Select "Recover from iDevice" mode and use a USB cable to connect your iPhone on which you lost data to the computer.
Step 2. Choose data to search and scan: once the tool detects your iPhone it will display all the details about it. On the same screen, choose the "Messages & Attachments" data type to start searching and scanning files from iPhone.
Step 3. Preview and recover messages: Once the scanning is done, the tool will display all the found information in categories. Now filter only the deleted files, review them and choose to recover them to the computer. You can later back up the messages in your way to avoid sudden data loss.
Part 3. Tricks Make You Messaging More Convenient
Trick 1. React to Messages
We are no longer living in that era where you had to type a large paragraph in the name of responding to a message. In today's fast-paced world, your iPhone message apps enable you to react to a message instead of wasting too much time writing a reply. When you hold the message bubble you will see several reactions appear. You can tap on the perfect reaction to convey your feelings about the message sent without having to type an elaborate response.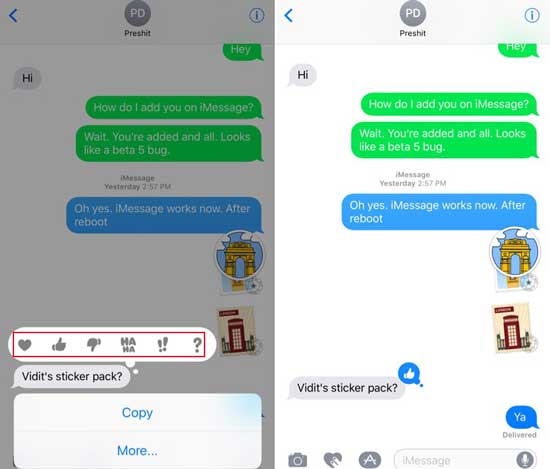 Trick 2. Enable Listening to Your Messages
If you work in a place where your hands are always too busy or covered in lots of liquids or you usually receive longer than average text messages you will love this tip. Instead of having to scroll through your messages as you read every word, you can set your iPhone to read it for you. This way when you receive a text and can't read it, you can use a few seconds and one finger to hold the text and select "speak" for you to hear your iPhone read the texts for you.

Trick 3. Move Cursor
Typos are inevitable when we text. It is cumbersome to move your cursor into the precise field of text you want to edit. You can do it more easily. Tap and hold the space bar, then slide it like a mousepad. This moves and places the cursor exactly where you wish to edit. It makes editing faster and easier.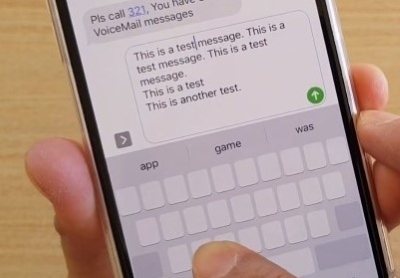 Trick 4. Shake to Undo
When you want to delete a long text, you won't need to keep pressing backspace over and over again. Simply shake your phone and tap undo from the pop-up to remove your texts. Cool iPhone message trick, huh?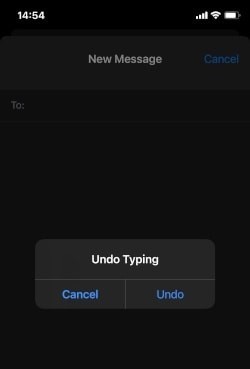 Part 4. The Bottom Line
There are many awesome iPhone message tricks that you can use to enhance your iPhone messaging experience. These tricks make sure that you communicate better, have more control of your device, and most importantly you can get back deleted messages if data loss occurs. Now, it's time for you to use them one by one and see exactly what they look like. Hope you can enjoy yourself in messaging.