If you are like most people, you probably use Adobe Stock photos and videos to make your visual content more engaging. And while there's nothing wrong with that, there is one tiny problem: the watermark. Adobe Stock watermarks can be quite intrusive, especially if they are placed in the middle of an image or video. Fortunately, there are a few ways to remove them and make your content look more professional. This post will show you how to remove Adobe Stock watermark from images and videos with ease.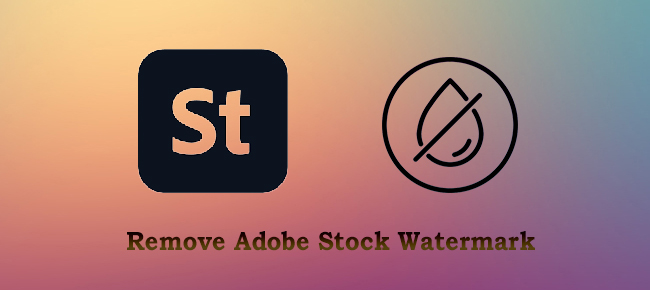 Part 1. Remove Watermark from Adobe Stock Officially
Adobe Stock is a place where you can get royalty-free photos, videos, and illustrations. There are millions of high-quality assets available, and you can use them in your projects without worrying about copyright infringement. However, all licensed Adobe Stock photos and videos come with a watermark. This is to prevent people from stealing and using the content without paying for it. Fortunately, Adobe offers a way to remove the watermark from their photos and videos. All you need to do is purchase a license for the content. Once you have a license, Adobe will provide you with a version of the content without the watermark. To do that, follow these steps: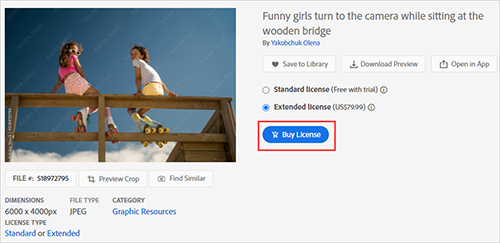 Step 1: Go to the Adobe Stock official website and sign in with your Adobe ID.
Step 2: Find the photo or video that you want to download.
Step 3: You can here select "Buy License" to submit payment and purchase a license.
Step 4: After you have purchased a license, Adobe Stock will provide you with a version of the content without the watermark.
Note: You can also select "Download Free with Trial" to save your wanted photos and videos with no watermark in first 30 days, which however, will require you to submit your payment information. Once the free trial ends, you will automatically subscribe the license.
Part 2. Remove Adobe Stock Watermark without Full License
Purchasing a license for each piece of Adobe Stock content can be expensive, especially if you are working on a large project. This can set you back quite a bit of money, and it's not always feasible for everyone. Fortunately, there is a way to remove the watermark from Adobe Stock resources without purchasing a full license. All you need is a powerful third-party software. One such software is Joyoshare VidiKit.
It's an all-in-one solution for removing watermarks from photos and videos. It supports a wide range of input and output media formats. Plus, it comes with built-in presets and adjustable parameters. Besides, this software provides batch processing. With the help of this feature, you can remove the watermark from multiple files at once. Its built-in player can conveniently let you preview the results before exporting the file.
Key Features of Joyoshare VidiKit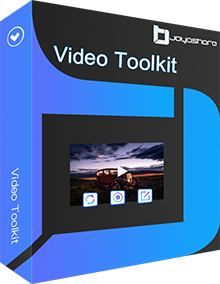 Remove watermark from photos, videos and more stock assets
Batch erase multiple watermarks quickly
Preview watermark-free results before export
Support mainstream multimedia formats
With options to crop and resize images, configure video parameters
2.1

How to Remove Adobe Stock watermark from Image

Step 1: Add Adobe Stock Images to Program

After installing Joyoshare VidiKit, click on the program icon to launch it and proceed to the "Repair" option. Open "Watermark Wizard", and then "Remove watermark from image". You can hit the "+ Add Files" button to import the images with Adobe Stock watermarks.

Step 2: Select and Mark "Adobe Stock" Watermark

Chooses your preferred tool to select the watermarked area on the image. Then click "Apply" to remove the watermark from your Adobe Stock images.

Step 3: Output Adobe Stock Images without Watermarks

Check to preview if the image outputs without an Adobe Stock watermark. Hit the "Format" and pick up your preferred output format. You can also crop and adjust the size of the image. Then save your files by clicking on "Output".

2.2

How to Remove Adobe Stock watermark from Video

Step 1: Add Adobe Stock Videos to Program

Start "Watermark Wizard" in Joyoshare VidiKit and select "Remove watermark from video". Then, drag and drop the video with the watermark onto the main interface. Alternatively, you can use the "+" button to import the files.

Step 2: Preview Videos without Adobe Stock Watermarks

Highlight the Adobe Stock video file in the left list and use your mouse to select the area with the watermark. After you marked all of them, you can play the video to preview watermark-free result in advance.

Step 3: Output Adobe Stock Videos No Watermarks

After erasing the watermark, click on the "Format" option and select the output format and other quality presets. Finally, hit the "Output" option to export the video to your computer with no Adobe Stock watermarks.
Part 3. How to Remove Adobe Stock Watermark in Photoshop
Another way to remove watermarks from Adobe Stock images is to use Photoshop. It is a widely used photo editing program that is able to post-process files with watermarks with just a few clicks. However, it should be noted that this method works best on images. Follow the steps below to wipe out watermark from Adobe Stock image in Photoshop.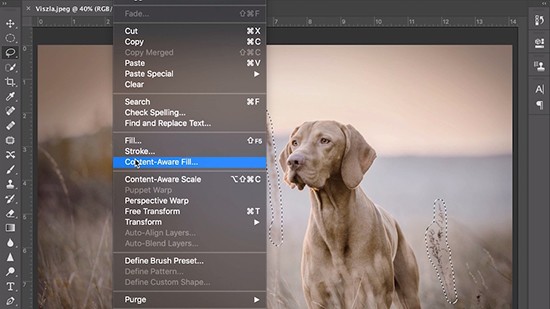 Step 1: Open the Adobe Stock image with Photoshop.
Step 2: Choose the Magic Wand Tool.
Step 3: Press CTRL & + symbol to zoom in to the watermarked area of the photo.
Step 4: Select the area with the Magic Wand tool.
Step 5: Go to "Select" → "Modify" → "Expand".
Step 6: Set the Expand Selection to 5 Pixels in the new dialog box and hit OK.
Step 7: Go to "Edit" → "Content-Aware Fill" to completely remove the watermark.
Part 4. Remove Adobe Stock Watermark Online
Downloading and installing a program to remove a watermark might not be ideal for some users. The good news is that there are many online tools that can remove watermarks from images, and WatermarkRemover.io is one of them. This free online tool can remove watermarks from images. It supports photo formats including PNG, JPEG, JPG, and WEBP. It's also available for multiple watermarks removal. The best part is that it can automatically predict and detect where watermarks are so that you don't have to spend too much time in selecting watermarks.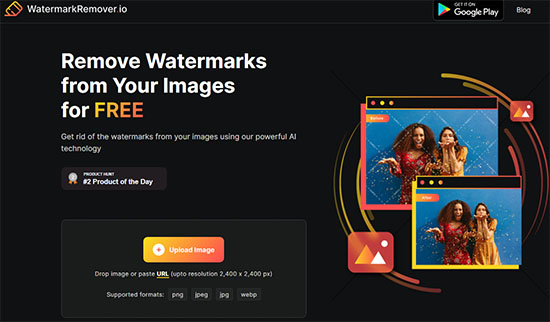 Step 1: Go to WatermarkRemover.io and click on the "Upload Image" button.
Step 2: Select the Adobe Stock image with the watermark.
Step 3: This online tool will automatically remove the watermark from the image.
Step 4: Hit the "Download Image" button to save the image on your computer.
Part 5. FAQs about Adobe Stock
Q1. Are Adobe Stock images copyrighted?
Yes. Images from Adobe Store are copyrighted and belong to the creators. To put it simply, contributors license images to Adobe Stock and provide resources for users to use. If you want to use them in a legal way, you should get consent from the platform, that is, download in free trial or buy license.
Q2. Can I use Adobe Stock images commercially?
Yes, you can use Adobe Stock images for commercial purposes. However, you are not allowed to use those marked "editorial use only", as these can only be used for non-commercial purposes.
Q3. How to remove Adobe Stock watermark in Spark?
To remove the Adobe Stock watermark in Spark, simply open the image in question and drag the small box to the watermark to remove it. However, you should get the subscription of Spark first.
Conclusion
There are many ways to remove Adobe Stock watermark from images and videos. You can download whatever you like in the available 30-day free trial or buy licenses from the official website. The dedicated graphic editing software, Photoshop, can be a good option. If this is too much of a financial burden for you, you can try online free watermark remover. For those who want a secure and professional way to remove watermark from Adobe Stock, consider Joyoshare VidiKit. Whichever method you choose, make sure that you follow the instructions carefully to avoid any errors.