Some situations do come up very often in our lives, such as the older people cannot catch up with the rapid upgrading of technologies, they may ask us for help about some operation on computer. Or imagine that you have practiced how to play a game character very well, and have finally excelled in it. Every time you won a gameplay significantly, don't you want to share with others or hear cheers from your friends?
In this way, a video capture, namely a screen recorder is what you are seeking. While such software are too numerous to enumerate, Debut Video Capture is one of them. It is a popular screen capture for capturing any activities happening on your computer screen, webcam or even from VHS tapes. If you are exactly a person who digs in con-generic products to find the gold, don't miss this article. We are going to write a genuine Debut Video Capture software review, and also introduce one best alternative.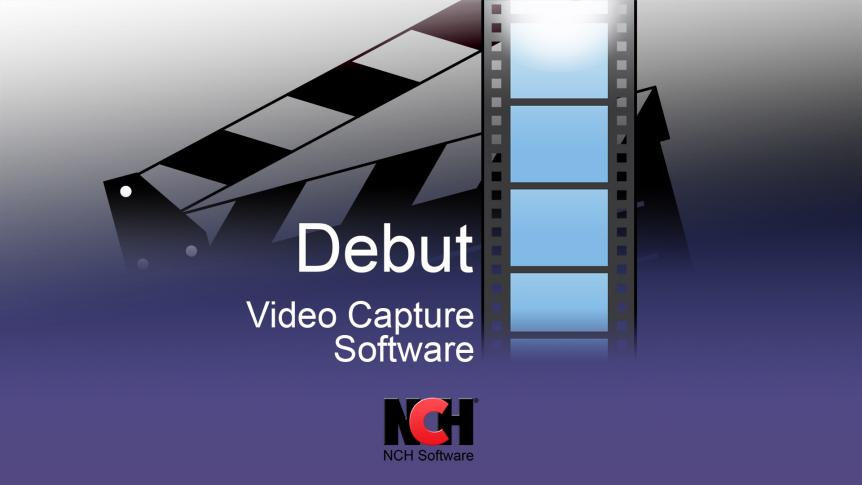 Part 1. Debut Video Capture Review
Debut Video Capture is a product from NCH Software. With Debut Video Capture screen recorder, people are able to capture video from the entire screen, a simple window or personally selected area. If you want to use your webcam, it's also operable. Aside from recording relevant features, it can adjust color settings and add effects on your videos, manage text overlays, as well as export file in all popular video file formats. This Debut video capture and screen recorder software offers two versions -- Professional and Home, and the Home version is much cheaper to use. While the professional requires purchasing to acquire a special code with relatively high price.
# Interface and Function Brief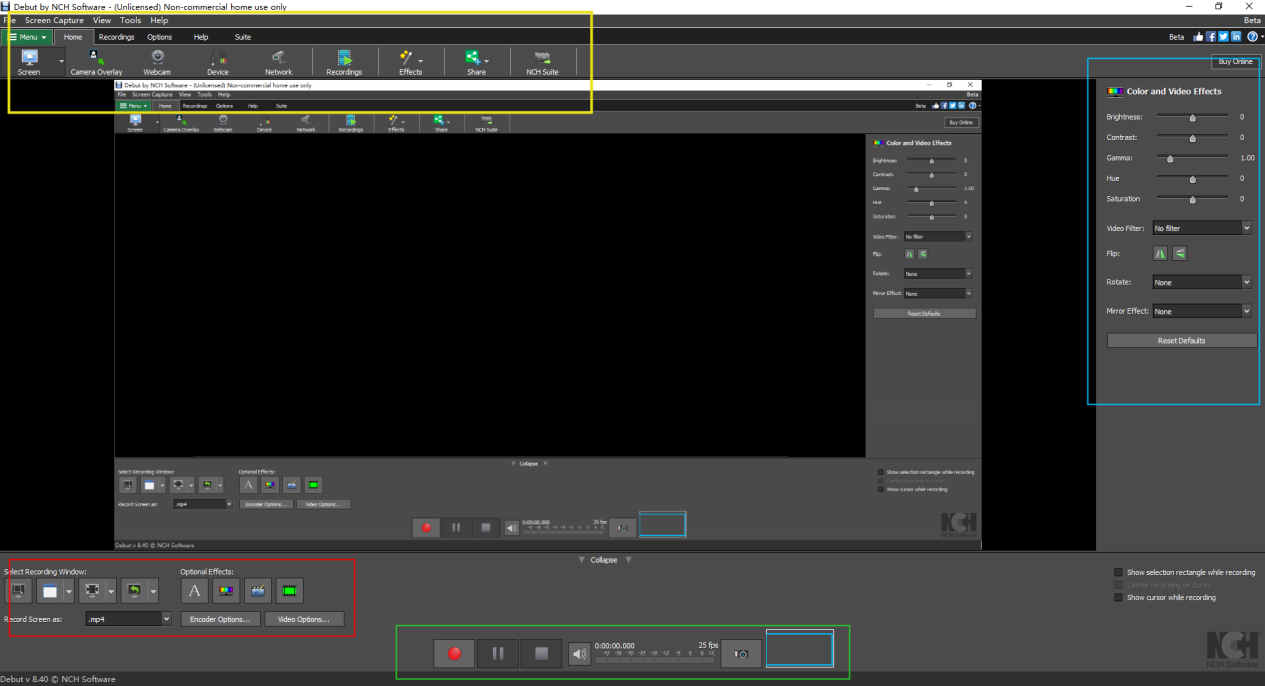 Different from trendy software of same kind, Debut Video Capture follows a classic pattern. I'd like to call it a last century style, original and particular. It perfectly suits people who can't accept gaudy pictures but prefer concrete competence in solving problems. Possibly as its budget doesn't go to appearance's sake, so it has stable functions and a logical layout. Thus, the operating instructions are clearly located on the interface. Moreover, when you move your mouse to the icon or after having clicked some buttons, the software will immediately give you an explanation or pop out a message box.
We basically divide the whole interface into five parts. Four of them are marked by a rectangle with different colors on the picture above.
The yellow part is the main toolbar, focusing on capture methods, effects selection, Setting options, recordings management, etc. You can reach options you want by merely clicking the icon listed on the bar or pressing the down key lying aside "Menu" to find the option on the pull-down list.

Let's move to the red part -- a record section, it enables you to configure encoder options, output format, video options and ability to include a watermark, video effects and text captions.

The rectangle with green marks a controlling section during recording, for beginning, ending, pausing and adjusting volume.

The blue sidebar is responsible for giving detailed information when you click optional effects on the record section. The remaining one goes to the whole central part which is a vast area that displays a preview of recorded content, namely the preview area.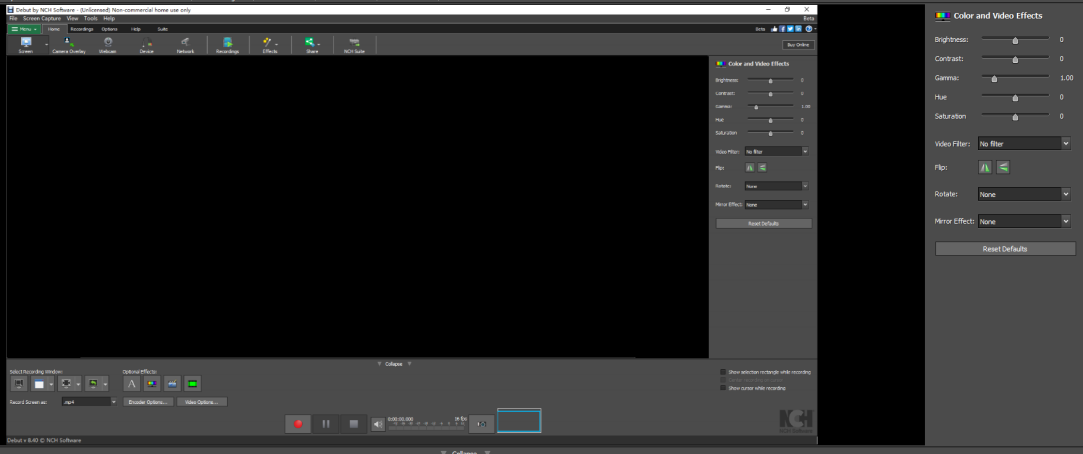 # Basic Specifications
| | |
| --- | --- |
| Operating System | Window XP/Vista/7/8/10 |
| Version | Debut V.8.40 |
| System Requirements | |
| Functions Involved | Add Captions & Timestamps |
| Format Supported | MP4, MOV, WMV and AVI |
| Price | Pro Edition Quarterly Plan: $4.98 |
# Pros and Cons
Pros
1.Excel in recording various activities.
2.It's available to have a video camera overlay added.
3.Users can share the recordings to Facebook, Twitter directly from this program.
4.Multiple output formats to choose.
Cons
1.Complicated operation interface.
2.No live streaming capability.
Part 2. How to Record Screen with Debut Video Capture
As we have mentioned on the Debut Video Capture software review, to use this tool may be tricky as there are too many options on its interface. Here we provide specific steps to guide you how to finally get your screen recorded.
Step 1: Free download, install and run Debut Video Capture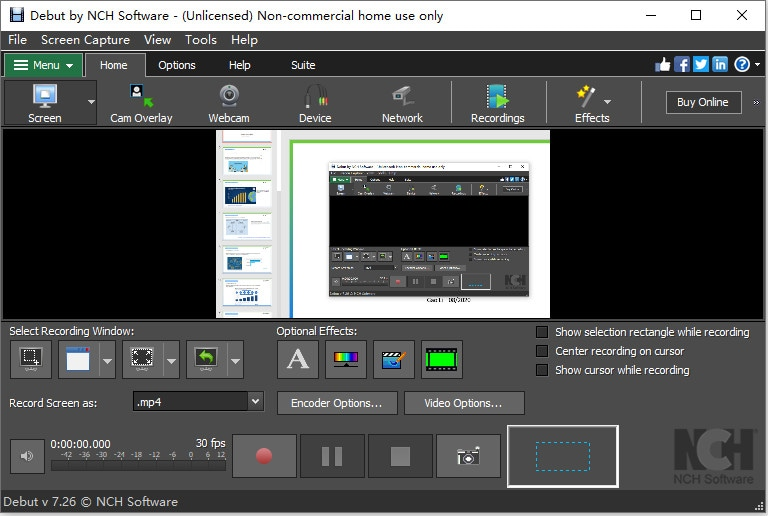 Step 2: Set the preferences
Go to "Tools" on the main toolbar, and select the options that you want to adjust according to your preferences.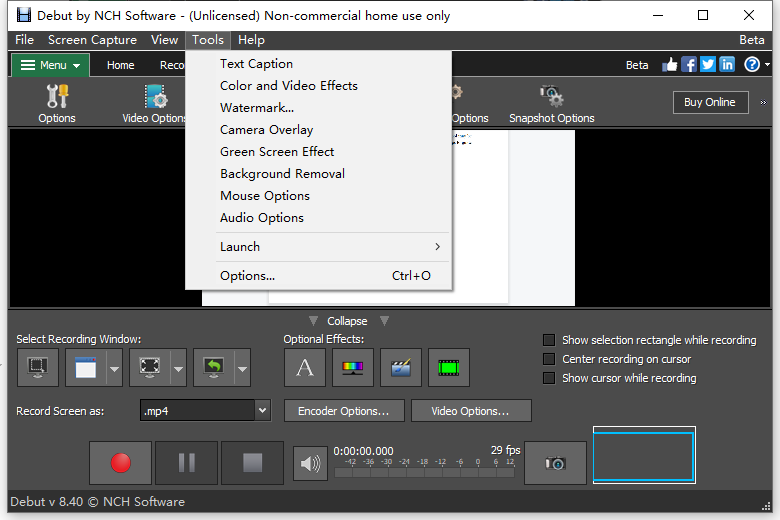 Step 3: Start your recordings
Start your recording by clicking the recording button at the bottom or simply press "ctrl"+ "F9" on your keyboard. Then it will pop up a prompt box telling you how to stop while it has finished.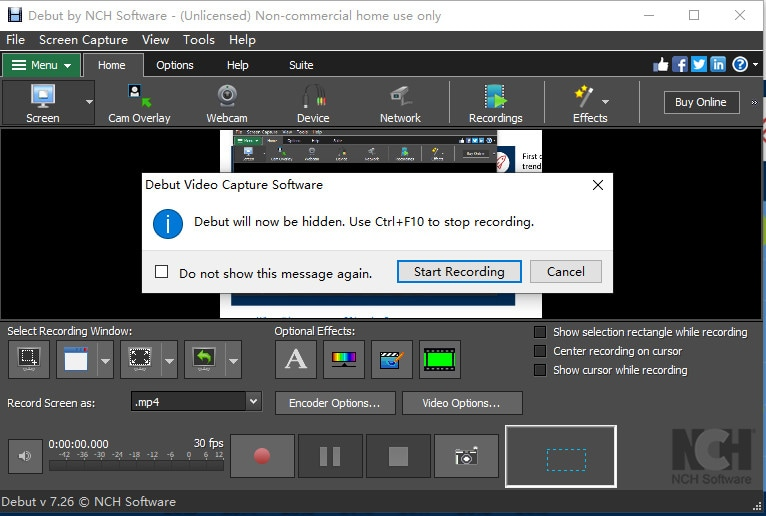 Similarly, another prompt box will ask if you want to use the "Fast Capture" Mode. It provides a larger number of frames per second, thus makes the clip larger. Please select "Yes" or "No" according to your needs.

Step 4: Save as files
You can click the Save As... button to save the recorded file on your computer.

Part 3. Best Debut Video Capture Alternative
Having said all that, we know clearly about the demerits of Debut Video Capture. Thus, for users who are inclined to enjoy a concise operating console as the picture represents below. Joyoshare VidiKit is the best Debut Video Capture Alternative. They are very nearly the same in supported function during recording process. But Joyoshare VidiKit carries the ability of editing videos. It's very convenient if a recording can be instantly edit once people have recorded it. With an Debut Video Capture software alternative like Joyoshare VidiKit, the recording process turns to be easy and simple. At the same time, it makes video editing possible.
Key Features of Joyoshare VidiKit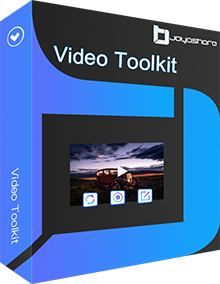 No watermark on your final video
Customize your recording area
Edit your video with powerful functions after recording
Support a plethora of output formats
Record WeChat video call, Vimeo video, meetings and more
Part 4. Words in the End
After reading this article, I believe that all of you have gotten a better understanding about NCH Debut Video Capture review and have hastily approached by its best alternative -- Joyoshare VidiKit. We hope that you can successfully record what you want to capture and enjoy the whole usage experience no matter which product you choose!