Here is a all-round Napster music download guide that consists of 5 methods to download music from Napster, which previously known as Rhapsody. The methods that you are going to see in this guide cover downloading from the computer and from Napster's dedicated mobile apps, which means this guide works for both desktop users and mobile users. With the official download methods widely known, you can go straight to the last methods by clicking the title below to find out how to download Napster music without subscriptions.
1. How to Download Music from Napster to My Computer
Without the subscription or its trial, you will only be able to listen to the short trial versions of the songs. To listen to the full-length songs, you will have to sign up to Napster, and then start your free trial or subscribe directly. Either way, the download process would be the same: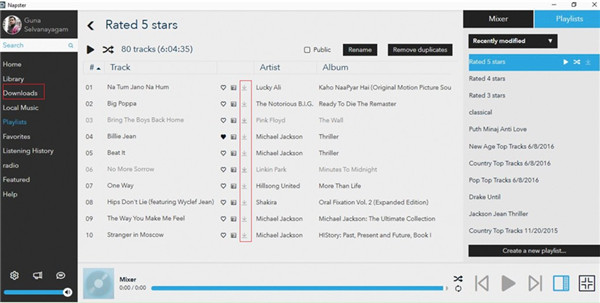 Step 1: Download the app from Napster's website to your computer and launch it.
Step 2: Open the playlist or the album you want to download, then click on the arrow-shaped download button on each track. The song is now being downloaded, and you can see the progress in the column on the left.
Step 3: If the arrow icon turns blue, that means the song has been downloaded.
2. Download from Napster Mobile App
Since it regards mobile devices as the main target, Napster has apps for Android phones, iPhones and iPads. The downloading processes differ among different devices, and you should follow the steps below according to the device you use. By the way, you may find this guide easier to read than Napster's official tutorial, because the gifs in the official guide switch in lightning speed.
Android
Open the app, you will see a 3-dots icon besides each track. Tap on it and then the "Download" button.
iPhone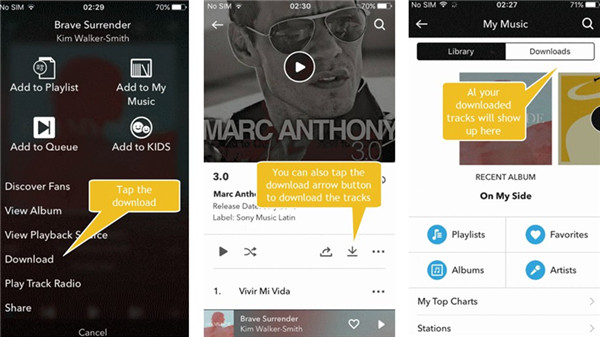 For individual tracks, tap the "+" icon besides each track and then the "Download" button. For playlists and albums, open the album or the playlist, and then press the arrow-shaped icon.
iPad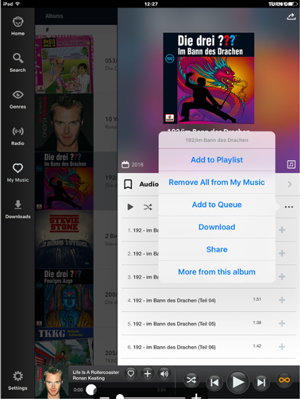 Add the songs you want to download into "My Music". In "My Music", tick the songs you want to download in the playlists or the albums. Tap the "+" icon and then the "Download" button.