Q:"I need to join FLAC files into one big FLAC file. How can I get it done?" - from Wikihow
FLAC, short for Free Lossless Audio Codec, is a lossless compressed audio stream format. If you are an audio enthusiast, you are certainly no stranger to it. Maybe now you are working on merging a large number of classic music tracks that are saved as FLAC format into a complete music for seamless playback. In case you have made a strenuous effort but it comes to nothing, a proposal to you is referring to this article, which focuses on how to merge multiple FLAC files by means of 6 best audio joiners.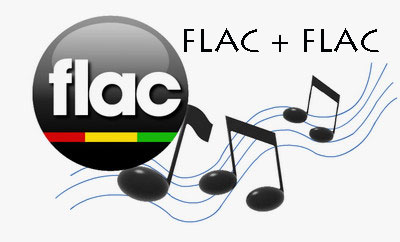 Part 1. Losslessly Join FLAC Files with Joyoshare Audio Joiner
To join multiple FLAC files into a single file with keeping the original audio quality, making use of Joyoshare Audio Joiner is definitely an excellent choice for you. Developed as an easy-to-use and highly-compatible video/audio joiner, it entails no technical skill to assist you in merging files of a wide range of formats, including FLAC, MP3, M4A, M4B, M4R, AAC, WAV, OGG, CAF, MP4, 3GP, 4K videos, and all that. In addition to stitching unlimited files together, it also exhibits cutting and editing abilities. With a built-in editor, you are permitted to trim files, change aspect ratio, apply amazing effects, add creative watermarks, insert subtitles, and even customize audio/video parameters, etc.
Key Features of Joyoshare Audio Joiner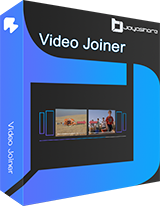 Able to preview and rearrange files with ease
Not only merge files but also cut and edit files
Support clearly all popular file formats on the Internet
Combine files in the same format quickly and losslessly
Custom audio codec, channel, bit rate, and sample rate
Step 1

Add FLAC files to Joyoshare Audio Joiner

In the first step, you need to do two things. One is downloading Joyoshare Audio Joiner installation from the download page of Joyoshare website and then install it on your computer. The other one is clicking on "Open File" to add your FLAC files or you can also quickly drag them to its main interface.

Step 2

Select a merging mode to join FLAC files

Secondly, what you should do is tapping on "Format" located on the lower right-hand corner to choose either high-speed mode or encoding mode to merge your FLAC files. The former is for losslessly joining files in the same format at 60 X speed. The latter has the ability to customize FLAC files with built-in editor as well as to easily merge files in the different parameters. Choose a proper one based on your own personal needs.

Step 3

Delete undesired tracks from FLAC files

Thirdly, you should go back to the main interface by clicking "OK" icon. Then, preview input FLAC files. If you are not pleased with something in these files, move the yellow timeline to cut. More than that, you are also able to rename these files and easily drag them to adjust the original order.

Step 4

Polish FLAC files under encoding mode

This step is just for a situation where you choose the encoding mode to join your FLAC files. If so, now you have the power to trim files, adjust audio volume, add different sound effects, and more with the "Edit" button.

Step 5

Join FLAC files for gapless playback

In the last step, only need to touch "Convert" to start the merging process. After finishing, please get into the local file folder to locate a "converted" file to play the joined single file.
Part 2. Creatively Join FLAC Files with Foobar2000
Foobar2000 is a free advanced audio player for Windows, iOS, and Android users. It features a number of official and additional components,with which you can make your FLAC files joined together.
With a completely customizable user-interface, it is very simple to use. What matters most is that Foobar2000 supports a wide variety of audio file formats like MP1/2/3, AAC, FLAC, OGG, ALAC, WAV, AIFF, WMA, etc. After a general understanding of it, next let's learn how to use it for combining FLAC files.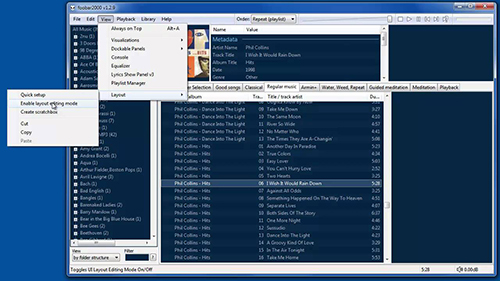 Step 1: Visit www.foobar2000.org to download and install Foobar2000 and related component. After that, please open it;

Step 2: In the main interface, choose "File" - "Add files" to upload your FLAC files. For convenience, you could also directly drag files to it;

Step 3: Before merging, you are allowed to drag up and down to reorder each FLAC file. Then press Ctrl + A on the keyboard to select all files and right click to touch "Convert" - "..." icon;

Step 4: In the "Converter Setup" window, choose an output format and the output folder. Afterwards, click on "Merge all tracks into one output file" and then to "Convert" to join multiple FLAC files into one.
Part 3. Simply Join FLAC Files with Magic Audio Joiner
The last recommended method to combine FLAC files is using Magic Audio Joiner. It is a safe and user-friendly music merger software that is expressly designed to combine a bunch of audio tracks in many formats like FLAC, ALAC, MP3, WAV, WMA, OGG, and so on into a single audio file. It is greatly suggested to beginners because of its simplicity and operability.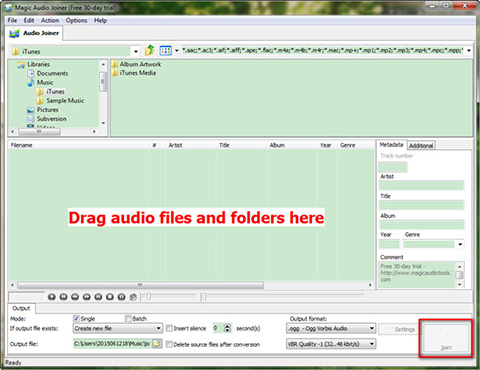 Step 1: Download and install Magic Audio Joiner on the computer. Next, run the software and drag and drop your FLAC files to its main window;

Step 2: Next, under "Metadata" option in the middle right part of the window, you can modify uploaded FLAC files tag, like artist name, title, album name, year, and genre;

Step 3: Lastly, from "Output" section in the bottom of the window, you need to check "Insert silence" and type a proper second for the pause between each file, and also select an output file as well as output format. For output format, you may click "Settings" icon to customize format parameters. Once done, touch "Join" icon to get your FLAC files combined together.
Part 4. Freely Merge FLAC Files with Freemake Audio Converter
Freemake Audio Converter is a total freeware on Windows. It supports more than 50 kinds of audio formats, inclduing FLAC, MP3, WMA, M4A, AAC, M4A, VOC, etc. It is originally designed to convert audio file to other formats or devices with high quality. Also, it provides a "Join files" option, allowing you to batch join multiple audio files into one in a quick and simple manner. Unfortunately, it is solely applicable to Windows operating system.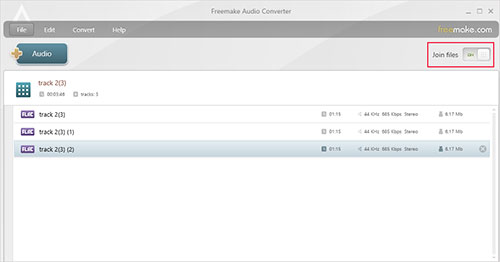 Step 1: Navigate to Freemake official website to download and install its freeware - Freemake Audio Converter. Open it on your Windows computer, then;

Step 2: Importing FLAC audio files to be joined to the program is the next thing. It doesn't support dragging and dropping. So, you can just click "Audio" button to complete file uploading;

Step 3: Enable "Join files" option at the top right corner. After that, specify an output format. To keep the original file quality, it is suggested that you choose "FLAC" format to output. On the following screen, set FLAC output parameters and output file as required. Lastly, touch "Convert" to start merging.
Part 5. Quickly Combine FLAC Files with Audacity
Audacity is recommended as another method to join FLAC files. It's a completely cost-free audio editor for all of Windows, Mac, Linux and other computer systems. With no payment and sign-up, you can make use of it to combine your separate FLAC audio tracks together on any desktop device. Here is an example of a practical operation. Follow it or not at will.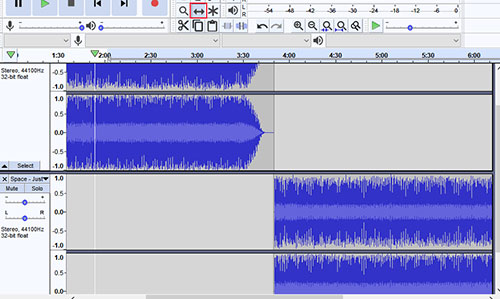 Step 1: On any computer, install Audacity. After running it, batch drag all FLAC files to its main interface. Besides, following "File" > "Open..." is also the means of adding audio files;

Step 2: Having uploaded your FLAC files, you move up and down each of them to reorder as you like. And then, locate and click on "Time Shift Tool" from top menu tool bar. Now, your mouse cursor will turn to be a horizontal double-headed arrow;

Step 3: Hit on the first FLAC audio track and move it to left, as well as highlight the second FLAC track and move it to right until the end point of the first one and the start point of the second one are attached, as shown in the figure above;

Step 4: Whereafter, select "File" > "Export" to choose output format, file name, set format options according to your requirements. Once done, you are prompted with the message of "Your tracks will be mixed down and exported as one stereo file". Click "OK" to confirm;

Step 5: Audacity gives you the ability to edit metadata tags. After finishing FLAC metadata customization, press on "OK" to launch the merging process.
Part 6. Online Join FLAC Files with Audio Joiner
The easy-to-use Online Audio Joiner that supports 300+ audio formats delivers a quick solution to merge FLAC files with no limits and downloads. You just have to make sure that your computer has been in good network status during the process, as you know that any web-based service requires broadband speed. Then, go to its official website and enjoy your journey of joining. Step 1: Type www.audio-joiner.com in a browser to gain access to the official interface of Online Audio Joiner;

Step 2: Click "Add tracks" to upload FLAC files from system or use its drag & drop function to add FLAC tracks;

Step 3: Wait until all your FLAC files are loaded up successfully. Preview them one by one. For unwished parts, drag blue cutting sliders to delete;

Step 4: Touch drop-down button of "Format" to select an export audio format, and finally use the "Join" button to set about joining. Don't forget to tap on "Download" to save the combined FLAC file to local.