Theoretically, merging AC3 files should be extremely simple in this era of merging software emerging in an endless stream. Indeed it is, but challenge is how to find a specialized joining program of excellent price to join AC3 files. When people ask how to combine multiple AC3 files into a large one, what they truly want to know is how to choose an optimal AC3 joiner. To give help, below list 4 best audio joiners that you can take to merge AC3 files.
Part 1. Use Joyoshare Video Joiner to Join AC3 Files
Google "join AC3 files", you will discover that many users mention an AC3 joiner - Joyoshare Video Joiner. In terms of joining files, it indeed deserves to be mentioned. Users having used it know this video joiner is an all-around and reputable audio/video merging software. With it, besides combining AC3 files in a professional fashion, you are also able to polish and enhance your AC3 files with its additional cutting and editing abilities.
Beyond that, Joyoshare Video Joiner can be nicely compatible with a large collection of audio/video file formats, such as AC3, MP3, M4A, AAC, OGG, CAF, WAV, WMA, MKA, AU, FLAC, MP4, M4V, HD, DVD, 4K, FLV, and more. Also, it helps you to convert any supported file to a variety of file formats and device-compatible formats if necessary. To satisfy all kinds of demands, such a video joiner provides 2 merging modes, one of which makes it possible to losslessly join a whole lot of files in the same format at 60X faster speed.
Main Features of Joyoshare Video Joiner:
Allow joining, cutting, editing AC3 files
Easily extract audio from any video file
User-friendly interface and easy to use
Well support plenty of audio/video file formats
Merge AC3 files with keeping the original quality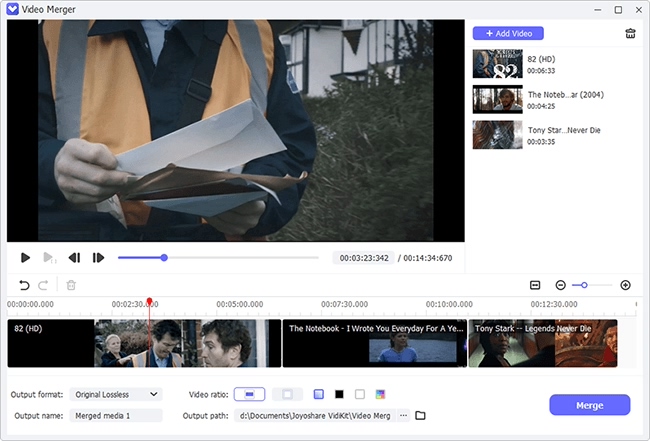 Step 1

Launch Joyoshare Video Joiner

Firstly, get Joyoshare Video Joiner downloaded and installed on the computer. After launching it, please click on "Open File" in the lower left corner to upload AC3 files from the local file. Of course, you can as well quickly drag AC3 files to the interface.

Step 2

Choose a mode to join AC3 files

Next, tap on "Format" located in the lower right corner to choose a merging mode and the output format. If choosing the high-speed mode, files to be merged must be the same format and the output format can only be same as the input format. Under the encoding mode, you can merge files of different formats and choose any desired format as the output format. Additionally, with encoding mode, editing AC3 files and customizing the parameters of the chosen output format can be allowed.

Step 3

Easily preview and cut AC3 files

Afterward, get back to the main interface. Now, you can preview, rename, and rearrange each AC3 file. If find something unsatisfactory while previewing, easily move the yellow timeline to delete it.

Step 4

Edit AC3 files in encoding mode

As stated above, Joyoshare Video Joiner comes with the editing function. But it can only be applied in encoding mode. If you pick the encoding mode as the merging mode, you are permitted to trim AC3 files, add a full set of sound effects, adjust the volume, and more.

Step 5

Merge AC3 files seamlessly

Finally, lightly touch the "Convert" icon. Joyoshare Video Joiner will start merging your AC3 files together. Once done, access the local file folder to find a "converted" file. The merged single AC3 file is saved in it.
Part 2. Introduction of 3 Other Software to Join AC3 Files
This part will introduce another three AC3 mergers to give you more choices in time of joining AC3 files together. Choose one to suit yourself.
MP3 Toolkit

MP3 Toolkit is an all-in-one program on Window. With it, you can not merely record sound to make ringtone, rip audio CD, edit audio tag information, convert audio files to MP3, AC3, AAC, OGG, AMR, WMA, FLAC, APE, WAV, MPG but also merge audio pieces to a single file. More than that, it supports inputting most of popular audio/video formats, like AAC, AC3, MP4, M4V, M4P, MOV, MP3, FLAC, M4A, etc.

Adobe Audition

Adobe Audition is one of the best audio editing software that you could get to join AC3 files. It well supports a huge range of import and export file formats, such as MP3, AC3, AIFF, AU, CDA, MPEG, AAC, OGG, FLAC, MOV, MP4 (only import), WMA, etc. What's more, it possesses many powerful features like multi-track editing and mixing, "Adobe Sensei" technology based on AI to precisely lower the volume of background noise, and so on.

Jfuse Movie Joiner

Jfuse Movie Joiner is an excellent joining tool that enables users to combine a large number of audio/video files in many formats including AC3, WMA, WMV, AVI, VOB, 3GP, MP3, etc. into a complete one. Additionally, it has an intuitive interface. You can work with it light-heartedly. If needful, you are allowed to adjust the sequence of each uploaded file before merging.
Tips: What's the Best Audio/Video Joiner Software
As you know, there are numberless audio/video merger tools in the software market. But how to select the best one from all of them to serve for you? The following gives some helpful tips.
1. Strong compatibility. The essential characteristic of a professional joining program is to be provided with wide compatibility. It has to work well with a wide range of file formats.
2. Easy operability. Easy operability is also of importance for an audio/video joiner. Generally speaking, the joiner software with a clean and compact interface is more well-received than that with a complicated layout.
3. The ability of lossless join. The best audio/video joiner ought to offer services to merge audio/video files without original quality loss. It has the necessity very much. This is the real embodiment of the strength of a merger tool.
4. The capacity to extract audio from any video. There are times when audio files need to be extracted from videos before merging them. In this case, it is necessary to select an audio merger with the ability to extract audio from video files.
5. Basic editing functions. Actually, a pure video joiner is not in hot demand in this time. Besides professional merging techniques, it should feature more or less basic cutting and editing facility.
If the merging software has a combination of the above features, take it without hesitation.