Q:"Struggling to understand how to do this. I have two 15-min GoPro Videos that I want to stitch together as one. How do I do this?" - Blackjag from GoPro Community
Capture your adventures with GoPro camera and desire to create your story to share with friends by mixing these captured GoPro videos? So as to meet this demand, this article makes a discussion for a special purpose on how to stitch GoPro videos together with professional quality. Through comparison-study on several video combiners, ultimately, 4 responsible video merging programs are selected as the candidates to serve for you. Hope this will be of some help.
Part 1. How to Stitch GoPro Videos with Joyoshare Video Joiner
In terms of combining videos, it is not an overstatement to say that Joyoshare Video Joiner is one of the best. Anyone who has employed it knows that it is not hot air but veritable. After all, as a technical video joiner, it is in addition to doing a good job of incorporating videos/audios but also cracks the market on other counts. For instance, it allows you to cut disappointing parts from videos or edit videos (including trimming off and rotating videos, inserting watermarks as well as subtitles, applying a series of effects, etc).
More impressively, Joyoshare Video Joiner gives a vigorously support to the input and output of files in multiple formats, such as MP3, MP4, M4V, M4A, AVI, VOB, and so forth. Rated as a fast and easy video joiner, it is able to merge GoPro videos at 60X speed with lossless quality and import many GoPro clips simultaneously. Besides, suppose you wish to personalize your final GoPro video or customize file format (like frame rate, resolution, etc), it could fulfill you nicely as well. In the circumstances, why don't you sensibly make capital of Joyoshare Video Joiner to assist you?
Main Features of Joyoshare Video Joiner:
Can easily extract audio from these video files
Losslessly combine GoPro videos at 60X speed
Allow you to preview, rename, and rearrange videos
Provide high-speed mode and encoding mode to merge videos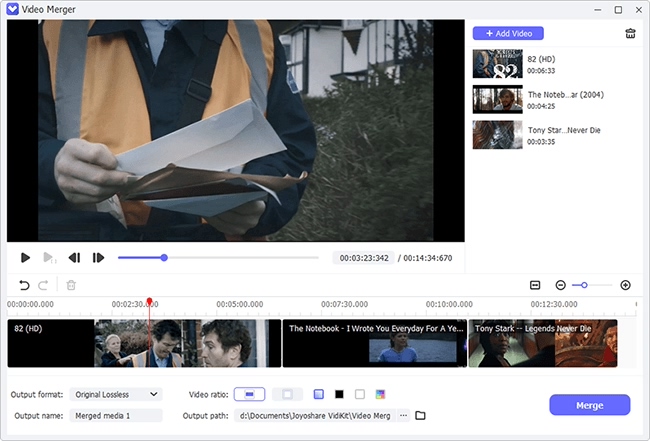 Step 1

Input GoPro videos to Joyoshare Video Joiner

You should have Joyoshare Video Joiner installed on your computer first by visiting its official website. Next, go to "Open File" to add the GoPro videos from your local files. Or you can drag them to the program for convenience.

Step 2

Choose a merging mode and output format

Then, you need to hit on "Format" to choose a mode to combine GoPro videos and pick a format for the combined video. What you choose depends on your demands. If you want a merged GoPro video with original quality, you have to choose the high-speed mode. Or if you need to customize the videos, please choose the encoding mode.

Step 3

Cut something unnecessary from GoPro videos

At present, you are able to rename and preview these videos. In case you find something undesired in these videos, just move the timeline to remove it.

Step 4

Personalize GoPro videos with effects

Users who select the encoding mode to merge GoPro videos have the ability to edit videos now. As shown below, you can trim videos, apply different effects, adjust aspect ratio, add subtitles and all that.

Step 5

Stitch GoPro videos together

Eventually, lightly tap on "Convert", which will make the merging process started. After finishing, the merged GoPro video is saved in the local file folder.
Part 2. The Recommendation of 3 Alternatives to Joyoshare Video Joiner
Through the above, you basically know how to stitch GoPro videos together via Joyoshare Video Joiner. But to combine GoPro videos more selectively, the following proposes the other three available video joiners.
VideoProc

With excellent performance, VideoProc does rather more than you realize. Developed as the one-step video processing software, merging videos without compromising quality is just a small piece of its capabilities. Beyond that, it is in a position to convert, edit, resize and adjust large videos, audios, and DVD files with no problem at fully fast speed. More importantly, its speed of transcoding videos can be up to 47X real-time faster and meanwhile it will automatically optimize output video quality.

GoPro Studio

GoPro Studio, as the name suggests, is specially made to turn the GoPro video clips into an awesome video. As the almost free video editing software, it is quite simple to use but is not actually inferior in the function. Besides assisting you in stitching GoPro videos together, it has the power to trim and edit them, add titles, music and audio tracks, create slow or fast motions. But it is reported that some of editing features of GoPro Studio are available for a fee.

AoA Video Joiner

AoA Video Joiner is a free video merging program that permits you to put multiple video files together with ease. With it, even if the videos you want to combine is in different format, you can also get them merged by a few quick and simple steps. Furthermore, both adjusting the order of video files and tweaking the configuration of output format could be done as well while working with AoA Video Joiner. But keep in mind that the file formats supported by it are just MP4, FLV, WMV, MOV, MPEG, AVI, and 3GP.