Q:"Can Sony Vegas merge clips that are separated by split tool? If so, anyone can tell me how to do it?" - Mian
As is known to all, Sony Vegas is one of the most popular and full-featured video editors. But do you know it is not that friendly for users, especially for novices? Supposing that you are trying to make use of Sony Vegas to merge several clips together but you are new to it as well as lacking experience in merging videos, then sincerely suggest you to read through this tutorial carefully before acting. It shares a complete guide to conduct you to join clips on Sony Vegas, meanwhile recommends a Sony Vegas alternative - Joyoshare Video Joiner.
Part 1. How to Merge Clips in Sony Vegas
Sony Vegas, as one of the most professional video editing software, provides quite a lot of remarkable functions for users. With its help, users can nicely join and cut clips, add special effects, edit subtitles, remove noise from videos, and generate Dolby 5.1 surrounding sound, etc. But for beginners, using it to join clips is not that simple. To offer help, below gives a detailed guide on merging clips in Sony Vegas.
Step 1

Import clips to Sony Vegas

First of all, launch Sony Vegas. After that, choose the "File" option in the top left corner and hit on "Import" from the drop-down menu. Next, touch "Media" icon from a side menu to browse your local files. Just choose clips that you want to merge. Alternatively, you can do it by click an import icon as shown below.

Step 2

Cut and edit clips

If necessary, drag these imported video clips to the timeline to easily cut or edit them as you wish. You could remove undesired sections from clips, change the order of every clip, add cool effects and filters, and others.

Step 3

Merge clips in Sony Vegas

Press Ctrl + A keys together and click "File" to pop up a window. In this new window, please choose "Render As...". Subsequently, choose an output directory and an output format as well as setting the file name and resolution. As soon as these are done, touch "Render" to start merging clips.
Part 2. How to Merge Clips in Joyoshare Video Joiner
Supposing that you still find it complicated to merge clips in Sony Vegas even after reading the stepwise guide above, the proposal is to employ the optimal substitute for Sony Vegas - Joyoshare Video Joiner. It is a user-friendly video joiner that comes with a clean, straightforward layout. No technical skill will be required while operating. Even much less experienced, you can as well manage it cleverly.
Quite apart from that, it is provided with a lossless mode and an encoding mode to permit you to merge clips with a high degree of freedom and flexibility. In the light of your real demand, you can choose either of them to serve you. Just note that the lossless mode is committed to joining video clips/audio tracks without quality loss at 60 X speed while the encoding mode gives you the ability to customize video and video format.
Why Choose Joyoshare Video Joiner
Support all kinds of file formats
Applied to both Windows and Mac
Can merge any video clips losslessly
Besides merging, able to cut and edit clips
Allow you to customize resolution, frame rate, codec, etc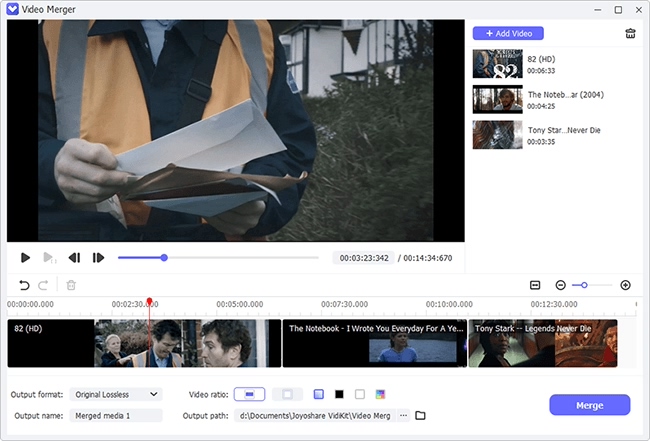 Step 1

Launch Joyoshare Video Joiner and add clips

Put all these clips into one file folder first. Then download and install Joyoshare Video Joiner on your computer. Afterward, launch it and drag the file folder storing your clips into the program. By the way, clicking "Open File" in the bottom left corner can do it as well.

Step 2

Select merging mode and export format

When all clips have been uploaded, it is time to tap on "Format" to choose a merging mode and an output format for the merged clip. As mentioned above, the high-speed mode is for losslessly and quickly combining clips of the same format while the encoding mode is to merge clips of different formats and supports customizing video format as well as editing video clips as you like.

Step 3

Cut clips while previewing

Once selected, touch "OK" to go back to the main interface. Now, you can preview these imported video clips. If find something unnecessary while previewing, you just slide the timeline to delete it. Also, renaming and reordering video clips are allowed.

Step 4

Edit clips as you like

Those who select encoding mode to merge clips have the ability to hit on "Edit" to edit every clip, such as rotating and trimming video clips, adding visual and sound effects, adjusting aspect ratio, inserting subtitles and watermark, and more.

Step 5

Merge clips together

The last thing that you need to do is pressing on "Convert" to start merging these video clips. When the process is finished, access a file named converted in the local file folder to find the merged video clip.