The development of technology and emergence of short-form video apps encourages more and more people to record their daily lives and share them on the Internet. Vlog, an abbreviation of video blog or video log, refers to a type of blog where most or all of the content is in video form. The equipment needed to produce vlogs has become cheaper and more accessible to a lot of people. If you have a video-capable camera or mobile phone, you can create a vlog and publish it online. But "how to edit a vlog" may annoy many newbies. This article will help you have a basic understanding of vlog and teach you how to edit it so that it can attract more clicks.
Part 1. What is Vlog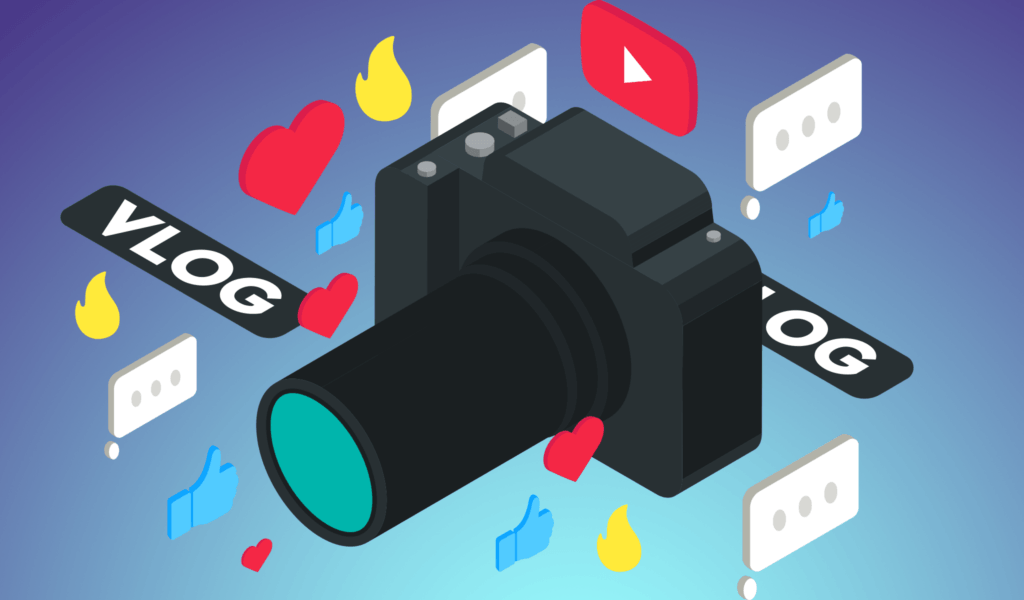 As mentioned above, vlog is a blog that publishes video content. It may be entirely video-based or may include both video and written commentary. There are various types of vlogs on the Internet, such as instructional videos, personal commentaries, travel updates, and etc. The main goal of a vlog is to communicate with a wide audience on a personal level.
A popular video sharing website can boost the rise of vlog's popularity and YouTube is the most popular platform for vloggers to post their vlogs online. Thousands of vloggers are a part of the YouTube Partnership Program, which professionalizes the industry and enables vloggers to generate revenue through advertisements. For this reason, many people choose to edit video for vlog in order to benefit from it.
Part 2. How to Edit a Vlog
Fluent video editing and unique style will contribute to the appeal of your vlog. Video editing is not easy and an easy-to-use free vlog editor is necessary.
Joyoshare Media Cutter is a 2-in-1 platform, which allows you to cut and merge video or audio files with zero quality loss at 60X faster speed. It supports trimming all popular video and audio files, such as general videos, web videos, HD videos and audios, etc. After cutting videos, you are allowed to export them onto various devices, including Apple, Samsung, game consoles, smart TV, etc.
In addition, Joyoshare is a powerful joiner, enabling you to merge video and audio files to multiple common formats with 100% original quality. Thanks to its built-in editor, you can edit, adjust and redefine videos before cutting, such as adding special effects or frames to videos, inserting subtitles or watermarks, adjusting brightness, saturation and so on.
Key Features of Joyoshare Media Cutter:
Trim videos/audios with lossless quality
Merge videos/audios to multiple common formats
Convert videos/audios to popular output formats
Support various portable devices and gadgets
Note: The trial version only offers 5 opportunities to cut videos for free.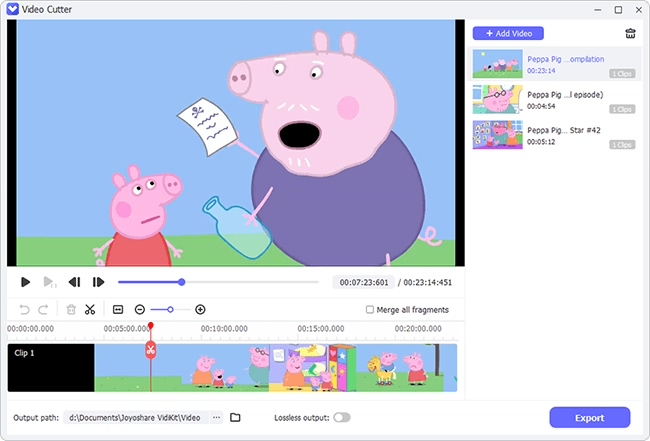 Step 1

Add vlog file to Joyoshare Media Cutter

Joyoshare Media Cutter supports both Windows and Mac, please choose the suitable version of software to download and install on your computer. After launching the software, import vlog file by clicking "Open" button or directly dragging the file to the software interface.

Step 2

Set the output format

Click "Format" button and you will get a pop-up window related to video's output format. Choose the suitable format according to your own needs. If you want to customize file format, quality and codec, you can check "Encoding mode".

Step 3

Select the segment to be cut

You can select the segment to be trimmed by moving the control key. Alternatively, you are allowed to enter Start Time and End Time to set the temporal interval.

Step 4

Edit vlog before cutting

The built-in editor can be launched by clicking edit icon beside the video clip. Various functions are offered for you to edit your video, including trimming clip, snapshotting the screen, rotating the video, cropping the size of the original video, adding special video effects and frames, inserting watermark and subtitle, changing the audio track, adding special sound effects for the video, etc.

Step 5

Start to cut the video

When the settings are completed, click "Start" button to trim the video you edited. The process will cost a few seconds and you can obtain the edited video file in the destination folder.

Vlogging gives ordinary people the ability to share their own lives and opinions on the Internet. Becoming a vlogger is easy, but you also want to be an excellent vlogger, you should have a deep understanding of how to edit a vlog. Hope this article can give you some inspiration and Joyoshare Media Cutter can help you edit videos more easily.