Q:"I have been searching for a decent free or paid FLAC splitter to split up my large FLAC files but have not had any luck so far. Most seem to be either for Windows or be costly. Does anyone know of any good ones?" - from Reddit
Differing from lossy compression coding like MP3, AAC, OGG, etc, FLAC (Free Lossless Audio Codec) developed by Xiph.Org Foundation is a lossless compression coding, which means that all audio compressed with FLAC encoding will lose no information. Due to this lossless property, FLAC coding format has been applied in many software and hardware audio products, like CDs.
But generally, file with the extension .flac is a large single audio file whether it is ripped from CDs or downloaded on Internet. Sometimes, the FLAC file is too large to facilitate the management. Thus, you have to split it into several short tracks. To help you, the following presents video splitter software to split and cut FLAC files without any loss in quality and frame.
Part 1. How to Split FLAC Files - Joyoshare Audio Cutter
Joyoshare Audio Cutter is really a thorough FLAC splitter that you shouldn't miss to split and cut your FLAC audio files. It provides millisecond precision timing to ensure the accuracy of cutting and splitting. Plus, it features a high-speed mode that can promise the whole splitting process to be done with lossless quality and frame.
Other than the ability of 60X-speed and lossless cut or split, it is built with a media editor, allowing you to custom the FLAC files, like use sound effects, control its volume, trim FLAC, adjust parameters, etc. The file formats it supports is of course more than FLAC. Many other formats like MP3, OGG, AAC, AC3, CAF, WAV, WMA, M4A, MP4, FLV, MPG, MTS, MOV, MKV, etc get the same support.
Key Features of Joyoshare FLAC Splitter:
Customize output quality as you want
Support all kinds of multimedia formats
Cut, trim, and split FLAC files at 60X speed
Apply sound effects, adjust audio volume, etc
Merge split FLAC into one without quality loss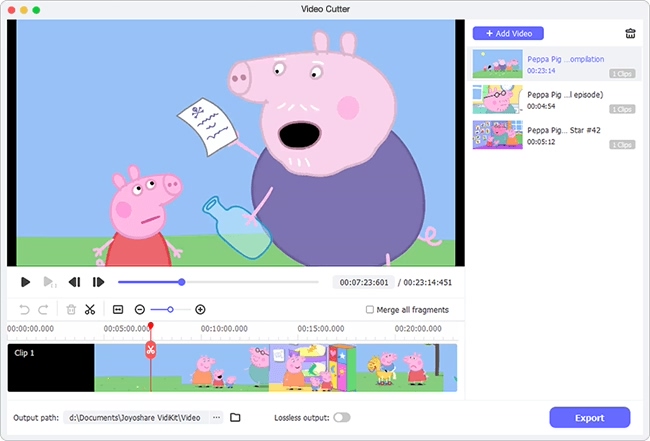 Step 1

Add FLAC file to Joyoshare Audio Cutter

Based on your system, select the proper version of Joyoshare Audio Cutter to download and install. Then, open the program and go to "Open" to access your local folder and choose the FLAC file to it. Or, you can drag and drop the FLAC audio file to the specified position to start.

Step 2

Specify splitting mode

Next, click "Format" to opt for the cutting mode from the given two modes. With the high-speed mode, splitting FLAC files can be done with breathtaking speed and there is no deterioration of quality accompanied. The encoding mode entitles you to edit FLAC file and set up file format like adjust codec, sample rate, bit rate, channel, in a customized way. Choose either of them as you demand. Don't forget to highlight an output format in the designated mode.

Step 3

Pinpoint cutting sections

Now, get yourself back to the main interface and preview the FLAC audio file to determine what you need to cut or where you want to split. After that, click to stop playing and start cutting off unwanted tracks by dragging the yellow timeline, setting segment start time and end time, or manually entering temporal interval. To produce more FLAC tracks, touch "Add Segment/+" icon and keep what you need as described above.

Step 4

Trim and edit FLAC files (optional)

Some who split FLAC files with the encoding mode are allowed to edit FLAC audio after cutting and splitting. For this, tap "Edit" icon to go for the editing window and select to trim files, apply sound effects, adjust volume, etc. Afterward, return to the previous window. If there is a need for you to merge these split FLAC tracks into one, tick "Merge Segments" before "Start".
Video Guide: FLAC Splitter to Split FLAC Music in Original Quality
Part 2. How to Split FLAC File with Audacity
Audacity is an open-source multiple audio editor, recorder and mixer freeware applicable to Windows, Mac, and Linux. With such a sophisticated tool, you can implement not only FLAC cutting and splitting but also enjoy recording, merging, adding effects, removing noise, adjusting volume, convert tapes and records into digital CDs, changing speed or pitch, advanced zooming feature in view, etc. In terms of audio formats, it is well compatible with WAV, FLAC, MP3, MP2, OGG, AIFF, AC3, M4A, WMA, and others. But it is not designed with a concise interface. If you have not been exposed to it, you need to put a bit of time and effort to learn.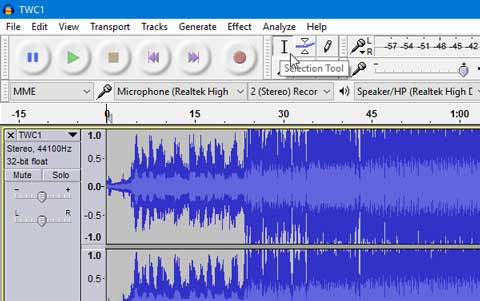 Step 1: Launch Audacity on your computer if it has been installed. If not, official download first;
Step 2: Next, head to "File" - "Open..." to import your FLAC audio or you can directly drag;
Step 3: Preview the FLAC audio. After deciding the cutting sections, drag the "Selection Tool"/"I" icon to your FLAC track and then highlight the part needed to be removed by clicking and holding down the left mouse button;
Step 4: Now, go to "Edit" - "Remove Special" - "Split Delete". Lastly, click "File" - "Export". After selecting an output option and destination file, touch "Save". All your split FLAC tracks will be mixed down and exported as one stereo file.
Comparison:
Below makes a comparison of Joyoshare FLAC splitter and Audacity in the general characteristics. Before going further, it is better to have a quick look at the following table.
| | | |
| --- | --- | --- |
| Program | Joyoshare Audio Cutter | Audacity |
| Supported OS | Windows and Mac | Windows, macOS, GNU/Linux |
| Cutting and splitting speed | 60X faster | No high speed guarantee |
| Quality and frame loss | No | Yes |
| Splitting mode | High-speed and encoding modes | No mode option |
| More editing functions | Yes | Yes |
| Operability | Easy to use | A little complicated |
| Price | Free use for 5 times / $29.95 for lifetime | Free |