Has your iPhone battery been proving problematic lately? Maybe it shows that it has about 30% charge remaining, only to go off without warning. If you have ever experienced a jumpy iPhone battery, then you definitely know just how frustrating that can be. Your first thought when you experience this would probably be to replace your battery. However, there is a much simpler way to deal with the problem. Calibrating an iPhone's battery has often proven to be a true and complete cure to a problematic battery.
Part 1. Why You Should Calibrate Your iPhone Battery
There are many reasons why your phone's battery may be showing incorrect estimates of the remaining juice. Some of these include the following: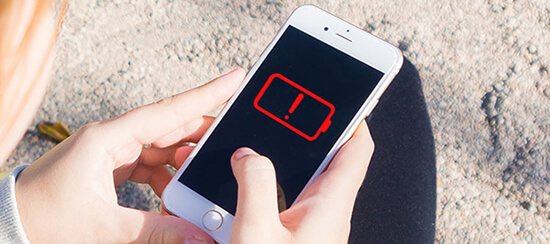 1

iOS Upgrades

Upgrading your phone's iOS system introduces myriad different features, many of which are often battery draining. After upgrading your iOS, you may find that your phone does not keep charge for as long as it used to. When this happens, your only resort is to reset your iPhone battery, making iPhone charging problem fixed soon.

2

Failure to Charge Phone

Another reason why your phone's battery might start misbehaving is due to failure to charge it well for long. Charging your phone half-way or failing to charge it completely for up to one month can mess with the software responsible for estimating left charge, and this can lead to a jumpy battery. This is because the Lithium-ion battery of the iPhone requires constant and complete charging at least once a month in order to function properly.

3

Running Many Apps Simultaneously

If you run too many apps at the same time, then your phone's battery will respond by lasting for a very short period of time. It gets worse if you also download tons of stuff at the same time. Very high screen brightness and background app refreshing are other reasons why your iPhone battery may not last for as long as you expect it to.
Part 2. How to Calibrate iPhone Battery
In case you are wondering how to calibrate iPhone battery, you will be pleased to know that it is a fairly simple process. In fact, all you really need is time. You should commit to resetting iPhone battery when you can afford to stay without it for hours at a time.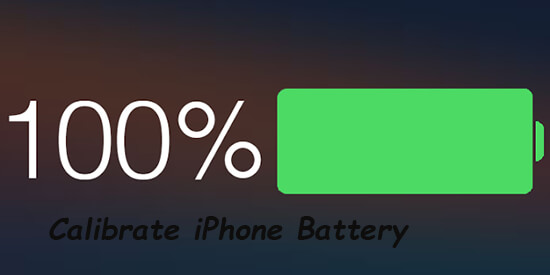 Generally, calibrating the battery involves first completely draining the battery, charging it until it is completely full and then repeating the process again. For the best results, it might take even two days to completely reset iPhone battery. However, this need not be the case if it will be too much of an inconvenience. At the least, you should commit about five hours to the whole process.
Part 3. 6 Tips for Calibrating iPhone Battery
1

Discharge the Battery

The very first step to calibrating iPhone battery is draining it completely of any charge. Usually, this can be done just by using it until it is devoid of any charge. If you are in a hurry however, you can drain the charge by maximizing on energy- draining functions. For instance, you can turn the flashlight on while watching videos on the phone. To make the process quicker, try streaming videos from the internet. Ignore the warnings that your phone battery is running low and continue using the phone until it goes off automatically.

2

Leave Phone to Discharge Completely

Even when the phone goes off due to lack of power, chances are there is still some charge left in the battery. Ever wondered why your dead phone registers that it's 2% or even 3% charged as soon as you plug in the charger? It is due to the residue charge that remains when the phone goes off. When you want to re- calibrate your iPhone battery, it is important to ensure that even this remaining charge is gotten rid of. This can be done by leaving the phone dead for a few hours. If you can, leave it all night long for the best results.

3

Charge Phone Till Full

Once you are satisfied that there isn't even an ounce of energy remaining in your phone, it is time to plug it in. There are a few rules you must follow here. First, the phone must be charged uninterruptedly until it is completely full. In fact, don't just let it charge until it is 100% charged; leave it for a couple of hours longer. Where is the sense in this, you ask? Apple experts opine that even when the phone shows that it's100% charged, there is still more room for charging. The 100% charged tag is only used to give an estimate of the phone's battery life.

Another rule you should follow is that you must charge the phone with an original iPhone charger. The importance of this cannot be overstated. Additionally, it is better to charge the phone when it's off. Since it cannot show how charged it is in this state, give it roughly five hours to be completely charged.

4

Warm Restart the Phone

After the phone is fully charged, now you have to warm restart it. First, you have to press the sleep/ wake button in order to switch the device on while it is still plugged in. To warm restart it, simultaneously press the home button with the sleep/ wake button until the Apple Logo comes on.

It is not uncommon to lose some data when you restart your phone. If at all this is a concern for you, then don't hesitate to use Joyoshare iPhone Data Recovery. The tool can help you recover over 20 types of lost data on iOS devices ranging from the iPhone, iPod and iPad. The tool will also help you recover lost or deleted data from iTunes and act as an iCloud backup.

5

Remove the Cable

The last step to calibrating your phone's battery is to remove the power cable after warm resetting it. If you notice that the phone still has a jumpy battery, then you will do well to simply replace it.

6

Do it Again

Calibration works best if done at least twice. Repeat the whole process again to completely cure your problematic battery. It will prove to be worth it in the long run.
Conclusion
Calibrating your iPhone battery can work wonders for your phone. Resetting the battery helps erase any confusion with the estimation of the remaining juice in the battery. You would be well advised to calibrate your iPhone battery once a month to avoid this occurrence in the first place. It might be time- consuming, but it is well worth the effort.