It often happens that you need to cut music, for instance remove the unwanted parts of a song, create a ringtone for your smartphone, cut and edit a piece of audio to make it as background music, trim a large audio file into a smaller one so as to quickly upload it to the Internet and share with your friends, etc. No matter what reasons it might be, all you need is a music cutting tool.
The Internet is full of online music cutters that are easy to access and simple to use. More importantly, some of them are even for free. However, there are so many similar music cutters that you may feel hard to decide which one to choose. Thus, we here introduce top 5 best online music cutters to help cut music and songs for free.
1. Online MP3 Cutter
This is a free online app that is capable of cutting any sound track in your browser easily. It can be used to cut songs, make ringtones for your iPhone, etc. You can also extract audio from a video when you want to get an audio track from a music video or a movie.
The online audio cutter supports more than 300 different video and audio file formats, including 3GP, 4XM, A64, AAC, AC3, ACT, ADF and more. There is no need to install any music cutter software on your computer. What you do is to open an audio file, cut the music and then save it to your computer's hard drive.
Pros:
Trim any audio track easily for free
Multiple media file formats are supported
Distinguished fade in and fade out feature
Cons:
Adobe Flash Player needs to be installed when you first open the website
It takes a long time to upload your large music file
Can only make ringtones for iPhone users

2. Audio Trimmer
Audio Trimmer is another free online music cutter that can be used to cut MP3 and other audio files. It is also a simple-to-use online ringtone maker. The music cutting tool supports many audio formats like MP3, WAV, WMA, OGG, M4R, 3GPP, M4A, AAC, AMR, FLAC and AIF.
You just have to upload your target audio file, choose the part you want to cut and then press the "Crop" button, and your cropped audio will be done in a few seconds. Besides, the app is also mobile friendly, so that you can cut any song and audio recording on your mobile device's browser at any time anywhere.
Pros:
Totally free and simple to use within just a few clicks
Accurately crop the audio file in milliseconds
Can also be used on tablets and other mobile phones
Cons:
The maximum audio file size is 100MB
The input audio formats is limited
Only MP3 or M4R (for iPhone) output formats are supported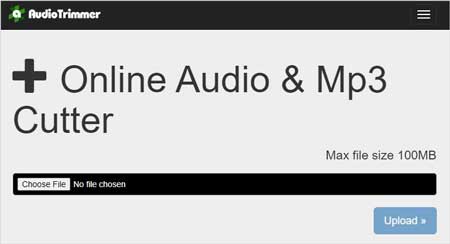 3. Wincreator MP3 Cutter
Wincreator MP3 Cutter is also an easy yet useful free music cutter online. You just need 3 steps to cut your audios, namely, browse your audio file and upload it, mark starting point and end point, preview it and change it when needed, and then click the "Create" button. However, you can only cut audio file in limited formats like MP3, WAV, AAC, etc. and the size can't be exceed 50MB.
Pros:
Free and easy to handle
Offer previewing window before cutting
Cons:
Only support MP3, WAV and AAC audio file
The input audio file is no less than 50MB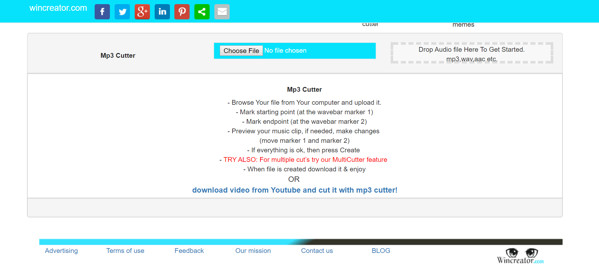 4. Toolur MP3 Cutter
This is one of the best free online MP3 cutters and ringtone makers. With Toolur MP3 Cutter, you can cut off a useless portion of an audio file; extract audio from a video and save it as MP3 music file or ringtone. This online music cutter makes cutting music and converting audio can't be easier. You just need to upload an audio within 300 MB first, select the cutting fragment and output audio file formats like MP3, AMR, WAV and M4R (iPhone), then click the "Cut Now" button to cut your audio. That's it.
Pros:
Cut audio files easily, free of charge
Enable you to crop music file in milliseconds
Provide fade in and fade out feature
Cons:
Only MP3, AMR, WAV and M4R output audio formats are supported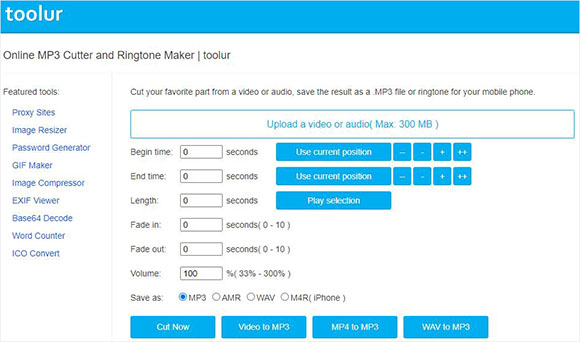 5. Bear Audio Editor
Bear Audio Editor is a brand-new music cutting tool, but it is also an easy-to-use one with powerful features. With this free online music cutter and joiner, you can cut and delete any audio, merge the audio file, songs and ringtones together, mute and adjust audio volume, fade in and fade out audios, etc. You can export audio file in various output formats such as MP3, WAV, M4R, OGG, AAC, WMA, yet it only supports three input file formats like MP3, WAV and OGG.
Pros:
Cut and combine audio clips together for free
Rich audio editing features such as cut, crop, delete, zoom, etc
Cons:
Only three input file formats are supported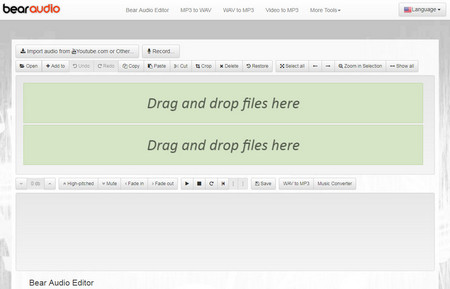 More Recommendation - Joyoshare Media Cutter
These online music cutters aforementioned are easy to use and totally for free, however, the drawbacks are also very obvious, such as unstable and unsafe, limited input audio file size and format, limited audio cutting and editing functionality. Therefore, if you're seeking for a professional and handy music cutter to cut songs and make ringtones without any quality loss, you can try Joyoshare Media Cutter.
Joyoshare Music Cutter is an excellent audio cutter and joiner that is able to trim any music and audio file with almost 100% original quality preserved. It supports tons of input and output audio file formats, such as MP3, WAV, WMA, AAC, FLAC, AIFF, AU, MKA, APE, OGG, AC3, M4A, M4R, etc. You can also merge the music file clips together and export your cropped audio onto popular portable devices such as Apple iOS gadgets, Samsung smartphones, etc.
Why Choose Joyoshare Media Cutter:
Cut any music file losslessly and easily
Support lots of input and output audio file formats
Powerful audio editing features
Merge different sound clips from the same source