Given that you are a music enthusiast who has an affection of listening to music, you may download and store thousands of MP3 files in your local hard drive. What if you want to leave out some unpleasing portions and manage them in order with small size? Undoubtedly, you have to take the aid of a practical cutting tool. Without installing a third-party program to take up your storage space, you may tend to look for online solutions. Here is a list of top 5 online MP3 cutters, which is written with detailed description of their features, merits and shortcomings. Having looked through it, you will know which one can delight you.
1. MP3cut.net
Comprehensive as MP3cut.net is, it is ideal enough to facilitate you to cut any your MP3 tracks into several sections. Besides, with the exception of MP3 format, it also includes full supports for 150 audio formats. In order to cater to different users, there are distinct accessible methods well designed to import MP3 files, like selecting track from local folder, Dropbox, Google Drive or URL.
You can go straight to its handy menu bar, from which you can directly click audio cutter, audio joiner or audio converter. That is to say, it also has ability to convert or merge MP3 files online. If you have interest in making use of this function, you can try it as well. Furthermore, you can utilize this smart online splitting tool to add fade in or fade out feature. A charming characteristic is that it is feasible for you to make ringtone for your iPhone with your personal style.
Pros:
Split or merge MP3 files with few clicks
Upload files from local folder, Google drive, Dropbox or URL
Come with fade in and fade out features
With clear menu bar to guide users
Cons:
It is time-consuming to upload large audio files
Require you to equip your computer with Adobe Flash
Some ads will be shown on your screen to influence your operation

2. Magicode.me
If you are looking for a basic online trimming tool, magicode.com is a fairly good option. Without any complicated functions or operations, it delivers a wonderful platform to crop any MP3 files without scarifying original audio quality. You don't have to worry about the size of your uploading file. No matter how large it is, Magicode MP3 Cutter can process without hassle.
Additionally, you can enjoy the best using experience on the new HTML5 standard (not flash). Similar to other audio cutters in market, it will not re-encode the MP3 track so that the output quality can be same as the source. However, what you should notice is that there is no timeline provided to adjust cutting area accurately. It is also not available to select destination format.
Pros:
Upload MP3 files with no size limitation
Make cutting process lossless
Come with new HTML5 standard
Cons:
Cannot select cutting region exactly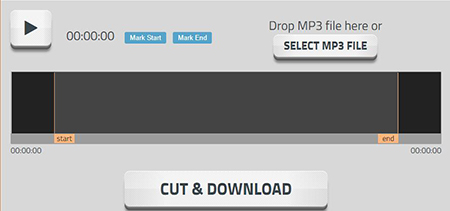 3. Twistedwave.com
Coming with a large wide of thoughtful designs, Twistedwave.com is deemed as one of the most advanced online MP3 editing tools. It empowers you to pick up target MP3 files not only from your local drive but also from your SoundCloud and Google Drive. Note that only one MP3 file can be processed each time. If you have numerous MP3 tracks, you have to import it one by one.
Surely, it is extremely powerful to get rid of unsatisfied portions, add fade in/out, normalize audio or change the wave form. What is worth to mention is that Twistedwave MP3 Cutter is able to change the MP3 bitrate once you are ready to export the file. Moreover, you are entitled to download the final MP3 file straightforwardly or share it to your Google Drive and SoundCloud account freely. To enjoy more excellent features, you are supposed to create an account and pay for it.
Pros:
Help you remove unwanted fragments
Support uploading files from local folder, Google drive and SoundCloud
Change MP3 bitrate as you like
Record audio tracks if you need
Cons:
Deal with one file at a time
Mono only if you use a free account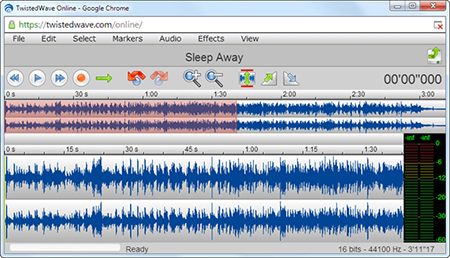 4. Audiotrimmer.com
Specialized in trimming MP3 files online, Audiotrimmer is widely used by majority of users. By applying this simple splitter to sort out your MP3 tracks, you have a pretty wonderful chance to enrich them. It makes clipping MP3 files into the length you want specifically. Supposing that you are in need of changing the bitrate of output MP3 files, you cannot miss this intelligent tool.
With a pleasing speed, it is absolutely easy to conduct a cropping process. When you get ready to edit it, you are authorized to reverse the MP3 file, add fade in or fade out. Most importantly, it can work well on tablets and mobile phones with brilliant compatibility.
Pros:
Change MP3 files' bitrate flexibly
Reverse MP3 files smartly
Perform well on both tablets and mobile phones
Support adding fade in or fade out feature
Cons:
With limited file size: 100MB for MP3 trimming
Save destination tracks into MP3 and M4R only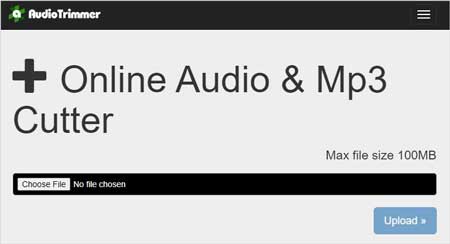 5. Ofoct.com
With an uncluttered interface, Ofoct.com fits out itself with a series of attentive functions, which can be seen at a glance. In case you don't have stored MP3 files in your local drive, you are enabled to input any one you like from YouTube or other websites. Essentially, you can remove your misgiving of privacy problem owing to Ofoct MP3 Cutter is worked on the basis of HTML5 and will not upload audio tracks to the server. Apart from this efficient point, it is supportable to crop any parts from the original source, combine different segments into one, adjust volume, add fade in/out, etc.
Pros:
Support importing MP3 files from local drive or other websites
With multiple output formats: WAV, MP3, M4R, OGG, AAC, and WMA
Provide built-in MP3 editing features
Don't need to upload audio files to server
Cons:
Upload one file at a time only
With limited input formats: MP3, WAV, OGG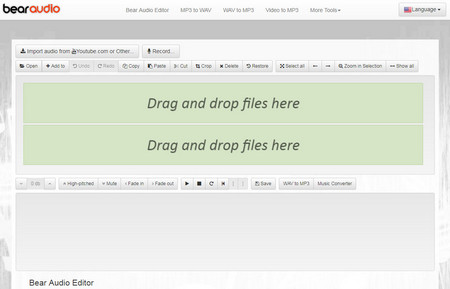 More Recommendation - Joyoshare MP3 Cutter
If you are not fond of above-mentioned online MP3 cutters and want to select a more professional MP3 splitter, you can try to utilize Joyoshare Media Cutter. This reliable clipping tool can be used to cut off any unwanted parts from your MP3 files at up to 60X fast speed. Alternatively, Joyoshare MP3 Cutter is capable of outputting files into any available format and keeping original quality completely. Crucially, to meet your satisfaction, it can assist you to merge any video and audio into one as well.
Why Choose Joyoshare Audio Trimmer
Export MP3 files into any popular format
Fulfill trimming assignment in high efficiency
Work for you as an excellent audio/video joiner
With switchable output mode: high-speed mode and encoding mode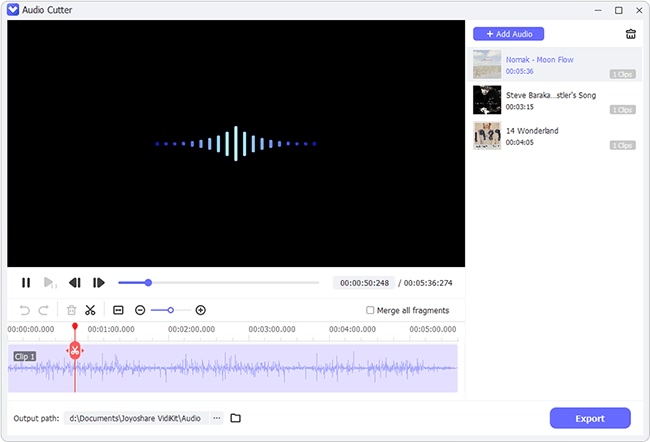 Note: You can draw support from either online cutter or offline cutter according to your own will. Nevertheless, keep in mind that you are supposed to have a try firstly to verify whether it can provide you with concrete help or not.