Nowadays we are accustomed to storing essential data in mobile phones as it facilitates us to look over these files quickly. Generally, all of our personal and important data stored on our iPhone is safe except in some cases, for instance, we may mistakenly delete photos or messages, need to restore previously lost iPhone data to a new iPhone, or just find important files are suddenly missing. At that time, we are eager to resort to the help of a reliable data recovery tool. But you are possibly confused about which software can solve your problem successfully.
Don't worry, there are two best and most professional data recovery software available in the market, Joyoshare iPhone Data Recovery and iMyFone D-Back for iOS. With the purpose of assisting iPhone users in selecting the most suitable software, we have presented a comprehensive review and made some contrast between Joyoshare iPhone Data Recovery and iMyFone D-Back for iOS.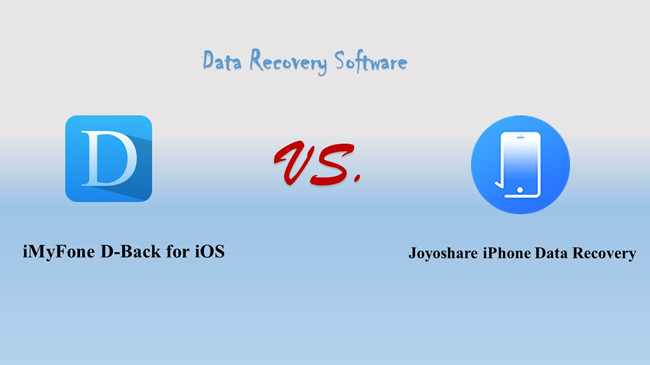 Part 1. iMyFone D-Back for iOS
iMyFone D-Back for iOS is an excellent data recovery tool that can quickly restore data from iOS device, iTunes, and iCloud. It enables you to recover almost all data files no matter how you crash it and what kind of scenarios. It can recover most-used files, social app data and other file types including photos, WhatsApp, Safari history, and so on. So, whether you accidently delete data, an iOS error occurs or your iPhone is damaged, it can solve your trouble easily. In addition, it is compatible with all kinds of iOS devices, especially supporting the latest iPhone 13 and iOS 15.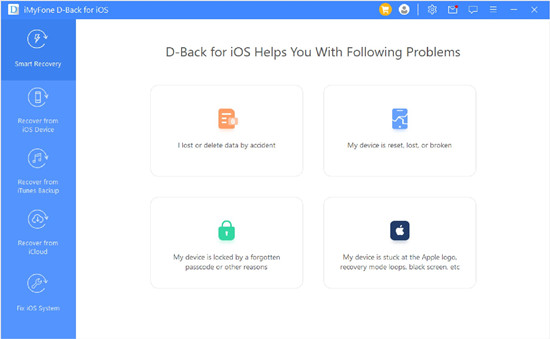 Part 2. Joyoshare iPhone Data Recovery
Joyoshare iPhone Data Recovery comes with the most advanced data recovery technology to restore more than twenty kinds of lost files from iPhone, iPad, and iPod touch. The good thing is that no matter what types of files, all of them can be retrieved in simple three steps. Even if you have no foundation of technology or have never experienced this kind of software, you can easily operate it with user-friendly interface and step-by-step guide. What's more, it offers the highest success rate of data recovery with no possibility of overwriting or losing original data restored on your iPhone.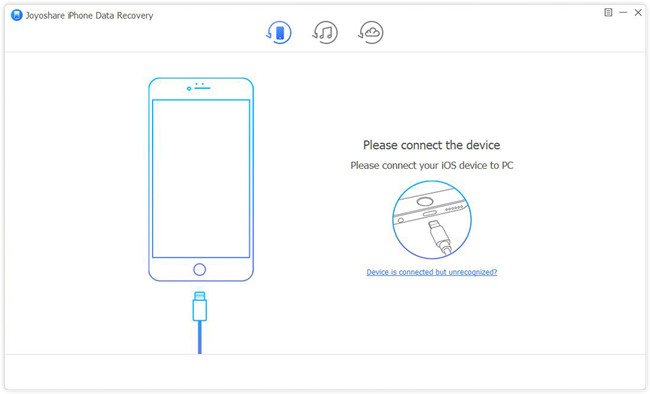 Part 3. Joyoshare iPhone Data Recovery VS. iMyFone D-Back
#1

Available Recovery Modes

As for the recovery capabilities, they are all dedicated tools designed for solving data recovery problems with providing different recovery modes and granting the highest success rate of data recovery.

Joyoshare iPhone Data Recovery is rated the pioneer in the data recovery software by users as it provides three recovery modes to help users to the largest extent. It includes recovery from iDevice, recovery from iTunes and recovery from iCloud. Regarding the first recovery mode, it can straightly restore missing data from your iPhone as long as the computer can be authorized. What impresses me is that this mode never requires you to backup data previously. And if your iPhone is disabled or broken, you can alternatively choose recovery from iTunes or iCloud based on your personal requirements.

Comparing Joyoshare iPhone Data Recovery, iMyFone D-Back for iOS is specifically equipped with four available modes for recovery: smart recovery, direct recovery from an iOS device, iTunes recovery, and iCloud recovery. The smart recovery works as a sort of easy access portal for integrating all functions offered by this program. If you are unsure about which recovery mode you should use, you can click one of its options and the software will show you the next step.

#2

Supported Data Types

Whether you are hassled by accidentally deleted app data or distressed about lost working files, these two programs are powerful enough to tackle these troubles with sole software. They are able to retrieve more than twenty types of data files. These files include messages & attachments, call logs, contacts, voice memos, App photos and videos, notes, calendars, reminders, Safari's bookmark, WhatsApp, Viber, Kik, App document, etc. Different types of files can be scanned and restored within a few clicks.

#3

Free Data Preview Function

It makes Joyoshare iPhone Data Recovery and iMyFone D-Back for iOS take priority over other similar software that they all serve users the right to preview all recoverable data freely before recovery. In one word, you can check your data even if you have not bought the premium version. Hence, it is greatly beneficial for iOS users to determine whether their data can be recovered and select only the desired data to restore.

#4

High Compatibility

In terms of compatibility, both two programs work on a variety of devices including the latest iOS 15, and the newest iPhone 13. Whatever the problem and the version of your device, it can meet most of your needs. And you can use either of two tools to settle data recovery on any device.

#5

Output Format

Concerning the output format of data, similarly, they all allow users to choose the output format they want to restore. Nevertheless, there is minor difference between Joyoshare iPhone Data Recovery and iMyFone D-Back for iOS.

The latter only provides the data output format as Html or XLS. Contrarily, the former offers more choices available to let users select the most proper format for their device. On the one hand, users can decide their data in format of Html and CSV. Regarding the strong applicability, CSV is the most common file format that can be easily imported into various tables and databases, while XLS is Excel specific. On the other hand, there is a unique feature that makes Joyoshare iPhone Data Recovery different from other data recovery software. It can convert photos from HEIC to more universal format JPG. It features more compatibility with mobile devices like iPhone.

#6

Recovery Speed

While these two tools all focus on helping users to get their data back to normal, they all can recover files in a few minutes.

Last but not the least, they are all easy to use. A simple and appropriate user interface is definitely friendly to both no technology foundation beginners and experts. With these two tools, you only need to follow the guide shown in the software and quickly your iPhone will turn back to normal. The total process lasts a few minutes with only simple clicks.

#7

Price

There are free trial versions offered by these two tools. You can download and try them for free to see how well they work for your needs. But there are limited features for trial. The central function is available unless you upgrade them to the premium version. They all offer various pricing schemes in accordance with different perspectives.

iMyFone D-Back for iOS is designed with different subscription modes. You can pay $49.95 for one month plan, $59.95 for one year plan and $69.95 for lifetime use. But with this subscription mode, you must keep it in mind and always remember to cancel it in time. Otherwise, you need to continually charging money for extra service.

If you don't adapt to the above price plan, you might as well decide Joyoshare iPhone Data Recovery. It provides more reasonable price, and you can put it aside after buying this product. You only need to pay $39.95 for lifetime use. And when you have needs, you can use this product at any moment.
Part 4. Comparison in Chart
If you are in hurry and still have trouble with the similarities and differences between Joyoshare iPhone Data Recovery and iMyFone D-Back for iOS, there is a detailed table provided in this part.
| | Joyoshare iPhone Data Recovery | iMyFone D-Back for iOS |
| --- | --- | --- |
| Three Recovery Modes | √ | √ |
| Preview Data Selectively | √ | √ |
| Compatibility(iPhone, iPad, iPod) | √ | √ |
| The Latest iPhone 13 | √ | √ |
| Types of Files | 20+ | 20+ |
| Recovery Speed | fast | slow |
| Easy to Use | √ | √ |
| Trial Version | √ | √ |
| Stability | high | high |
| Price | $49.95/lifetime | $69.95/lifetime |
| Output Format | Html or CSV | Html or XLS |
| Convert HEIC to JPG | √ | × |
| Free Lifetime Update | √ | √ |
View all programs
Hide the table
Part 5. Conclusion
Both Joyoshare iPhone Data Recovery and iMyFone D-Back for iOS are best iPhone data recovery tools and can be trusted by a large number of users. Meanwhile, they share many similarities and peculiar features. You can choose one of these two tools according to your personal interest.
But it is worth noting that Joyoshare iPhone Data Recovery is the perfect combination of strong recovery capabilities and excellent service attitude. If you buy this product and have software problems, access to the official site, it will present corresponding solutions at any time. Consequently, there is no need to feel troubled by hassling data plight. If you have favored software that meets your requirement, it's time to download and try it.