Freemake Video Converter is a popular choice when it comes to converting audio and video files. The Freemake application combines editing and conversion together. It supports a number of formats and it has an attractive design.
The Freemake Video Converter is easy and free to use but it lacks a number of necessary features. The biggest limitation of the program is that it asks you to purchase the program to remove watermarks from your videos. Unless you pay for the program, you cannot increase the conversion speed either. If you want to convert a large number of videos, it can take a lot of time to do so.
These limitations don't allow you to use the program as you intend. Fortunately, there are a number of Freemake Video Converter alternatives available that you can use. Let's have a look at some of the best ones.
1. Joyoshare Video Converter
Joyoshare Video Converter is the NO. 1 alternative to Freemake Video Converter, which is a comprehensive video converter and editor that enables users to convert videos and audios losslessly and quickly. It supports a wide range of media file formats and also allows you to convert DVD to up to 150+ other common formats or share it to online social platforms. With built-in smart video editor, you can also easily to trim the video files, merge different video or audio clips, adjust contrast, brightness, saturation and hue, change the volume, add subtitles and watermarks, apply special effects to enhance the original files, etc. Besides, Joyoshare Video Converter is user-friendly and easy to use, and anyone can operate it without any hassle.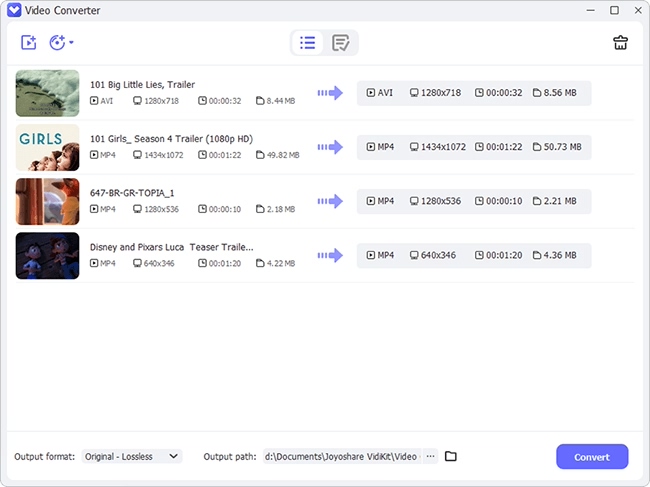 2. VideoSolo Video Converter
VideoSolo offers two versions of their video converter program. One of them is completely free to use and the other one comes with a number of advanced features.
VideoSolo Free Video Converter allows you to convert videos in more than 300 different formats. Due to a large number of supported formats, you will able to watch your videos on pretty much any device. It also allows batch conversion so that you don't have to wait for each conversion to complete before you can convert another one.
It also allows you to join multiple videos together, use your preferred settings and parameters for your videos. High-output quality, easy-to-use interface and fast conversion speed make it a great video converter.
You can also use VideoSolo Video Converter Ultimate with some advanced features but you will have to spend a little bit of money to do so. It also allows you to convert your videos iTunes, iPad, iPhone, XBox, PS4, SmartTV, etc. You will get 6 times faster speed with Intel, AMD, and NVIDIA acceleration. Its built-in video enhancer allows you to remove video noise and improve video quality.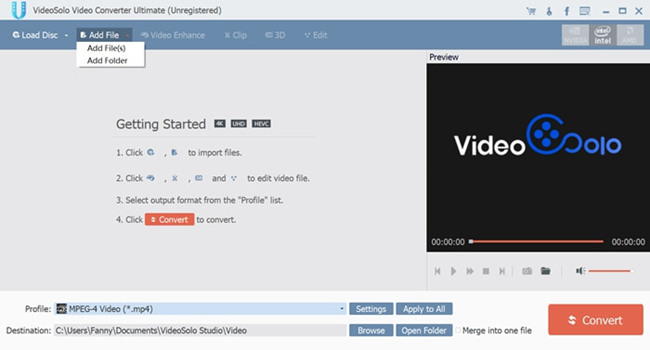 3. Any Video Converter
Any video converter is another one of best alternatives to Freemake Video Converter that is literally built to convert any type of video. It's free to use and it allows you to convert videos seamlessly. You can also use it as an audio CD ripper to rip audio tracks directly from the CDs. If you want to convert your videos to audios, you can do so using this converter.
It also allows you to extract audio tracks and background music from the videos. It also supports the conversion of audio files into various formats. You can burn your videos directly to DVDs, AVCHD DVDs as well. It is a free DVD creator that allows you to create home DVDs from the videos of your choice.
It supports more than 50 input video formats and also allows you to add effects to your videos. You can adjust the brightness, saturation, contrast, clip, crop and rotate your videos as well. You can also add the subtitles to your videos using the editor. It also allows you to use the YouTube videos directly. You can also convert the YouTube videos in the MP3 format as well.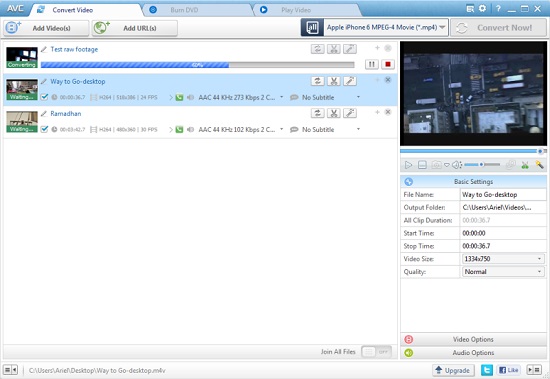 4. Free Studio
Free Studio by DVDVideoSoft offers you all the utilities that you need for downloading, uploading, conversion, editing or recording. All of its apps are basically organized into five different sections. It also provides you with the tools to convert YouTube videos as well.
The tool also allows you to convert your videos to MP4 or MP3 formats directly. Overall, it is a complete multimedia package that you need for video conversion. With all the necessary features and a well-designed interface, it allows you to convert your video and audio files quite effortlessly.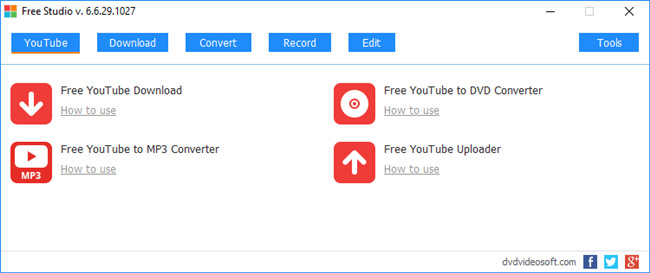 5. MPEG Streamclip
MPEG Streamclip is another good alternative to Freemake Video Converter which is a free-to-use powerful converter. You can also use it as an editor or a player for the Mac as well as Windows computer. It also allows you to play movie files in a number of different formats besides MPEG files as well. For authoring purposes, you can also convert the MPEG files between muxed and demuxed formats.
With the editor, you can trim, cut and join movies easily. You can also encode movies into a number of different formats. It also lets you download YouTube videos just by entering the URL.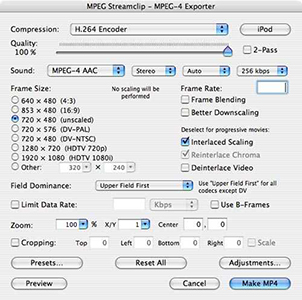 6. MediaCoder
MediaCoder is among the earlier pioneers of the video conversion tools. It supports the most popular audio and video formats. This tool allows you to rip CDs, VCDs, DVDs, and BlueRay Disks. You can use various filters for audio and video enhancement.
For the fast conversion speed, it uses H.264/H.265 GPU accelerated coding. It works like a swiss-army knife for media transcoding. You might find the program to be a little intimidating at first but in the end, you will find the tool to be highly versatile.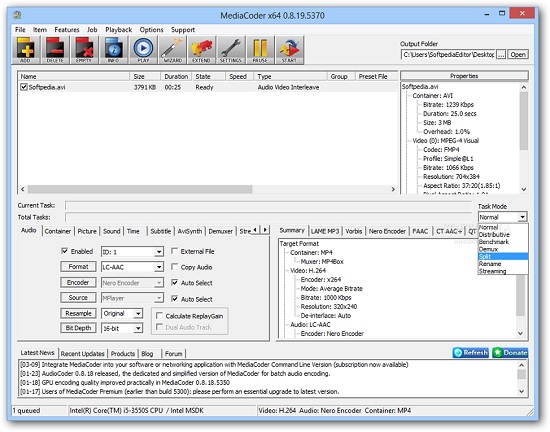 7. FFmpeg
FFmpeg is an open source command line tool that you can use for recording, streaming and converting audio and video files. As it is a command line tool, you might find it difficult to use if you prefer GUI tools only. You might need to spend some time to learn the tool but it will make you more productive in the end.
It supports a number of different formats and a number of free video tools actually use it as the engine working in the background. They basically design a GUI to make the process easier for the users. However, the GUI utilizes system resources and make the process slower, especially if you need to convert a large number of videos.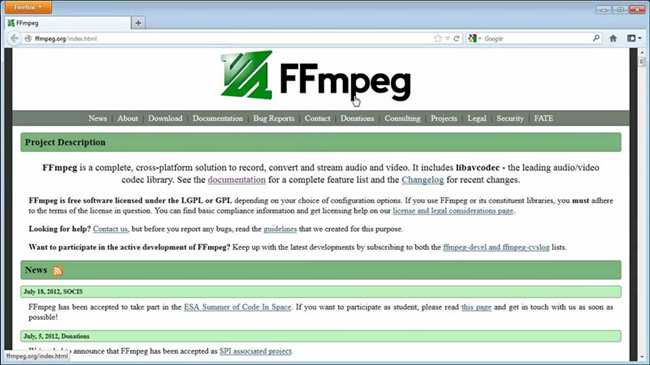 Final Thoughts
If you are looking for a Freemake Video Converter alternative for any reason, you can find plenty of options. However, you don't need to be overwhelmed by the number of available options. You can use any of the tools listed above to convert your videos into various formats. If you like an easy-to-use and powerful video converter, Joyoshare Video Converter is higly recommended here, which will never disappoint you.