With the high rate of video-sharing going around, it is impossible that you have not come across a video joiner. In fact, some users apply Easy Video Joiner now due to its appealing yet straightforward name, but sometimes also want to consider other tools that may be more suitable. Nonetheless, this should be the least of your worries. In this article, we introduce you seven Easy Video Joiner alternatives that rank highly in the market. Each video will comprise a brief but valid review along with the relevant pros and cons. So why don't we get started?
#1. Joyoshare Video Joiner
Joyoshare Video Joiner is designed for both the amateurs and the experts. Being an alternative to Easy Video Joiner, it helps you merge, trim, edit and convert videos with best performance.
You can batch combine various types of videos without file size and quantity restrictions. Remarkably, this ideal alternative is able to join at 60X high speed with its lossless mode. It also makes your videos more shocking by customizing watermark, applying effects, cropping, adjusting configurations, inserting subtitles, etc.
Pros:
Combine infinite videos and audios in 100% original quality
Change resolution, sample rate, frame rate, etc. without struggling
With video editor, media player, order adjuster and snapshot taker
Support all sorts of mainstream video and audio formats
Cons: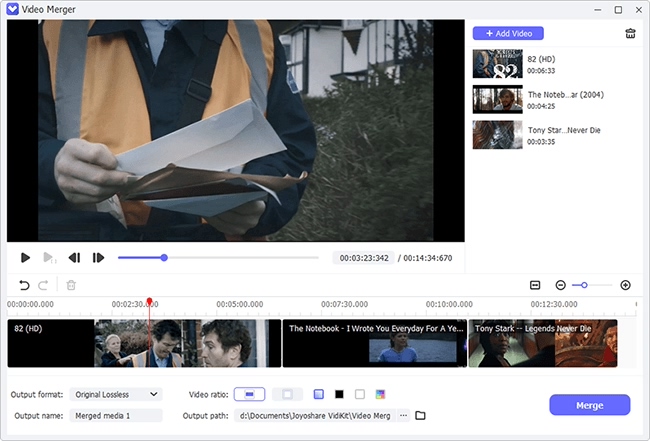 #2. Weeny Free Video Joiner
There are various aspects that one can use to measure software ease of joining videos. Among these measures is the procedure of the joining. The higher the procedures, the more complex the software is. Fortunately, Weeny Free Video Joiner only has three steps for video joining.
This alternative to Easy Video Joiner does enable you to preview the videos before saving and alter parameters. Essentially, it only offers basic yet key options to let you combine rather than provides complicated features to confuse you.
Pros:
Simple to operate with basic functions
Preview the videos before saving
Require low CPU power and RAM
Cons:
Take some time to complete the joining task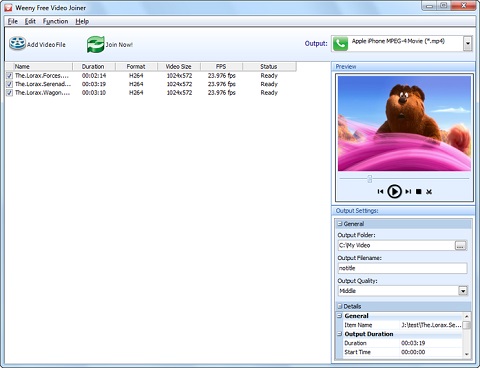 #3. Kate's Video Joiner
How about trying Kate's Video Joiner? It is known and has received applauds on its ease of use because the interface can be well navigated through by the newbies. Additionally, Kate's Video Joiner supports many video formats including but not limited to MOV, AVI, MPEG, and WMV.
It also allows the joining of not two videos alone but more. Essential to point out is that the video comes as a full package with many tools. Therefore, you will not need to download more software to ensure multiple conversion before you can join your videos.
Pros:
Very simple to use
Support numerous video formats
Join more than two videos
Cons:
Require email registration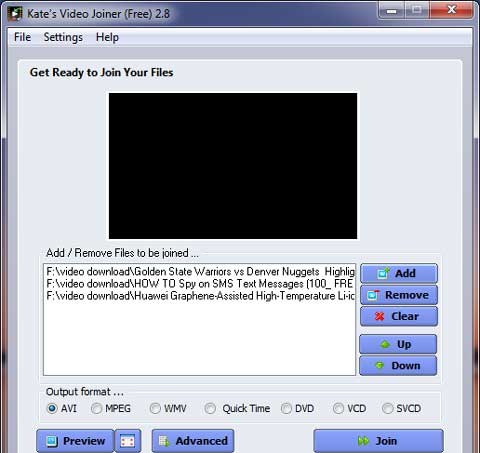 #4. Bandicut Video Joiner
Among the alternatives to Easy Video Joiner, Bandicut Video Joiner is worth a shot. The software has maximized the cutting process, which is the first step before joining a video. Here, the software has ensured that the cutting process is made understandable for all users.
Further, Bandicut Video Joiner does not interfere with the level of quality of the video even after the cutting and trimming. The software is not as wealthy as other software in matters of editing tools. However, you can trust its providence of fast, simple and efficient high quality joined videos.
Pros:
Allow cutting and joining
Output high-quality videos relatively fast
Support various formats and multiple video joining
Cons:
Limited video editing features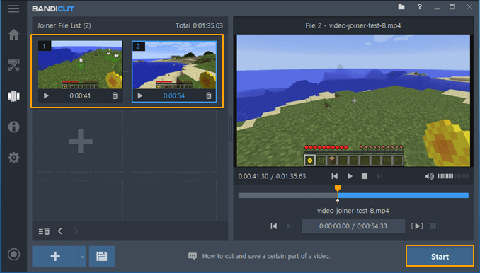 #5. Freemake Video Converter
Freemake Video Converter is another handy video joiner. Since its inception, in the market, the software has received praise around simplicity, flexibility, and efficiency. Therefore, you can bank on its ease of use.
Along with these, Freemake Video Converter also supports the conversion of videos with various formats and in-built editing tools. It is also not applicable to downloading and converting videos from YouTube but from other sites like Vimeo as well. It is only unfortunate that some of the features of this video converter and joiner require unlocking.
Pros:
Support plenty of formats
With in-built editing features
Download and convert videos from video sites
Cons:
Some features may require unlocking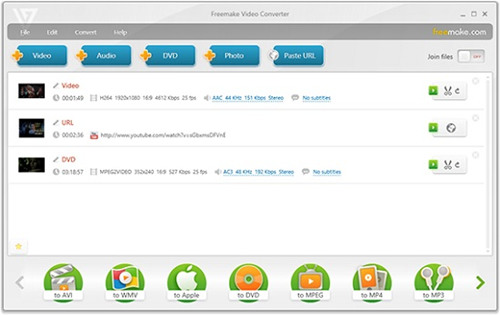 #6. Boilsoft Video Joiner
It would be impossible for Boilsoft Video Joiner to miss in this list of the best alternatives to Easy Video Joiners. This tool is able to combine videos, like MPEG, VOB, WMV, MP4, FLV, AVI, etc. to a large file with no quality loss. Besides this, Boilsoft Video Joiner also joins video within the least time possibly and has editing features that will keep you guessing.
Pros:
Merge to transfer videos to any format
With Direct Stream mode and Encode mode
Join without losing quality at super speed
Cons: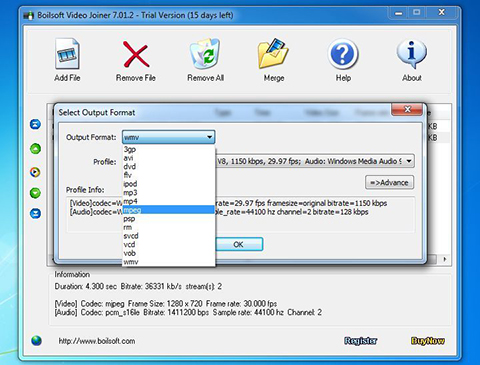 #7. Aimersoft Video Converter
Coming last but ranking among the best alternatives to Easy Video Joiners is Aimersoft Video Converter. It gets the job done within the shortest time possible.
Gone are the days when it was only to view videos from platforms such as Facebook and YouTube. With Aimersoft Video Converter, you get to download videos from these platforms because of its unique in-built features. Moreover, the software does not compromise the eventual quality of the video, and it is very simple to use.
Pros:
Edit, merge and convert videos
Exract MP3 from YouTube
Allow video to be downloaded from online platforms
Cons:
Options to join videos are somewhat basic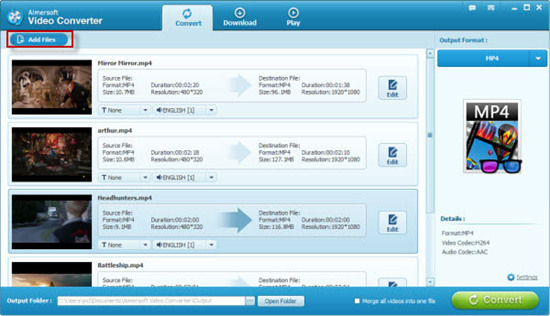 The Bottom Line:
There are various Easy Video Joiner alternatives in the market today. Reviewed above are among the best that can get you quality output. However, you must understand your various expectations and how the software is willing to meet these expectations. If a software, based on the review, sounds perfect but does not meet your needs, it is recommended that you settle for a more applicable option. This way, you will save yourself the drama of poor quality services and output and combine your videos easily because you chose what works for your needs, especially your device and audio format.