Are you looking to edit or join memorable video clips? Or improve video quality by converting them to WMV among other video formats? Well, the internet today provides you with a whole range of WMV joiner software alternatives to choose from. Usually, factors such as compatibility, ease of use, quality and speed are essential to consider before purchasing or using video joiner programs. While the internet offers us with a significant number of software alternatives, there are still a vast number of "bad" applications in the market. We have worked to furnish you with well researched and tested video merges applications for you.
#1. Joyoshare Video Joiner
Thanks to the convenience and efficiency, Joyoshare Video Joiner is all-time video merging software available for Mac and Windows users. It allows for users to merge video and audio clips without loss of quality limitlessly. The software has an easy-to-use user interface for beginners to navigate and operate. On top of that, Joyoshare provides you with up to 60X video merging speed; it is incredibly fast. Apart from being the one WMV merger program, Joyoshare also supports other video formats such as MP4, MOV, MP3, HD MKV, to mention a few.
It also comes with a free trial version to evaluate performance before actual purchase.
Pros:
Guarantees 100% video quality retention after merging
Supports unlimited video conversion
Supports various mainstream video formats
Allows you to adjust video specs and add effects
Cons: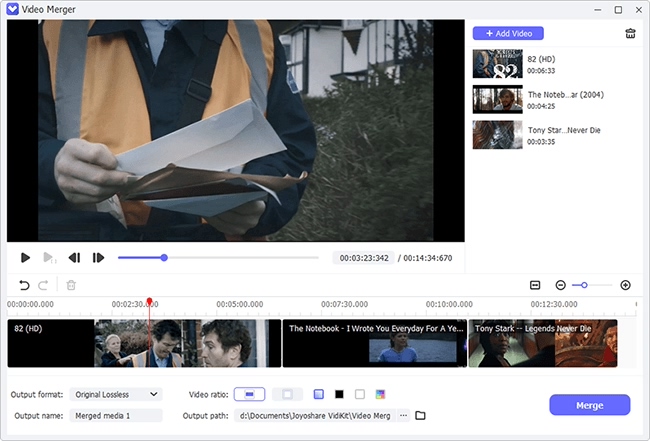 #2. WinX Video Converter
It is versatile free WMV combiner that not only lets you merge but also cut/ trim video content into the desired length. WinX Video Converter allows you to join different video files without compromising the original quality. If you are editing videos for professional purposes, then, WinX will definitely get the job done for you. The application supports over a hundred input formats, including WMV, AVI, MP4, MOV, 4K, MKV, among others. Besides, it also allows you to merge videos to DVD PAL or NTSC format.
Pros:
Fast video merging speeds
Has over 370+ built-in video and audio codecs
Allows for easy load and download videos from YouTube
Intuitive interface
Frequent software updates are available
Cons:
Does not burn merged video on DVD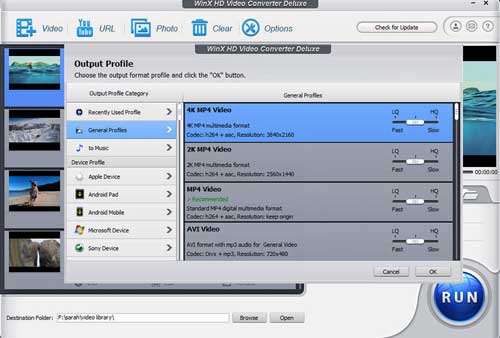 #3. Filmora Video Editor
It is one of the best WMV file merger available for both beginner and pro users. The app helps you join different video clips, edit video specs and add filter your original for stunning video output. It supports a whole range of input and outputs, including WMV, MOV, MKV, MPG, TS, 3GP, etc. After converting, you can easily export your merged video to portable devices such as iPhones, iPads or any Android running device. It is also possible to directly upload your video on online platforms such as YouTube, Facebook, among others.
Pros:
Easy to use
Intuitive interface
Fast merging speeds
Easy to apply effects
Affordable lifetime subscription
Cons:
Creates watermarks on the free version
Limited color gradient tool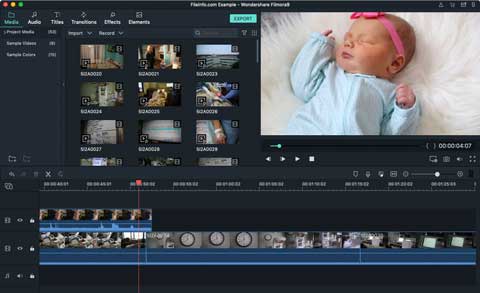 #4. Avidemux
If you are a beginner video editor, then Avidemux video joiner provides you with the best chance to quickly combine or cut video clip to desired sizes. The app has an easy to use interface that makes it easy for you to edit and merge video clips. As a bonus to smooth performance on conventional operating systems, Avidemux supports a whole range of input and output format, and it is absolutely free. It is also possible to save your output video on devices such as iPads, iPhones, PS4, DVD and Microsoft Zune.
Pros:
Easy use search tab
An excellent user interface
Relatively fast merging speeds
Supports multiple video output formats
Cons:
Has complicated cut features
Can be confusing for beginner users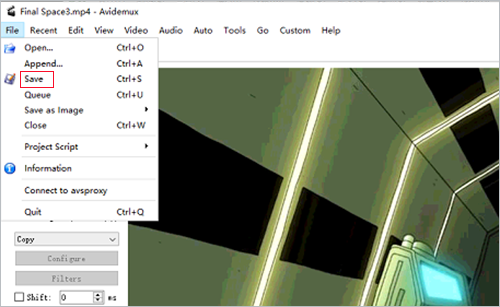 #5. VideoProc
VideoProc is an all-rounded video the helps you convert, edit, trim and merge video clips. The video allows you to effortlessly cut unwanted video parts and merge video files to your preferred sizes. The WMV file merger has an inbuilt 370+ video and audio codecs. It not only allows you to combine WMV video file format but also supports a whole range of popular video file format including SD, HD, 4K/8K UHD, WMV, MOV, FLV, among others. In addition to this, VideoProc is a fully GPU Accelerated Video Editing Software that guarantees you a smooth and fast video merging process.
Pros:
It is extremely fast in combining videos
Low CPU resource consumption
Easy to use
Free online downloader
Cons: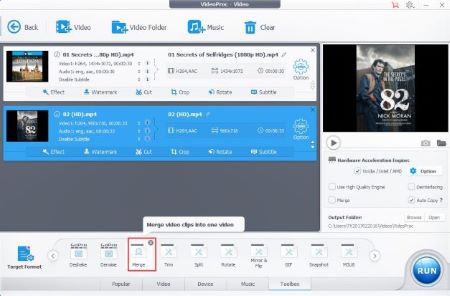 #6. Allok Video Joiner
Allok Video Joiner is a powerful WMV combiner that allows you to merge huge video files; more than 2GB in size. It has a remarkable merging speed as well as an intuitive user interface. One of the most notable features is its ability to merge bulk video files; you can also arrange your files in order if need be. For windows users, the app has a drag and drop option that makes it easy to load files on to the application. The video joining program comes to you with a lifetime full technical assistance and free upgrade.
Pros:
Supports large video file, even large then 2GB
Supports a wide range of video formats
Lifetime technical support
Cons:
Only available in English
Has an obsolete looking interface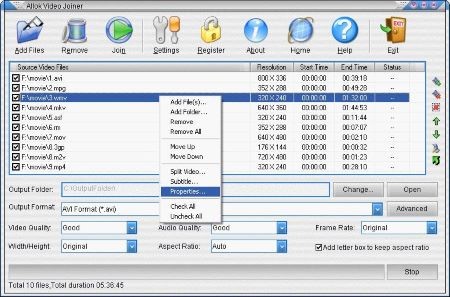 #7. Free Video Cutter Joiner
Here is another free WMV joiner that allows Windows and Mac users to join video clips easily. Unlike most free video cutter and joiner programs, this particularly has incredibly easy to use software layout and thus making it easy for beginners to combine video files. It also has a drag and drops option that makes life easy for you. Besides, the app supports a number of video formats, including MP4, MKV, AVI, 3GP and MPEG formats. Using the app provides you with an opportunity to fine-tune video parameters. It also guarantees you quality, lossless merging process.
Pros:
Guarantees high-quality videos after joining
Simple software layout
Easy to use
Supports multiple formats
Cons:
Lacks video arrangement tool
Few editing options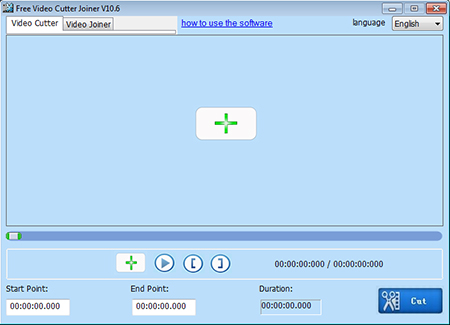 #8. OpenShot
It is a masterpiece of creativity and simplicity. If you are looking for simplicity, then this is the perfect application for you. The application has an excellent interface that allows you to easily navigate, cut, and combine video files into desired length and contents. The app supports over 70 different languages that make it easy for users to follow instructions. In fact, the program can be employed by both beginners and professional video editors.
Apart from being a profound WMV combiner, the app allows you to add video effects, 3D animations, and time effects on your merged video output files.
Pros:
It is absolutely free
Has the best quality video output
Awesome transition and video effects panels
Available for conventional operating systems
Cons:
With a tendency to lag
Limited video editing options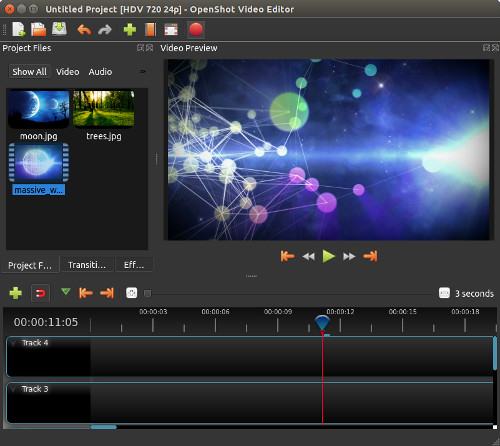 The Bottom Line:
The above 8 WMV joiner software provides with excellent chance to join/merge video clips. The list shows both free and premium video combiner software available in the market today. All the software alternatives are compatible with Mac and Windows operating systems. Quite a number of them will furnish you with additional video editing capabilities including, trimming, tuning video codec and adding video effects to achieve stunning video output. Among them, Joyoshare Video Joiner stands out as a smart and powerful video joining tool. The application is easy to use, fast and supports popular video output formats; the application is simply the best. Try it today!