Have you ever wanted to merge various parts that you have cut from one video into a whole new thing for sharing online? Or better still, would you like to join together multiple videos into a single file for some special occasion like a graduation ceremony? Look no further. The market is awash with a variety of Audio Video Interleave - AVI Joiner Software to assist in doing these tasks. In this review, we have considered pertinent factors such as quality, compatibility, speed and the ease of using a software to recommend the following 7 best AVI Joiner Software.
#1. Joyoshare Video Joiner
Joyoshare Video Joiner is one of a kind. This software merges videos and audios regardless of the format are in MP4, AAC, MPEG, MP3, or MOV. It joins videos at a very high speed without re-encoding. As for files in different formats, the software has got options to enable you customize parameters, set quality at will and edit as you may please.
If there are sections in your new video which you do not want to appear like commercials, you can play and conveniently cut them out. Also, this AVI joiner helps to combine as many video files as you wish in an efficient way. Its inbuilt media player and video editor can facilitate you a lot.
Pros:
Simple to operate because it requires no skill
Join AVI files in batch with no quality loss
Built-in hassle-free editor to crop, rotate, watermark, etc.
Support all kinds of multimedia formats, including AVI
Cons: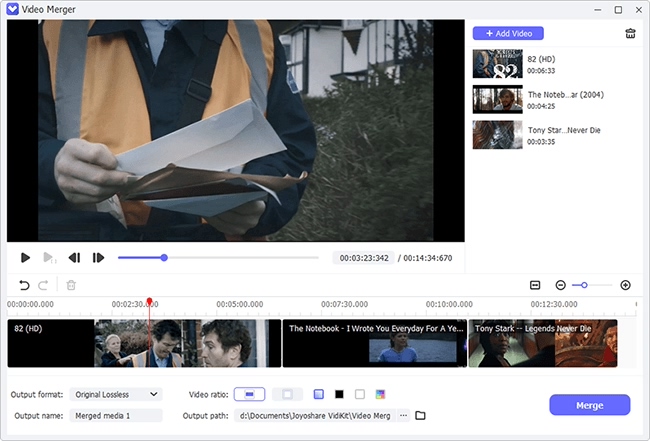 #2. Bandicut Video Joiner
This one is a professional AVI video joiner program with the ability to combine multiple video files into one that are bigger. You can cut, trim or remove parts from videos and also split a video into multiple files. Additionally, this software enables users to extract audio from video to MP3 and thus upload for example on YouTube.
Pros:
Fast cut and join AVI files
Support all popular video formats
Keep original quality for videos after combination
Cons:
Require professional skill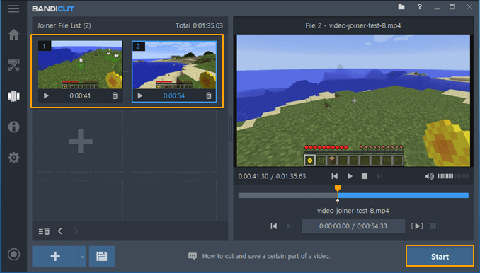 #3. Free AVI/MPEG/WMV/MP4/FLV Video Joiner
You do not need to be an IT expert to use this software. Just download freely and off you go to multi-format video joining. Besides, there is a lot more you can do namely trimming to remove unwanted parts in your video, syncing through delays, video dubbing, rotating, flipping and cropping to remove black bars. The use of this free AVI joiner also allows for joined separate video clips to be backed up and to be sent by email.
Pros:
Can be downloaded for free
Usable on hundreds of devices
Cons:
Limited to running on Windows XP-10
#4. Clideo
Ever thought of merging videos in the absence of an editing program? This online AVI joiner is the tool for you and you can use any browser for that matter at no cost. All that is required of you is to get AVI files from Google Drive, Dropbox or URL and add them one at a time or all at one go. Thereafter, choose an output format, name your files and voila, mission accomplished. To download your new file, just click the 'merge and convert' button once you are satisfied with all in order.
Pros:
It is free of charge
Simple to use
User-friendly with all browsers
Cons:
Does not allow for complex operations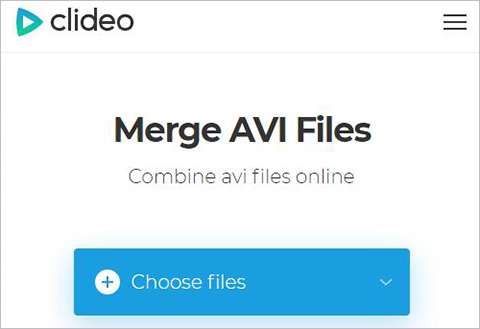 #5. Briz AVI Joiner
This AVI file joiner is specially designed to assist in joining AVI files fast enough. This tool does not compromise on the quality of videos after joining and neither is it necessary to re-compress files. However, there is the option to select an installed video or audio codec and re-compress the file to any format of your preference.
Pros:
Does not compromise on quality
Adopted with fast joining algorithm
Provide option to re-compress files into various formats
Cons: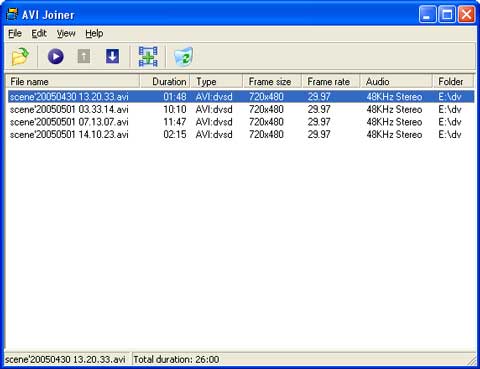 #6. Boilsoft Video Joiner
In case you are looking for an AVI combiner which stands out as a powerful joiner and merger of videos then this is it. Readily available for downloading and subsequent installation, all you need is just to launch on your device. And this is no brainer. Just click the 'Open' button and select 'AVI' from the 'Files of type' combo box. Add your AVI file for Boilsoft Video Joiner to preview and start merging or joining your files without the need for configuration.
Pros:
Join all kinds of video files in any format
Is freely available to download
With direct stream mode and encode mode
Cons: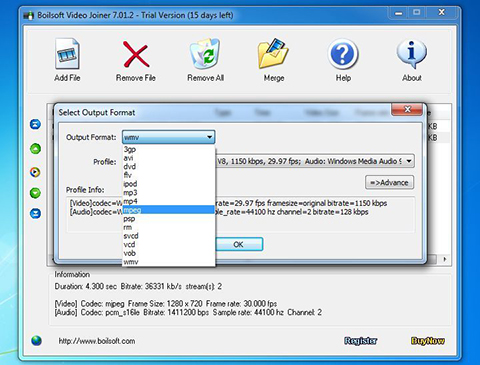 #7. MediaJoin
This one is very handy when it comes to sourcing for videos and audios from the media just as the name suggests. It is freely available and also enables you to combine video files into one by a mere click on the button. Additionally, the program is compatible with common video and audio formats like AVI, WMA, MP3 and etcetera. This tool is indeed a simple solution to arranging media items in the order of your liking.
Pros:
Support the joining of both video and audio files
Is readily available for use
Compatible with common formats
Cons:
Available for Windows only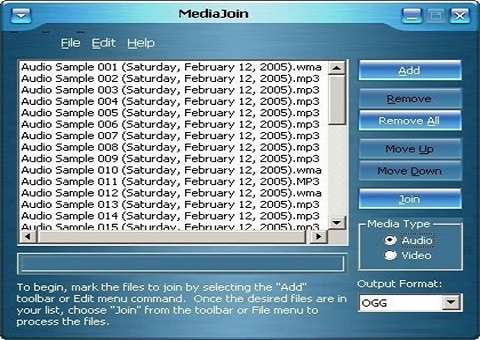 Conclusion
Admittedly, need arises for joining multiple videos in a single file about many memorable events as ceremonies, weddings and so on. Whatever the reason, a video joiner is very helpful in executing the above tasks. Therefore, welcome aboard and make your choice from any one of the above recommended 7 best AVI Joiner software.