Snapchat successfully creates the fastest way to share a moment. People are obsessed with it and love using Snapchat as their main camera as it has many editing features that many camera apps lack, such as applying amazing filters, adding text to the screen, and more. Snapchat allows you to view wonderful live stories from around the world, but saving a video from someone else on this app isn't as simple as you'd think. There are often many various ways available on how to save Snapchat videos on iPhone, Android and computers. And today, we are going to show you all of them so that you can keep your favorite video easily.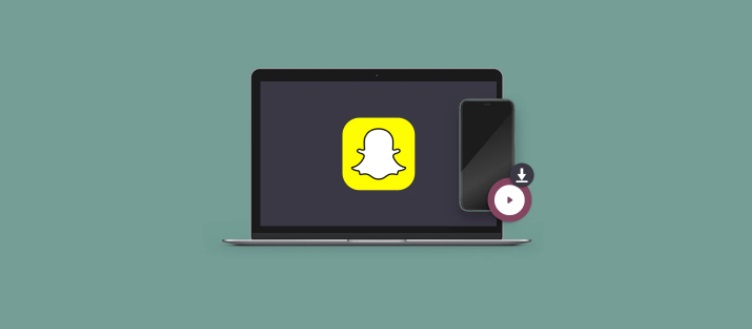 Part 1. Why You Need to Record Snapchat Videos
Using a handy and lightweight video recorder is one of the most efficient ways to solve how to save a Snapchat video from someone else. In addition, a screen recording tool will help you save any part of the Snapchat video you like simply and easily. But you need to be aware that when you try to take a screenshot or record your Snapchat screen, it may let others know. So if you want to record someone's Snapchat videos, be sure that they are informed that you're doing so.
Part 2. How to Save a Snapchat Video on iPhone
Control Center is definitely your one-stop-shop for instant access to useful controls for features, apps, and settings like Camera, Apple TV remote, Dark Mode, Music Recognition, and a whole lot more. To save videos from others' Snapchat story on your iPhone, you can easily tap to activate the screen recording feature and the microphone to record screen and capture sound.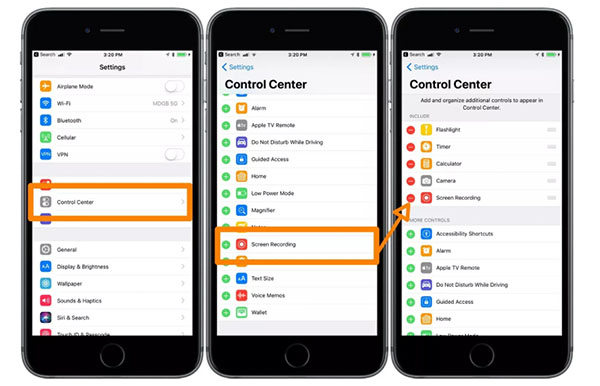 Step 1: If you have iOS 13 or earlier, you can go to Settings > Control Center and then tap Customize Controls (or tap More Controls if you have iOS 14 or later), and then you are able to click on the Add button next to Screen Recording;
Step 2: If you have an iPhone with Face ID, you can open Control Center by swiping down from the top-right edge, but if you have an iPhone with a Home button, you will be able to open Control Center by swiping up from the bottom;
Step 3: Tap Start Recording and start to open your Snapchat and play videos, and iPhone will start to record your screen after a three-second countdown;
Step 4: Press the red status bar at the top of your iPhone screen directly or open Control Center again to click on red Record button to stop recording Snapchat videos.
Part 3. How to Save Snapchat Stories on Android
Similarly, in order to save videos on Snapchat, you will also need to take advantage of the screen recording utility of your Android device. Here we will take Huawei as an example and how you how to start recording on Huawei in up to three different ways.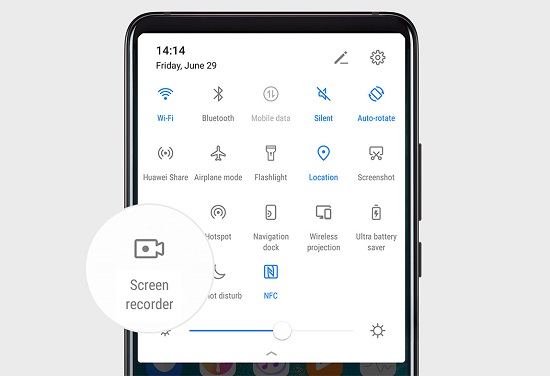 Step 1: The first way to start Snapchat video recording on Huawei is to press and hold the Volume up and Power buttons simultaneously, and press and hold them again to stop recording Snapchat videos;
Step 2: You can also activate the screen recording feature by opening the notification panel and pressing the Screen Recorder shortcut; you can click on the red timer at the top of your Huawei screen to stop recording Snapchat stories and the recording will be saved to Gallery;
Step 3: Another way to start screen recording on your Huawei phone is to use two knuckles; to achieve that, you need to first navigate to Settings > Accessibility features > Shortcuts & gestures > Record screen, and then you will be able to activate the screen recording feature by knocking the screen twice in quick session with two knuckles.
Step 4: To record the Snapchat video sound, you can press the microphone button after starting recording a Snapchat video.
Part 4. Save Snapchat Videos on Computer - Joyoshare VidiKit
The most efficient way to record Snapchat video from others without letting them know is to use Joyoshare VidiKit (formerly Joyoshare Screen Recorder) to save videos on computer. By doing so, you will be able to save videos on Snapchat in high quality and export them to any format, such as MP4, AVI, MKV, MPEG, FLV, SWF, MOV, M4V, etc.
As an all-powerful and versatile video toolkit, Joyoshare VidiKit's easy-to-navigate user interface and excellent recording and editing performance will surely amaze you. You are allowed to customize your output format, show and highlight cursor and clicks, insert a watermark to screen recording, record video in the entire screen or a partial screen, and more.
Key Features of Joyoshare VidiKit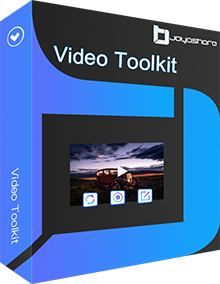 Download TikTok videos, YouTube live streams, Instagram stories, etc.
Export different formats of recorded Snapchat videos in high quality
Record audio from Windows and Mac system as well as microphone
Customize and stylize related recording settings in the way you like
Record a full screen or grab a specific recording region of any size
Edit recorded Snapchat videos by cutting unnecessary parts freely
Step 1

Launch Joyoshare VidiKit and Open Screen Recorder

After downloading and installing Joyoshare VidiKit from its official site on your computer, you can run it and select the "record" panel to open the screen recorder. To record and save a Snapchat video, you are supposed to get the "Record video and audio" mode activated by pressing the camera-like icon near the "REC" button.

Step 2

Optionally Change Recording Settings

Once you press the little gear icon near the "REC" button, you will see the settings window. Here you will be able to reset save path, customize your output format, change shortcut controls, show and highlight clicks, add scheduled recording tasks, etc. under the "Basic record options", "Record time options", and "Cursor options".

Step 3

Grab a Satisfying Recording Area

Now you can open the official site of Snapchat and choose a video that you want to record. Next, click on the "+" icon and drag the pop-up blue edges freely to adjust your recording area. Furthermore, you are able to set up the specific height and width of your capturing area to make it more fit into the region you would like to record.

Step 4

Record Snapchat Video

Press the "REC" button now to start to save someone's Snapchat story to your computer. You can tap the "Stop" button on the minimized toolbar to end the recording process. After that, you will be able to edit your recordings on the pop-up History window.
Part 5. More iPhone and Android Screen Recorder to Recommend
TechSmith Capture
TechSmith Capture is one of the best apps to save Snapchat videos. It serves as a reliable iOS screen recorder that has the ability to record the screen of your iPhone, iPad, or iPod without any hassle. Bringing powerful screen recording technology to your iPhone, this amazing iPhone screen recorder allows you to record videos from Snapchat or other popular video-sharing sites and create high-quality videos easily and instantly. After enabling the screen recording function on your iPhone's Settings app, you will be able to use TechSmith Capture to save Snapchat stories with audio.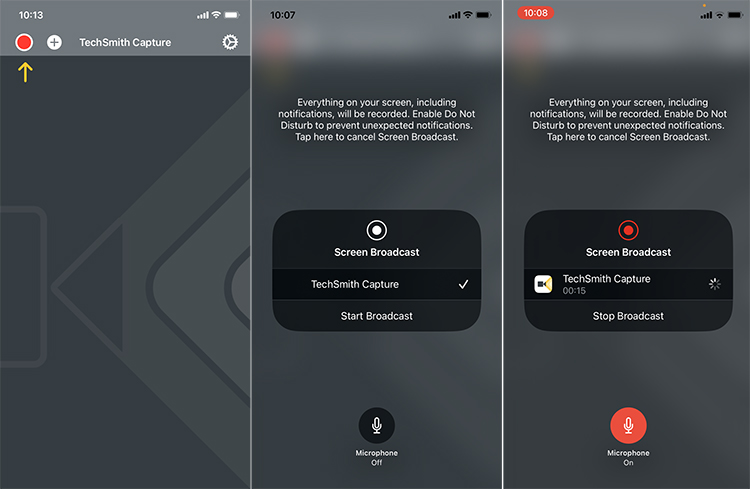 ADV Screen Recorder
ADV Screen Recorder is an app that is able to record everything that happens on your Android screen. It provides all the essential features you may need when recording Snapchat videos from others. You can not only record your phone's screen with two engines, but also set your text, banner, different resolutions, bitrate, etc. Moreover, after clicking the "+" icon in the app, a magic button overlay will be created and you can use it to control your Snapchat video recording, such as draw on the fly with your favorite color, trim video, start and stop recording Snapchat at any time, and so forth.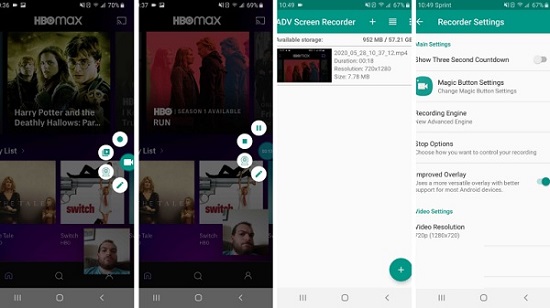 Tips. How to Save Your Own Snapchat Story
1

How to save Snapchat videos to camera roll?

Step 1: After running the app on your phone, you can press and hold the shutter button at the bottom of the screen to take a video on Snapchat;

Step 2: When you're done with recording, you can click on the "save" icon at the bottom of your screen and choose "Memories & Camera Roll" as your option, and then press the "Save" button.

2

How to save a Snapchat video of your own story?

Step 1: Run Snapchat on your phone and then click on your profile icon on the upper-left of the screen;

Step 2: Find the "Stories" section on your profile screen and choose the "save" icon next to "My Story".