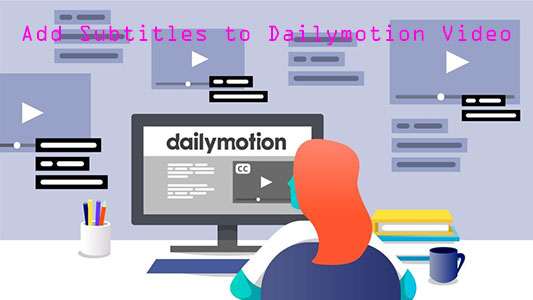 It could be argued that subtitles or captions are all-important to a Dailymotion video or any other videos. They play a crucial role during the process of viewers understanding the video content. Actually, not only for viewers, but also for creators, embedding subtitles to videos is necessary. If you are a Dailymotion video maker, captioning your Dailymotion video will make it more attractive and preferred than those which are uncaptioned. How to add subtitles to Dailymotion videos to enrich them? Here, two methods are presented. Whether you feel like inserting subtitles on a downloaded Dailymotion video or an uploaded Dailymotion video, this article can guide you toward your goals.
Part 1. How to Add Subtitles to Dailymotion Videos in Joyoshare Video Joiner
Joyoshare Video Joiner for Windows and Mac is a full-featured merger program. Designed to have two modes, it allows a variety of merge tasks. For the media files in the exactly same format, it gives a lossless and 60X-speed solution. For different files like audio and video, subtitle files and video, it can professionally combine them together in a hassle-free fashion. Just with its powerful merging functionality, you are able to add various subtitles to your captured Dailymotion video effortlessly.
In addition to the technical merging function, it is equipped with a video editor and subtitle editor. After uploading the subtitle file, you will be free to personalize your subtitles as demanded and do other editing on your Dailymotion video. The types of its supported subtitle file and video are many and varied. You don't have to worry about the incompatibility.
Why Recommends Joyoshare Video Joiner:
Combine subtitle files with Dailymotion video fairly easily
Come with two merging modes to adapt to different needs
Freely edit file name and customize file format parameters
Work well with many web videos and almost all media formats
Output Dailymotion video to any other new formats at 60X speed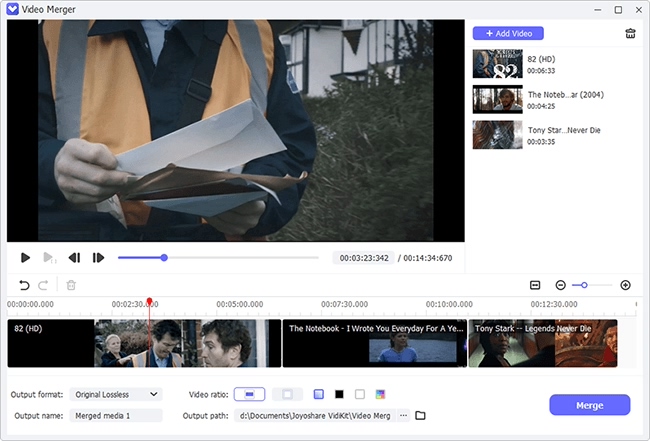 How to add subtitles to a downloaded Dailymotion video with Joyoshare subtitle joiner:

Step 1

Add Dailymotion video to the program

Get Joyoshare Video Joiner downloaded and installed on your system. Launch it and import your Dailymotion video without subtitles to it. You have 2 ways to upload your video. They respectively are easily clicking the lower-left button of "Open File" and quickly dragging to the designated position.

Step 2

Start encoding mode

Proceed to "Format". You will be directed to the next window, in which you should enable the encoding mode and then select any format under "Encoding mode" option as the output format. The gear icon at the top right of the format is used to modify the output quality like codec, resolution, bit rate, frame rate, sample rate, etc. If needed, just do it.

Note: For the combination of files with different formats, you can but work with the encoding mode, since the high-speed mode is a lossless mode that is only for the merge of files in the same format at 60X high speed.

Step 3

Add subtitles to Dailymotion video

Leave for the main window and locate the "Edit" icon next to your Dailymotion video file. In the editing interface, head to the "Subtitle" editing tool at the top of the window. Whereafter, go to the "File" section and touch "..." icon to add the subtitle file that you download for the Dailymotion video. You can preview the results in real time after subtitling in the right preview window. If you would like to edit subtitles, click "T" icon to custom font, style, color, size, etc. or adjust the position, margin, scale, and transparency of your subtitles with easy clicks. After completion, hit on "OK" to quit the edit window and press on "Convert" in the lower-right cell of the first interface to output your subtitled Dailymotion video.
Part 2. How to Add Subtitles to Dailymotion Videos in Dailymotion Platform
The above is for those who prepare to subtitle a Dailymotion video after downloading or before uploading. How to add subtitles to Dailymotion after uploading? Luckily, Dailymotion provides basic editing features, one of which is subtitle adding. You could straightway insert subtitles to your uploaded Dailymotion videos in the Dailymotion platform. Follow the instructions and the task would be completed hands down.
Step 1

Log in Dailymotion account

Visit the official website of Dailymotion and log in to your account. After login, click on "Database" at the top right of its main interface. In the next interface, head over to "Your upload" to display all your uploaded videos on Dailymotion.

Step 2

Locate the subtitle tool

Then, locate the Dailymotion video to which you are required to add subtitles and click it. At the top of this play interface, these is a "Edit video" button placed. You ought to touch it to access the editing screen. Under your video thumbnail, tap on "Subtitle".

Step 3

Add manual subtitles Dailymotion

Now, you can start to add subtitles to Dailymotion video. There are two manners. The first one is to hit on "Upload" > choose a language > select the SRT file from local folder > click "Upload". When the subtitles are uploaded, they are translated into the specified language. Please notice that the added SRT file must be encoded with UTF-8 or Latin 1 and the size of subtitle file is no more than 200 KB.

The other way to add subtitles on Dailymotion is with the help of "Add or translate" option. This is a method of adding manual subtitles. After language selection, manually enter subtitles to the corresponding video segments and touch "+" icon. Once done, tap on "Save" shaped by a pencil.