Do you have TikTok installed on your computer or smartphone? Have you noticed that almost every video you watch in this app has a wonderful piece of background music? If you want to create an absorbing video, a great song is indispensable. TikTok originally allowed users to add any music or song. However, recently due to copyright concerns it discontinued that feature. You can only select audio from their library of music, sounds, and voiceovers. Luckily, this article is going to show you not only how to add a song to TikTok within the app, but also how to add your own music using third-party tools on Windows, Mac, iPhone, and Android.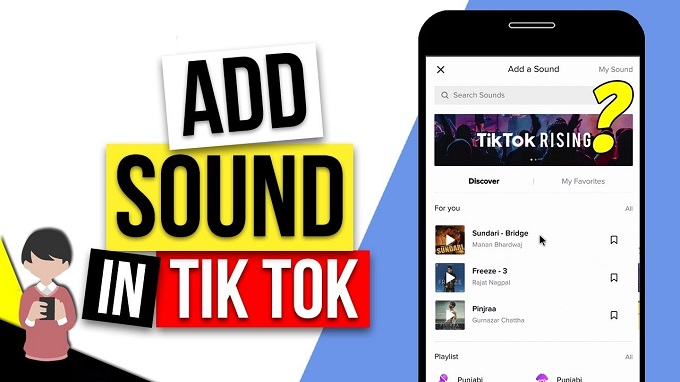 Part 1. How to Add Sound to TikTok within the App
As we mentioned above, adding a song to TikTok video is made easy. You will be able to make it in a few simple steps. Follow the instructions below to learn how to do that easily and quickly.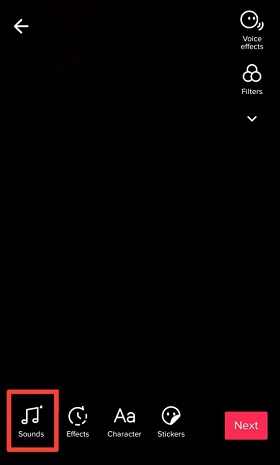 Step 1: After opening TikTok app, click on the "+" icon on the screen so that you can begin to shoot your video, and after that, click on the "tick" button;
Step 2: Next, press the "Sounds" button at the bottom of the screen to a song you want from TikTok's music library and then click on the "tick" button;
Step 3: Now you can tap the "Next" button and your song will be added to video successfully.
Part 2. How to Add Your Own Sound to TikTok - Joyoshare VidiKit
Here Joyoshare VidiKit comes in handy if you have a collection of music files on your computer and need a desktop program to help you add background music to video without any hassle. For every beginner and professional, Joyoshare VidiKit will always come as the best choice to merge numerous videos and audios without damaging any quality. Supporting various formats and abundant editing features, it allows you to edit and customize your TikTok videos in the most fashionable way.
Key Features of Joyoshare VidiKit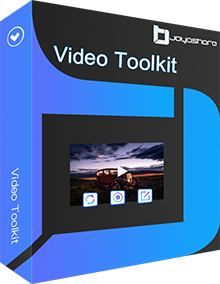 Adjust the codec, format, bitrate, etc. of the output TikTok video
Compatible with a large variety of video and audio formats
Merge videos and audios losslessly at 60X ultra-fast speed
Change the mix ratio by customizing the weight freely
Add music to TikTok without damaging the video quality
Optionally loop the audio if it is shorter than the TikTok video
Apply special video/sound effects, insert watermark, crop video, etc.
Step 1

Open TikTok Video on Joyoshare VidiKit

Once you get the downloading and installation of Joyoshare VidiKit done, you can double-click to run it on your computer and then open the video joiner on the "Convert" panel. After that, you can press the button or drag and drop to load up your wanted video.

Step 2

Choose Output Format and Encoding Mode

Click on the "Format" button that can be found at the bottom of the main screen. Here you are suggested to select encoding mode, which will save all the adjustments you are about to make when adding a song to a video. Choose your desired output format and change the video/audio parameters if necessary.

Step 3

Cut out Unwanted Parts Optionally

Press the "OK" button so that you can go back to the main interface. You will see that there is a blue slider below the preview window. Drag it from the front or back to decide which part of your video you would like to save and upload to TikTok lately.

Step 4

Add Your Own Song to TikTok Video

To quickly add a song to a TikTok video, you need to hover your mouse on your video on the left panel of the main screen and click on the icon. Next, select the "Audio" tab in the top menu. Find and tap the "..." button near "File" to browse and import your desired music file. You are able to check the checkbox of "Repeat" if it turns out that your audio is shorter than your TikTok video.

Step 5

Export Video with Music

After adding music to your TikTok video and doing other video editings, it's time to tap the "Convert" button at the bottom of the main screen to export and save your video with music. All the videos you added to the left panel will be merged together in a second. Before merging, you can also drag to reorder them freely.
Part 3. How to Add Your Own Music to TikTok - Inshot Video Editor
Inshot is considered a powerful HD video maker and video editor blessed with abundant professional features. With the help of it, you are free to add music to TikTok and apply transition effects, filters, text, emoji, blur background and many more. Inshot will allow you to trim and cut a TikTok video or split it into parts as well. After editing your video, you can even choose to export it to YouTube, Whatsapp, TikTok, Twitter, Instagram and more. To conclude, as a multifunctional video editor available for all iPhone and Android users, Inshot will enable you to edit and stylize videos in an easy manner.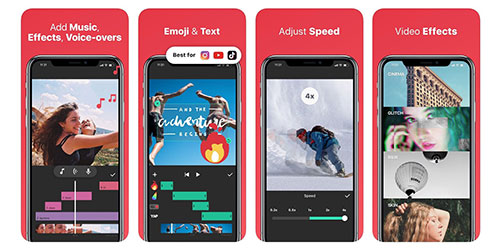 Step 1

Run Inshot Video Editor and Upload Video

Download and install Inshot Video Editor app on your Android or iPhone device, and after opening it, press the "Video" option under "Create New", which will ask you to select one of your wanted videos to upload. If you plan to mute your original video, you are able to scroll the menu displayed below the video to the right until you find the "Volume" button. Tap it and drag the volume bar to adjust the volume all the way to zero, and then you can click on the checkmark.

Step 2

Add Music to Video

Next, you need to find and press the "Music" button in the menu and then select the "Tracks" option to add your own music and sounds from your iPhone or Android device. You are free to choose the "Imported music" under the "Featured" tab to import music from folders in your smartphone or press the "iTunes" tab at the top of the menu to add a song from your iTunes library to TikTok.

Step 3

Export Video to TikTok

You may need to adjust the starting point of your audio in the video and preview it to be sure you're satisfied, and finally, you are able to press the export button at the upper-right corner of the screen to save your edited video to your smartphone and then select the "TikTok" option in a new pop-up menu so that you can upload your video to TikTok straightforwardly.