TikTok is a popular app that allows you to make, watch and share videos with your friends. But what if you want to set part of audio in a TikTok video as your phone ringtone? If you're like most people, you'll want to know how to do that within few steps. Firstly, you should download and convert TikTok to MP3, which is compatible with your mobile. In this article, we provide a detailed guide to convert TikTok file and various solutions to download video from TikTok. Just scroll down to go through them.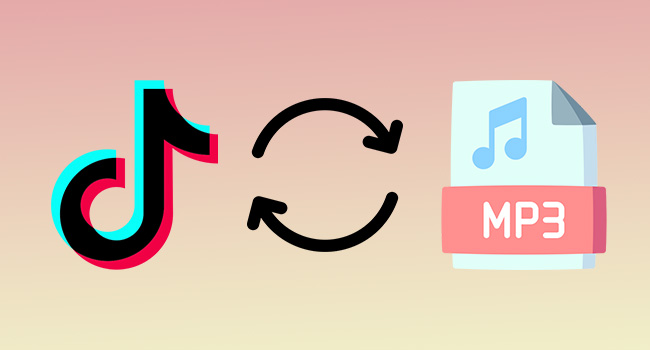 Part 1. Use TikTok to MP3 Converter to Convert TikTok to MP3
With Joyoshare VidiKit - Video Converter, converting videos from TikTok is quite easy. You can easily upload and convert videos in four easy steps to various output formats. It can also easily convert videos from over 150 formats, including M4B, MOV, MP3, M4A, MKV, MP4, M4V, AVI, MPG, ASF, and many more. Also, you can enhance your files before converting by changing volume, track, and other settings. Use the cutting tool in this program to delete the unwanted content. Two converting modes are provided by this tool to process your files at 60X speed and losslessly.
Key Features of Joyoshare VidiKit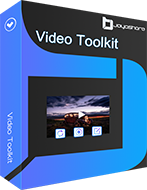 Customize videos from TikTok before the conversion process
Support a multitude of devices and streaming formats
Two modes for converting files quickly are available
Convert WMA, AC3, 3GP, AIFF, ALAC, MP3 to iPhone ringtone
Preview processed TikTok files with its inbuilt media player
Step 1

Open TikTok to MP3 Converter and Add TikTok Files

Open TikTok to MP3 Video Converter in Joyoshare VidiKit by clicking Convert - Video Converter after downloading and installing this tool. Either drag-and-drop your media files into the interface or click on the "Add Files" button to upload your TikTok files.

Step 2

Change Output Format to MP3

At the bottom left side of the screen, select the output file format by clicking Format option. You'll be given the option of using High-Speed mode or Encoding mode. High-Speed mode allows for conversion without any loss in quality but does not allow for any customizations. You can customize the file format, resolution, and codec of the videos by using Encoding mode. However, the Encoding mode has a slower conversion speed than the High-Speed mode.

Step 3

Customize Other Output Settings

Hover mouse in the rear of your imported TikTok files to find and click the Edit button. Here, you can edit your files by trimming and cutting. Also, you have the power to change volume, track and many other settings.

Step 4

Convert TikTok to MP3

Once the desired adjustments have been applied, select "Convert" on the bottom right side. The converted video will save to a path of your choice on the system. When you choose the High-Speed mode, the conversion process is extremely fast. You can easily convert a 3-minute video file to an MP3 format in just a few minutes. This tool also allows you to convert multiple videos at once. Joyoshare VidiKit is powered by an optimized acceleration technology that makes it 60X faster than most conventional converters available today.
Part 2. 8 Tips to Download TikTok to MP3
1

MusicallyDown

MusicallyDown is a tool that allows you to download TikTok videos without watermarks, and to listen to their MP3 versions. Videos on MusicallyDown are not hosted by them or saved in their servers; they have absolutely no access of your account information. Using this service is completely anonymous and secure. They will never know what you will download or which video will be watched after downloading. You can use it with or without the watermark.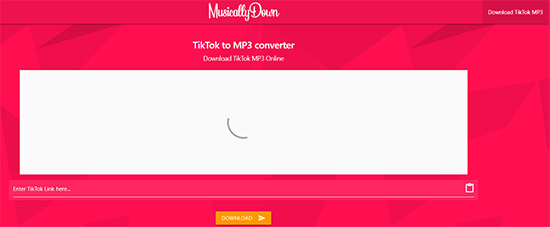 Step 1: First of all, make sure that you have enabled Unknown Sources option in your Settings.
Step 2: After enabling this option, open the search engine on your smartphone.
Step 3: Now search for MusicallyDown on the search bar and click the Search icon. Copy the link from TikTok and paste it in this website to start downloading the TikTok video to MP3.
2

TikDown

One of the best TikTok download tools is TikDown. This tool can be used on all your devices - not just through the browser, but also as an app for iOS and Android. You can get unlimited lengthy videos without watermark by using this video downloader. Also, it is completely free, which means that it requires no registration and subscription. All you need to do is open your browser and navigate to its website.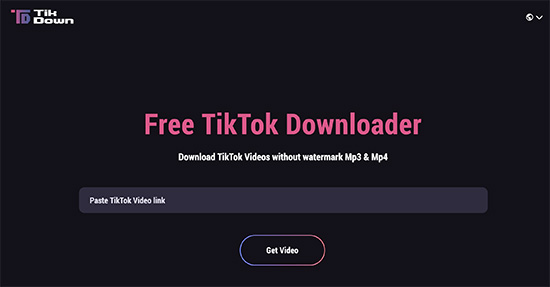 Step 1: Open TikTok and find a video you want to download without watermark, then click on "Share" and "Copy Link".
Step 2: After copying the link, paste it into this input field at the top of your screen. Click "Get Video" to begin downloading video content.
Step 3: The video is ready! Now you can download its video and music separately. Music will be in MP3 format and the video in MP4 format.
3

TTDownloader

TTDownloader is a powerful online TikTok downloader tool designed for saving videos from TikTok on any device. It is the best and easiest tool to use when you want unlimited downloads of high-quality MP4 format with or without watermarks, so that no one knows what specific video that you are downloading! They also support downloading audio files in either MP3 or M4A formats.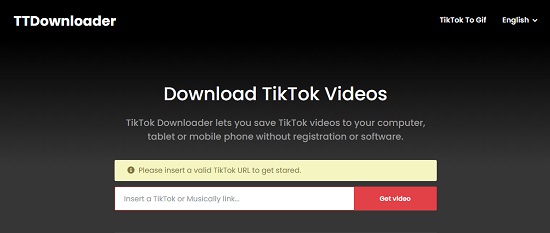 Step 1: Copy the link to download the TikTok video that you want to save on your phone.
Step 2: Paste the link of the video into the input box on this page.
Step 3: Click the "Get Video" button to begin the download process.
Step 4: When ready, you can download the TikTok video with or without a watermark, or as an MP3 music file.
4

Ytop1

Downloading and converting TikTok videos to MP3 are simple with Ytop1. You don't have to install, register or login on this website - it's quite straightforward! It won't make you uncomfortable - no ads or pop-ups will bother your journey.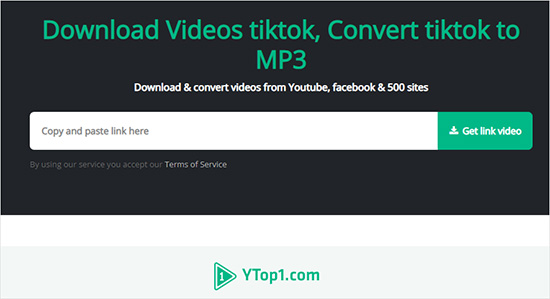 Step 1: Download the video by copying the TikTok URL link and then going to Ytop1.
Step 2: Paste your URL in the field below and then click "Get link video".
Step 3: Then, choose Format and click on button "Download Video".
5

Qload

Qload is a downloader app for TikTok without watermarks, making it easy to download videos. It does not require you to sign up. You can download videos in bulk and leave the downloading process running in the background. All in all, Qload - TikTok video downloader is a great app that you can use if you frequently watch offline videos or share them on social media.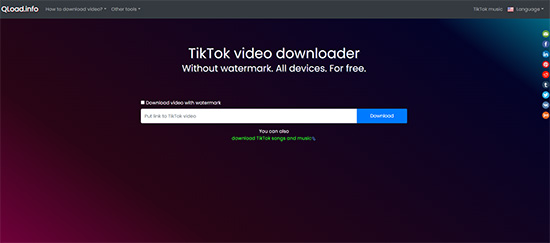 Step 1: Copy the video link from TikTok app.
Step 2: Search browser for Qload. Paste the link into the field.
Step 3: Click the "Download" button.
6

4K Tokkit

One easy way to get everything from TikTok is by downloading the 4K Tokkit. Get all your favorite high-quality videos with captions and subtitles from TikTok. It's free to download with no strings attached.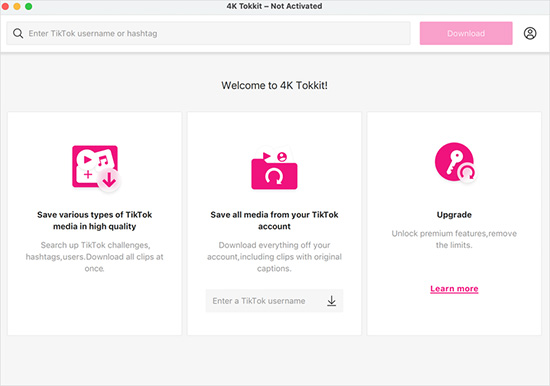 Step 1: Launch 4K Tokkit and download 4K video files. It's available for Mac OS X, Windows and Linux as well as Android.
Step 2: Click on the TikTok video that you want to download to copy the video's link.
Step 3: Click "Paste Link" within this downloader and click the "Download" button.
7

Hello Converter

Hello Converter is a video downloading site, the downloaded videos are available for viewing on multiple platforms. It allows you to search trending and your favorite videos online from TikTok and download them for free at anytime. Copy and paste the URL of your favorite video into Hello Converter's search bar.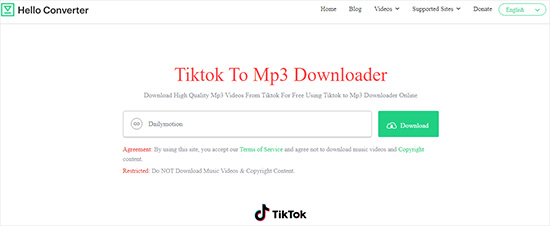 Step 1: Select URL and then click and hold, or press Ctrl + C.
Step 2: Paste the link into input box or press Ctrl + V.
Step 3: Click the green button next to the input field.
Step 4: Select your desired format to begin the downloading process.
8

TikMate

One of the most popular TikTok video downloaders is TikMate, which you can use to download videos without watermark in HD. With simple and intuitive interface, it is fun and straightforward to use. However, there are lots of ads on this website.

Step 1: Get the TikTok video link that you want to download.
Step 2: Search for TikMate in the browser and paste your download link.
Step 3: Click on the Download button.
Part 3. How to Turn a TikTok into a Ringtone
With the help of a few apps, you can make any TikTok video into a ringtone. Let's jump right into three steps, including getting video from TikTok, converting TikTok video to MP3, and setting MP3 as your ringtone.
Step 1: Download a video with the sound that you want to use from TikTok. Tap the Share icon and select Save Video. The video will be saved on your device as soon as it is downloaded.
Step 2: Use a TikTok file converting tool or an online tool to convert video to MP3.
Step 3: Save the sound to your phone, locate and set the saved file as your ringtone.
Conclusion:
That's it. You got all the information you need to convert TikTok to MP3. Now, you can convert the video to audio and save it to your files. The more you do it, the easier and faster it will be. Just find your favorite sounds on TikTok and follow this guide. After that, set a fun ringtone by using Joyoshare VidiKit to convert TikTok video to MP3.