WhatsApp, one of the most popular messaging services in the world, has over 100 million active users and is used by millions of people worldwide. If you want to send files like photo, video, music and more, WhatsApp is the perfect platform. If you're like most people, you probably use WhatsApp to send short videos. But what about long videos? How can you send them using WhatsApp? In this post, we provide multiple methods to teach you how to send long videos on WhatsApp.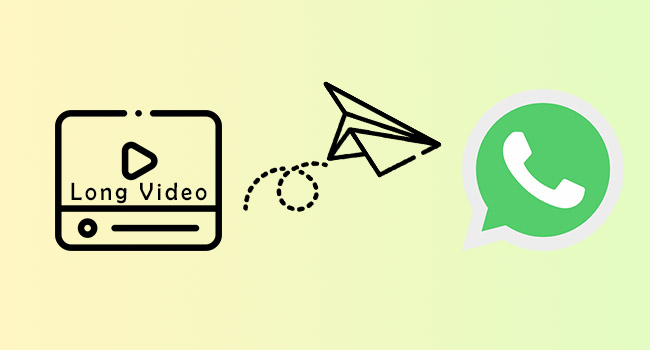 Part 1. How to Send Long Videos - Use Video Compressor
1

Joyoshare VidiKit

Joyoshare VidiKit allows you to upload a video from your computer and compress it into a format that's compatible with WhatsApp, Facebook, Twitter, YouTube, Discord and many more. Once compressed, you can share it with friends through WhatsApp or save it to your device. This tool includes several options to optimize the resolution of your video, including 240*160, 720*480, 1280*720, 2000*2000, etc. Also, featured with the 40X compression speed, Joyoshare VidiKit can reduce large file size on Windows and Mac within few clicks. Plus, you can compress your long video using two tips, including percentage and file size.

Key Features of Joyoshare VidiKit

Help you send large files on WhatsApp by compressing
Process your long videos without losing quality
Compress video for WhatsApp via 2 solutions
Compatible with a series of video and audio formats
Preview your compressed large files using its inbuilt media player

Step 1: Open Joyoshare VidiKit on Your Desktop
Choose "Convert" section and launch "Video Compressor" after downloading and launching Joyoshare VidiKit. Click the "Add Files" button at the top of the program or directly drag media file to designated area.

Step 2: Compress Videos by File Size or Percentage
In the next step, you may select File Size or Percentage to compress videos. To do this, click on the Compress options to open the "Compress File Size" box and drag and drop slider if you want to compress them via percentage. Alternatively, after clicking the gear icon, choose how many MB (Megabytes) each file in your list should be compressed to by manually editing the parameters. You can also change format and resolution as needed.

Step 3: Compress and Save Videos
To start, go to "Output" and choose a location where you want your videos saved. Next, press on the "Compress" button at the bottom right corner of this window to begin compressing files. You can later have a check on that History window for all compressions made previously. Then, you can share your compressed video on WhatsApp.

2

VEED

VEED is an easy program to compress videos online and help you know how to send large video files on WhatsApp. The best part is that you don't even need to install anything. Just upload your video, and then click the "Compress" tab. Choose between different qualities such as HD, SD, and Low Quality. After clicking the "Compress" button, you'll get a URL to download your compressed video.

Step 1: Go to VEED.
Step 2: Paste the video link in the text box, or upload a video from your computer.
Step 3: Download video files in different qualities for sharing online.

3

WinX HD Video Converter Deluxe

The best way to compress videos on WhatsApp is to use WinX HD Video Converter Deluxe. This tool allows you to convert any type of file into a format that's compatible with WhatsApp. So, you can use it to compress any video format, including AVI, MP4, 3GP, WMV, MOV, MPEG, FLV, MKV, WebM, etc. This program also supports batch conversion, which means that you can convert multiple files at once. And you can even edit the images before compressing them.

Step 1: Click on the "+" icon in the top menu bar. Find the video you want to upload. Click on the video thumbnail and select Start.
Step 2: Click on the Edit tab. In the left column, you will see a list of different options for editing the video. For example, you can adjust the brightness, contrast, saturation, hue, gamma, sharpness, etc. Click on each option to change its setting. When finished, click OK.
Step 3: Now, you need to set up the compression parameters. Go to the Settings tab. There you can change the quality level (from 0 to 5), bit rate (0 to 9999 kbps) and frame rate (1 to 30 fps). Click OK.
Step 4: Now click on the RUN tab and save the compressed version of the video.

4

VideoSmaller

VideoSmaller is an online service that lets you reduce the size of videos online without losing quality by compressing them. After processing, you will find that the video is super tiny. It takes some time to compress videos because of the algorithm used by them when compressing videos for users like you and me. They use a complex mathematical equation, which makes sure that you get a good quality file with less size.

Step 1: Click on the Upload Video button. It will take some time to compress it. When it's done, you will receive a download link to the compressed video file.
Step 2: Once you have your download link, click on it and open the video file in your browser and then click on the Download option to download it. You may need to wait for a bit here.
Step 3: You can now play video with any media player or upload it online or share it wherever you like.
Part 2. How to Send a Long Video on WhatsApp - Use Cloud Storage
1

Google Drive

Google Drive can come to your rescue with "how to send large video on WhatsApp". If you're looking for a way to share large videos on WhatsApp, Google Drive is the perfect option. Just paste the link in your text message and hit send. Using this function can redirect your contacts to the shared file, even if you're not currently on WhatsApp.

Step 1: Use the plus icon and press the Upload option on the app to select the file you want to upload. Alternatively, uploading it by directly selecting the file in your gallery and opting for Share - Save to Drive is also available.
Step 2: Find the file on your Google Drive and tap the three dots icon. Then, select Link sharing to copy the file path to your phone's clipboard.
Step 3: You can simply paste and share the link to WhatsApp with your contacts.

2

WeTransfer

As a powerful online large file transfer, WeTransfer can help you send large videos, photos, and many more other files around the world. It's easy to use as it supports most of the file formats. The free version allows you to upload up to 2GB of files, and if you want the pro version, it allows sharing up to 20 GB.

Step 1: Head to the WeTransfer website, upload your files and tap Next.
Step 2: To get a link to the shared content, tap on the "Get a link" button.
Step 3: To share this content with your contacts, just paste the link on WhatsApp and hit Send.

3

Dropbox

Dropbox, a modern workspace to help you reduce busywork, is accessible via web and app and is compatible with Windows, Mac, iOS and Android. When you send a large video file through the Dropbox service, you will need to first register yourself on their website. Or install the Dropbox app on your phone to share the large file easily.

Step 1: After adding a Dropbox video to your playlist, you can share it by selecting the + icon next to the file and tapping on the Share button.
Step 2: The next screen will allow you to create a download link for the file. Then, copy and share the link with your contact on WhatsApp.
Part 3. How to Send Large Video on WhatsApp - Cut Unwanted Content
Using a cutting tool to delete unwanted content of your large file can also help you send large files on WhatsApp successfully. All you need to do is choose a preferred cutting tool and download it. Also, you can find inbuilt cutting function on your mobile phone, which means you may don't need to download any software.

Step 1: Download and install a cutting tool on your mobile phone.
Step 2: Then after starting the app, simply press the cut button on videos to cut out unwanted parts of them. This way, you can delete unwanted parts of the video and send only part of those videos.
Part 4. How to Send Video on WhatsApp - Send Video as Document
Quench your queries regarding "how to send video on WhatsApp" through a simplified way to send videos as a document. You can also share a movie with your friends or relatives via WhatsApp. Once you post a document on WhatsApp, you can watch and edit this document on any PC using WordPad. Almost Two million people don't have adequate IT knowledge. This will directly transfer data from your Android to PC. It will be saved in Microsoft Office app format (.docx), supported by WordPad, Excel, and OneNote app.

Step 1: Open WhatsApp and head to the desired chat. Tap the attachment option, which looks like a paper clip.
Step 2: Choose Document button and select the large videos in the list of all documents.
Step 3: Press the Send button and you will find that your large videos are shown as document.
FAQs
Q1. What is the maximum video size for WhatsApp?
A: WhatsApp supports up to 16 MB as a limit. This means existing videos or videos being shot within 16 MB can be shared through WhatsApp.
Q2. How to send video on WhatsApp?
A: Open WhatsApp. Now tap the paper clip icon. Select "Gallery" and choose the video you want to share, and tap "Send". Your friend(s) will be able to view your video when they open their WhatsApp.
Q3. What is WhatsApp-supported video format?
A: MP4, AVI, MKV, MOV, FLV, 3GP formats are available for sharing on WhatsApp.
Conclusion:
These are all the steps you need to make sure "how to send long videos on WhatsApp" is very easy-peasy. You can share a 16MB video with friends without much fuss. Don't forget to try all the other alternatives out there for WhatsApp - like Google Drive, Dropbox, and lots more. There is so much you can do with HD video on your mobile.