Assuming that you capture pictures in the form of HEIC in your iOS 11 device and intend to sync all images to your Mac operating system 10.11, what will happen? If you have encountered this kind of situation, you must have known that all HEIC photos are unreadable in mac version 10.11. Why it shows like that? As a matter of fact, HEIC can only be compatible with iOS 11 devices and macOS High Sierra (10.13). Apart from them, you have no access to view and open your HEIC images directly on other platforms, like Mac operating systems with lower versions, Andriod phones and Windows OS. To rescue Mac users from this case completely, one of the best workable ways is to convert HEIC images to other more flexible and adaptable format, such as JPG. Hence, we are going to present top 5 wide-used HEIC to JPG converters for Mac for your reference.
1. Joyoshare HEIC to JPG Converter for Mac:
Joyoshare HEIC to JPG Converter for Mac is a fairly competitive offline HEIC converting tool. Being distinct with other converters in market, it comes with more brilliant designs to meet the satisfaction of different users. You will appreciate its elegant and tidy interface, making conversion operation as simple as possible. Intelligent as Joyoshare HEIC Converter for Mac is, it includes full supports to recognize all types of HEIC images as valid files effortlessly. This smart feature also let it stand out from various converters. Aside from HEIC to JPG conversion, it also allows you to convert HEIC images to PNG, GIF, BMP, TIFF and so on.
Under the help of it, you can output your images without damaging original quality. Surely, quality-adjusting is feasible as well. Excellently, it also can be used to convert HEIC images in batch at a time, which brings convenience to you especially when you have numerous photos. Alternatively, it is capable of maintaining EXIF metadata, keeping aspect ratio and customizing resolution in your way. Without uploading HEIC photos to cloud, Joyoshare HEIC Converter for Mac can protect privacy information securely.
Pros:
Convert HEIC images to JPG in lossless quality
Come with diverse output formats: PNG, GIF, BMP, WEBP, etc
Recognize all types of HEIC in smart way
Support converting HEIC images individually or in bulk
Output all images within few seconds
Allow quality adjustment
Keep EXIF information and original aspect ratio
Prevent privacy information leakage
Cons:
Add watermark to converted images for trial version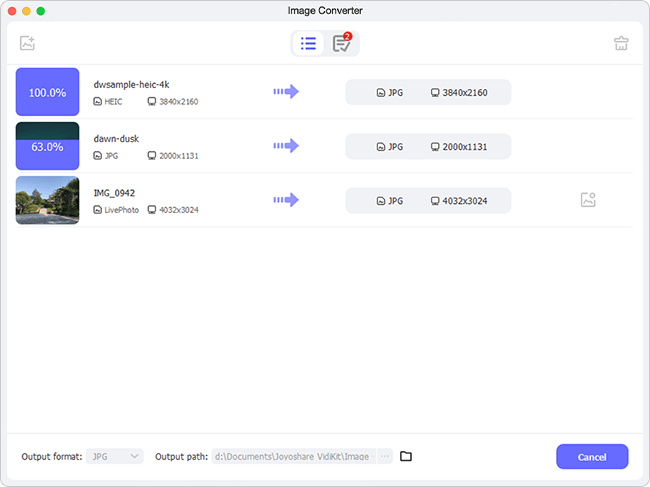 2. Aiseesoft HEIC Converter:
To select a handy converting program for Mac, Aiseesoft HEIC Converter can be regarded as a good choice. It provides one-click solutions to convert HEIC images to JPG or PNG in no time. Any HEIC photos from your iDevice, including iPhone, iPad, iPod, can be imported to conversion list. Taking the case that you shoot a large number of HEIC pictures into consideration, it also facilitates you to convert all iOS 11 photos in batch rather than finish conversion process one by one for a long time. Besides, supposing you have idea on adjusting quality to a designated value, Aiseesoft HEIC Converter gives availability to it.
Moreover, to fit for different users' preferences, it is well designed with two accessible methods to add files. One is hitting the "Add HEIC" button while the other is dragging HEIC image(s) to the main interface. With the purpose of keeping zero loss of data, it has ability to keep EXIF information. Safely, it enables you to carry out the whole conversion process with fast speed locally. That is to say, all converted images are saved in your computer. You have right to change the storage path and create a specific folder to save files. There will be 10 HEIC images to be converted with no cost, meaning you can make full use of this opportunity to have a try.
Pros:
Support output formats: JPG and PNG
Be compatible well with Mac OS
Have access to batch conversion
Permit quality-adjusting at your own will
Convert HEIC images in fast and safe way
Cons:
Can only produce files with limited formats
It is not flexible enough to drag HEIC files
Some HEIC files cannot be identified directly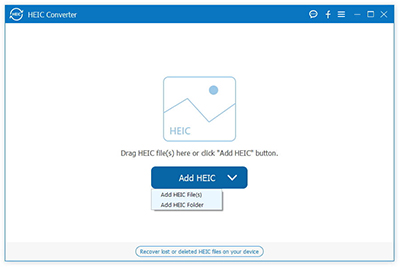 3. FonePaw HEIC Converter:
Delivering a wonderful platform to convert HEIC files from iDevice to other desiring formats, including JPG and PNG, FonePaw HEIC Converter is ideal for working as an effective converting app. One of the most appealing characteristics is that it offers free entrance to users to convert iOS 11 photos. You are entitled to fit out your Mac with this powerful converter. Don't worry. There is no need for you to register or have a license code. Without any requirement and limitation, it aims at providing all users with best service.
Pay attention to that you are allowed to initiate a conversion task to convert HEIC images piece by piece or in batch. It depends on your HEIC images' quantity and your own favor. FonePaw HEIC Converter also has capability to retain EXIF data entirely. There is no damage of your images' original quality. As long as you adjust the quality to maximum value, you will get a converted image in lossless quality. Note that FonePaw HEIC Converter comes with basic conversion functions and cannot support superior requirements. If you are a fresh starter, it is a suitable tool to assist you.
Pros:
Output HEIC files to JPG and PNG
Convert single HEIC image each time
Support batch conversion
Export HEIC files in high quality with no cost
Customize images' quality at discretion
Cons:
With limited output formats: JPG and PNG
Fail to recognize some HEIC files
Come with no more advanced conversion functions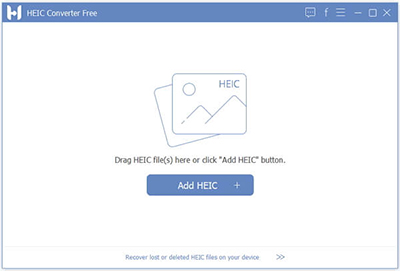 4. iMazing HEIC Converter:
Specializing in converting iOS 11 pictures from HEIC to JPG and PNG, iMazing HEIC Converter is deemed as a decent converting freeware. You can equip your Mac with it and it will work for you with satisfying compatibility. Similar to most converters, it has option of dragging and dropping HEIC files or folders. However, it will take you some time to see all imported files in the main interface. What's worse, there is no perfect workaround to identify all types of HEIC files without hassle.
Regardless of its imperfect performance, it is really an easy-to-use program. Having chosen a storage location and added HEIC files, you are supposed to adjust quality according to your needs. There is also no trouble in preserving EXIF metadata. Furthermore, iMazing HEIC Converter can support color profiles, such as wide-gamut. What you should keep in mind is that it is unable to delete unwanted HEIC files from conversion list so that you have to re-launch it and re-add files. Without history list, it appears that locating destination files is a little troublesome.
Pros:
Convert HEIC to JPG or PNG
Totally free and easy-to-operate
Adjust quality as you like
Reserve EXIF metadata if you need
Support for color profiles, like wide-gamut
Cons:
Can only export HEIC images to JPG and PNG
With no full support to HEIC recognition
No special-designed history list interface to show conversion record
It is not convenient to delete unwanted files from conversion list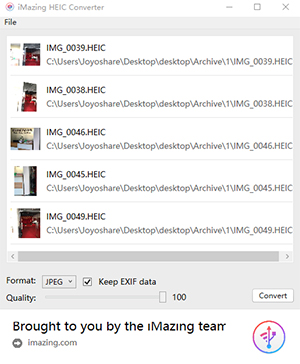 5. Softonic HEIC Converter for Mac:
It is Softonic HEIC Converter for Mac that can come in handy to convert HEIC images to JPEG or PNG format. As a free photo conversion program for Apple operating systems, there is no any charge when you are going to install it on your desktop. In addition, it also requires no subscription before you download it. With an intuitive interface and beneficial help section, you can ask for help if you are faced with some problem during the conversion process.
Once you take the aid Softonic HEIC Converter for Mac, you will find there is no complicated operation. It can serve as any type of file converter as well if have interest in taking advantage of this feature. By dragging a file to be modified to the converter, it will accomplish a conversion assignment quickly. More amazingly, it is feasible to convert JPG and PNG files to HEIC if you have this kind of need.
Pros:
Free of charge
Convert HEIC to JPFG and PNG
No subscription requirement before installation
Auto-convert images to JPEG when shared
Cons:
There will few bugs shown
With no support to other formats currently
Convert images with no special characteristics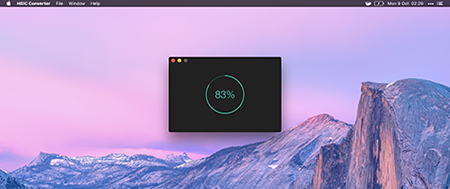 Which HEIC to JPG converter for Mac is best?
At this moment, you may have answer in your mind to which HEIC to JPG converter for Mac is best. If not, we'd like to share our viewpoints with you. To choose a professional HEIC converter for Mac with a wide range of thoughtful features, Joyoshare HEIC Converter for Mac can be listed as number one. Nevertheless, if you are a beginner who has few HEIC files to be converted, iMazing HEIC Converter can be taken into consideration. But if you intend to select a free converter to have a try, you cannot miss FonePaw HEIC Converter. In short, we sincerely hope that you can make a wise decision and enjoy your using experience totally.