As the developing speed of Discord is far from public's expectation, we are increasingly relying on Discord to exchange messages, images, and videos. In Discord, you can build your own community with like-minded friends. Whether you are a member of school party, a gaming group, an art community, or just friends club, Discord makes it easy to chat at any moment, and hang out on the Internet.
Nevertheless, you may delete some memorable pictures or important messages mistakenly. At that time, you want to see deleted messages on Discord, only to find there is no official way to see them. Understandably, it's unpleasant to come across such cases. But it doesn't mean there is nothing that we can do. In this article, we will discuss some helpful solutions that are tested carefully and collected from official websites. If you are interested in it, you can read on and learn more details.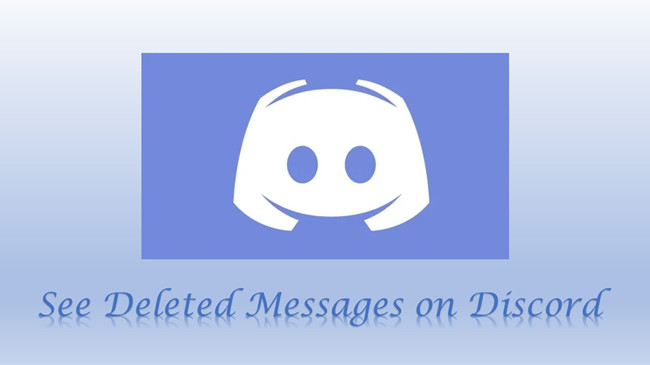 Part 1. See Deleted Discord Messages with Traditional Methods
When you intend to find critical messages, collect offensive messages to report them to Discord office, or get important data back that is purposely erased, you may want to see or recover these messages. Although there is no direct way to see these deleted messages, there are still two methods available.
Option 1. Via Discord Bot
As its name implies, YAGPDB bot is provided by official Discord. It's worth noting that this method can only be used when you have admin rights and legitimate reasons. Especially when someone sends a few abusive and offensive messages, you can freely use this tool to see these messages even if they have deleted them. However, as Discord strictly prohibits invasion of privacy, it will only show the last 10 deleted messages in the free version. More features can be available after buying and upgrading the subscription plan.
Step 1: Run your browser, and navigate to YAGPDP official website by entering 'yagpdb.xyz'.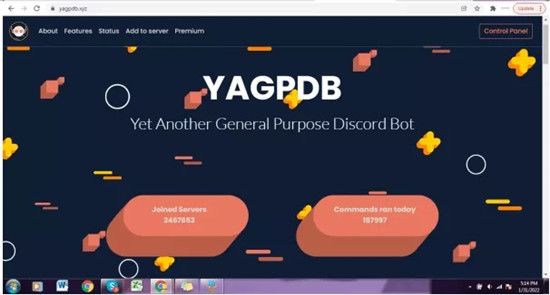 Step 2: Locate the "Add to Server" tab on the top menu of website. If you are using this tool for the first time, you need to log in first. Or you can directly register and then add the server whose messages you are attempting to view.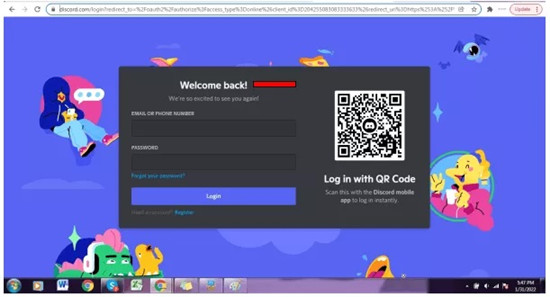 Step 3: After clicking the "Continue" button, choose "Authorize" tab. A blank channel will appear, and the bot is added to the Discord server successfully. Launch Discord dashboard, and click on the server's name that you add in the second step.
Step 4: Type '-ud -a' or '-undelete -a' in the text channel and press "Enter" button to run the command. Then you can see 10 recently deleted messages on the interface.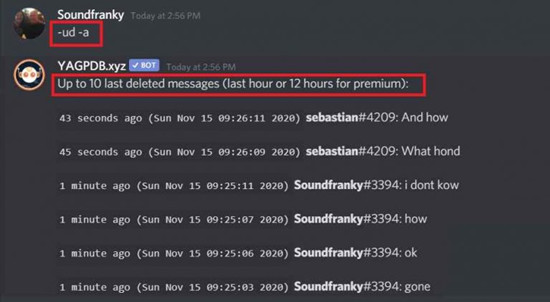 Option 2. Via Better Discord
This solution can be easily used to see deleted Discord messages. You just need to download Better Discord on your computer. Make sure that you have installed Discord on PC as it can't be completed on your mobile devices. The whole procedures are listed below:
Step 1: Click on "Download" button on the official website of Better Discord. Then choose the matching software package which must be compatible with your computer's operating system. It is available on both Mac and Windows.

Step 2: After downloading and installing Better Discord, open the Better Discord website again and find "Messenger Logger V2" option to download the plugin.
Step 3: Download and run this plugin. Then you need to add it to Discord. Launch Discord on your computer, and then hit on the "User Settings" tab on the bottom left-hand of the interface. Scroll down and locate "BETTERDISCORD" header.
Step 4: Click "Plugins". Select the "Open Plugins Folder" option, and it will open the plugin folder. Then just drag and drop Messenger Logger V2 to add it to Discord.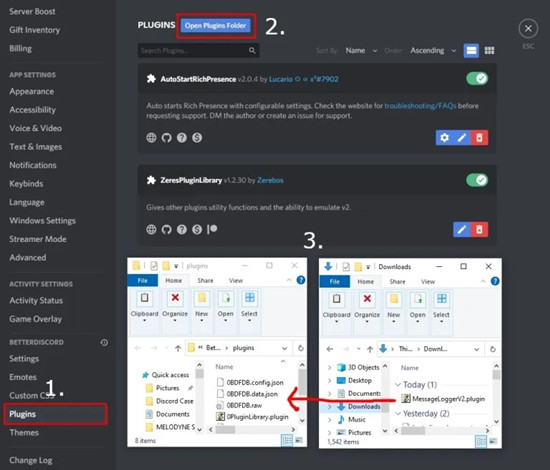 Step 5: In this step, you are required to toggle on the switch next to Messenger Logger V2. Consequently, a "Missing libraries" window will pop up, select "Cancel" option and proceed with this process. Enable all switches, including "Xenolib" and "ZeresPluginLibrary".
Step 6: After running all libraries, you are able to see the deleted messages. Find the Discord server where you want to see messages and right-click on the name. Secondly, click on "Message Logger" button and then choose "Open Logs" to view all deleted messages.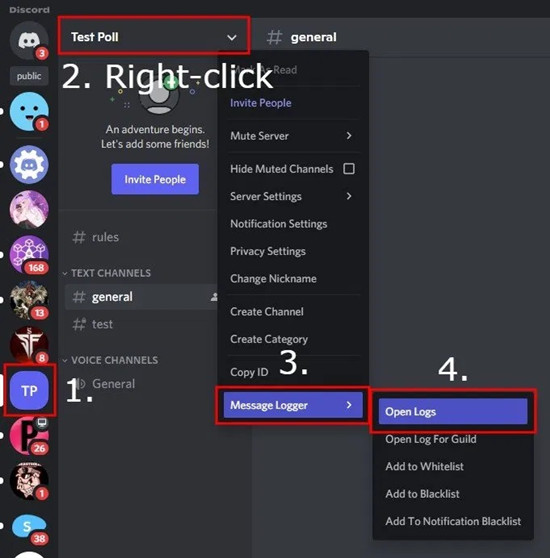 Tip: View Discord Deleted Messages with Joyoshare iPhone Data Recovery
If you have difficulty in performing the mentioned methods, you can seek the help of a third-party iOS data recovery tool. As the official solutions are a little complex to operate for inexperienced users, Joyoshare iPhone Data Recovery, the most professional and excellent program, can easily assist you in recovering lost or mistakenly deleted messages or app data. You can conveniently find, view, select, and recover 20+ types of data. Meanwhile, it allows users to preview the data freely so that they can know if their data is recoverable.
Key Features of Joyoshare iPhone Data Recovery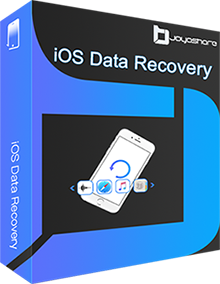 The recovery process can be completed in simple three steps whatever the types of files
Free to preview data and recover data selectively
Intuitive interface and step-by-step instructions are easy to operate for all iOS users
It is highly compatible with all iOS devices, including iPhone, iPad and iPod touch
Step 1

Connect Your iPhone to Computer

Launch Joyoshare iPhone Data Recovery, and connect your device to computer via Apple USB. You can select the first recovery mode – "Recover from iDevice" to see app data without backup.

Step 2

Select and Scan Data

All supported data types will be displayed on the interface. Choose all data ticked and click on "Scan" button. Then it will search for all files that can be retrieved.

Step 3

View Deleted Discord Messages in Detail

Once finishing scanning, you can see all recoverable data stored on your device. You can tick "Messages" and "App Data" to search for deleted messages on Discord. Alternatively, you can check all files carefully. If there are deleted messages on Discord that can be viewed and restored, you can click "Recover" button to recover desired data.
Part 3. FAQs about Discord
Q1. Can Discord owners see deleted messages?
A: As mentioned in this article, Discord strictly protects personal privacy and prohibits this action. They ever posted on its Twitter account that "Deleted Dm's are instantly wiped from our server, so once something is deleted it's gone for good". But it still offers some ways to see deleted messages.
Q2. How can I report abusive messages to Discord after they delete them?
A: As for this question, you can read the article and get the solutions to see those messages and then report to Discord developer. These solutions are all offered by Discord to protect users' rights.
Q3. Is there any way to recover deleted Discord messages?
A: Unfortunately, due to privacy reasons when a message is deleted on Discord, it's gone forever. But don't worry, if you try to retrieve messages or app data, such as call logs, contacts, voice memos, app photo, Safari's bookmark, WhatsApp and so on, I highly recommend Joyoshare iPhone Data Recovery. It can not only directly recover data from iOS devices but also retrieve from iCloud and iTunes backup without restoring.
Part 4. Conclusion
After reading this article, you must have a clear understanding of how to see deleted messages on Discord. These methods prove very helpful to users who experienced data loss on Discord. So, there is no need to worry. Last but not the least, if you have any requirements for retrieving messages or data files, you can learn more from iPhone data recovery tools.